It's a wonderful life.
We're busy, and yet, I find that we are fighting for simplicity.
We are choosing to say no to some activities this year, and honestly, we've gotten too sick for some.  As bittersweet as it is to miss some of these things, we have had time to focus on the Nativity story a few times already this month, and we did get to lazily decorate our trees and create a peppermint wreath.
The shop is staying busy, too, and I'm getting to where I'm not headed there every single day.  Natalie is manning the day-to-day, so I'm able to blog, paint, homeschool Gray, focus on orders for the shop, etc.
Be a normal wife & mom, too.
In the busy-ness, I'm still trying to get the hang out of photographing furniture in the shop.  Here's another fly-by redo…
This Davis dresser was fine as is, but how cute is it now?!?  For the opening, I wanted to paint something that would stand out near the front of the shop to draw people over to the Chalk Paint™ samples.  I chose to paint the outside and inside the cabinet Antibes Green.  We finished it off with clear and dark wax, as Antibes can be pretty bright. I left the drawers wood for the time being to show how awesome that paint is and what a difference it made!
It sold before the Grand Opening day, and the young family asked if I would mind painting the drawers a pretty blue, and I chose Aubusson.  It'll be perfect for their little man's room now.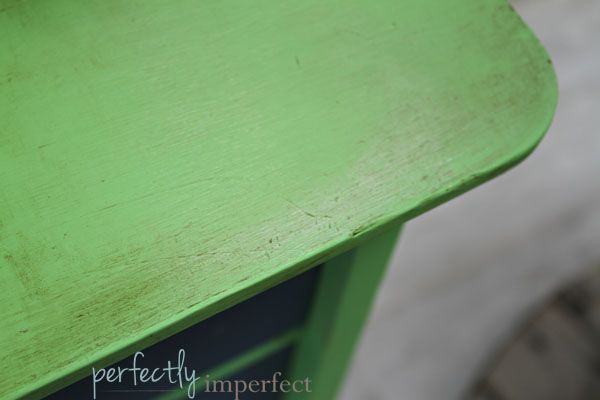 I love a clean look on furniture, so I'm not always drawn to use dark wax, but when I am, it never fails to impress me.  I think I'll write a post soon on using dark wax to create a beautifully aged finish without getting the dirty look.
Sound good?  If you have any questions about dark wax, ask away in the comments and I'll be sure to answer in my next post.
Have a lovely day, y'all!