Well, it seems cramming for our workshop worked out just fine.
 At 9:35 a.m. on Saturday morning, the first guest arrived, and I answered the door with egg mcmuffin in hand.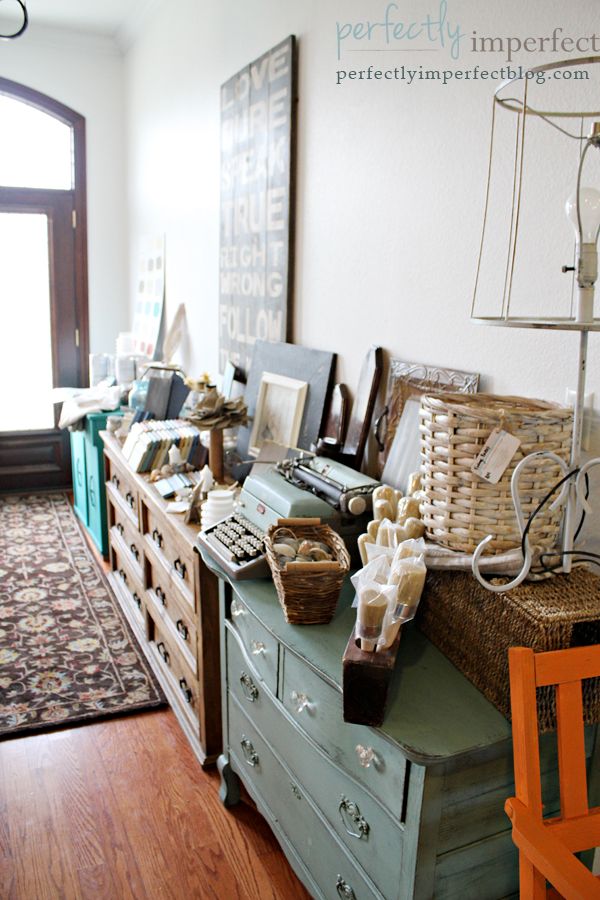 Since we had 14 ladies coming for this workshop, we decided to host it in our home to have as much of everything we needed on hand–and to give them plenty of room.  (P.S.  I was also incredibly nervous and figured if I were in my own house it wouldn't be so bad.)
We still wanted to have everything out and available for the girls to see, so we set up a shop of sorts in our entry.
I had all of our Chalk Paint™ sample boards out–and some special treatment samples I had done.  I totally dig seeing them all out like this!!
I found a Japanese sugar mold at an antique mall in Florida–it's pretty perfect for displaying brushes!
Everyone started arriving and it was so much fun to see them all excited about the paint and meeting one another.  Most were readers of the blog, and can I say what a pleasure it was to spend my day with some of you guys!!  By the way, every photo was snapped in sheer minutes.  I realized I hadn't taken any photos as people started arriving–so they kindly waited while I hurriedly snapped a few.
We covered 5 treatments during this workshop & all the materials were provided by me and the mister.  Everyone also got a (cute!) t-shirt with our logo (those coming soon), a hand painted color card, one of Annie's books, plus all of their materials.  I really want my workshops to be casual and informative, so we had every color out–I wanted everyone to be able to see them all, and they each chose a color to paint their wooden craft frames.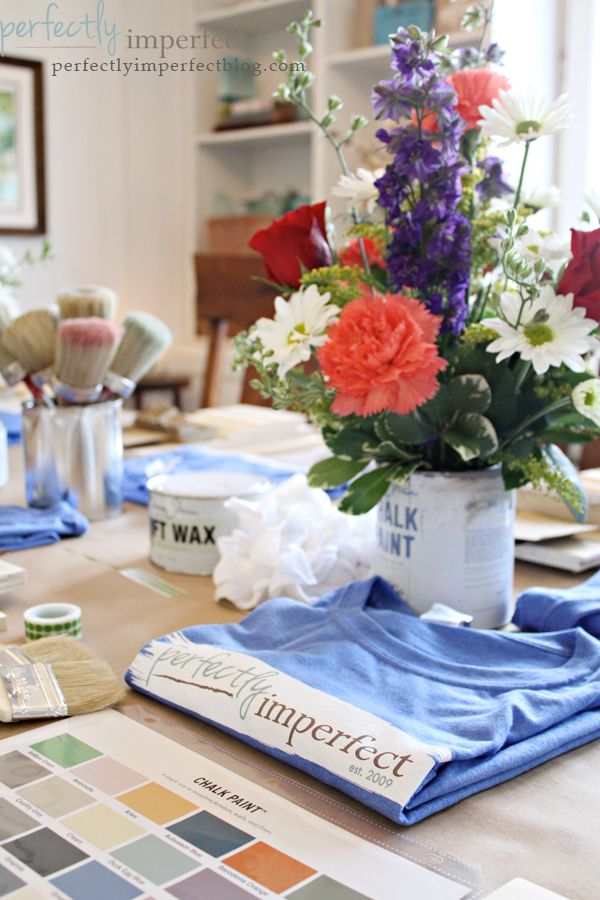 Anna Lauson was out of town, so Natalie was my partner in crime for this workshop (and my husband, Matt).  Nat took some of my old Chalk Paint cans to the florist–and I LOVE how they turned out.  I'm pretty sure they'll remain little vases around here.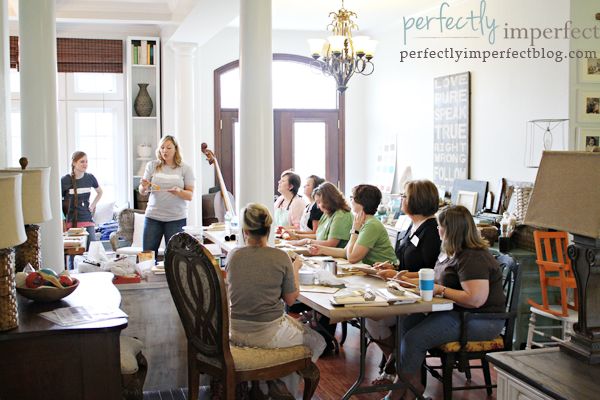 We got started a little late because we were all so chatty–I LOVED meeting so many of my readers.  You ladies were a BLAST & no, you didn't bother us at all with taking pics all over the house.  Even though Kara blogged about our unfinished bathroom.  Everyone came from different places, and it was really powerful for me to be reminded of how Perfectly Imperfect should be interacting with our readers.  It was an amazing experience painting with you girls!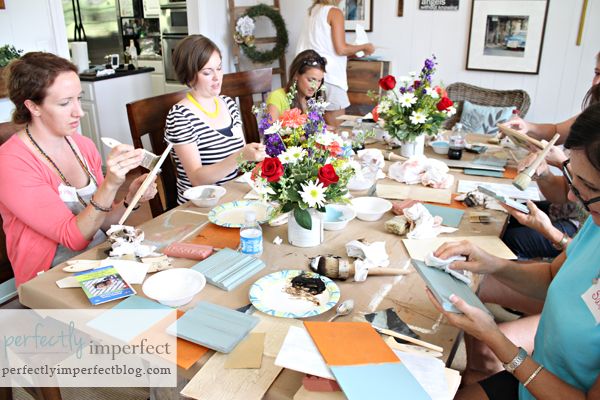 I hope I'm not leaving any of the bloggers out, and if I am–let me know and I'll correct myself.  Kara, in the pink sweater there, writes a blog called LifeEclected, featuring DIY projects & things that inspire her.  She inspired me by bringing a jar of all natural dark chocolate sauce to us.  We have already consumed it all.
Dangerous stuff.
Sitting beside her in the black and white stripes is Anna of A Good Home.  She brought me the prettiest linen tea towel–more on that & her shop very soon.
I just love seeing that table full of paint mess & sample boards coming together!
I wanted to snap a pic of everyone, but alas, we ran out of time–here's Sandi & Joanna.  Sandi and her friend June came up for the day, and she brought me the loveliest gift I'll share with you soon.  It literally made me tear up upon opening it.  Besides having fun painting with like-minded gals, seeing everyone enjoy themselves and gain confidence with the paints made my year.  It gets me really jazzed up about this next year and what it holds. We'll be working on a new ebook, and hosting workshops every month–and here's some news: we are considering opening our own studio space.
If you follow me on Pinterest, you may have guessed that by now.
We're honestly following God's lead on this, and waiting for the right space to become available.  The idea behind it–I want it to be a place where the blog comes to life.  A place where I'm able to share with you guys on a personal level.
I'll share more details about that soon if that's where we are continually led, and I'm telling you, spending time with these women was such a blessing, especially 2 days after my grandmother's funeral.  You each blessed me with such encouragement, and the minute you left, I was talking 90 to nothing, dreaming and planning PI's future.
Being around each of them (and many things happening the last few months) reminded me of the passion in which this blog began, and the real message behind it.  Since this business is growing with many facets (and employees), I want our mission to be the same–whether it's an ebook sold, a blog post read, a box packaged with paint, or a workshop put on for each of you–our heart has to be one in the same.
Hence, our mission statement…
Perfectly Imperfect began as an imperfect girl's hobby.  Somewhere along the way, it became a mission.  To provide real families with real inspiration for real homes.  To share easy DIY projects, room redo's, & furniture painting tutorials, but it will never stop there.  Perfectly Imperfect is all about the home, not the house…the life behind all the stuff.   We want you to grasp that you have the ability to have the home you want…now.  We aim to inspire you to pick up a paintbrush, nail some boards to your (perfect) walls (if you so desire), to celebrate life's imperfections and create amidst them anyway.  To go for it…in your homes & in your life.  Whether it's the blog, or the online shop, one of us shipping paint, or the new studio adventure…we know that you are what this is all about.  Your homes, your families, your lives and the imperfect beauty that lies within all of them.
*****
My humblest thanks for allowing me to be a part of your journey to creating in your homes–thank you all for reading, commenting, emailing, tweeting.  Thank you for believing in me–I certainly believe in each of you!
P.S. I hope you'll stay tuned for our writing room redo–we are finishing up today!