Going to Boston last week to meet Annie Sloan was definitely one of the highlights of my year.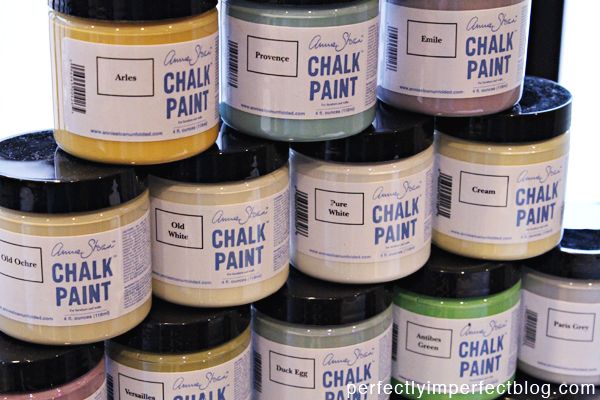 I remember the first time I opened up a can of chalk paint last March.  My good friend, Miss Mustard Seed, had told me about it the week she first blogged about it…and my paint was ordered before that first post was up…I couldn't wait to try it!
It's funny…I read Marian's post about this and I feel so similar to her–chalk paint changed everything for me & I sure hope I've helped those lovely folks along the way.
You guys know the story–I e-met Patty Seaman of Classic Wall Finishes, she sent me some paint, I painted my coffee table, and haven't stopped since.
Annie told me that when we blogged about her paint last year, there were 6 stockists in North America, and now they're closing in close to 200!!  Isn't that crazy wonderful?!?
I clearly love this paint sooo much–I only hope we continue to compliment each other's work of painting the town happy.
I met some lovely ladies while I was in Boston–there's sweet, adorable Jami from Freckled Laundry & Patty.  I was SO excited to meet them both & so grateful for the opportunity to be there!  Patty has become one of my e-BFF's, so hugging and laughing with her in person made my year.
The day began with a whole buncha pictures and chatting with wonderful bloggers and readers–you guys made my day & lifted me at least 6 inches off the ground for the rest of the week!!
And this is Patty's HI-larious, fun-loving sis, Karen.  I need to hire her as personal entertainment for my life.  Such a fun, caring person.
And that's my double chin.  Say hello.
Speaking of fun, cool, awesome people, there's Lisa Rickert (the North American distributor for ASCP) with me and Patty.
She and I might be the same person, I tell you.  One of the coolest parts about my "job" is getting to meet other people who are crazy passionate about what they do…and man, that's was Lisa is.  I pretty much kept goosebumps the entire time we were chatting throughout the day.
And, P.S., I also met Amy of Maison Decor–and somehow had no pics with her.  It was such a treat to meet her!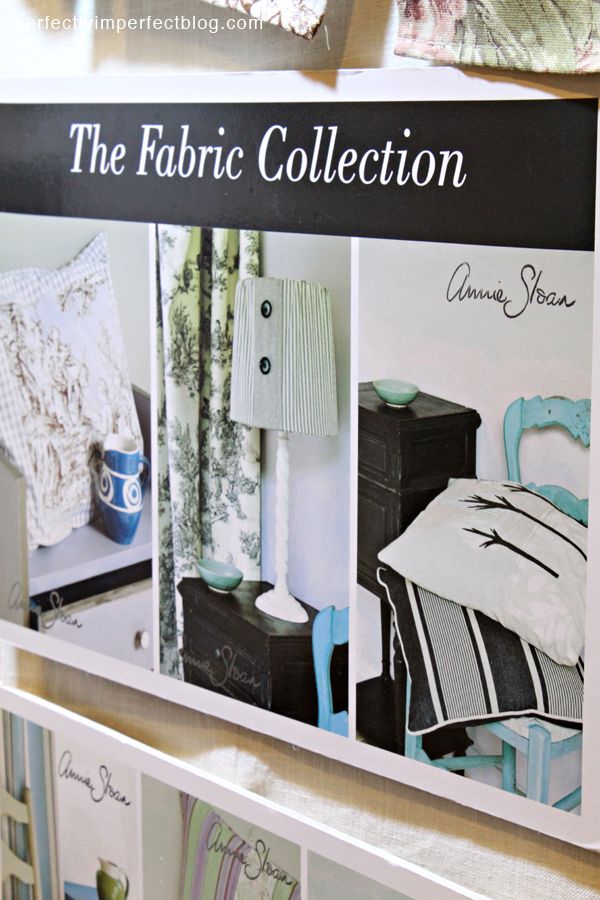 In addition to meeting some cool people, we got to preview some exciting things in the works at Annie Sloan.  Oh, I'm excited.
And I'd be lying if I said that chatting with Annie herself wasn't sort of monumental.  Talk about inspiring.  She (and everyone who works with her) was as lovely and humble as anyone I've ever met.
In addition to the quality of her paint, her story makes me want to support her business more–it's this beautiful surprise on top of loving her product–they are all wonderfully genuine about helping the world get more creative & go for it.
LOVE that.
I was able to attend Patty's workshops in the afternoon; after all the inspiration, it was quite a lot of fun to get my hands dirty & get painting!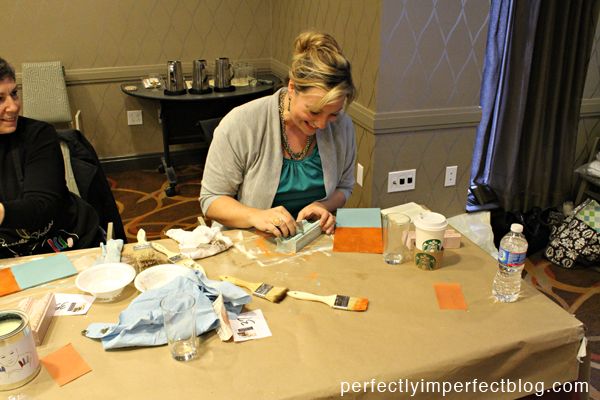 Terri, the lovely lady to my right, and I were sort of rebels–kinda doing our own thing every now and again.  It's totally by accident, but I pretty much march to the beat of my own–and I may or may not have been driving Patty crazy, LOL.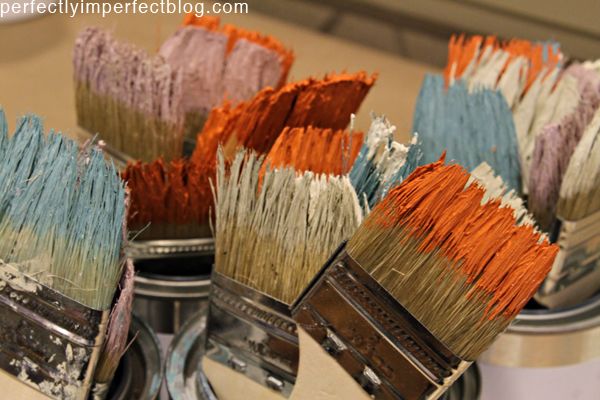 After a full day, I could have crashed, but it was such a treat to go to one of the stockist's shops–Sally of Counting Sheep Antiques.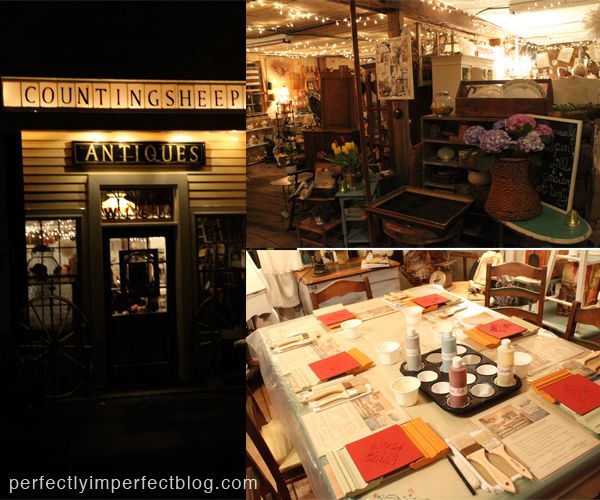 Isn't it just sigh-worthy??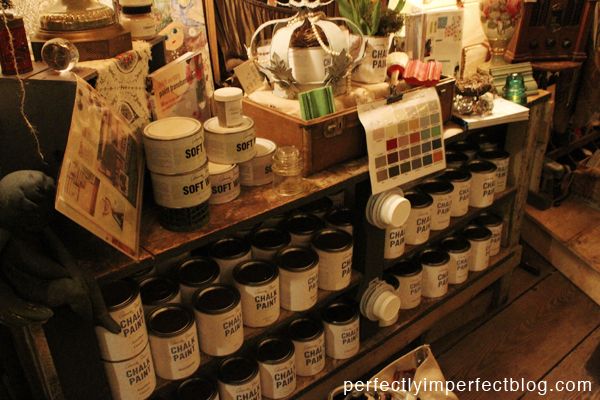 Those tulips in chalk paint cans made me quite happy–and meeting Lisa & Nancy.
It was SUCH beautiful shop & the perfect place to end the day–a HUGE thanks to Sally for letting this blogger tag along!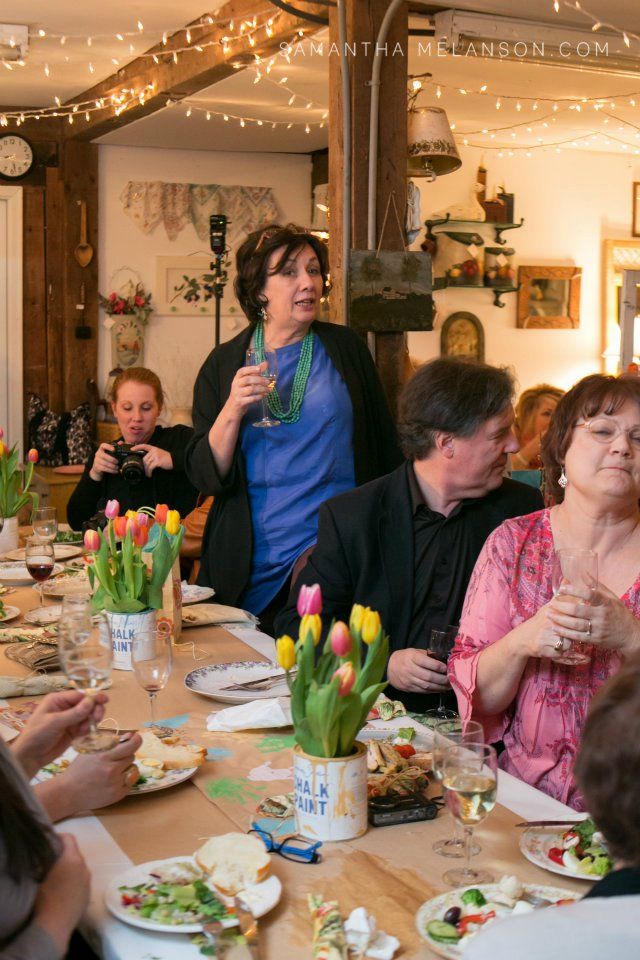 It was an exhilarating, creative, whole-buncha-fun kind of trip–I can't thank enough Annie, Patty, Lisa & everyone from her lovely company & all of you guys who took the time to say hello!  It was such an inspiring day that had me dying to paint something.
I almost painted the wing of an airplane on my way home.