It's been a while since I've shown you a good furniture makeover.  We've been busy traveling, building tables (you'll get to hear from Matt on Monday!), and purging this house.
It's out of control.
I'm hoping to have us back to "normal" this weekend, and the project floodgates will open!  I have a list a mile long that I can't wait to tackle.
But until then, I wanted to share with you the before and after of the chest we made over for Lauren's Nursery.
She's in a little trouble, right??
Lauren had sanded it down quite a bit…I hated so badly to tell her that since we were using chalk paint, we wouldn't even have had to.  It sure didn't hurt, though, and bright and early that morning, I got to work on this piece.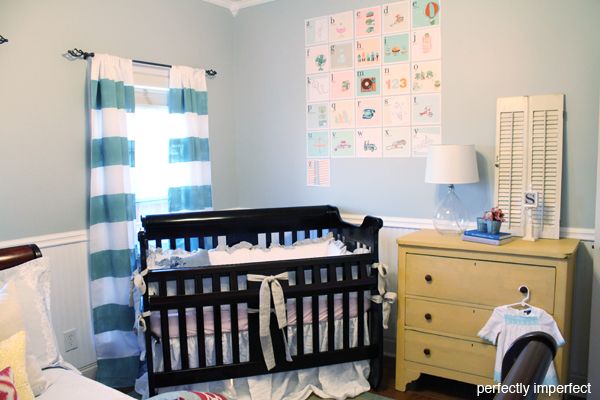 I didn't take truly proper after shots, but you definitely get the idea.  I painted it with two coats of Annie Sloan Chalk Paint in Arles, one of my new favorite chalk paint colors.
I then distressed it with a fine sanding block, using a circular motion on all the flat areas, and hitting the edges, legs, and corners pretty hard.  Distressing the flats (as I like to call it) really toned down the color a little.
Afterwards, I waxed it with a coat of Annie's Soft Wax in clear.  I'll probably be doing a post on this in the future, but I'll tell you, if you're having trouble with wax and not using Annie's wax, you really should try it.  It's the best one out there I've found, from application to the way it dries and hardens to protect your finish.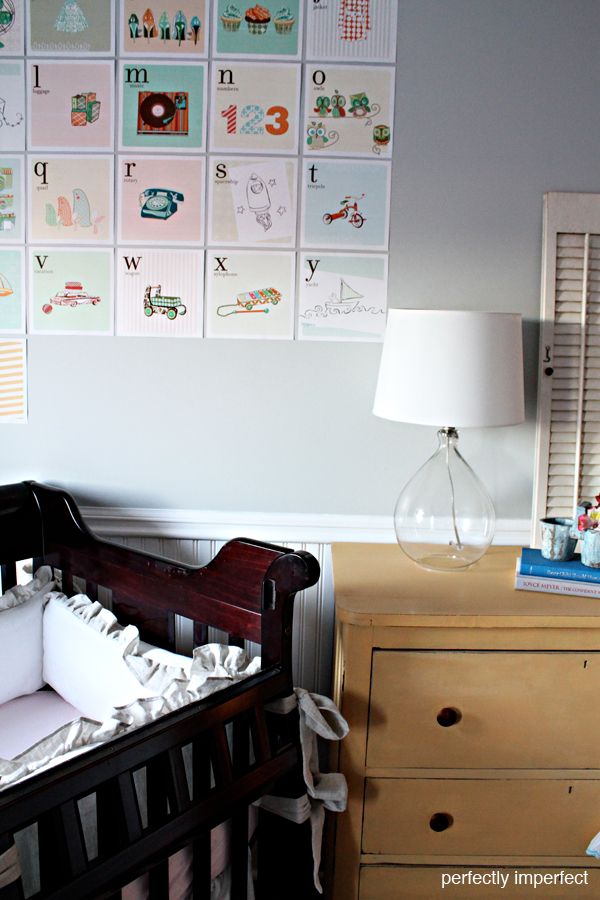 I chose to leave the wooden knobs on the chest, this being a happy accident.  We put one on to open a drawer, and BAM.  I love the way they pop off the front, and how they tie into the rest of the design.
You can see a little better in this picture the way the flats looked after distressing…kind of faded out in places.  This really left for an authentically old paint finish-I loved it!
As a matter of fact, we have these dark wooden knobs on our coffee table, and I'm just thinking…
🙂
So, go on!  Link up your projects!!!  And thank you for all your submissions to be guest contributors to perfectly imperfect!  I'm making my way through them, and hope to know something soon.
Grab a button to point folks in this direction, and show each other some love…I'm telling you, I'm craving inspiration.  I can't wait to see your projects this week!!