I could not mention it.
But then you'd notice anyway.
I'm not posting the dining room reveal today.  I know.  Don't hold it against me.
Hold it against the blinds that fell apart last night and the frame store that won't open.
🙂
It's coming this week, but I won't make any more promises.  You'll just hop on here, and BAM, there it will be.
Until then, I've got some eye candy for ya.  Provence eye candy.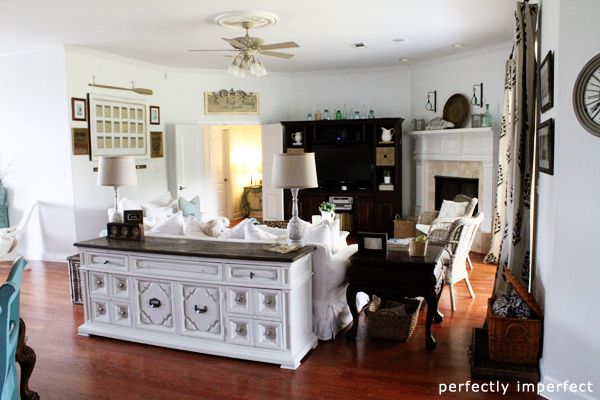 When I showed you our white walls, I asked if you could see the new pop of turquoise in the room.  I maybe should have excluded accessories…you guys were guessing every blue thing in the room!
The first person to guess the right answer: Stephanie, who said, "The blue chair, picture, or pillow?? Im just naming everything I can see."  Email me, girl, and I'll send you a free ebook if it suits your fancy!
Wanna know what it was?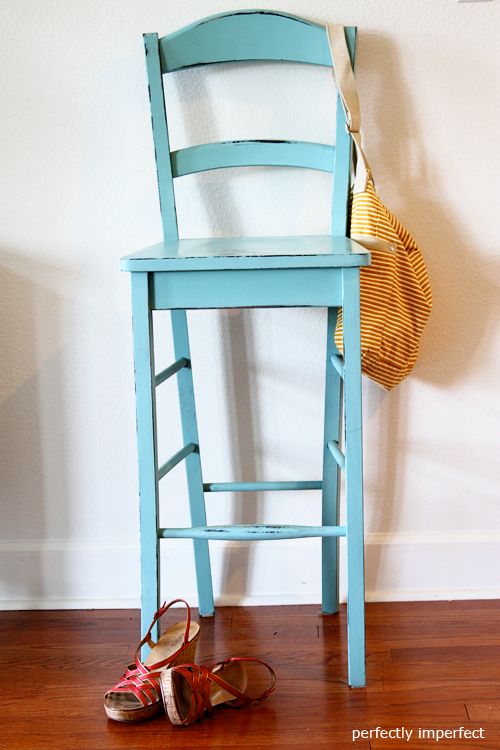 Yep, it was the barstools.  They were basic black, and we'd had them for years.  After lots of guests and two little ones crawling all over them, they were in desperate need of a makeover.
What I've loved about having white walls is being able to infuse new shots of color into our home, and occasional furniture is a perfect place for just that.
I painted them two coats of Annie Sloan's Provence, distressed them, and sealed them with a coat of Annie Sloan Clear Wax.  A note on wax….Annie answered some questions about the waxing process after Patty helped us on her guest post last week…check it out!
I hope you can get an idea of the sheen on the chairs (especially in this picture above)…I will say that I've found I love Annie's wax much more than other brands.  It seems to dry harder, faster, and is easier to buff (without streaking).  Simply my opinion, but I love the stuff!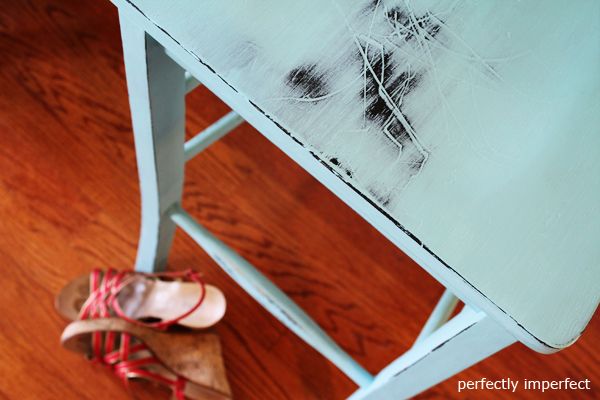 And my red Anne Klein wedges.
They're 4 1/2 inches tall.  They officially send me to giant status, but I don't care.  I'm too tall anyway…they just make being tall a little fabulous.
This was such a fun and quick afternoon transformation…my favorite kind.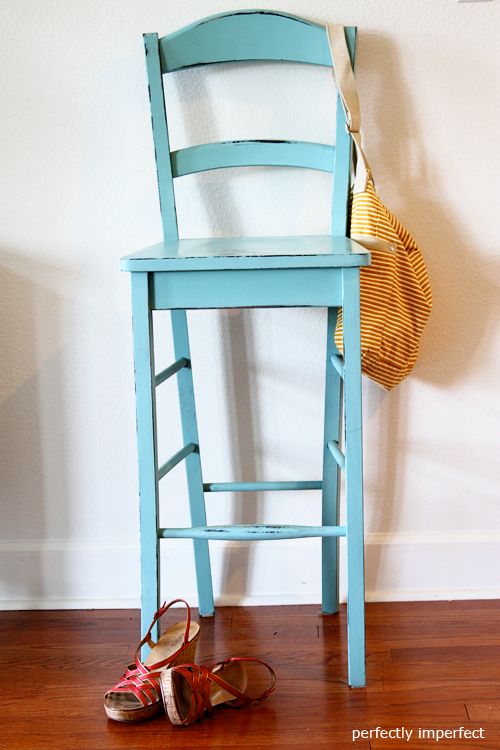 Look around the room.  What could you totally change today?  I say go for it.
Let yesterday be the day we played it safe.
🙂
*linking to Primitive & Proper Piece of Work Wednesday, MMS Furniture Feature Friday