Happy Monday!
I hope you guys had a wonderful weekend…we spent ours in Nashville with Matt's family.  It was time to celebrate his mom and dad's 60th birthdays/40th wedding anniversary.  It was such a fun weekend, and all too short.
Thank you guys for your sweet comments on my new tray tables!  If you missed the Krylon Dual Paint review and tutorial, head over here to check it out!
I'm finishing some work up for a client today, and need to finish painting the trim in the dining room, but mainly I'll be getting ready for a party this weekend.
This little doll is turning 2.
All I want to do is squeeze her cheeks.
And envy her curls.  🙂
This was my main inspiration for Ava's party…I loved the soft color palette of pale pinks, oranges, and blues.   So here's my to-do list (the very mini version)….
I contacted Lindi at Love the Day on Etsy, and she designed us some printables to personalize the party (and take the load off of me since I typically do everything for the kids' parties).
I CANNOT wait to show you what she came up with!!  I'm excited to print it all out today and get labeling!!
I'm thrilled the dining room will be an empty shell by then…perfect for throwing a party!  When I saw this picture, I fell in love with serving on a painted piece of curvy furniture.  If I have time, I'll whip up a french dresser to serve on.  If not, it'll be A-OK and we'll serve on the furniture we've got.  One can dream, right?
These are on their way, and I'm just as excited about the striped straws as anything for the entire party!  I'm going to dress them up a bit with something, but haven't decided what yet.
Wanna know this super-duper-secret-tip to an amazing-looking indoor party??
BALLOONS!!!  And lots of 'em.  Before you know it, your regular old house, will look like some kind of fairy land (or whatever land you're trying to create)!
It's totally out of my comfort zone, but we're going with a these colors…pink, tangerine, and aqua.  Wish me luck in handling that much color.  🙂
I have 5 Poms from her Sweet Treat Party last year, and got the girls at Sevyn Designs Ink to make me 5 more…and I'm really thinking a pom cloud like this one.  I feel a job for Matt coming on.
Poor, lovable guy.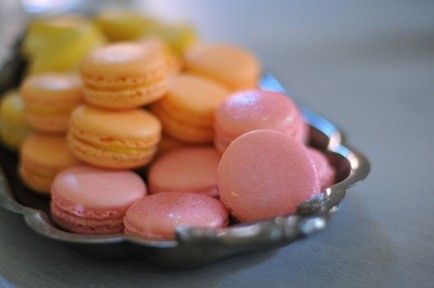 I just think macarons are the perfect party treat, and no one makes them locally.  So, the avid baker I'd love to be is making an appearance.  Time to suit up and don the apron.
Anybody have a favorite (fairly fool-proof) recipe??  Lay it on me in the comments…I'll take all the help I can get!
I don't like to spend a lot on flowers for this kind of party, but man, these are sooo pretty.  I'd like to ask my local florist if they have anything similar that won't break the bank.
I'm sure I'll take a few minutes and hit some thrift stores in search of apothecary vases, etc.
Mostly, I'll enjoy some moments with my girl this week.  I wonder if she'll let me take her for tea?
Probably not.  Maybe for a squeeze yogurt, then.
🙂
*all party images via Pinterest