I tend to be a little behind on changing little things around the house.  We are usually in the middle of some big project, and that leaves the fluffing someplace else.
I like the fluffing, though.  It's fun, simple, inexpensive.
I gave you a sneak peek yesterday, so you know I had time last week to liven some things up in the living room.
Here's the before…I know, there's hardware missing on the sideboard.  It's still missing…you'll just see it's missing on another door.  Ava loves hardware hiding.
I've loved the living room for quite some time, but I was craving some new wall art for that large wall you see a smidgen of on the left.  The previous piece was really formal and again, the wall was screaming for an arrangement of art.
Here we are today.  That wall is now one of my favorite spots in the house.
I found this huge frame for around $12 months ago.  I painted it a snowy white, and let some of the gold peek through.  It sat painted and waiting in my bedroom for months.  I knew I wanted to do something….just what something?  I had originally backed it with the bead board, and wanted to hang the basket you'll see above the mantel on it.  But no temporary force field would hold that thing up there…nail, screw, hot glue.
I actually have something else in mind now…I'll need to visit my friend, Whitney at 58 and Grace to pull it off.
I found about 30 frames at the thrift store a while back and they were perfect for this project.  I'm loving the different warm wood tones paired with bright white…and the walls will soon be heading that way.  Dining room first, though.  I framed a few grain sacks I had lying around, and some photos I took.
The beautiful map shot you see up there is from Fotolia….an awesome site for all of your photo needs….LOVE!  It's incredible to be able to download a high resolution image of anything, and use it in my home.  More on that soon. 😉
Both the oar and the wooden level were found at J & G's Flea Market in Prattville.  I LOVE both of them.  I tied a little jute around each end of the oar, hanging it from the rope.  It's all in the details…and that one I love.
The level…well, that's one of my favorite thrifty finds of all time.  It's such an artistic representation of our hobbies, my passion.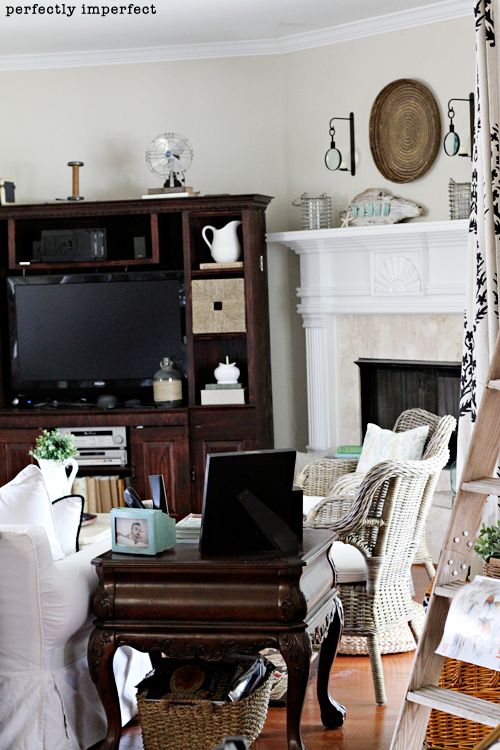 What's that?  Two chairs?  Where's the recliner??  G-O-N-E.  Gone.
Well, it's actually in the hallway, but for all intensive purposes, it's gone.  There are design angels singing somewhere!
Alas, these Byholma beauties from Ikea are not here to stay….they'll be heading to the dining room, as the two end chairs.  I can't quite stop looking at them.
That beautiful Robert Allen Ikat pillow came from Pillowmio on Etsy.  It's beyond dreamy.
I gave you a peek of the seagrass stool yesterday…this was another Ikea purchase and let me tell you, the kids LOVE it.  And I love calling it a pouf.  Even though it's technically a floor cushion of sorts.  It's still fun to say, "pouf."
Did I mention I had a big trip to Ikea when we were at Disney?  Pitcher: you guessed it.  Ikea.  Cute little plant?  Ikea.
I still love the graphic punch of these Waverly Coral pillows my mom made me last year….they just pop against the white sofa.  The striped pillow you first saw in the summer entry….it was a Ralph Lauren TJ Maxx find.  Spa blue/Jute pillow cover is a Pottery Barn find that I scored on Ebay….2 for $24!!!
There's a glimpse of the mantel, and of the basket I found at J & G's.  It was faded out, and naturally blonde.  It was time to go a little dark.  Dark Walnut, specifically.
But more on the mantel later…I've probably overloaded you with pictures at this point.
🙂
Well, half of the built ins are installed, the panelling is painted, and tomorrow you get to see our progress on the dining room!!