It seems like just yesterday I was decorating the mantel for spring last year.  Three seasons, one new camera, and no more lost-Ava-pounds later, it was time to do it again.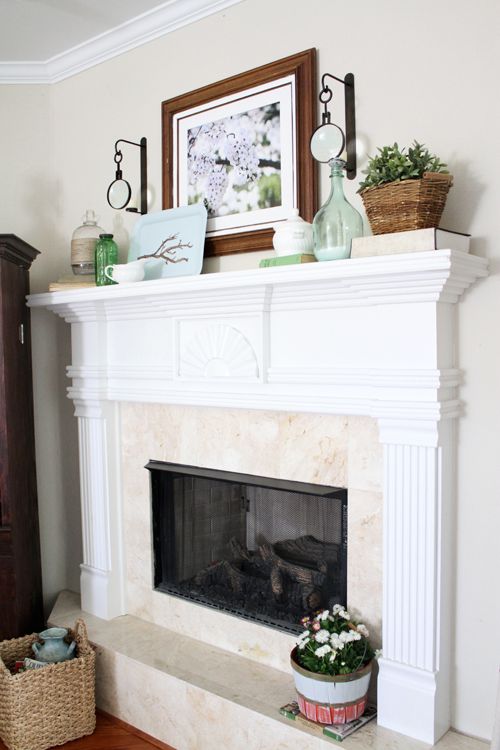 It all started with my flea market finds with the mantel mania queen.  It was fun bouncing ideas around and slowly spring on my mantel started coming together.
Many things I had on hand, but it was a lot of fun to hunt for some glass treasures at the flea market.  From there, a palette of green, blue, white, and brown was chosen.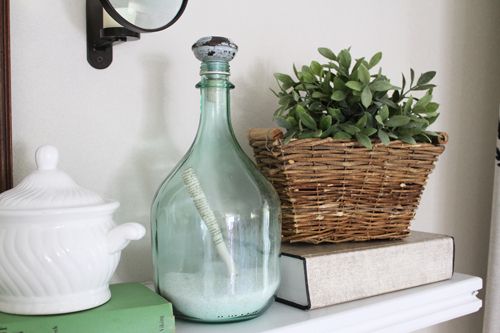 It all started with this $3 vintage jug.  I love the beautiful blue-green color to it.  I filled it with a little sand and it wouldn't be meaningful without a message rolled up inside, right?  I topped it off with a cork from my cousin's shop that mimics hardware…of course, I love anything that resembles an oversized, chippy knob.
The little basket was $1, and I knew it would be perfect holding one of my Ikea plants. I could own a million…they really are amazing and only 4 bucks each.  I also picked up the squatty, lidded white tureen thing-y at J & G's Flea Market, too.
You can never have too many squatty, lidded white thing-y's.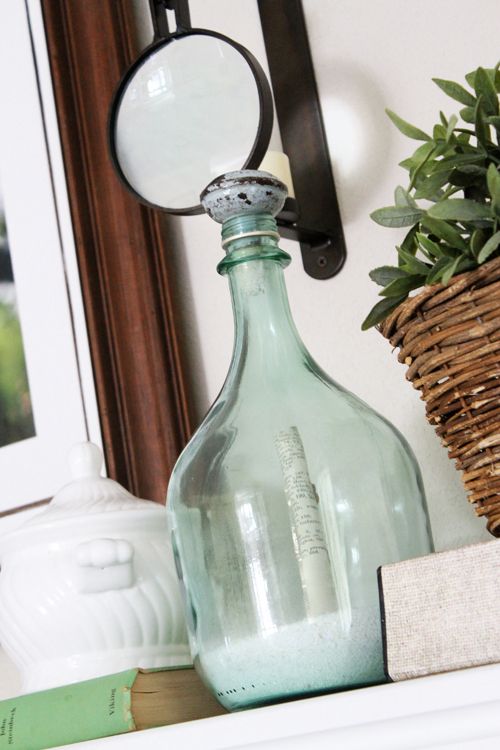 I have an apple green copy of  John Steinbeck's East of Eden….just the perfect pop of green to mirror one of these guys…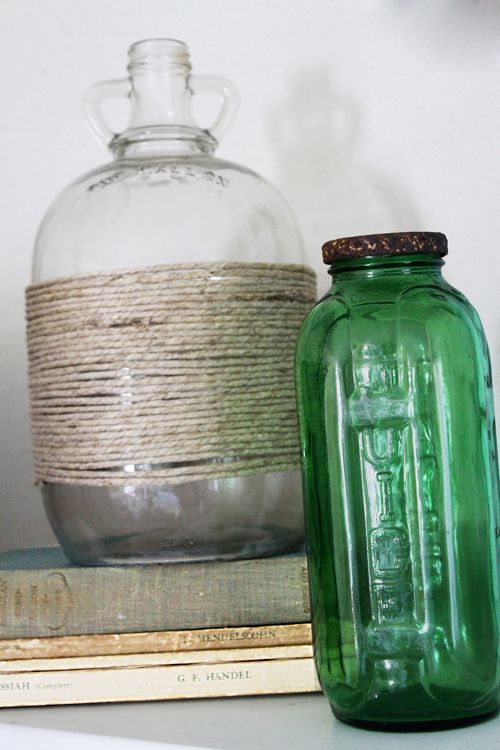 Oh, that jar.  The gorgeous green.  The fact that it actually says "juice" on one side and "water" on the other.  I thought Layla was going to pass out when she saw that thing…I felt kinda guilty to buy it.  But…it is so vivid and that rusty lid…well, that is right up my alley.  Elegant junk.
It just may wind up at her place one day, though.
🙂
I had the other vintage jug on hand, and simply wrapped it with twine (secured with scotch tape) to mirror the texture in the basket.
I had the little white gravy boat on hand, and it winds up on the mantel more than I would've ever realized.  Perfect little size.
You've seen the pretty tray I found at the flea market, and it just needed a fresh coat of paint to fit into our home.  I painted it with one coat of Olympic's Misty Surf and free-handed some branches on in Burnt Umber acrylic paint.  Don't be harsh on that part…I'm no artist, but from where I'm sitting on the couch, it feels organic and right, and that's really all I was going for.  🙂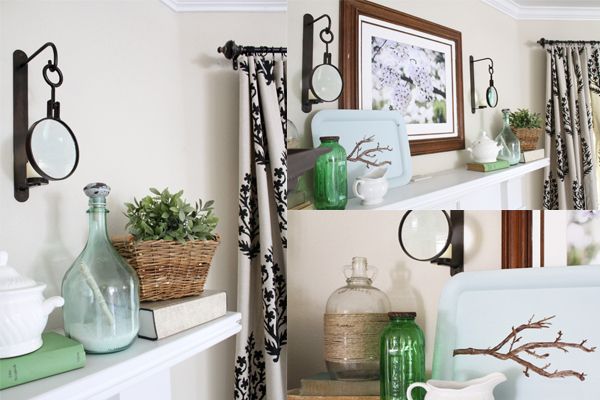 The sconces on either side of the art are from Pottery Barn, and they are magical.  It was a bit of an investment, but I rarely buy anything full-price, and they were just right for this mantel and many more after.  They magnify the light, and bring such visual interest simply by being there.  I LOVE them.  I also love how their oil-rubbed bronze finish ties in beautifully with the curtain rod.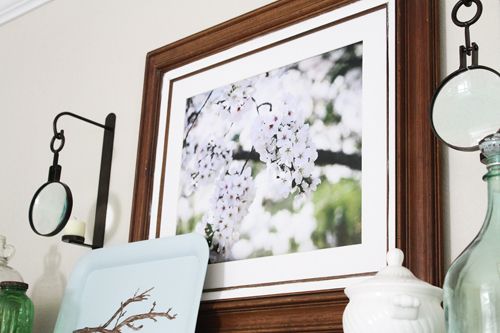 The framed art is probably my favorite part.  The frame was another find of the day, and I revamped it a bit to hold art of my own.  I blew up one of my spring dogwood photos to a 16 x 20 at Walmart, bought a mat, and voila!  You can come back tomorrow for a step by step on how to mat and create your own art with flea market frames.
I couldn't resist this little apple bucket the other day, nor could I resist plopping a sweet bunch of English Daisies in there….I'm praying I don't kill them within the week.  I used more Misty Surf to coat the top and dry brushed a bit on the bottom to give the bucket a fresh look.
Many things are lightening up around here, like the coffee table I hope to reveal this week.  I'm waiting on a very special lady to give me the go-ahead.  She's got something planned for you, too.
🙂
I'll be back with that and more spring touches later this week.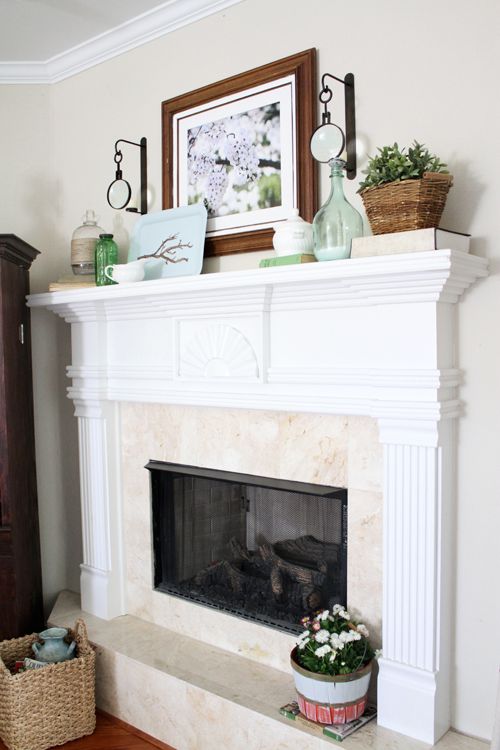 This mantel has officially put a spring in my step, he he.  Quite literally.  What have you done to step into spring?  Or put spring in your step?
Or…you know what I mean.
🙂
*linking to TipJunkie, Stories of A to Z, Thrifty Decor Chick