It's like I've got a fire under my pa-tooty.  Or toes.  Or, well, anyway, the fire's lit and I'm a woman on a mission.  There were some updates behind the scenes this weekend on the blog, and not being able to think about posting was good for the project column.
Projects are trumping blog posts by a few points right now.  I'll hopefully even that ratio out a bit this week.
Since painting the kitchen white (the whole downstairs soon to follow), I am tweeking almost every room down here.  The attic was such a joy to create from scratch…and we have these spaces that almost 100% us, and that is a GREAT feeling.  It's time the rest of my home reflected that.
Because I am a mama first, the part that takes a while for us is the finishing.  The wall galleries, the artificial and real greenery, the little vignettes on tables and shelves.  But, I suppose that's all of us.
You will be blown away when you see what difference the painting made!  Simply from a lighter beige to white.  It's monumental.  Every single item we own stands out more…and I am either loving them or hating them.  Beauty and flaws are brought to attention in front of a white backdrop.
And I love it.  I'm highlighting things I love, getting rid of things I don't, and repurposing many outdated pieces.
Hence, the painting of the coffee table.  You've seen it here before, and it was begging for something.  It was naturally distressed from little hands and lots of hot wheels, but not quite beautiful.  There is so much I want to do downstairs that buying a new table is not an option…and honestly, I love the size and storage space.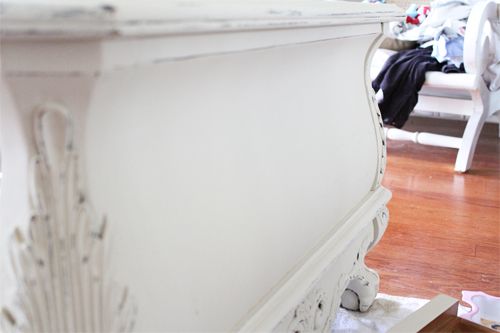 It still has to be waxed to deepen the color and seal it, but I just HAD to show you the finish.  I'm using a new product, and can't wait to share it all with you.  One of my sweet, sweet friends here in the blogosphere told me all about it and man, she was right.  It's the best thing I've found in ages.  See how smooth that is??
If you could have seen me painting, you'd know there was no way it would finish so smoothly.  I just stippled and swiped, painted in a hurry.  You'd never know.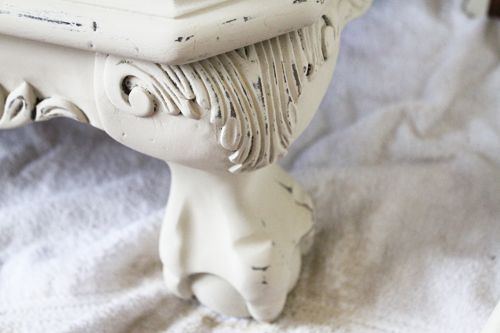 I am, therefore, addicted.
And equally addicted to unifying the rest of our home.  The paint alone is taking care of every room.  Switching some things around and adding more pops of greens, blues, (and even a little coral on the way), and washing paint on items that need a fresh look.
Every room is easily updated.  Every room except the dining room.
I've been eyeing that furniture for a while now.  The wallpaper.  The lack of personality…of the finishing.  Layla and I got to talking about it….I was telling her about some of my vision for the room, and she, of course, had brilliant ideas and suggestions.
We began talking about how to revamp the room and keep the furniture.  But the more we talked, the more I (and she) felt like there was no way to head in the direction I wanted and keep the furniture.
After running into the deal of a lifetime, I found the table of my dreams.  It still may be a bit small for the space, but the point to this long, rambling confession….
is that Matt is up for it!  I was so fearful he would never get rid of the furniture…please don't get me wrong.  It was the first thing we bought before we married ten years ago.  It is beautiful.  It's masculine, and a little feminine, comfortable, and yet, very formal.  I love it.
But…it doesn't fit the kind of life we live now.  I have fully embraced casual meals, sticky fingers, and lounging around in my pj's.  Stacks of dishes rather than perfect display…that's our real.  Our happy.
I want every room in our home to reflect that.  I still want a touch of elegance in our dining room.  But I definitely want more casual.  I'm sure we won't be chunking the furniture to the curb or even listing it on ebay, but I think it will go into storage for a while.
I've never been so excited.  I'm pulling together some inspiration today.  And I think I've convinced Layla to put together some inspiration herself.
There's some farmhouse vibes floatin' all around…
🙂