Hello, today I'm sharing 25 ways to find fall magic with you! I'm a big list person. I love lists for to do's, and I love funny lists, and I love lists that inspire. There are seasons special to me, but I have to say Fall is just magical. It feels like a breath, a pause before the busyness of the holidays and a quieting after the loud summer, and the light…I am drawn to its light.
Without further adieu…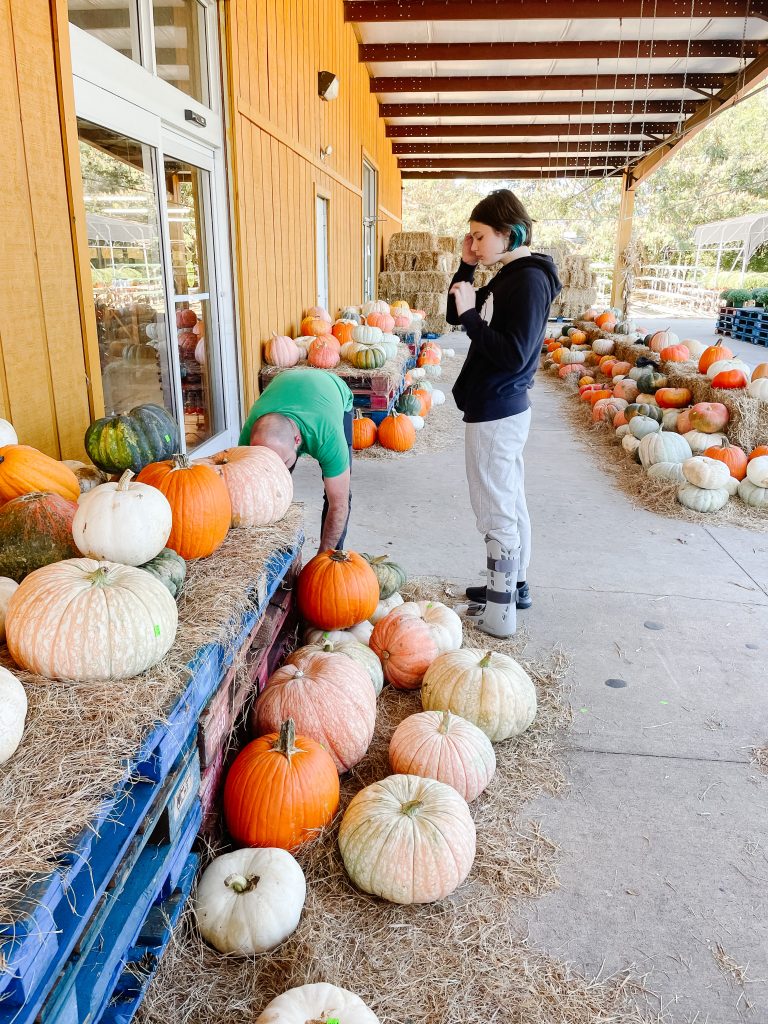 25 Ways To Find Fall Magic
Please visit the pumpkin patch. Or a farmer's market. Even if you do not buy a thing. Go take in the heirlooms.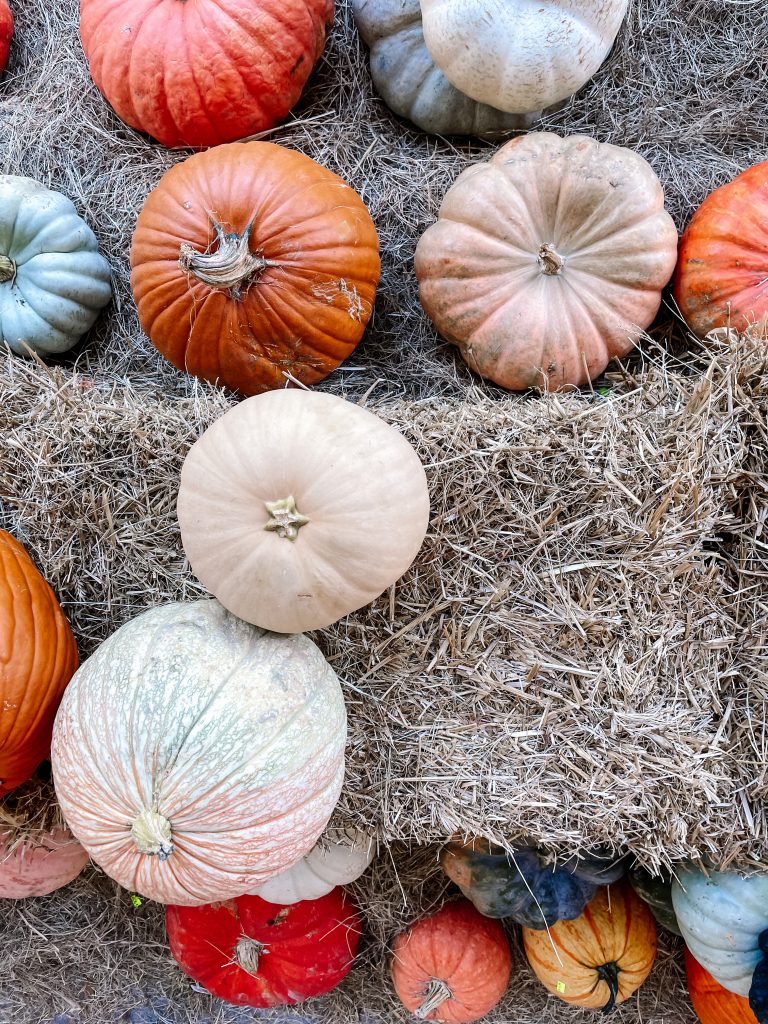 2.  Marvel at the fall light. Notice the change in warmth. Take your camera out to capture it if that helps. Just take note.
3.  Drive with your windows down as often as possible. Let the cooler, crisp air kiss your skin, even if just for a moment.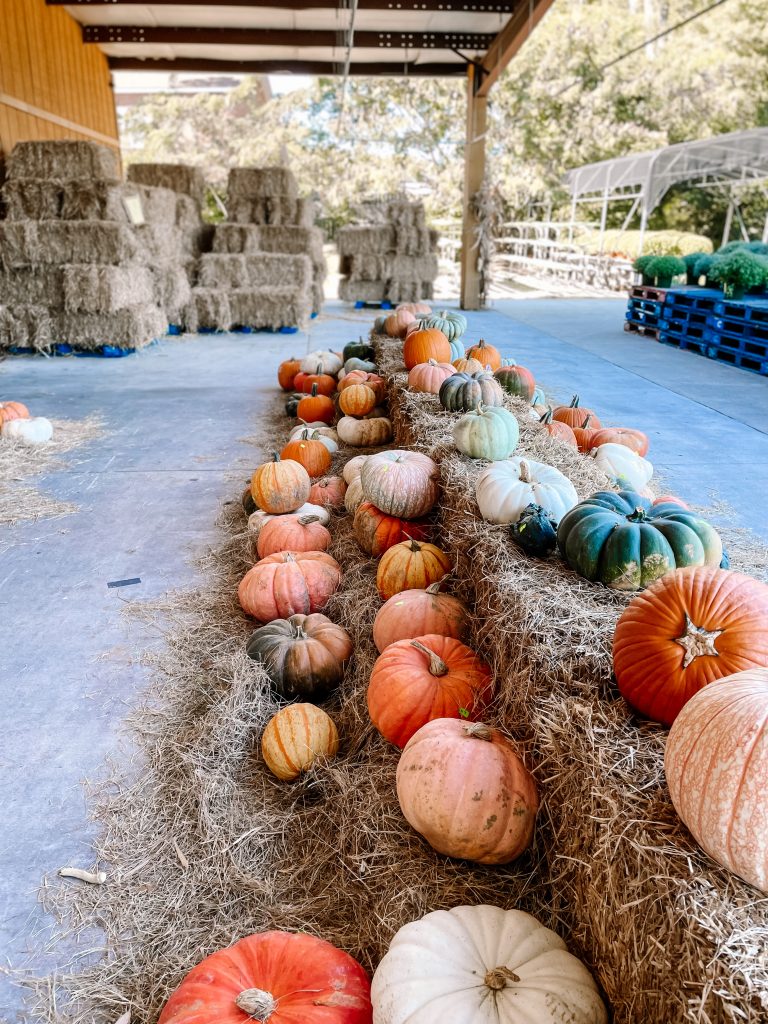 4.  Embrace the flavors of the season. Stock up on allspice, soup stocks and veggies, roast a butternut squash or two. Buy stock in sweet potatoes.
5.  Create a fall playlist. I have my own and can share it soon!
6.  Light the first fire of the season. If you are like me, living in a southern state, be patient. Or, turn the ac down and do it anyway.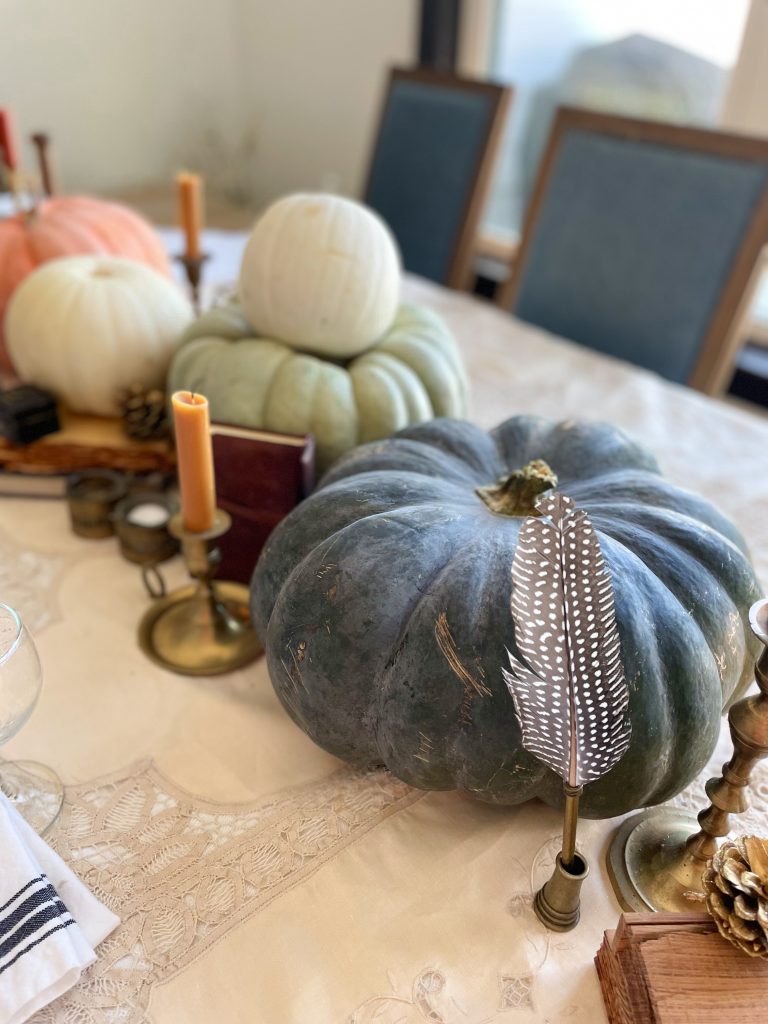 7.  String some outdoor lights. I promise, the twinkle in the evenings is worth it (I do this all year long, btw).
8.  In the evenings, turn the lights down lower in the family room. Light as many candles as you like.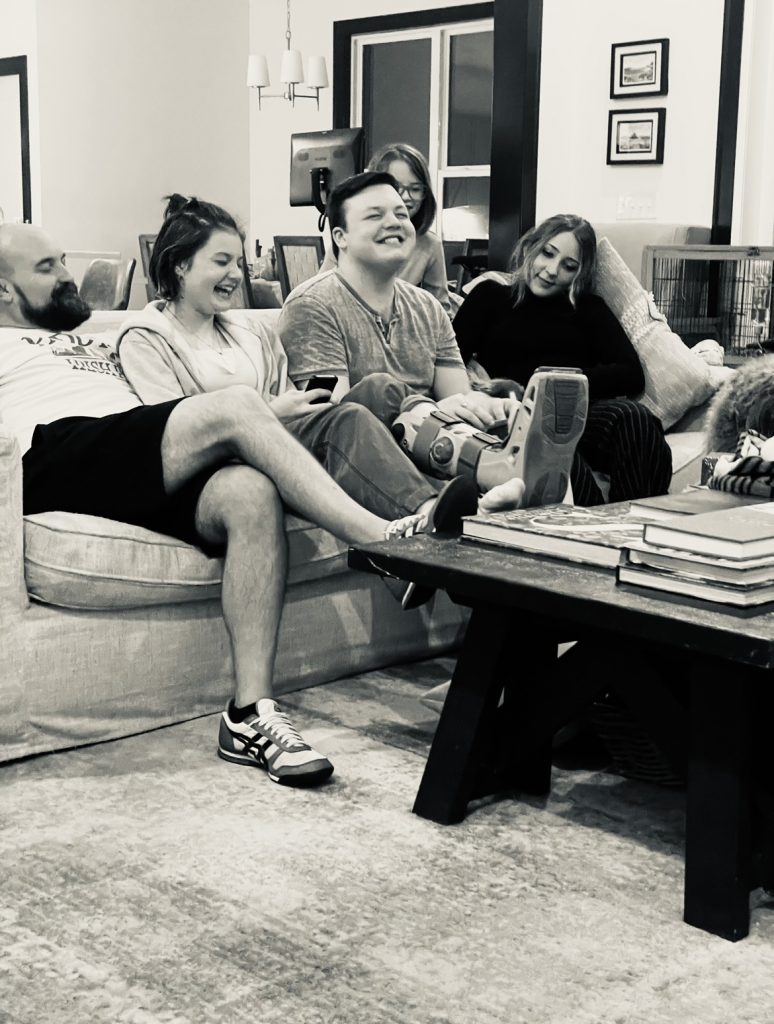 9.  If you don't entertain often (I don't very much anymore), invite people around your table. It doesn't have to be decorated. Fix a warm soup and love on those you love.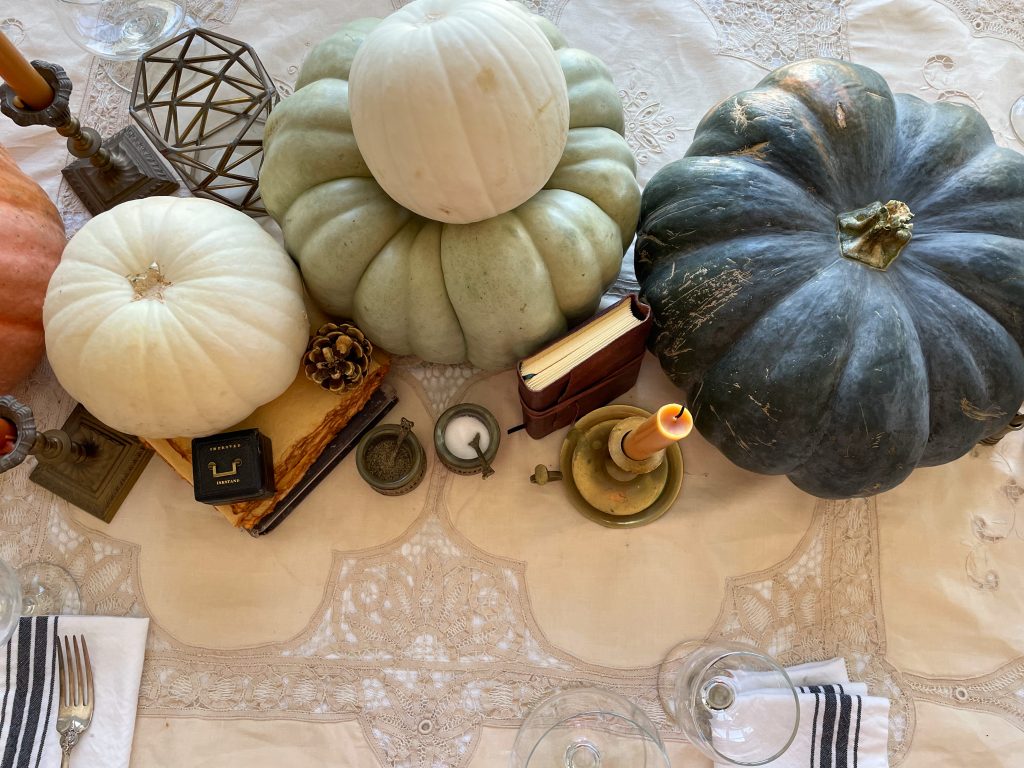 10.  If gumption strikes you, decorate a surface or three. This is totally up to you. Sprinkle bits of fall and warm textures around your home…a little goes a long way.
11.  Pull out the chunky fall blankets. Drop them all in a basket where your family hangs. It's a nod to the season and encourages snuggling up on the couch.
12.  Visit an apple orchard. This is on my list this year. Picking your own fruit is so satisfying, and the yield is as delicious as the day is fun.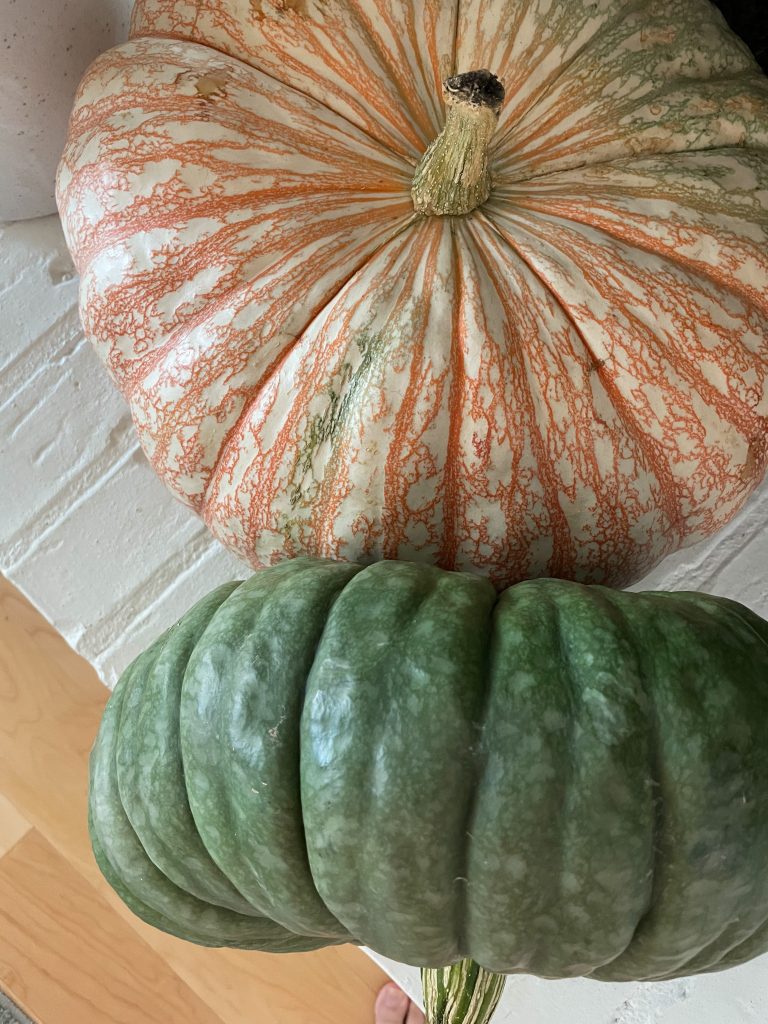 13.  Pick a beautiful fall day and find a small town or downtown you haven't visited in a while. Explore. Get lost in a quaint bookstore and sit outside at a cafe to read.
14.  Fall in love with the quiet process of making a hot cup of tea. The flavors of the season are amazing, and the scent alone is transporting. My favorite brand is this one.
15.  Wake up early. Breathe in the fall air at first light.. I know. This is a tough one for me too, but I never regret it.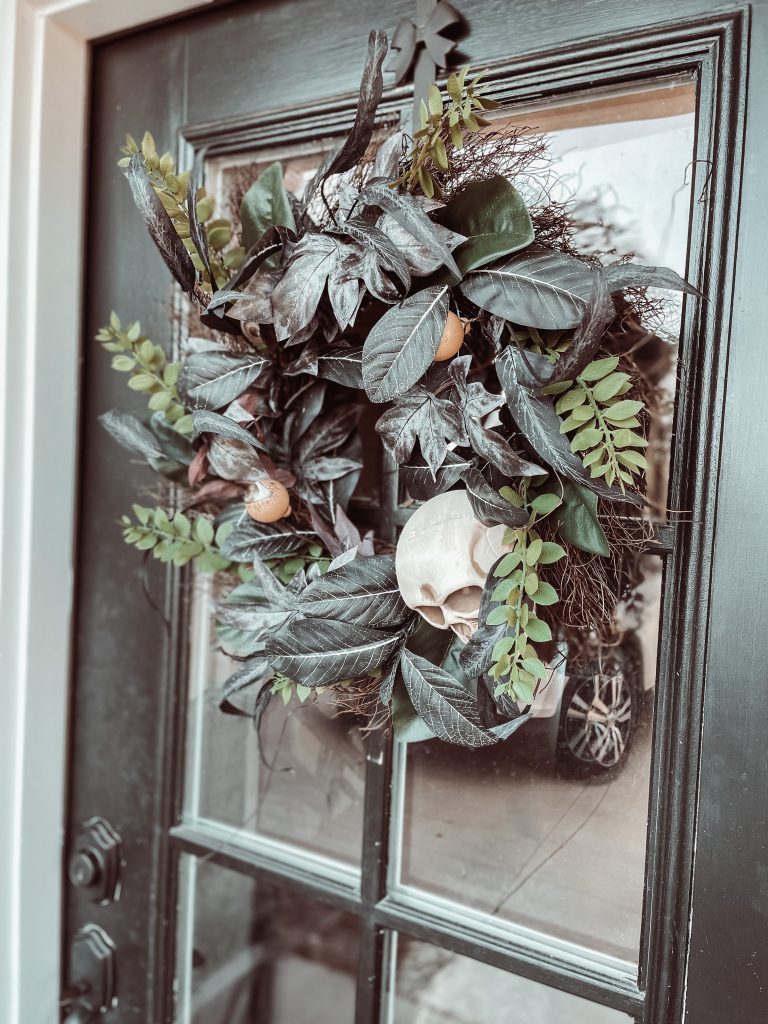 16.  Do something adventurous. For me, this year, it was as simple as stepping out of my traditional "fall" comfort zone into some spooky fun for the kids.
17.  Volunteer at a local farm, orchard, or pumpkin patch. Doing some work outside with your hands is never more fun than during fall harvest.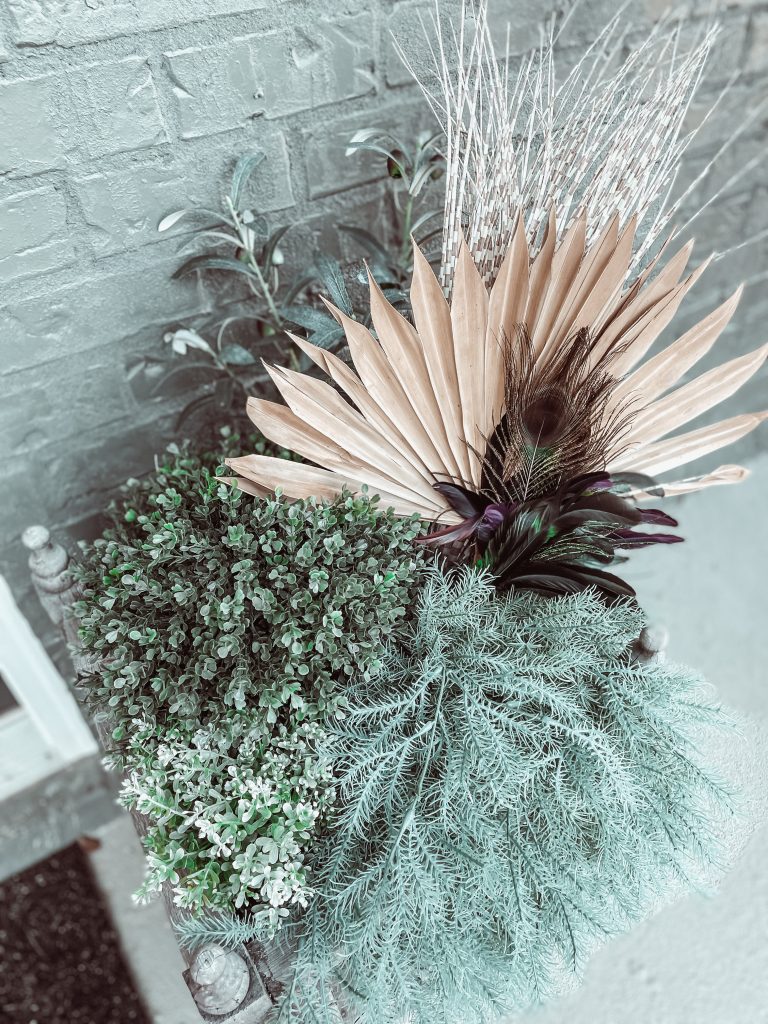 18.  If you have littles, make some fall abstracts with them. Tape patterns off on a sheet of sketch book paper, pick some fall paint colors, and let them go to town. Think oranges, yellows, reds, corals, umbers, and creams. Once their paintings are dry, pull the tape off and hang their fall inspired abstracts.
19.  Watch all the fall things. If you're into it, Hocus Pocus and Practical Magic are two of our all time favorites, but pick some new ones that celebrate harvest: Try The Biggest Little Farm, Growing Floret, The Lost Kitchen, and Clarkson's Farm.
20. Grab one fall candle. Yes, just one. Pick your seasonal scent and stick with it. For me, the aroma of cedar and fires does the trick. I know people love the pumpkin spice thing, so go for a fall baked good inspired scent if that tickles your fancy.
21. Make a warm apple or pear crisp. You don't have to bake a full pie to capture the flavor. Sauté pealed apples or pears with butter, sugar (or brown sugar), some cinnamon and nutmeg until soft. Top with crushed graham crackers and a dollop of whipped cream or ice cream. Done.
22. Pick up a new book, even if you're not a reader. Wander the shelves, pick the the first one that appeals to you, and snuggle into a comfy chair by the fire (or lamp, if you live in Alabama). Nothing feels like fall like snuggling up with a great story.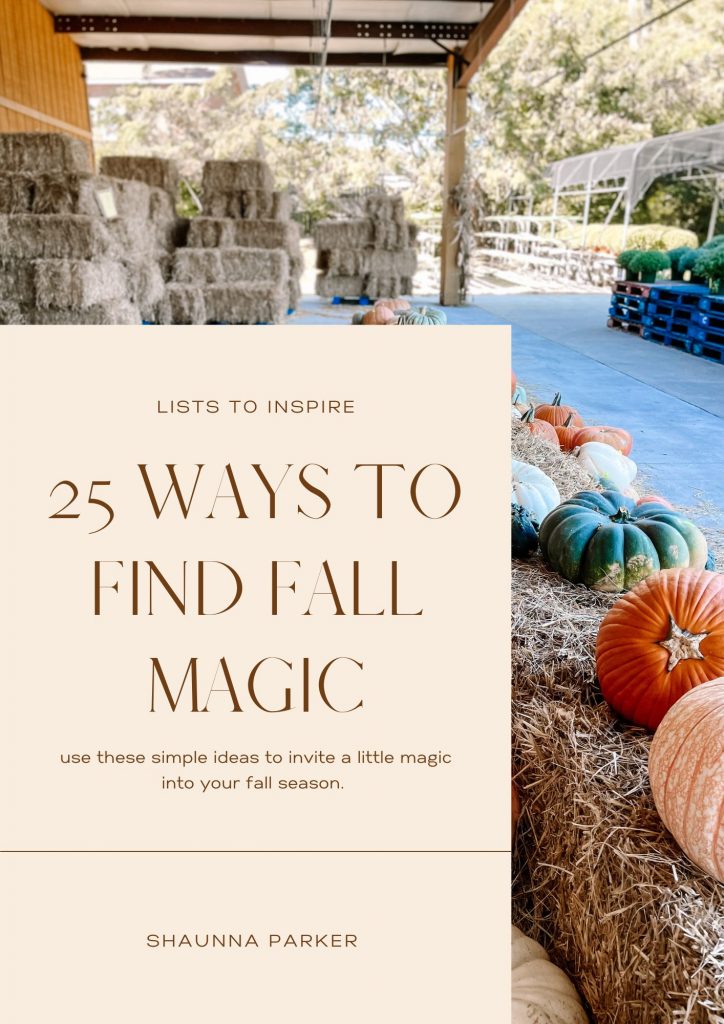 23. Go camping, even in your backyard. We are planning to once we get consistently cool around here.
24. Host a fall picnic for your family or a group of friends. Here's a great list for some easy fall picnic recipes.
25. Shop an old fashioned bake sale. They pop up this time of year at farmer's markets, local schools and organizations, and again, it just feels like fall.
I hope you enjoyed this list and you find your own fall magic! Any other favorite fall activities you love…share them in the comments below!