Before Christmas break, I really got into painting Artist Palettes. It's a simple exercise really, but building a palette does take time and thought. What would a palette look like after I'd completed a painting?
I find most of the time, I stare at my palettes long after the painting is complete. The piles of colors and and remnant brushstrokes just get me every time. Often, I think I feel so moved by them because the palette is proof my hands were there.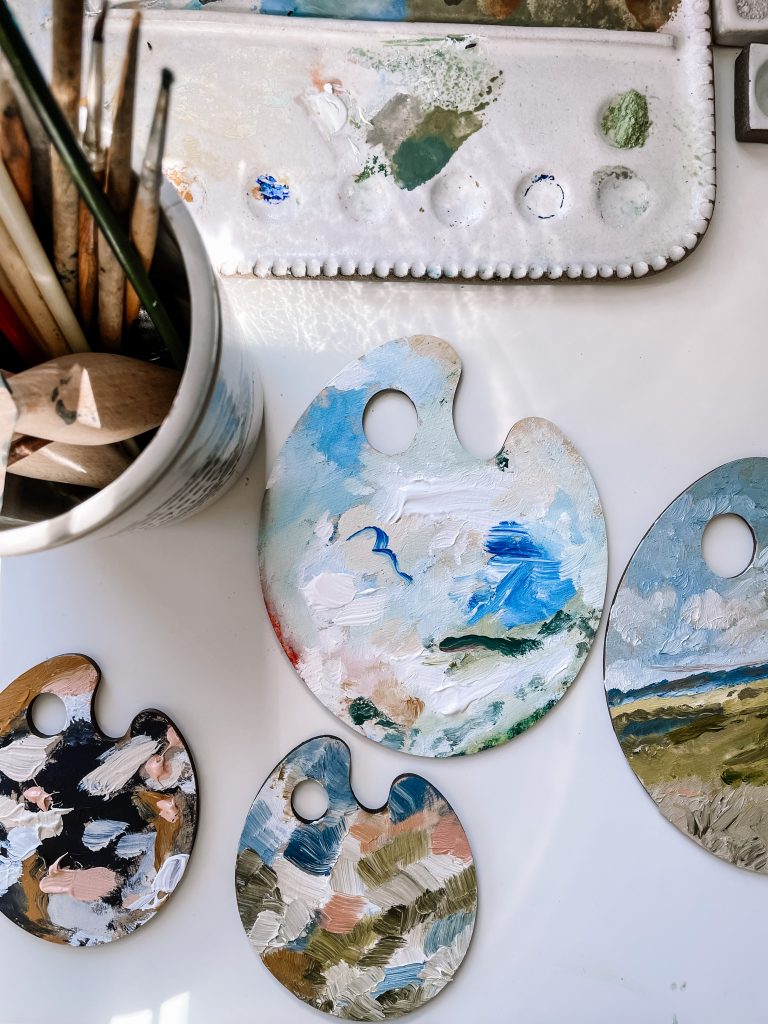 I made something. I made this.
I've completed a few and am taking my time enjoying the process of painting artist palettes before I release it as a collection. Noticing, playing, building palettes as I paint landscapes. It has been such a joy to take my time with these.
Some feel abstract or patterned, some are loose versions of a landscape, and others are simply meant to feel like the artist left the palette just as it was to dry.
Here's a time-lapse of this black and cream mini palette I created a few weeks ago. I just love the idea of these hanging on a wall as art. I already have vintage palettes hanging in my studio and I imagine I'll keep one of these beauties for myself. 😉
A big believer in displaying my creative tools in an intentional way, it seemed like a fanciful step to create these one of a kind paintings…and honestly, just play!
If you want more paint palette inspiration in the meantime, I have a whole board dedicated to Paint on Pinterest. It's eye candy for us paint lovers.
Happy Monday, friends!