It's time for another favorites post…in my opinion, here are the best sketchbooks for mixed media!
While they won't suit everyone's needs, I do use all of these sketchbooks for all kinds of things, in all kinds of ways.  I love a good notebook, and I use so many different styles for writing and art, it seemed fitting to share them with you.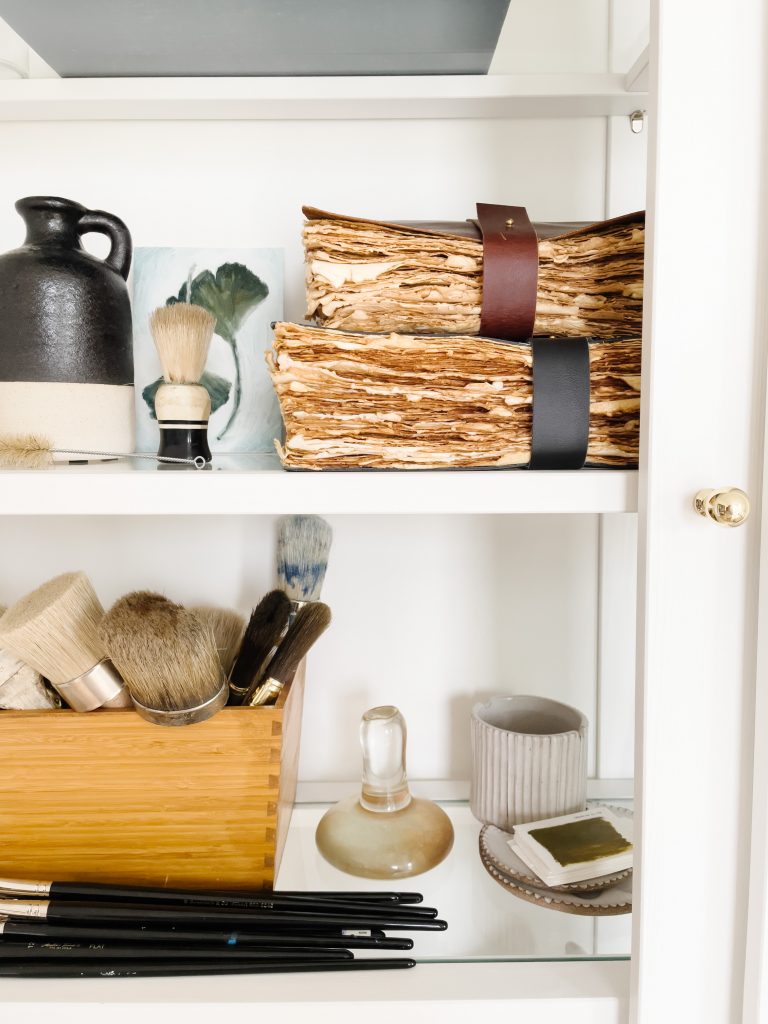 I use sketchbooks for much more than sketching and painting. I have sketchbooks for:
daily lists/website sketches/brainstorming
writing
sketching
painting
color studies and exploring
project planning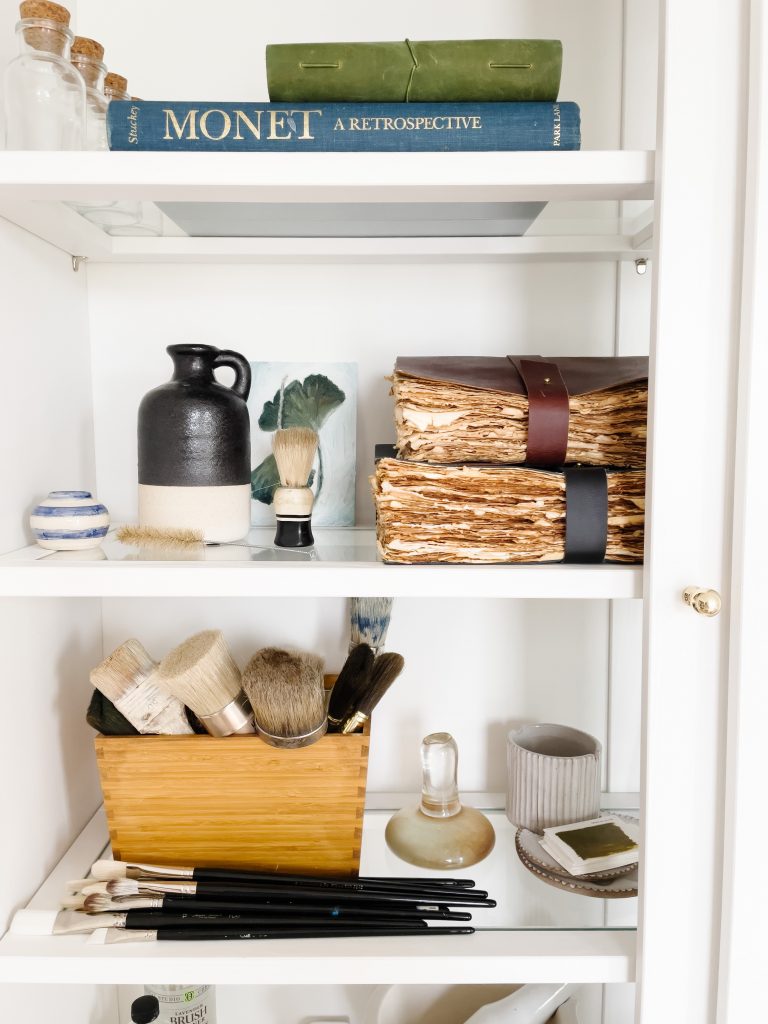 I find that I like having a sketchbook for each use, because I work better that way.  I like pulling one out for writing, and one out for painting, one for color charts…you get the idea.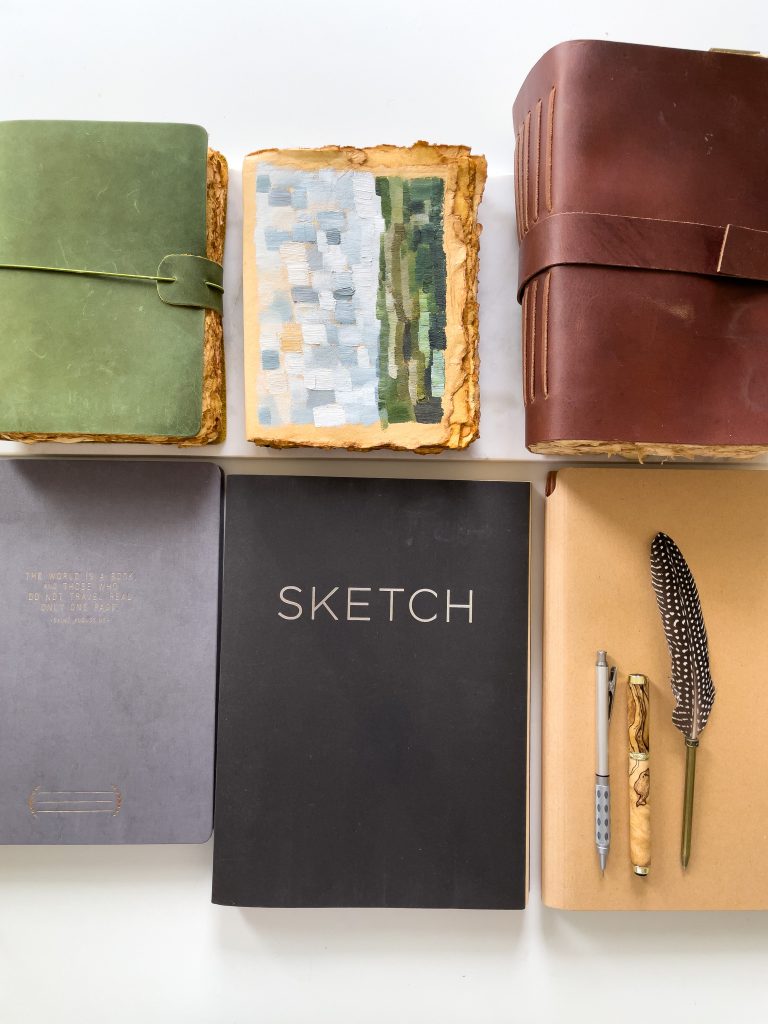 Best Sketchbooks for Mixed Media
From top left clockwise, here are my favorites:
Vintage Leather Journal by The Leather Village, Refillable Journal & Pages
Vintage Leather Journal by The Leather Village, Medium
Kraft Sketchbook by Ranger w/ tool and paper storage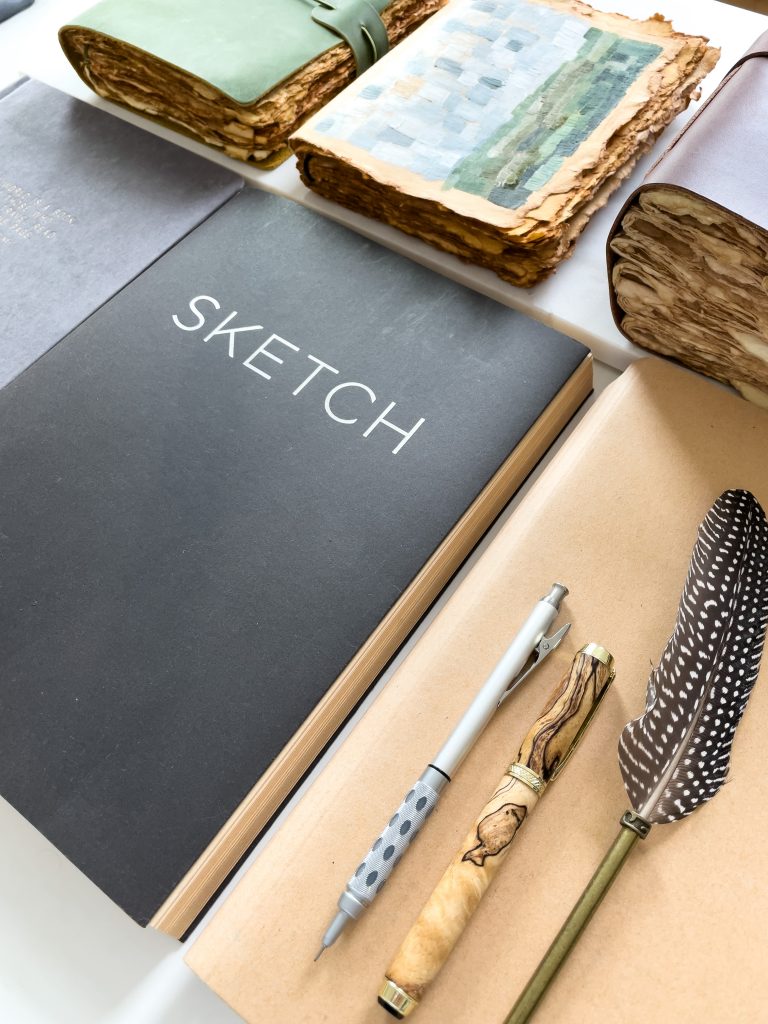 It may seem over the top to write an entire post to describe all of my favorite sketchbooks, but if you write or paint, or play with mixed media of any kind, hopefully these will be a great jumping off point for you.  Here's what I use each book for the most.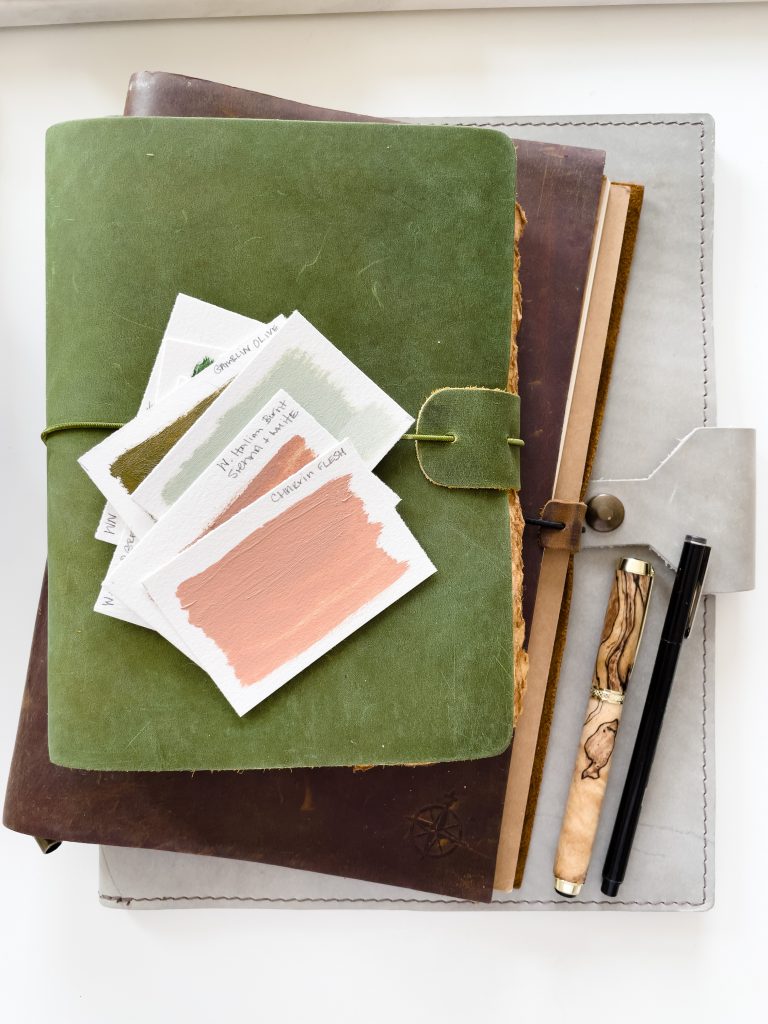 Vintage Leather Journals- Best Sketchbook for the Romantic or those Drawn to The Handmade
Marian originally turned me on to the vintage leather journals by The Leather Village. I have been collecting journals and sacred places for my writing since I was a little girl, and when I saw these, I got the same light in my eyes I did back then. The pages are beautifully worn and seeing them stacked on my shelves is enough to pull them down and get to work.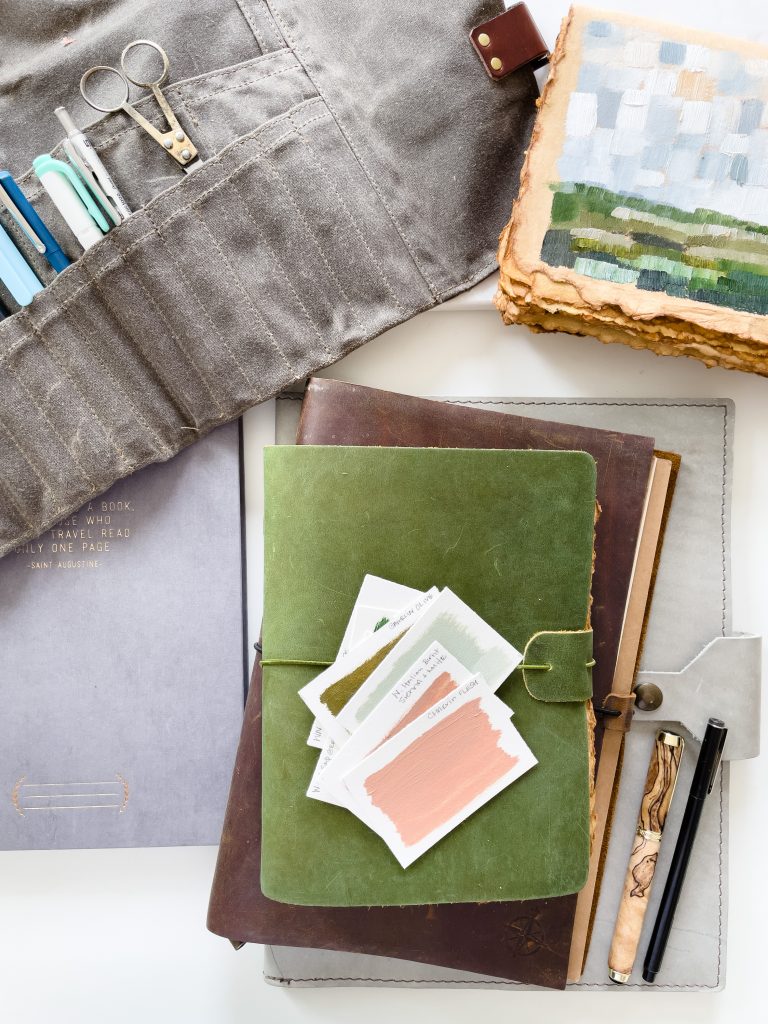 I use these for writing and painting.  I have one a Large Black Journal for writing, and I will sprinkle in painting into it.  I have one Refillable Green Leather Journal in 8×6 I use for small studies and sketches…it may be my favorite!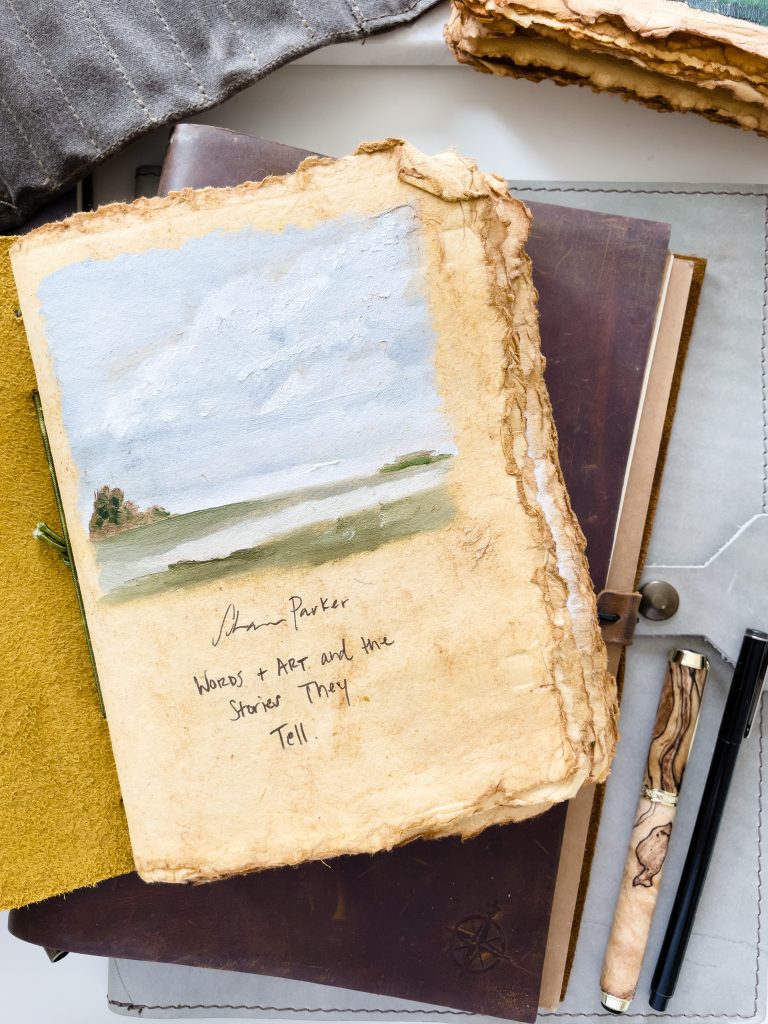 That's it for me, as you know.  Words & Art and the stories they tell…I love opening this little journal.  This one is also great size for traveling.
P.S. I love my refillable pages..anytime I paint in this journal, I gesso the journals with clear gesso & can paint directly on the page while it's laying flat.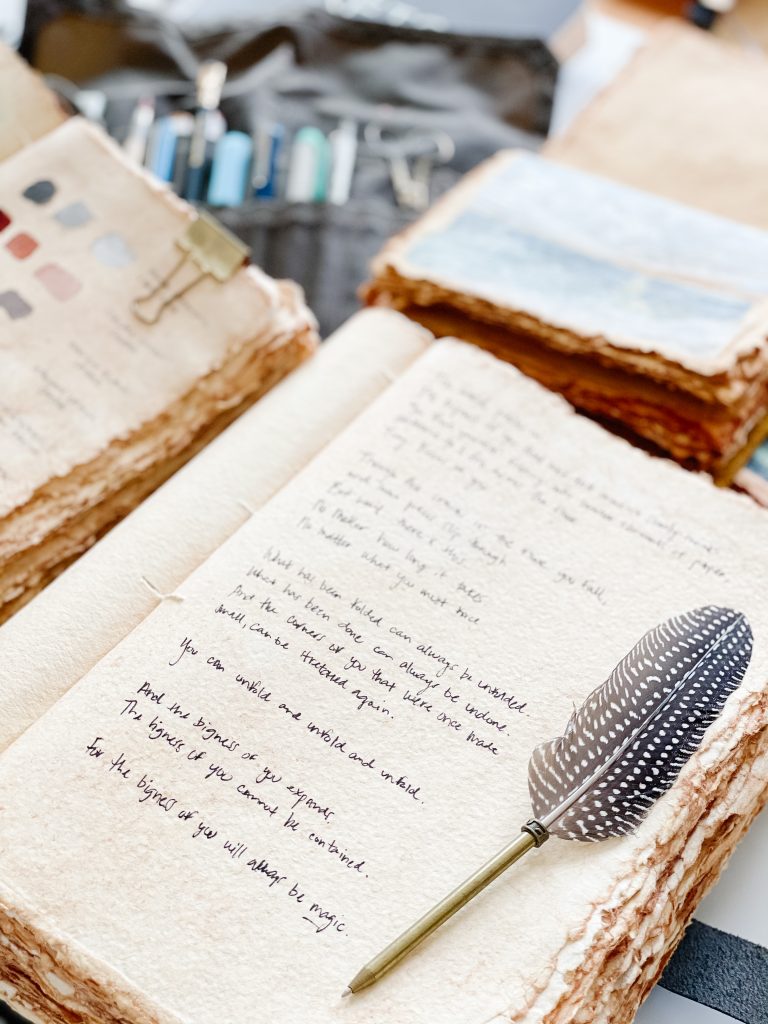 That's probably another reason I love the dang things so much…the pages hold up to gesso & paint PERFECTLY, with no buckling or bleed through.  And oh, I almost forgot! I do have one of the 10×7 Rust Brown journals I use for all my color studies and color charts…love how FAT these journals are and how beautifully they stack on the shelves.
You can see these journals in action HERE, in this post.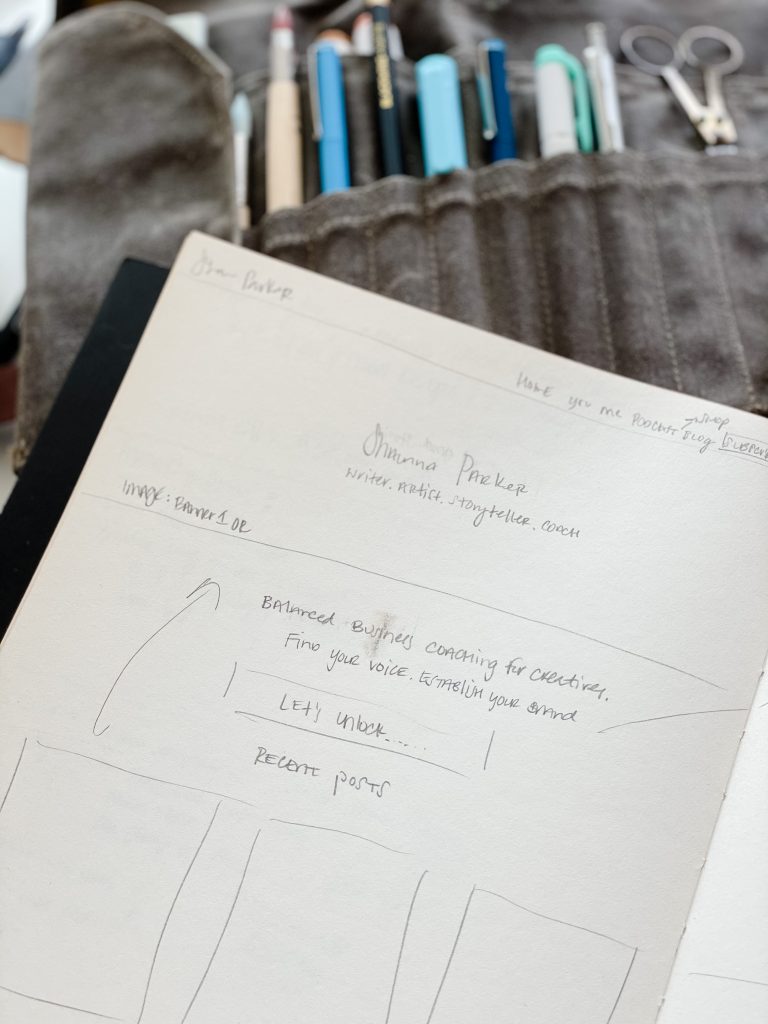 Sketch by Picadilly, Inc.- Best for Those Who Love a Huge Page, Loose Note-Taker or Sketcher
This SKETCH book by Picadilly, Inc. is a favorite of mine.  Totally affordable, lightweight, huge pages.  I use these everyday.  I use them mostly for notes, brainstorming, website design and marketing sketches, plus daily lists I need to dump out that aren't tidy in my planner.  Think of it as a great surface for projects.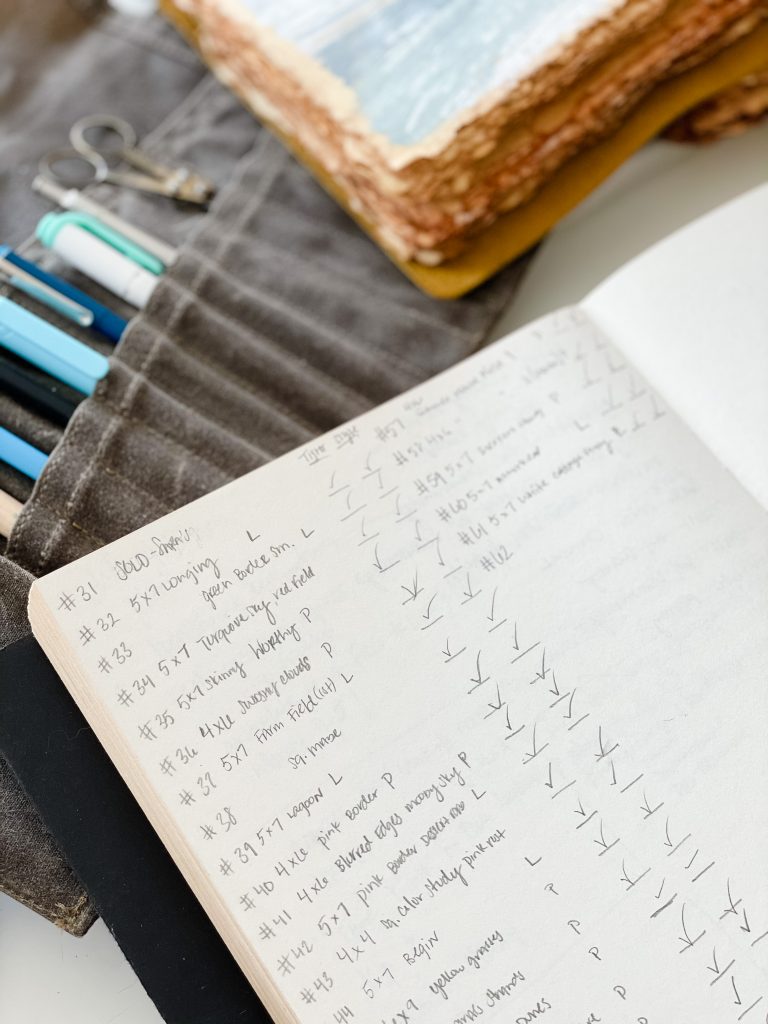 Like I said, I don't use these for painting…the pages might be a bit too thin for that.  But for daily sketches, or if you love a blank, large surface like me, these are for you.  I also love the way these look on a shelf…they are solid black, with the simple word, "SKETCH," embossed across the front.  I like to keep my project books and sketchbooks, so the way I can uniformly display them matters to me.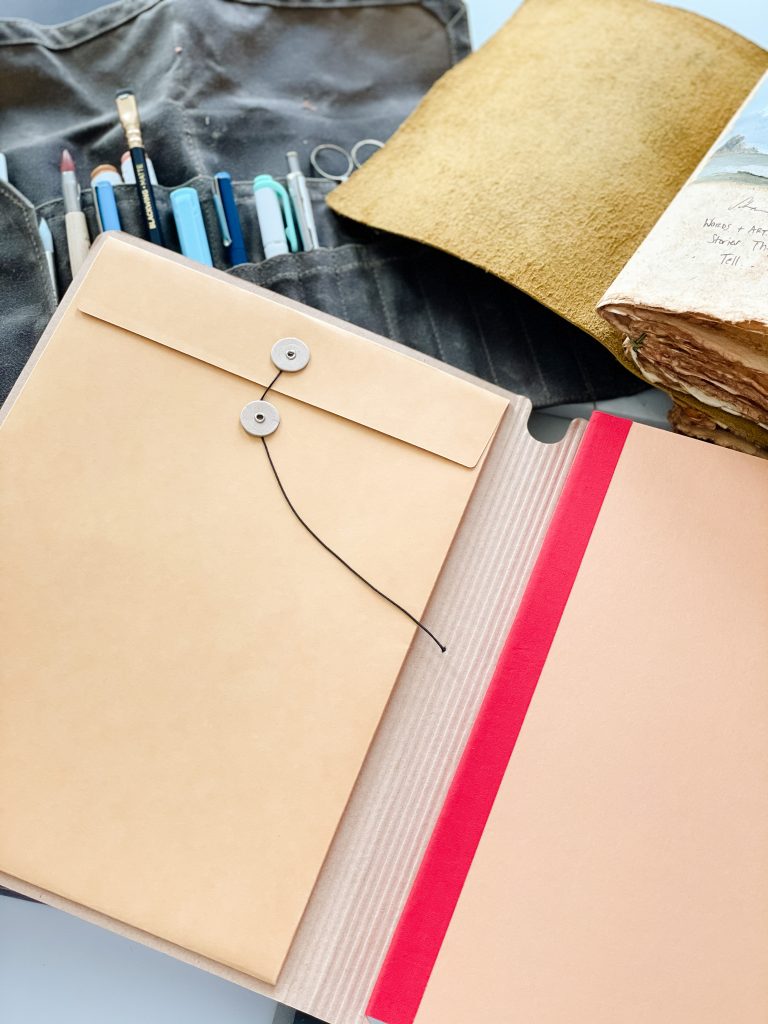 Kraft Ranger Sketchbook- Best Sketchbook for Design, On-the-Go, For the Tidy Sketcher
This is the one I had before all the others. 😊 I used the Ranger Sketchbook for design projects years ago, as I love the pocket at the front to hold tools, rulers, papers, etc.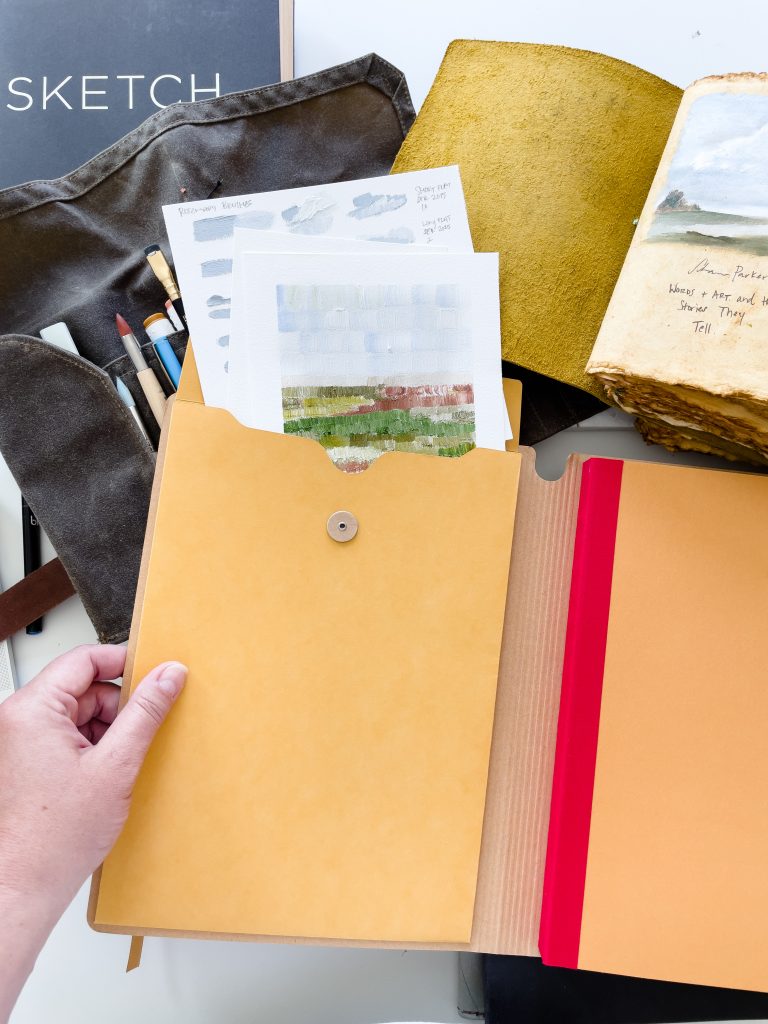 My favorites about this one: It folds insanely flat, especially for the size, the pages are super rigid so it is wonderful for sketching and painting, and the page thickness is almost like cardstock.  It is the tidy, more clean cut cousin to my vintage leather journals.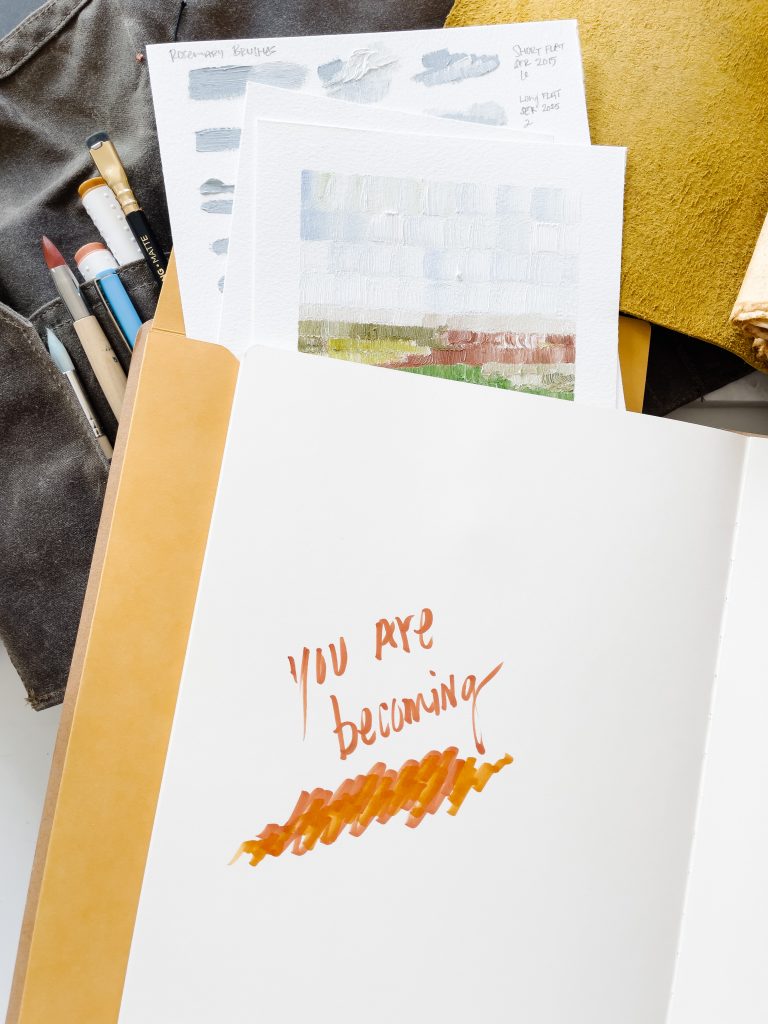 If you like a sleek design to work on and for your shelves, I think you'll love this one.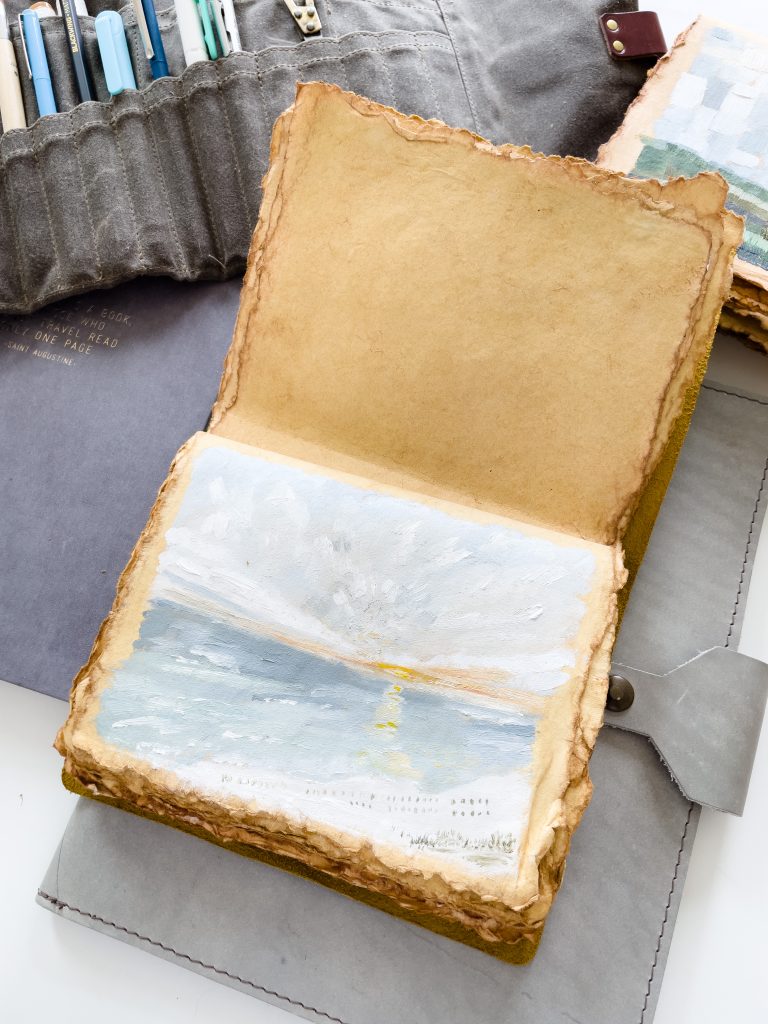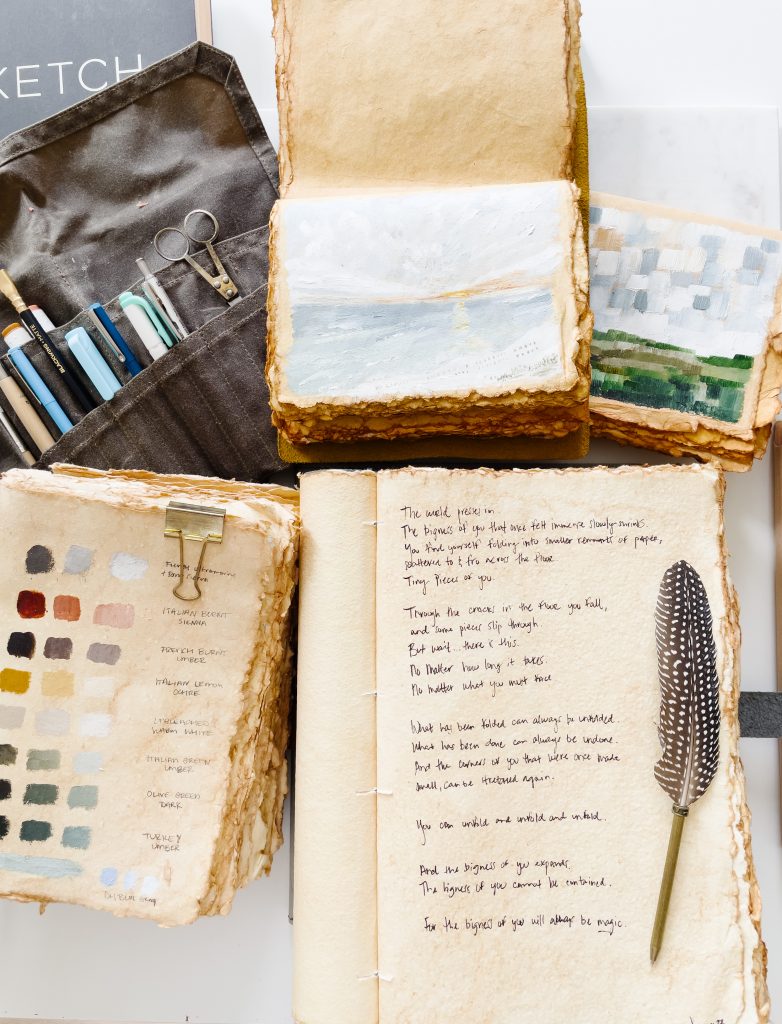 I didn't take a separate photo of it, but I love every small journal or notebook by DesignWorks Ink. I have used them for about 7 years…perfect for everyday or for the writer.
By the way, maybe the BEST feature of all of my favorite journals and sketchbooks is they all lay FLAT. And I mean, pretty dang flat.  It just matters to me…whether I'm note taking, sketching, painting, or writing, I need a flat surface and I despise paper rolling up into the binding of a book. So…there you have it.  I hope you love my favorites and if you're in the market for a new journal or sketchbooks, one of these works for you!

*Disclosure: This blog post may contain affiliate links as part of the Amazon Services LLC Associate Programs and other affiliate services. This means that perfectlyimperfectblog.com receives a small commission by linking to Amazon.com and other sites at no cost to the readers.