Happy Friday, my friends! Today, I'm going to share with you the best paint brushes for oil painting (in my humble opinion).
When I began sharing my paintings daily on Instagram, I would have zero clue that so many people would have questions about my actual process.  One: I am by no means a fine artist or have a background in art education.  I am a beginner, learning and trusting what is coming out of my hands.  It just brings me joy. Two: there is so much wonderful information out there, that I can't help but feel like it could be a little redundant.  My friends, Marian & Michael, to name a couple, both have such great resources if you want to check them out.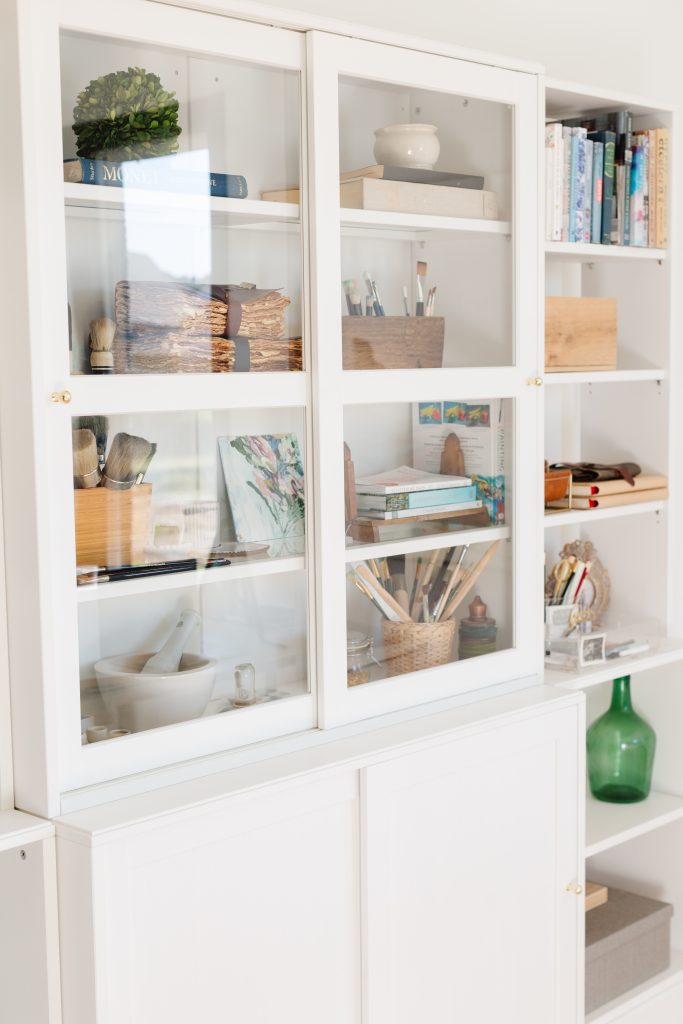 There is Value in Sharing Our Own Process
But, Three: I do know the value in sharing individual approaches, and while there is so much great info out there, I want to share my process and favorites with you if you want to know!  To keep these posts a little shorter, I'll share my favorite brushes, paints & pigments, tools & oils, and who knows what else!
All you have to do to know I am a painter is walk into my studio and glance at the shelves.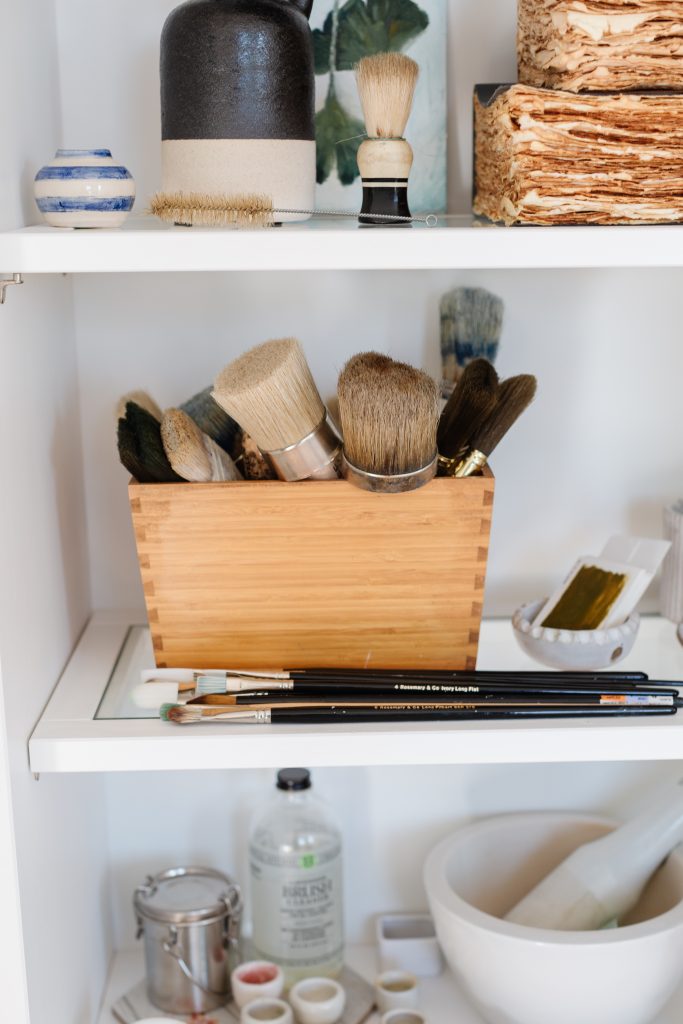 There are all shapes and sizes, and paint brushes for all uses.  Even though I don't paint furniture for a living anymore, I still break out those brushes, too.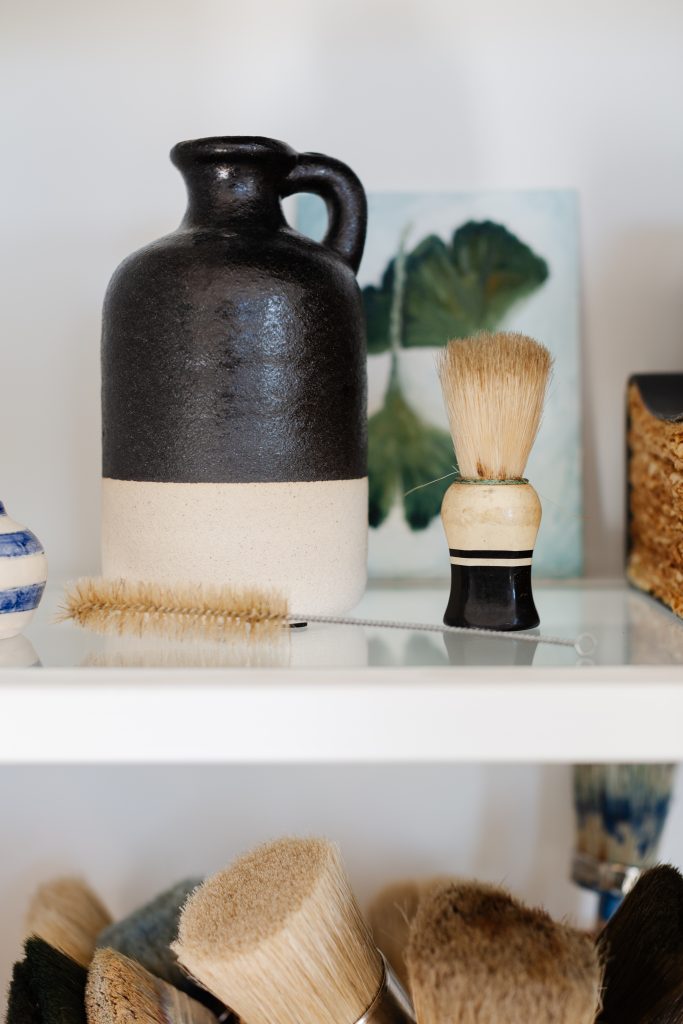 And I am a sucker for all vintage and antique brushes.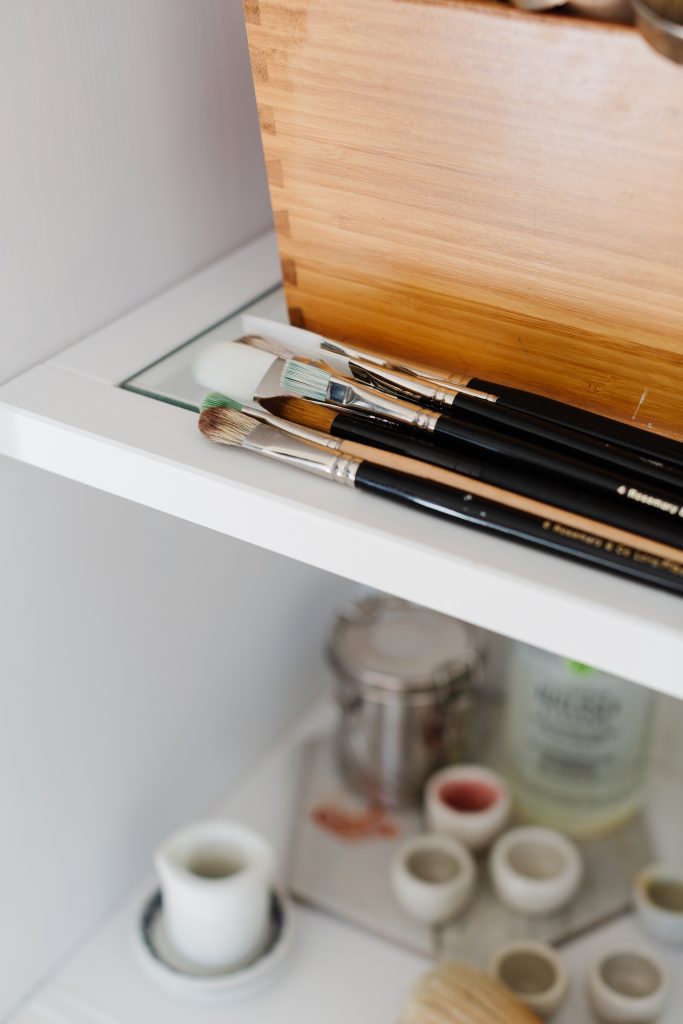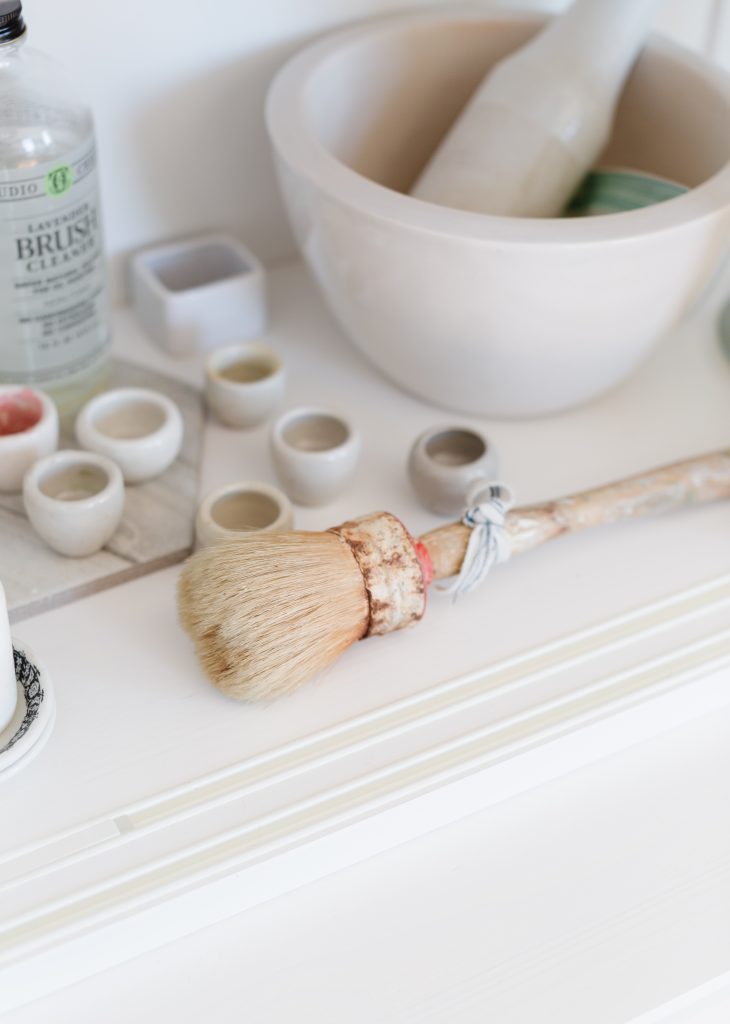 So let's dive in to the best paint brushes for oil painting!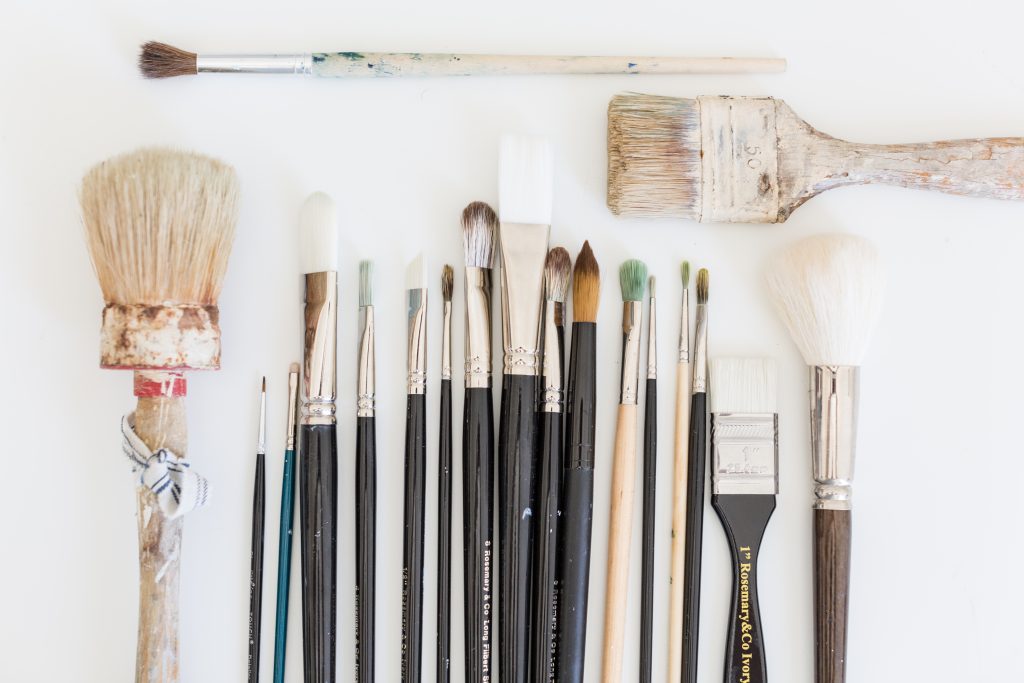 My Favorite Paint Brushes: Start with Two!
In the picture above you'll see some of my favorites.  The first thing I will say is this:  I use 1-2 paint brushes 98% of the time. I have my favorites & those few are the ones I pull out daily.  You don't have to start with twenty brushes.  You can start with two.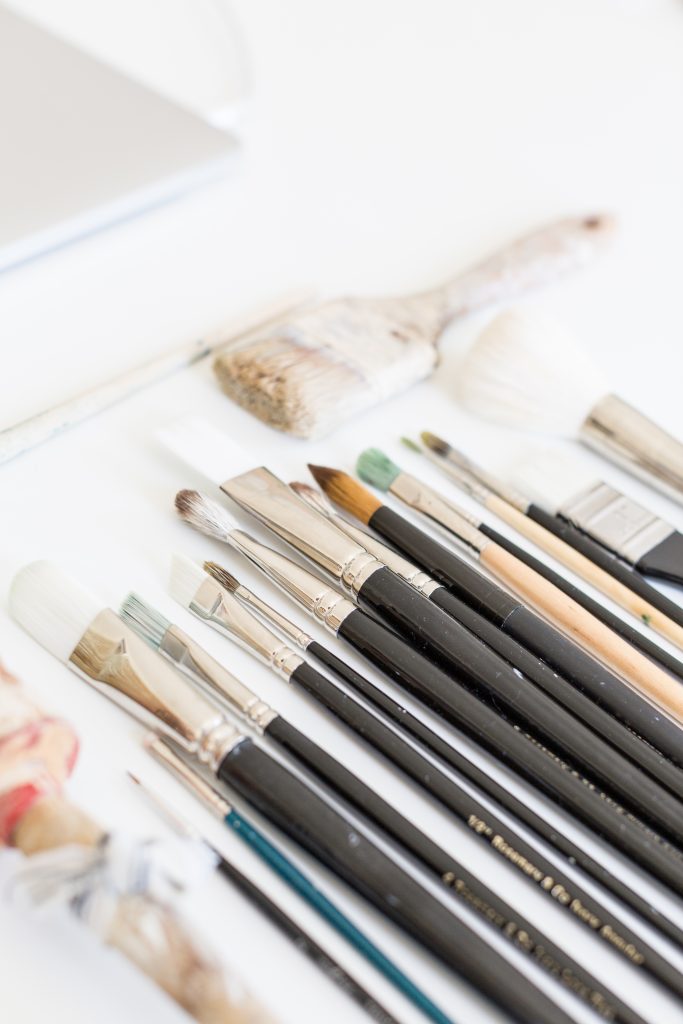 Far and away, my favorite source for paint brushes is Rosemary & Co.  Marian turned me onto them about a year and a half ago, and I have to say the quality is outstanding, the price points absolutely affordable, and their customer service is excellent.  There is, though, so much to choose from it's helpful to know where to begin.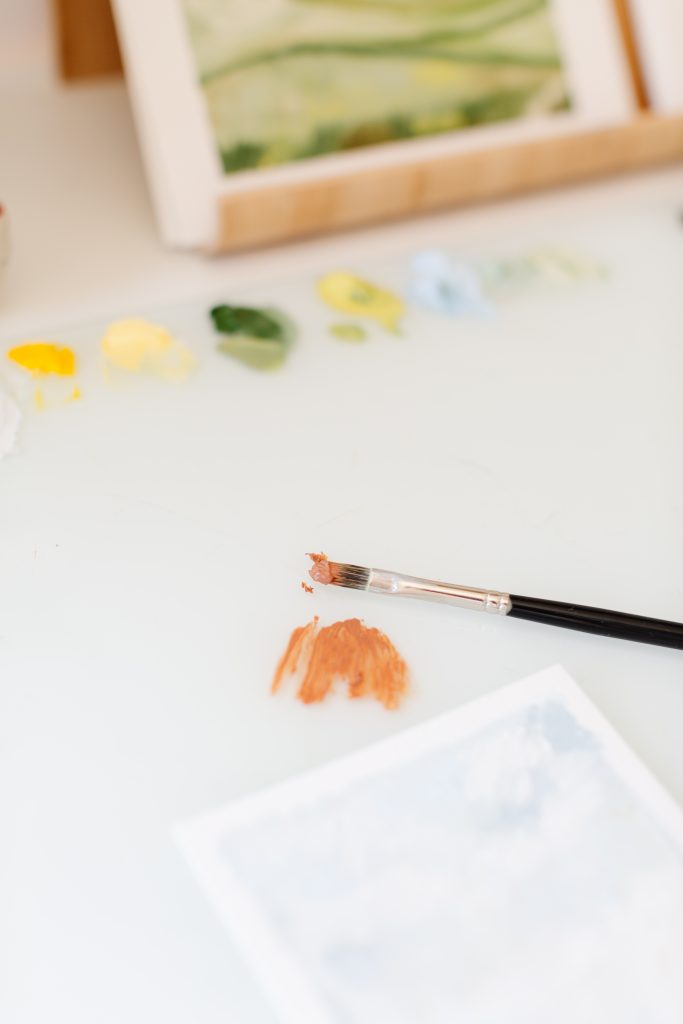 If I had to pick one brush to use for all of my small paintings it is this one: Series 278 Master's Choice Long Filbert #3 with a long handle.  While the size 3 is what I use most, I also have a size 1, and just got a few other sizes to use in my small paintings.  The long filberts have a long brush length, which helps hold plenty of paint and the tapered end is great for painting fields and it is fluffy enough to paint clouds and trees.  Think sturdy and structured with enough give to be free with your brushstrokes.
This is the brush I use on the whole painting until I get to tiny details.  P.S. Clearly, when I paint large canvases, I move the size up to a 6-8, but the application benefits are the same.  The long filberts are just my favorites!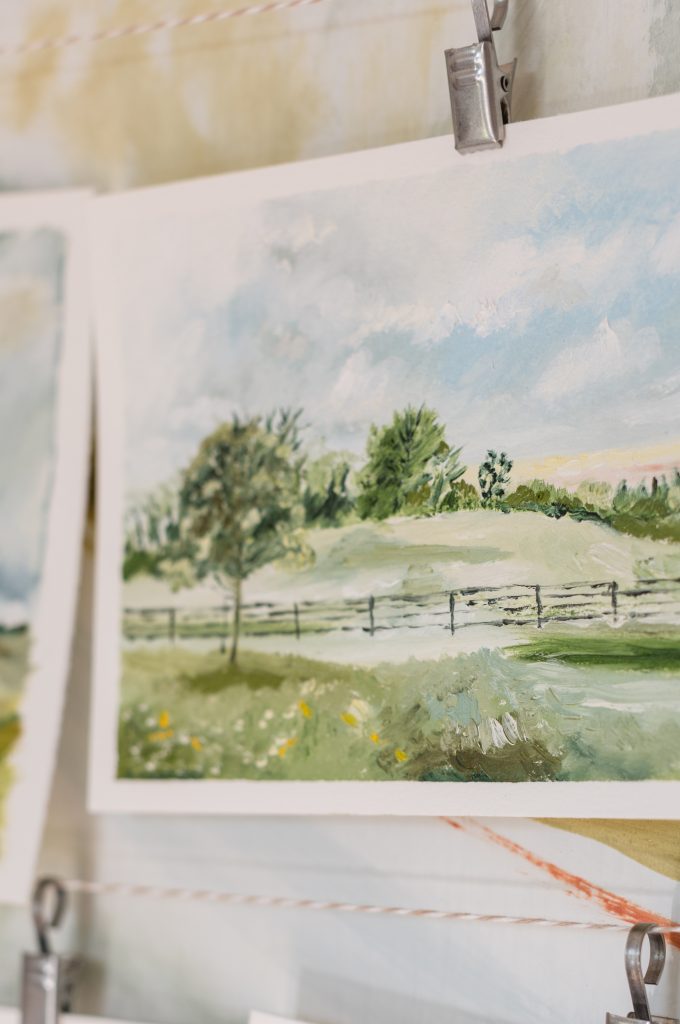 To give you a couple of close up details, the photo above was painted almost entirely with the Long Filbert #3, but the bottom detail was painted with an Ivory Synthetic Pointed Round Size 0.  If you are new to oil painting, the Ivory Synthetic line is such a great starting point.  You can use them with all mediums, and the price point is fabulous for the quality you get.   In the photo above the small strokes and details you see in the foreground of the landscape were made with Ivory Pointed Round 0.
Tip: Keep most of the paint at the end of your pointed round.  This allows you to lay the paint on without "smooshing" it.  This gives finer placement for details and color highlights and helps hold the shape of your pointed round.  If you want to use flatter, free strokes, pull your Long Filbert out again.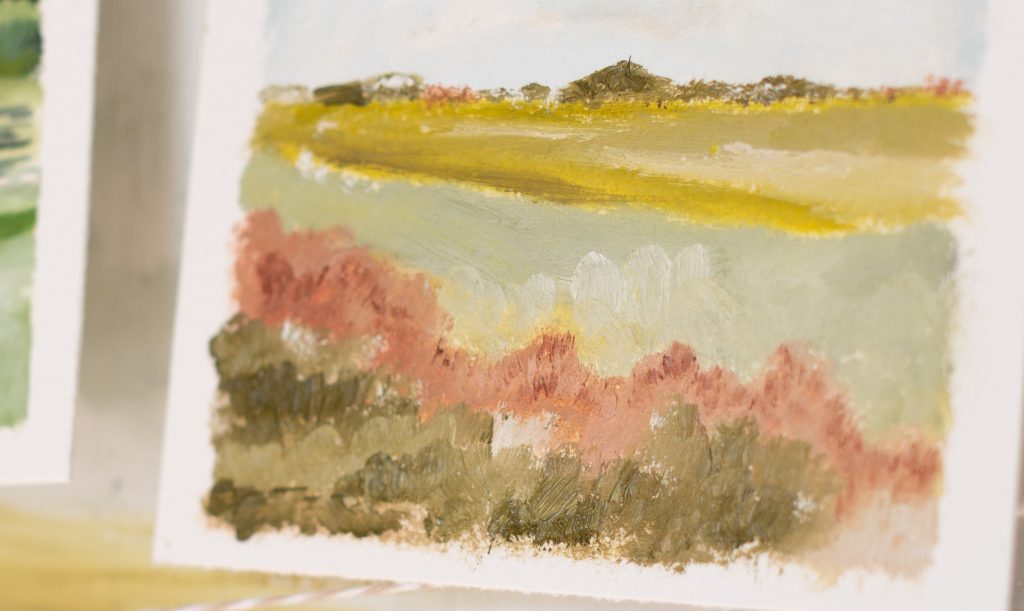 In this photo above, the grasses and brushstrokes you see in the foreground of the landscape were made with the Long Filbert, and the Ivory Pointed Round was only used to deposit saturated color in the rust and olive green…the tiniest details.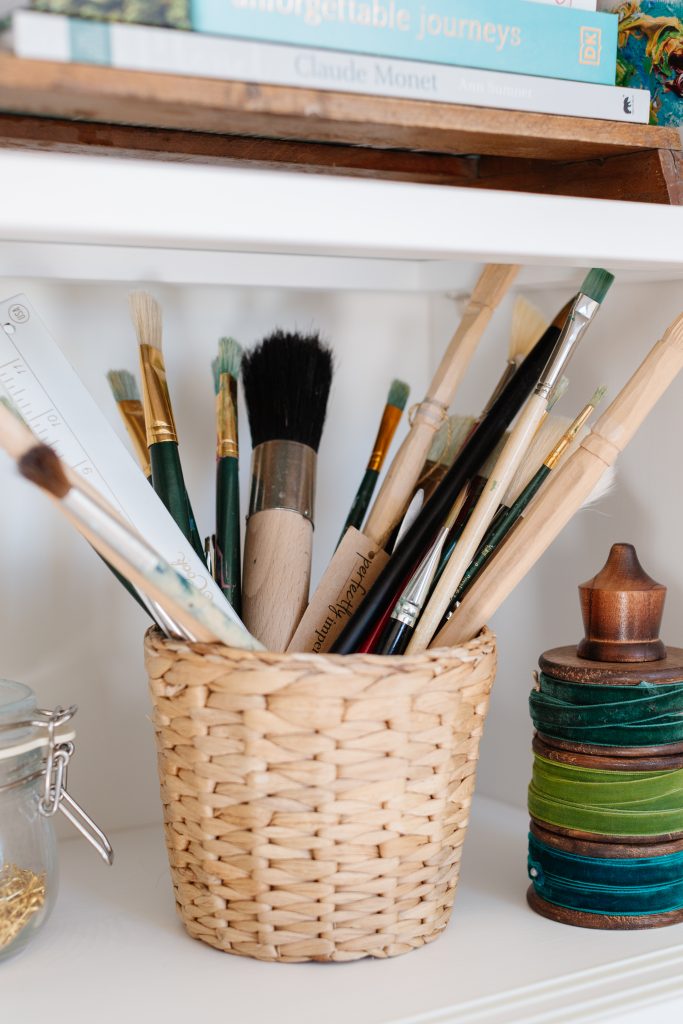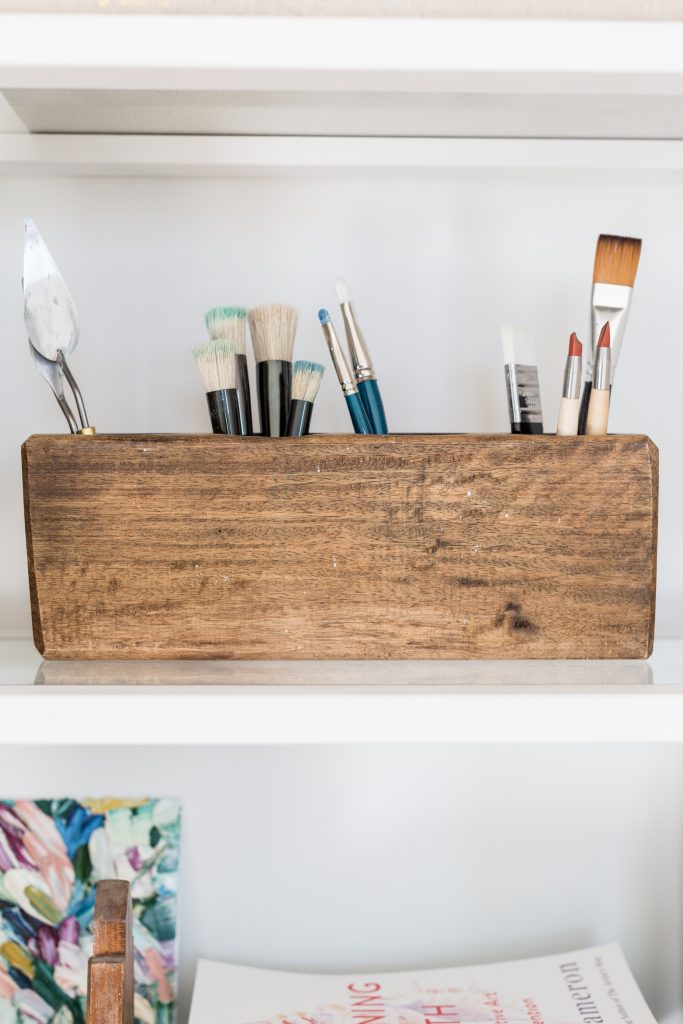 We'll do a separate post for other tools and maybe even supplies like brush holders, artist cups, and more.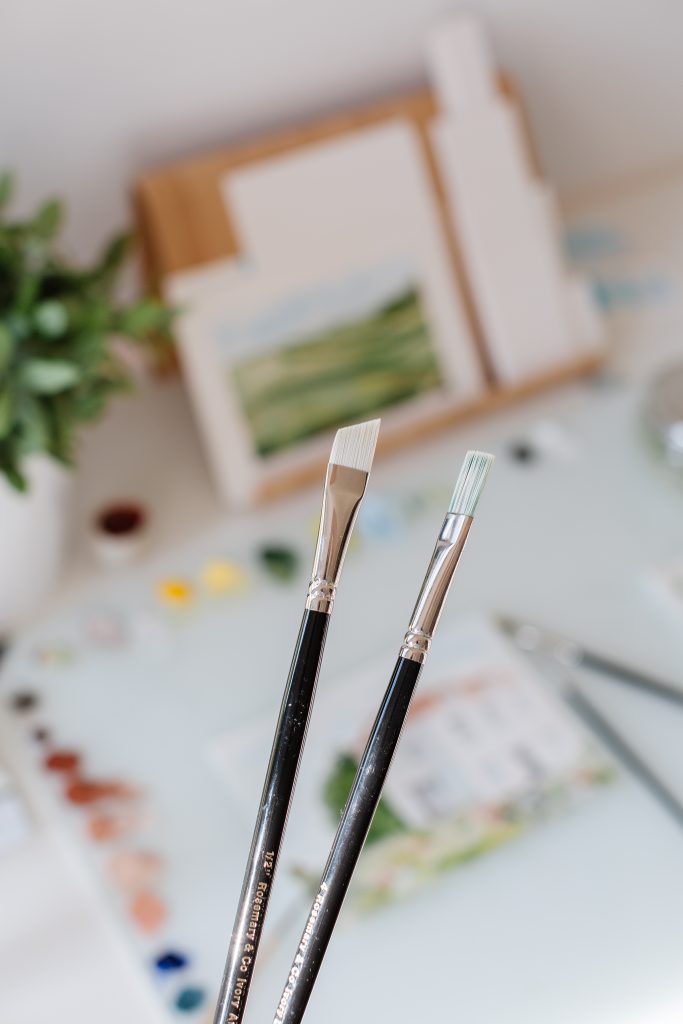 While those are the brushes I use most, there are definitely benefits into grabbing a few other styles like a Long Flat or an Angled Tip.  I find, though, I use these most when I am painting on a larger canvas, so it depends on what you need the most.
Find What Works for You & Trust What Comes Out of Your Hands
It also should be said that the style brush that becomes your favorite will be personal and found after some experimentation and play.  I am drawn to the Long Filberts because I like wild brush strokes in a majority of the painting, no matter how small.  I also like that I can create a cloud, paint a flatter stroke for a field, but then turn the handle up and lay thicker paint on in areas for a feeling of movement.  You may love a long flat for this, though, if you are a bit more "tidy" than I am.
While these are the best paint brushes for oil painting in my opinion, you may find something different works for you.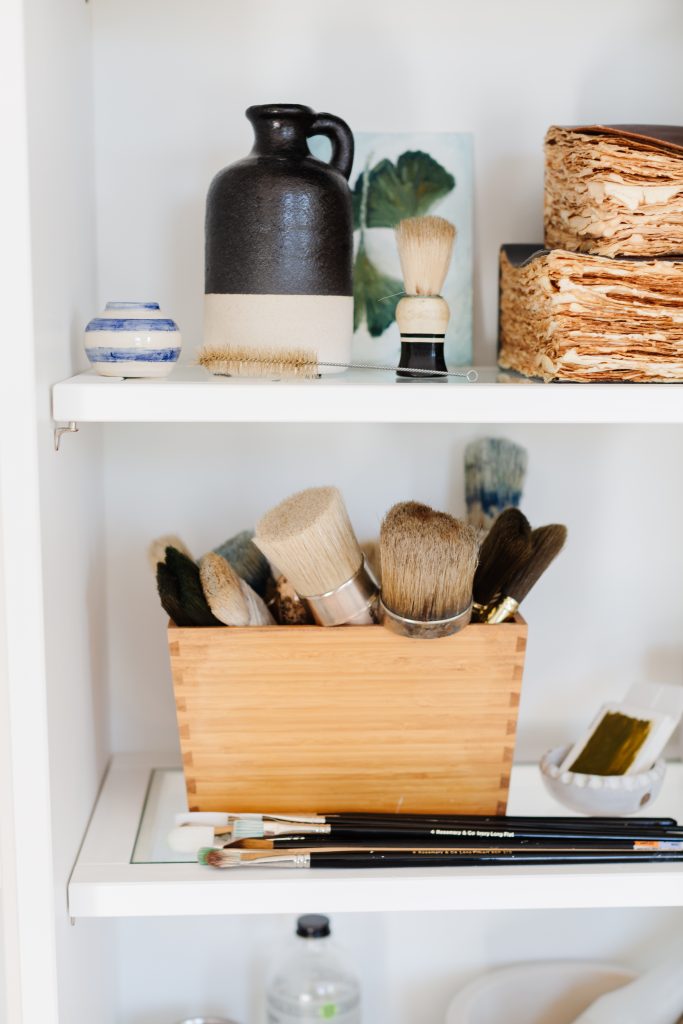 The best tip I could give you is this:  Start small, and pick a couple of brushes based on the size of your paintings.  Then, choosing which to add to your repertoire will come easily.
Trust what comes out of your hands, loosen up, and play!