If you missed reading the first part of our trip to Jekyll Island, Georgia, you might want to start here.
Like I mentioned, the trip was magical for us.  The perfect family getaway at just the right time.  I wanted to share a little bit more about our days, and the places we found that made our time there so special.
We stayed at the amazing Jekyll Island Club Hotel…
Okay.  This place was gorgeous.  Think Dirty Dancing.  With the main hotel and outlying cottages & restaurants and shops.  Leave off the dirty dancing…but you get my drift.
The kids loved it. Our room had a glass enclosed porch, where we shared most of our meals together.  Bathrobes were worn to the table and the two of them couldn't have been more pleased.  I may have gotten some good laughs (and videos) of their fanciness.
They were dragging me out of the room our first morning there to walk around, climb trees, slip into shops, and even convinced me to let them go swimming…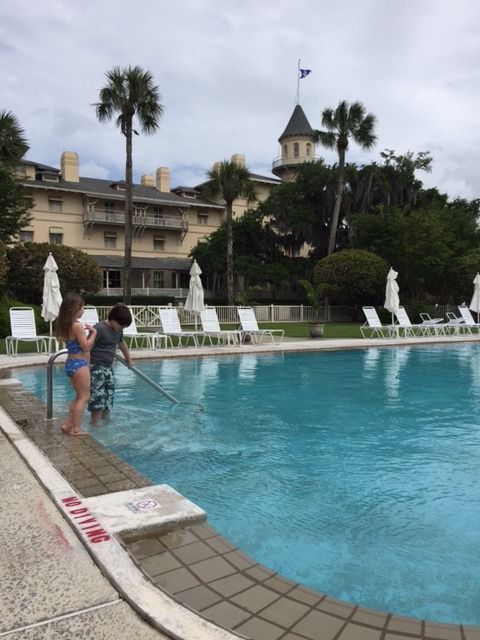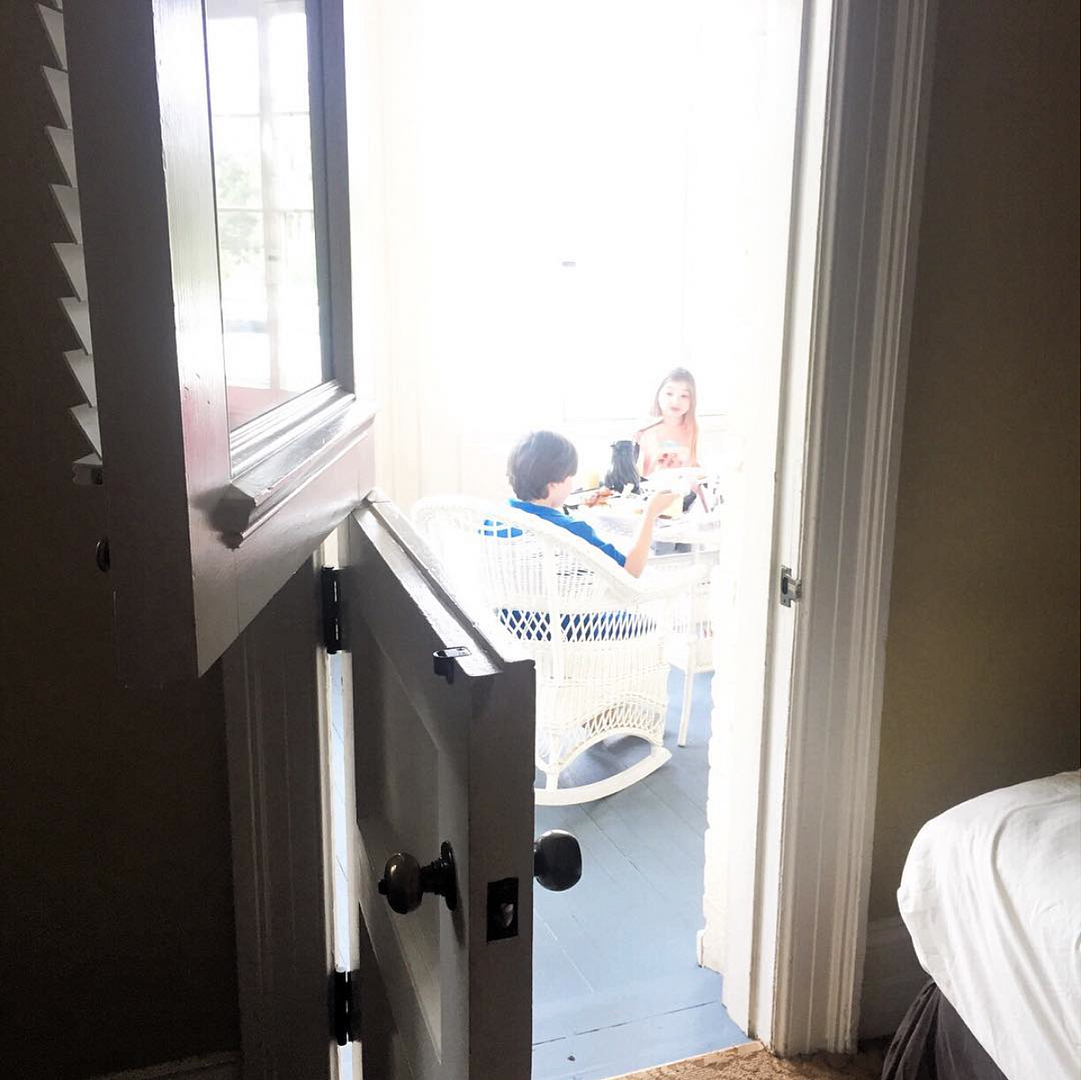 That dutch door in our room.  Mercy.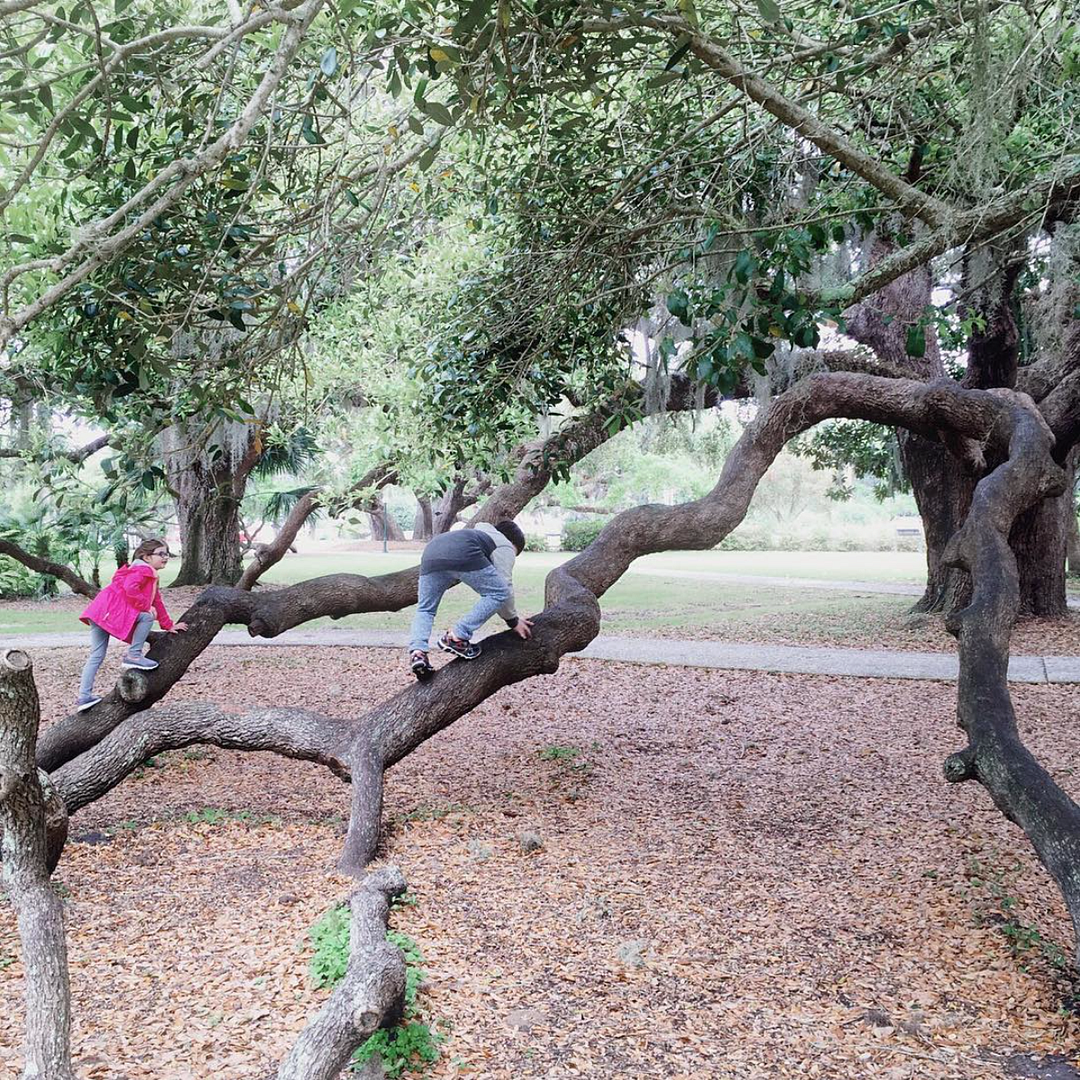 After we had a big breakfast on Friday morning, we headed off to meet Ranger Bre to see some of the local wildlife.  The kids had a blast with this.  We observed an alligator for a while, the kids asking questions and soaking it all in.
They got to meet Tiny, a rescued baby alligator….
Let me be clear.  This made me a little nervous.  But Bre was amazing, and they learned so much.  They also, uhm, insisted on riding with her to and from the nature trail.  Manners, children.  But she was wonderful, and all the folks on the island seemed to truly love what they did and seemed eager to share Jekyll's magic with us.
After we took a little break for lunch, the kids and I drove to Driftwood Beach.  I'd like to write my first novel here, by the by.  They played and played on the driftwood sculptures and I'm pretty sure we stayed for hours…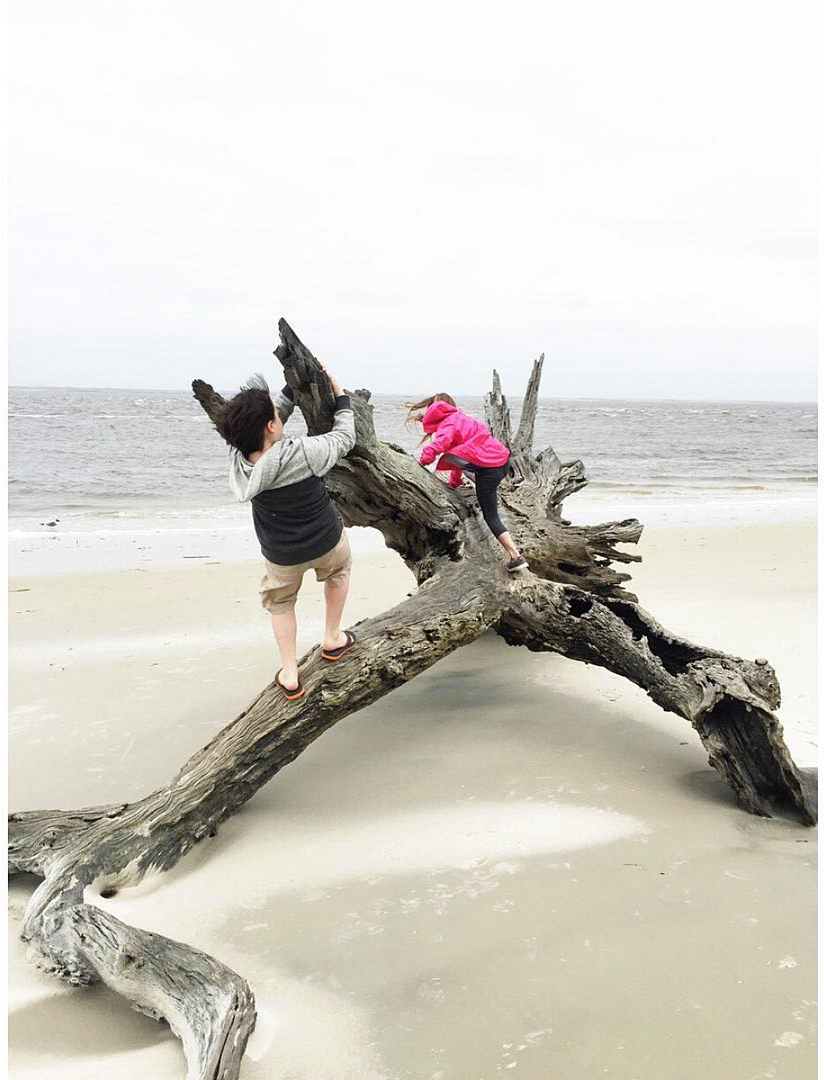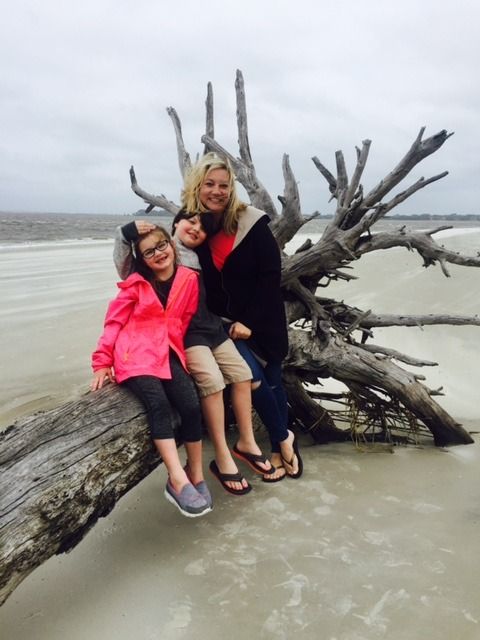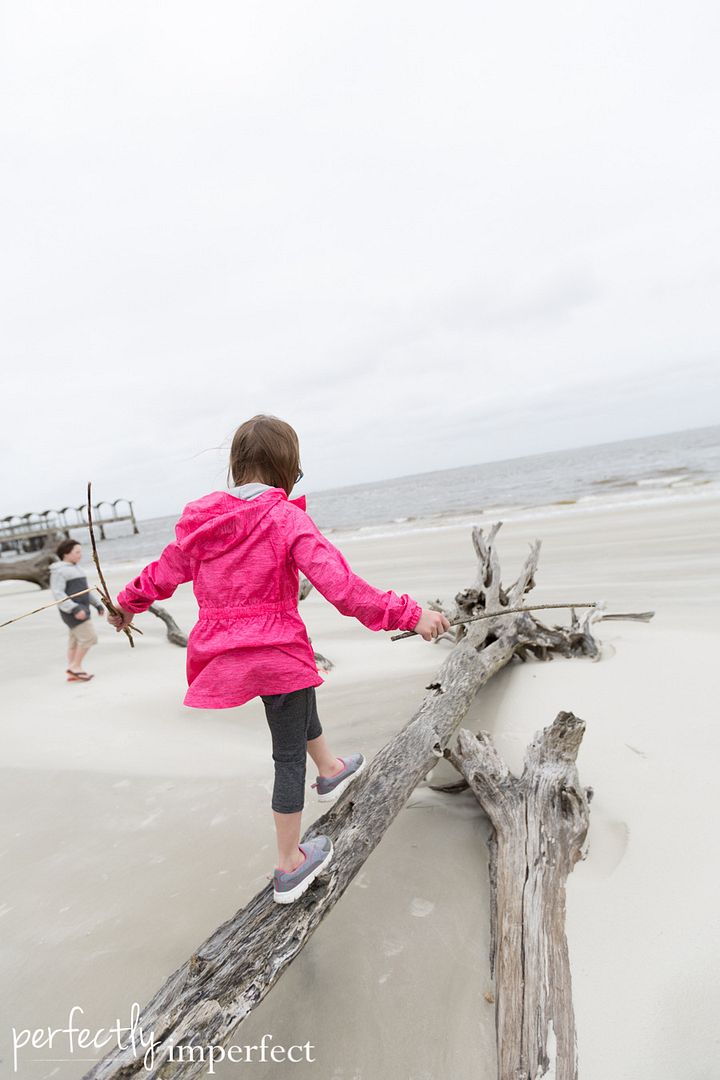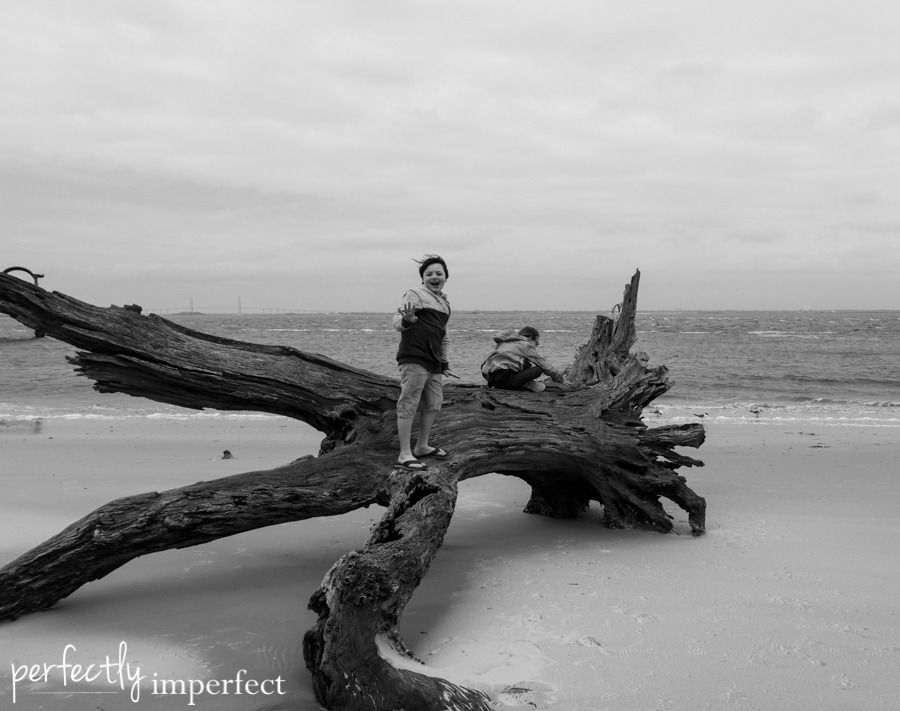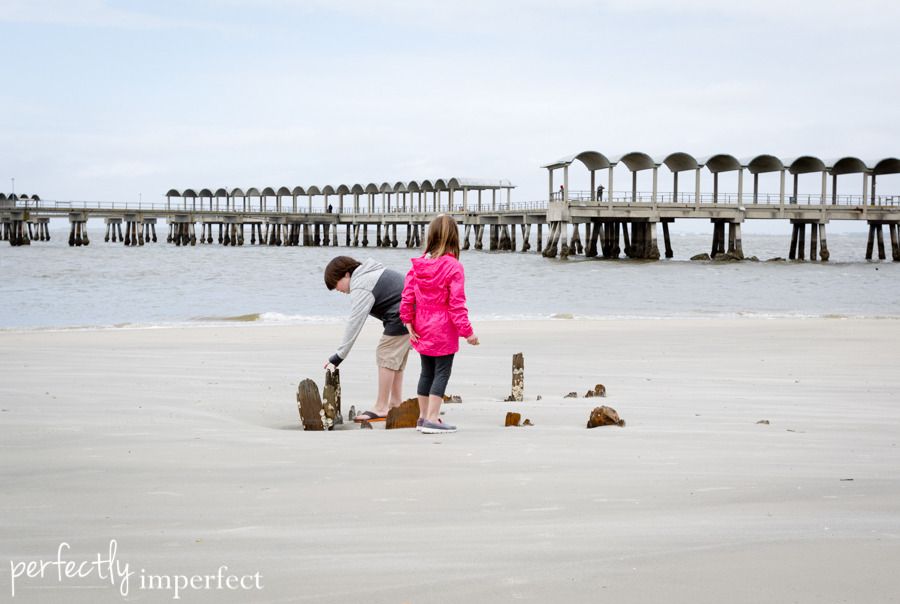 Saturday was our last day on the island, but the kids had the day packed out.  I tried really hard to let go, and let them plan out our trip.  Jekyll was such a family friendly island, that they really couldn't go pick anything that we couldn't do…so the next stop was the Georgia Sea Turtle Center.
They loved this.  They read every bit of information they could, and were each able to track a sea turtle's life while reading and learning about them.
At the end of their turtle tour, they were able to observe sea turtles that have been rescued recently.  They were running around frantically snapping pics with their iPads, and I wish I'd taken more photos.
Honestly, though, a lot of our moments on Jekyll Island were like that…me just soaking them in.  I'd catch myself grinning at them giggling and I wanted to be in the moment with them, and not simply documenting.
We took a little driving tour of the island, and stopped in some local shops.  We headed to the little stores on the hotel property, and did some swimming again.  They then convinced me to take a horse and carriage tour of the historical district, which I have to say, they loved.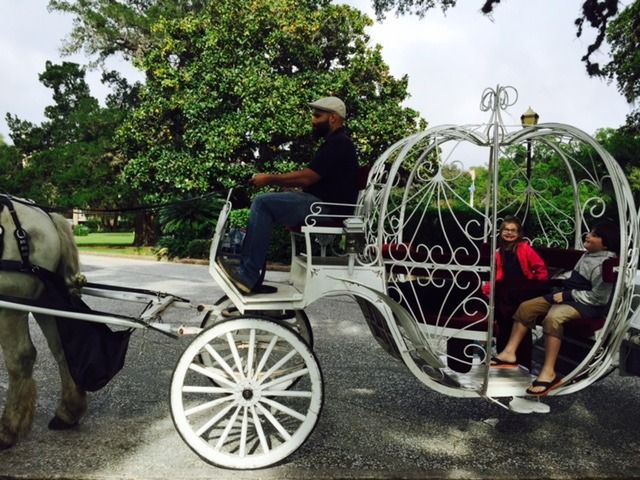 We headed to the historical museum, too, and I'm telling you, by the end of the two days, I was wiped.  They are still talking about trip weeks later, and if there's any gift I'd love to give my children…it's that little bit of magic we find when we try something new, explore new places, and create experiences together.
P.S. If you guys ever need a family friendly spot, this crew totally recommends Jekyll Island.  We'll go back sometime soon, and hit the things we missed.  I hope you take the time this summer to connect to a place like Jekyll…and create something together that will stay with you much longer than any vacation.
*disclosure: I was compensated by The Jekyll Island Authority to write about our time on the island & accommodations were provided.  Opinions are, as always, 100% mine.