I think the last time we talked about the living room (maybe two years ago?), it looked like this…
Well.  The entertainment center was there…in too small of a spot.  Then I got a new sofa, and the old was hanging out for a while.  So the chairs scooted in front of the already cramped fireplace nook thing.
The white sofa is now at the beach, and the chair and a half is gone, too.  Matter of fact, so is the entertainment center and the rug (love my dogs).  So while the living room is back to being a work in progress, I don't mind it being much simpler.  All that furniture was never supposed to stay anyway.
A few weeks ago, I showed you the coffee table waiting for its paint job…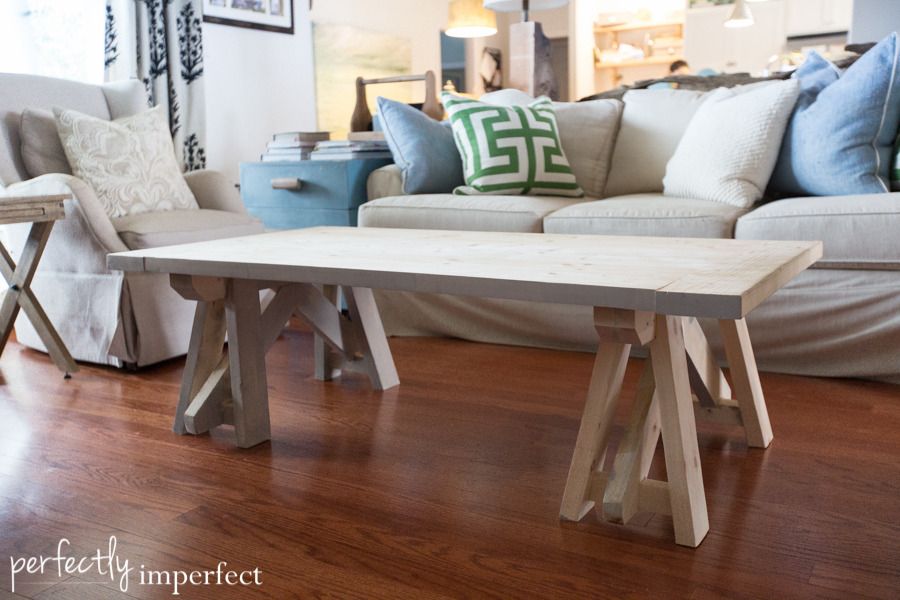 By the way, it drives me insane to not have a rug in here.  Design-wise.  And feet-wise.
But I refuse to buy another one until my dogs find another loving home or go to sweet doggie heaven.  Harsh?  Truth.
I went with Chalk Paint and mixed half French Linen and half Pure White.  It makes the prettiest light mediumish gray.
I added Salt Wash to the base coat of Pure White.  I'll do some videos with this product soon, but the paint looks like a thick cake frosting when you're ready to begin.  It creates a textured base layer, so that after you paint your top coat and sand back, the texture (and base color) shine through.
You can create similar looks by dry brushing or washing, but you can't recreate this kind of texture.  I'm happy with how it turned out.  I dig this look in my own home in small doses so I used Salt Wash on the top only, painting the legs two coats in the French Linen mix.
There's the finished product.  Sans rug.
And uhm, there's already some natural distressing on this end because that's where my feet are 90% of the time I'm home.  Are right now as a matter of fact.
I finished it off with a quick coat of Miss Mustard Seed Furniture Wax, but I think this product hardens the paint so well that you could get away without applying one.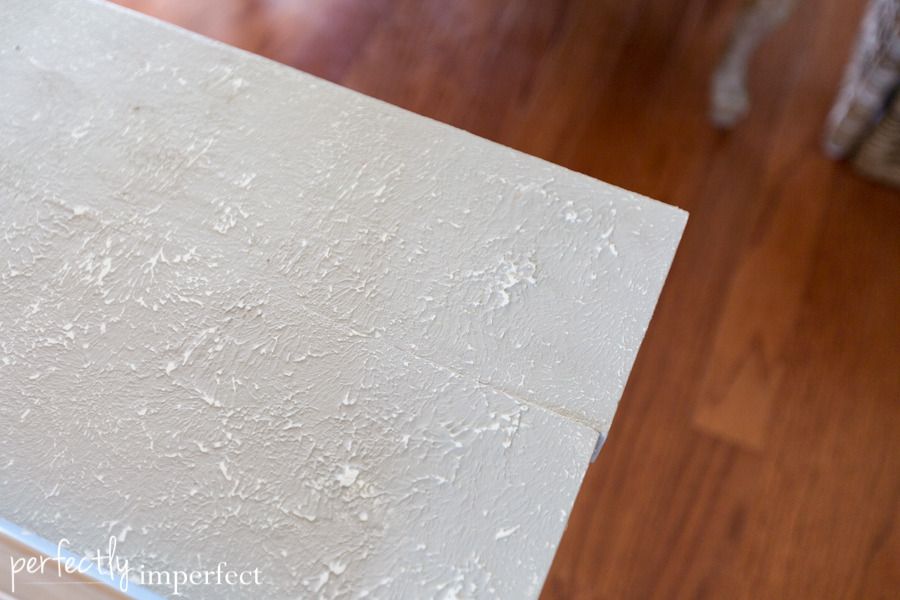 And while it's not styled at all (see that lovely price tag), we just got these little cotton poufs/balls into the shop and it was too cute not to plop on the table.
I have a feeling it may stick around for a while.
You can find those cuties here in the shop.  Be sure to ask any questions about the Salt Wash in the comments below.
Sharing more of the living room soon.  Til then friends.