[fullwidth background_color="" background_image="" background_parallax="none" parallax_speed="0.3″ enable_mobile="no" background_repeat="no-repeat" background_position="left top" video_url="" video_aspect_ratio="16:9″ video_webm="" video_mp4="" video_ogv="" video_preview_image="" overlay_color="" overlay_opacity="0.5″ video_mute="yes" video_loop="yes" fade="no" border_size="0px" border_color="" border_style="" padding_top="20″ padding_bottom="20″ padding_left="0″ padding_right="0″ hundred_percent="no" equal_height_columns="no" hide_on_mobile="no" menu_anchor="" class="" id=""][fusion_text]Life is ridiculous really.
When I began writing this blog back in 2009, under a pile of wrapping paper and babies in my lap, I couldn't really imagine the places it would take us.  When people other than my sister in law (thanks Lara!) & mom started reading, it became a passion for me.  I was hooked.  There I was just spewing out random thoughts and talking about our very messy life, and you all were reading.
You became part of my world, in a very real way.
You know the rest.  This blog became a mission, a business, and a huge part of what makes my world tick.  We opened a booth at an antique store & an online store for Chalk Paint, a brick & mortar store in Troy, Alabama, where we live, then revamped and added to our online store, wrote a book, went on The Nate Berkus Show, and got featured in magazines & websites that I highly respect.  We just opened another store, Factory South, in Opelika, Alabama, and are sooo excited to fill you in on where our brands are heading.
But before I tell you those plans, it's time for me to spill the beans on a secret I've been sitting on for a looonggg time.  Which for me is equivalent to letting someone shove bamboo toothpicks under my fingernails.  Ahem.
So out with it.  We filmed a pilot, titled Sweet House Alabama, with HGTV and it airs this Sunday, May 3rd at 2 p.m. eastern standard time.  I told you.  CRAZY business.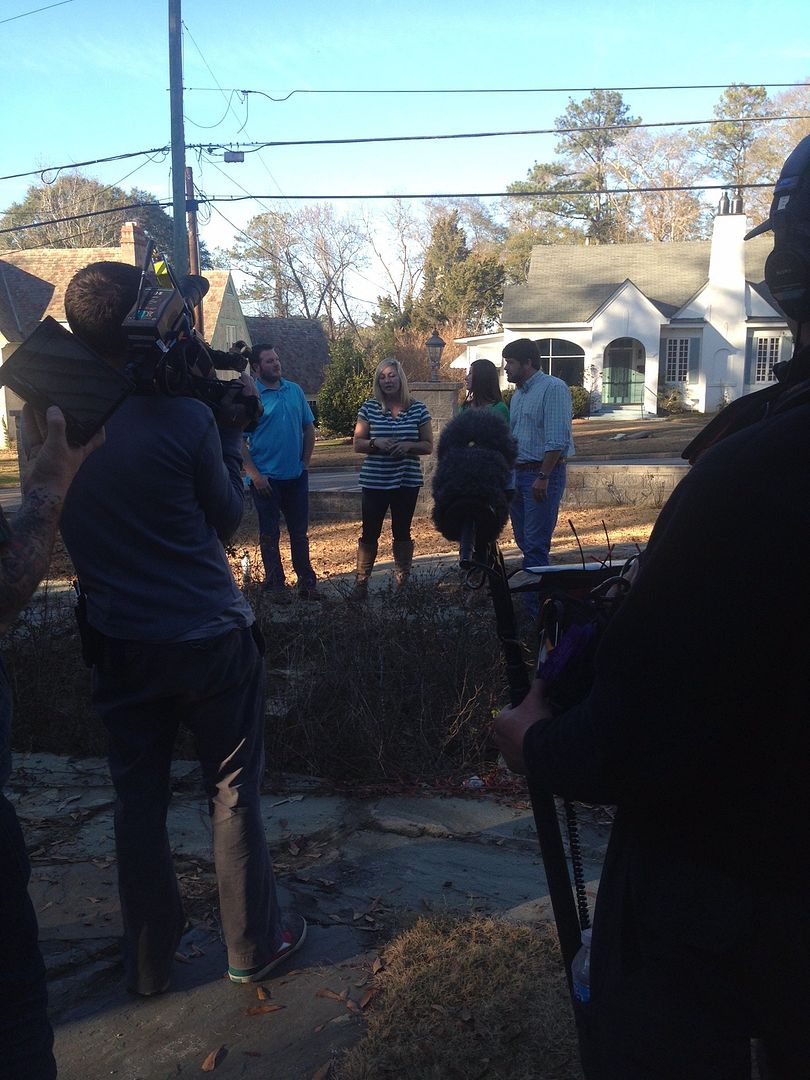 A while back we got a call from the casting director (hey Danielle!) at Leftfield Pictures in New York.  She had found our blog and bless her, watched our videos on YouTube.  She asked if we'd be interested in working with them on filming a home improvement show.  At the time, our lives were a little less full, but we still had plenty going on.
After talking about it and praying about it and weighing our options, Matt and I decided to go for it.  We knew  it was totally a long shot, and decided we'd just treat it as a fun experience.  If it worked out, great.  If not, then we would go on about our business and keep doing our thing.
After some Skype/phone interviews, we signed a contract with Leftfield, and the development process began.  It was long and slow.  Some months we'd be busy and others it would slow down & we'd hear very little.
These two had to sign contracts eventually, too, as they were my design assistants (and oh my lord i couldn't have survived without them).
Finally, the time came last summer for us to sign with HGTV & we shot the pilot in late fall/early in the year.  By the way, remember that crazy long hiatus I took from regularly posting here on the blog??  Now you know why we all went a little MIA for a few months.  We didn't just fall off the face of the earth after all. 😉
P.S. this is our amazingly talented, funny, & supportive Exec. Producer, Randy Jones…hey friend!!!
Y'all.  It was work.
I don't want to spill any details of the show (because I want to save the surprises for you!), but here's the blurb from HGTV…
"Young couples seeking that old Southern family home need help. That dreamy restoration project is feeling out of reach — the houses' historic charm is hidden by linoleum, wood paneling and seeing the inner beauty has proven difficult. That's where the Alabama restoration dream team of Matt and Shaunna West come in. In every episode, they'll help a couple house hunt for that diamond in the rough property, peel away it's historic grandeur and restore to its stunning, original beauty, all within budget."
Oh, and pssstt….the awesome folks at HGTV are letting me leak the show opening just for you guys here…
I'm so proud of this work and so grateful for the opportunity, and honestly we can't wait for you to see the show, meet the Herndon family, and see the transformation that happens to this classic Southern home.
And I suppose it wouldn't be fair to announce our pilot without thanking each and every one of you again.  This work at Perfectly Imperfect has its challenges sometimes, but you all make every bit of the work worth it.  We sure wouldn't be here without you, and are curious to see where this all leads.  And thank you for your patience during some of the quieter times lately.
Here's some links for you to follow along…
HGTV's Sweet House Alabama home page
Use the hashtag #SweetHouseAL on all your social media channels like Twitter, Facebook, and Instagram while you're watching the show…we'll be watching out for you!
Follow us on Instagram, Twitter, & Facebook for updates in between blog posts.
And see y'all at 2 p.m. EST Sunday (May 3) on HGTV! [/fusion_text][/fullwidth][blog number_posts="" offset="" cat_slug="" exclude_cats="" title="yes" title_link="yes" thumbnail="yes" excerpt="yes" excerpt_length="35″ meta_all="yes" meta_author="yes" meta_categories="yes" meta_comments="yes" meta_date="yes" meta_link="yes" meta_tags="yes" paging="yes" scrolling="pagination" strip_html="yes" blog_grid_columns="3″ blog_grid_column_spacing="40″ layout="large" class="" id=""][/blog]