If you would have told me five years ago that I would be a store owner, a blog/book writer, and run an online store, I'm not sure I would have believed you.  If you had told me that writing that blog would lead to all it has, I certainly wouldn't.
After a couple of years of owning and operating our online store and our brick and mortar, we've considered lots of other new business ventures and toyed with lots of ideas on how to expand our brand and keep doing what we love.  Like I've said before, it's funny how some opportunities fall through to leave room for the right ones.
Running my lifestyle blog/brand is a little like my decorating taste–I like it all, wanna try it all, appreciate all great style.  After working on our look book, Into the Woods, I kind of fell for the mixing of so many types of product.  It felt like we were on to something, and the rest, as they say, is history.
Here's a little more of our story:
Who~
Factory South began as most great things do, with a casual conversation.
Call us restless or driven.  Call us crazy, even.  We had this simple thought, one idea and it all began from there. Of all the things behind FS, nothing resonates more than our belief in the entrepreneurial spirit.  We are store neighbors, we're friends, and out of similar interests & style, a blended business was born.
Why~
After pulling off a look book as separate brands, we were hit with a question.  Why do we have to limit ourselves to one type of product, to providing for men or women? Why do we have to be only a men's clothing store or a home décor store?  Why can't we break the unwritten rules of retail and curate an entire brand based on our passions, interests, and products made with intention?
Factory South, then, is a modern day general store of sorts, carrying goods that celebrate the simplicity of our upbringing in the South.  You will find a little bit of everything we love, from apparel to home décor to unique finds to the handmade.
But more than our products or a retail storefront, we hope you see the who & the why, the "behind the scenes" if you will.  You'll find a place you want to linger in, to stay a while.  You'll find us celebrating local artists and musicians and foodies. You'll find much more than a store.
You'll find our lifestyle. One filled with great music, great style, great food & great drinks, and the belief that we can all do exactly what we want to do, no matter how crazy it may seem.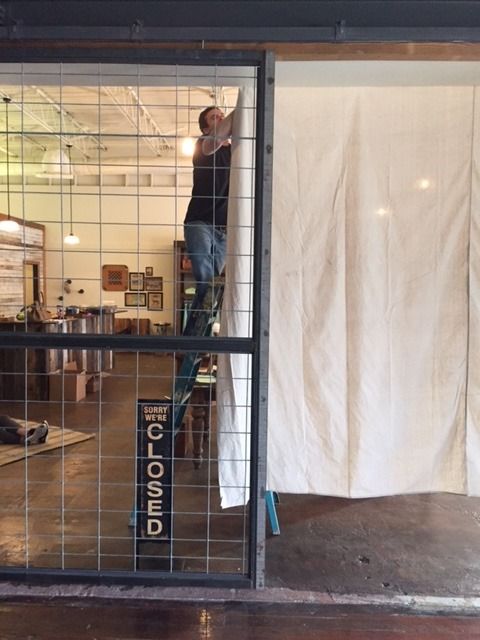 After weeks of slowly putting the pieces together within our storefront, things are falling into place and displays are taking form.  The creative in me gets immersed in projects like this, and I can hardly think about anything else.  Curating this brand and store has been a challenge creatively, and I couldn't be enjoying it more.
Opening this store, especially working with a business partner/different perspectives, makes me aware of how very much I love what I do.  And also that I'm probably a little crazy.  But I love my crazy, unpredictable days, so it is doubtful I will be changing any time soon.
(P.S. thanks to Bryant, Matt, & Drew for all the hanging of all the things.  There's been a lot. Amen)
The drop cloths are coming down, and at about 10:30 last night when we cut the lights off, I finally felt like this thing was actually going to happen…and it felt good.
Hope you'll stop by and see us for the Grand Opening dates April 1-3.  We'll have great food and drinks every night starting around 4, and live music on Friday night.   We'll be open from 7 a.m.-7 p.m. (see with the crazy?!)  You can enter our Big Green Egg giveaway in the meantime by visiting our website and signing up for our newsletter.
I'll share more sneak peeks every day, and don't worry, I'll bring you up to date on PI, too.  Oh, and we have done some projects in our house that I've got to share here–if only there were more hours in the day, friends.  Carpe Diem and all that. 😉