We launched a new look for the site yesterday!
We've been working on it since way back in January, and I'm thrilled with how it turned out.  If you're joining us via email or reader, click on over to check it out.  More on the new functions soon–
I was browsing our online shop as I'm planning to shoot the rest of the look book, and I wanted to share a few of my favorite products for the moment.  Because I'll change my mind, I'm quite sure.
Styling-Evan & Co./Photography-Kim Box/Chalk Lettering-Poppy Pedals
Ohh, this sandwich board.  My friend Evan bought this one and styled it for one of his fantastic weddings (link above).  I just love seeing our products used in beautiful ways like this.  This chalkboard is not listed online, but we custom order for you.  Just shoot us an email at orders@perfectlyimperfectblog.com to snag yours! P.S. My other current fave chalkboards we carry are the Menu Blackboard & the Message Blackboard.
I cannot get over this red and white stripe pillow cover for only 18 bucks. Enough said.  You can also see it styled and shot with our real camera here on the 4th of July photo shoot.  
There are a couple more bargain pillow buys I adore–here & here.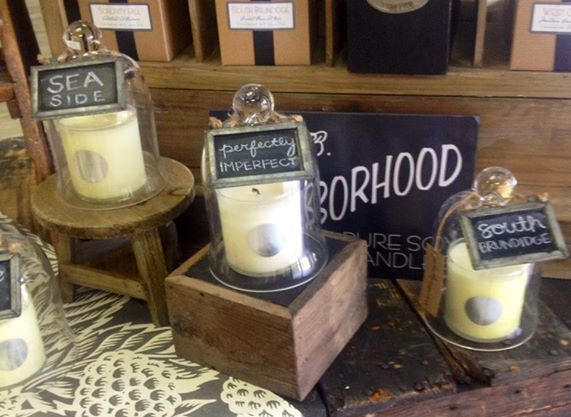 I snagged this pic from our Facebook page–y'all.  These candles.  They are hand poured here in the south, and I'm obsessed with their scents.  We're going to launch a new line soon, but I adore the perfectly imperfect candle.  I wish I could shove that sucker under your nose right now.
Not really, but really.
P.S. My other favorites are Park Hill Home, Sweet Tea, & West Orange.
Oh, and our PI t-shirts are almost gone in this style.  Once they're gone, we'll create some new designs, so if you love the look of this one, head on over to the shop to snag you one before they skid-addle.
Happy Saturday, friends!