Morning, lovely people.
I canceled my dentist appointment…again.  I know, random.  But, I may need to know there are other "cancelers" out there like me.  Woke up with a crazy headache and I couldn't imagine them digging around in my head for an hour and a half.  So, with an hour to go, I canceled.  Super convenient for them, I'm sure.
On another note, I've been crazy project-productive since coming home (which has been a blessing!), and I wanted to share a little makeover with you today.
Remember the How To Strip Furniture video tutorials from waaayy back when??  I stripped the trunk however long ago now, and well, she's just sort of rotated in color since.  I painted her a gray-green (bleh), a blue-gray and left the top natural, a pale blue-gray, but none of the looks was suiting me.
My friend, Amanda, tells me that when I'm serious about something, I always start with, "I'm going to tell you something…"
Well, I'm going to tell you something:  your furniture has personality, but you have to give it time to speak to you.
In a non-creepy-paranormal-activity kind of way.
Sometimes it happens quickly, but sometimes you have to paint it a couple of times to get the exact look you want.  I finally decided I'd like a pretty blue to contrast with an orange throw I was using on the sofa, and went with Miss Mustard Seed Milk Paint in French Enamel…
It is my new favorite blue, and it's the perfect balance between the paler shades I love and a fun pop of color against the neutral furniture.
I mixed the paint with water (no bonding agent added), but was painting on mostly natural wood and un-waxed paint, so it stuck nicely all on its own, chipping in just a few pretty spots.  I wanted the trunk to look like faded denim, so I applied her White Wax to seal the trunk and wash the color a little.
Y'all.  That white wax was created for me, I'm telling you.  I love how subtle it is, not screaming "whitewash," but just toning a piece in just the right way.  Plus, the consistency is great for layering on more as you need it instead of glopping on too much for a streaky finish.  Good stuff.
I've contemplated selling this trunk over and over, but I just can't.  I love the character it brings into the room, it has great storage (where I keep special things and old photos), and it's a little unexpected.  I find that if I decorate too symmetrically or too "tidily" I just get bored.  I bought a really pretty end table from the flea market a while back, painted it, put it in place, and it just made me yawn.
So the trunk's staying…for now.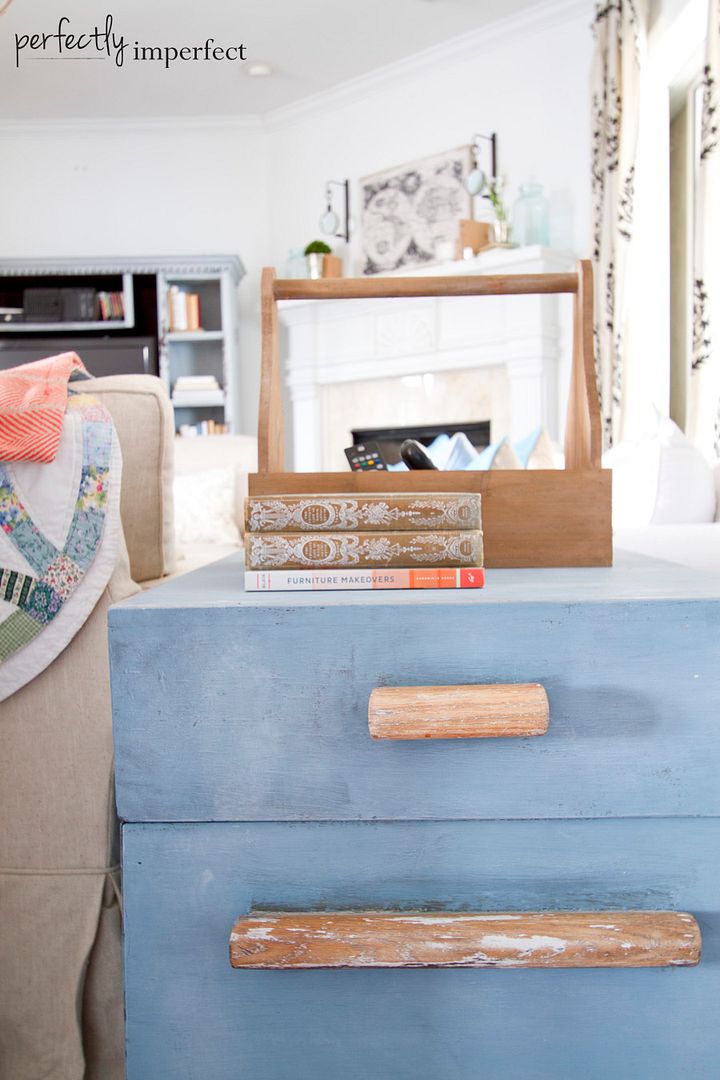 I didn't want to heavily distress the piece, so I just rubbed the paint with a fine sanding block to make the application a little more sheer and thin, wearing it on the corners and edges.  I then applied one coat of the white wax.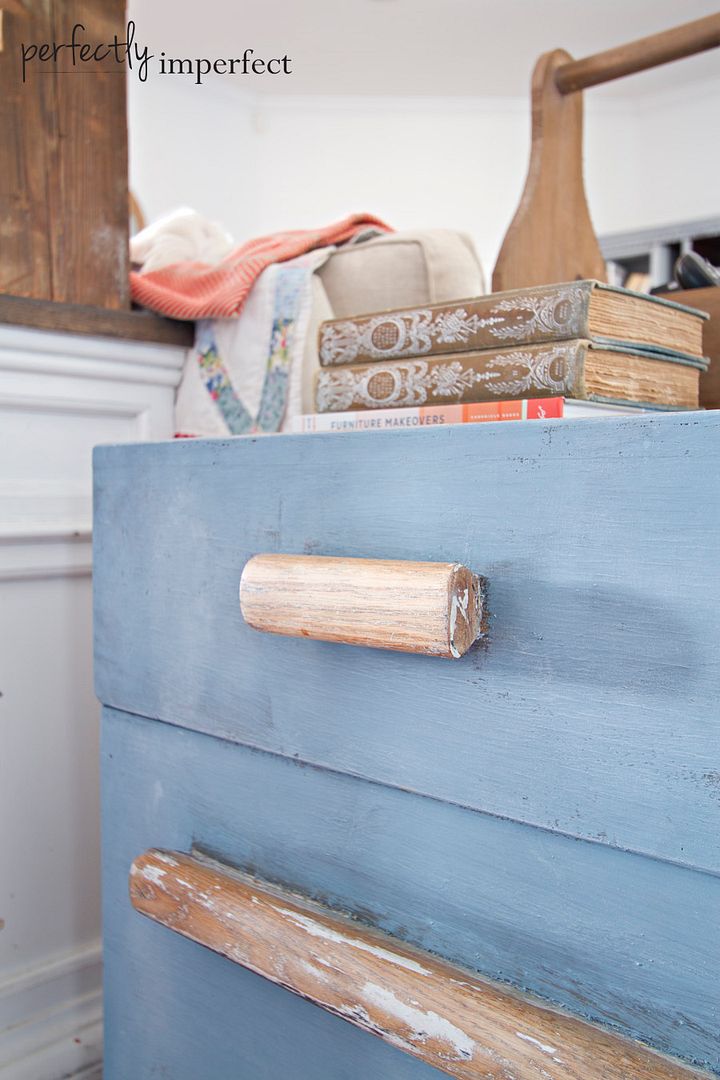 I left the handles natural, complete with their peeling paint, and I love the contrast.
What have you been painting lately?  It felt great to get a brush back in my hands again, and to work on our living room.
More on that soon…