It's no surprise that the painterly trend is a favorite of mine.  I love, love, love to have a paint brush in my hand, so any product that showcases a smear, streak, or brushstroke makes me h-a-p-p-y.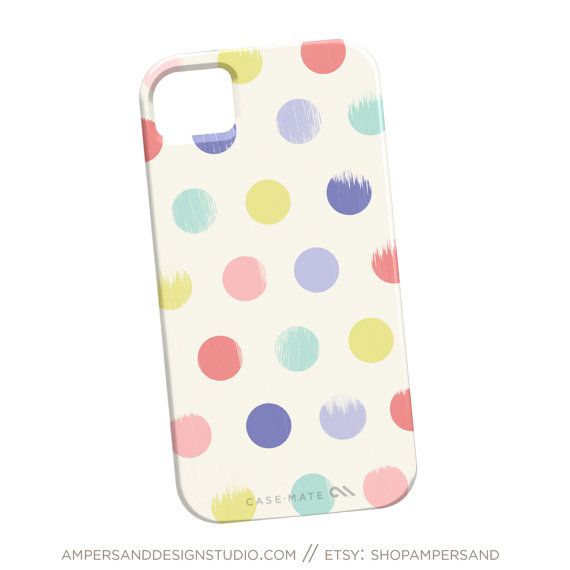 I've been in a crafting mood lately, and have been inspired to work on projects along the way while I'm working on projects for the book.  Sometimes in styling for a shoot, I'll decide I need a green vase or yellow flowers.  This week it was a painted pillow.  Specifically a gold polka dot pillow and another with some brushstrokes.
I love this painterly pillow Kate designed, and Nester created one of her own, too.   Ashley created a lovely gold polka dot….there are some beautiful painted pillows out there.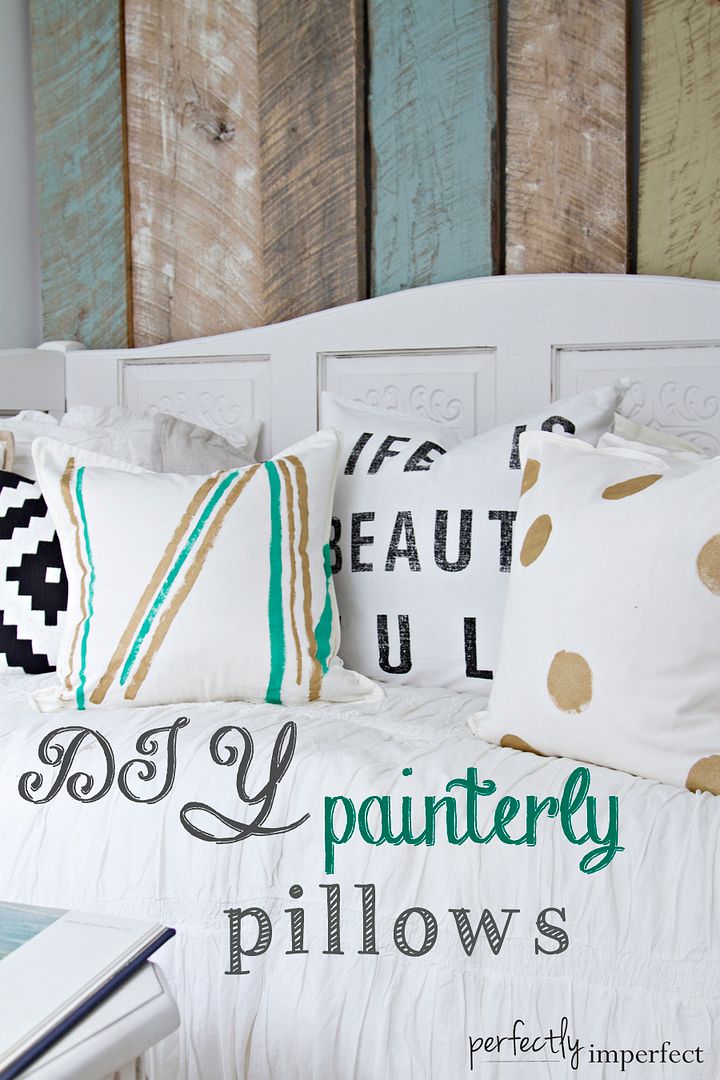 I wanted and needed these to be imperfect, which is lucky for me because I knew I couldn't pull off hand-painted pillows perfectly.  I really needed a gold polka dot for the shoot I was working on, but I wanted big, painterly, imperfectly placed dots.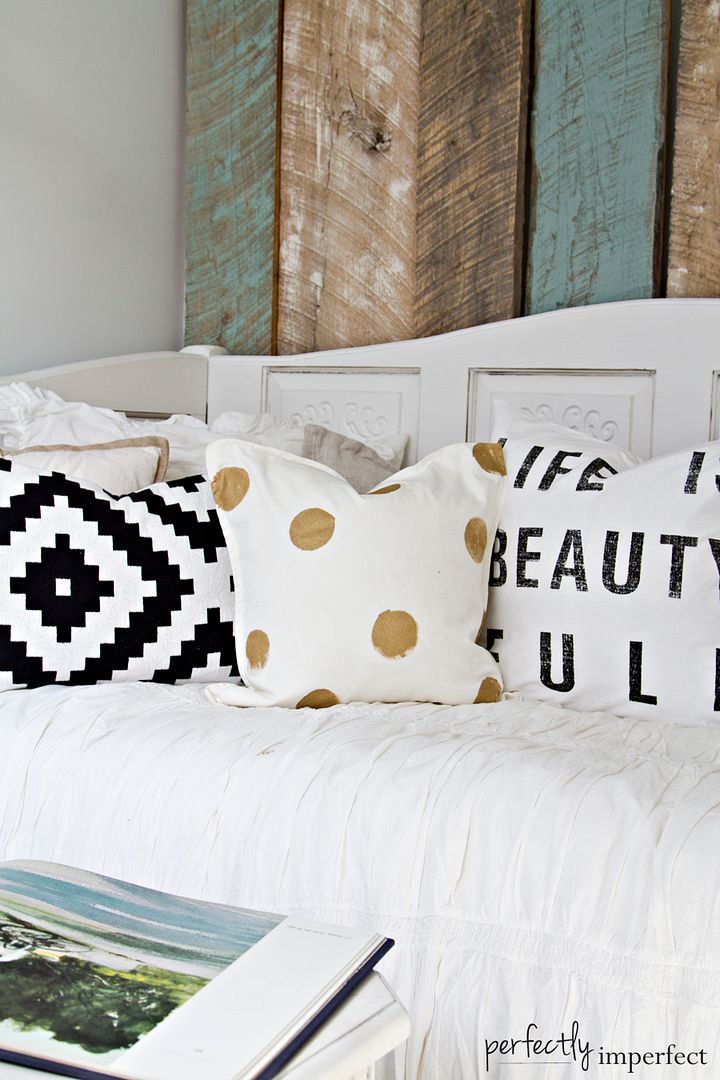 That's what I got.  Kaitlyn, our graphic design & photography intern asked me as I dipped my sponge into the paint, "do you ever get nervous before you paint or do something like this?" I smiled and laughed before I could help it, and told her that "no, this trial and error is fun for me.  Worst case scenario, I'll always have another pillow."
So when you tackle a project like this, if you're the nervous type, just grab an extra so you have room to make mistakes.  And really, the mistakes are what will make it yours.
I made several pillow covers that day, and thse were all the supplies I needed:
white pillow cover (got ours from Ikea)
latex paint (Valspar for Pantone in Emerald)
Martha Stewart for Plaid in Metallic Gold (or Royal Design Studio Stencil Cremes)
Martha Stewart Crafts Fabric Medium
Dot Stamping Sponge (Martha Stewart)
Stencil brushes or craft brushes
measuring spoon
bowl for mixing
mini stir stick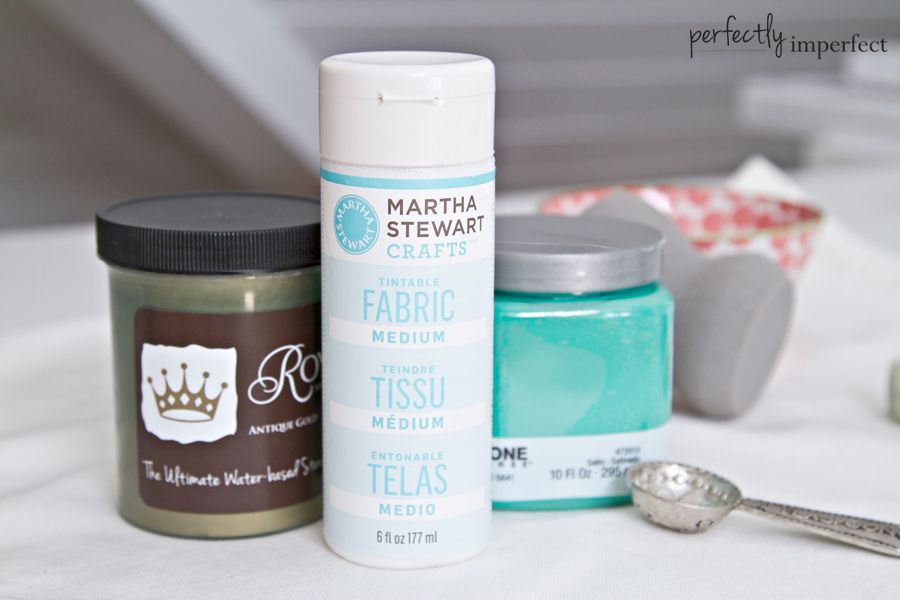 People paint fabric with a lot of mediums, but I love using tintable Fabric medium by Martha Stewart Crafts…it just has the right body once mixed.  Not too thick, not too thin.  Plus, it can be any color, and then set with an iron.
To paint your own polka dot pillow:
1.  Start by washing your fabric.  This does two things: it removes the sizing which might prevent the paint from sticking and it does any shrinking of the fabric before you paint it and need to wash it again in the future.  I always wash things like pillow covers on warm so if spills come later, then I won't shrink the cover by washing it.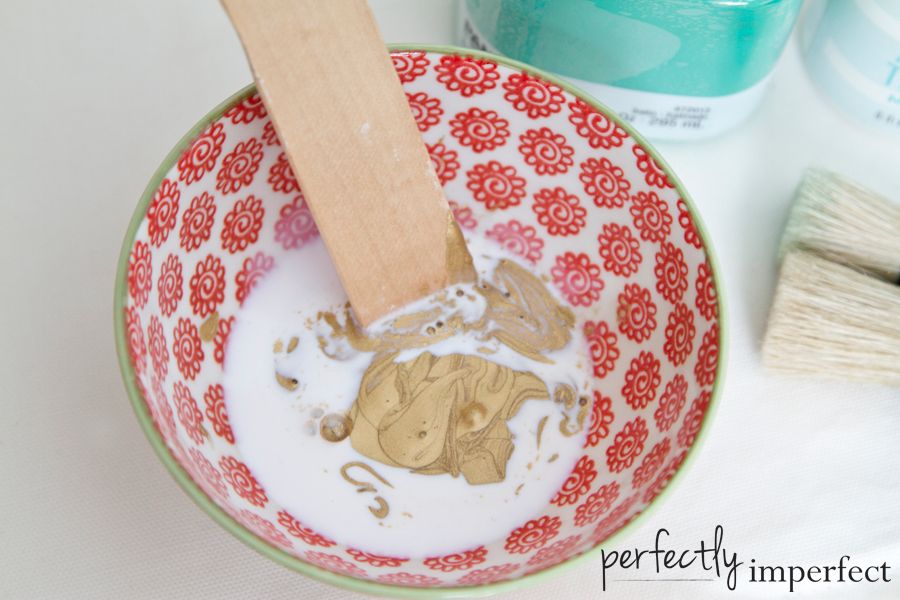 2.  Mix equal parts fabric medium to paint.  I used 2 teaspoons fabric medium to 2 teaspoons acrylic paint.
3.  Stir it until it's smooth and consistent.  It's thin, but not watery.
4.  Apply paint to your circle stamp.  Be sure to spread it thinly and scrape excess off with your stir stick.  This will give an imperfect dot, saturated in some areas and faded in others.  (We used a stamp for our project, but you could easily cut a circle out of foam, too.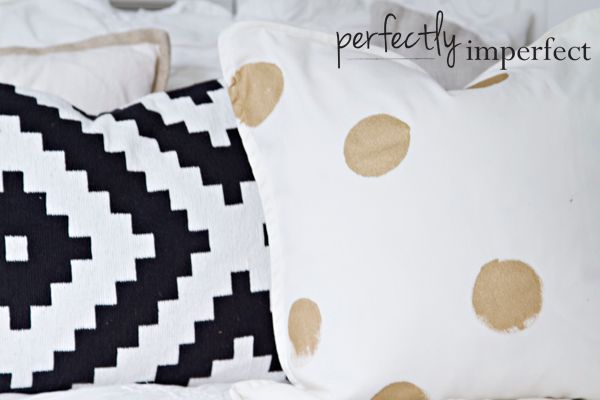 5.  Let it dry, and set the fabric paint with a warm iron before putting it on your pillow insert.  (I haven't gotten around to this step yet, but I probably will eventually)
That's that!  And the pillow cover only cost $3, so it was a steal, and the possibilities are really endless.  P.S. I made the brushstroke pillow by simply painting abstract lines on the pillow…don't worry about taping them off.  Just have fun with projects like these!
Hope you have a good one today, friends!