Happy Monday to y'all…
You know we've been busy gearing up for Fall at the shop in our displays and have some awesome decor coming, too.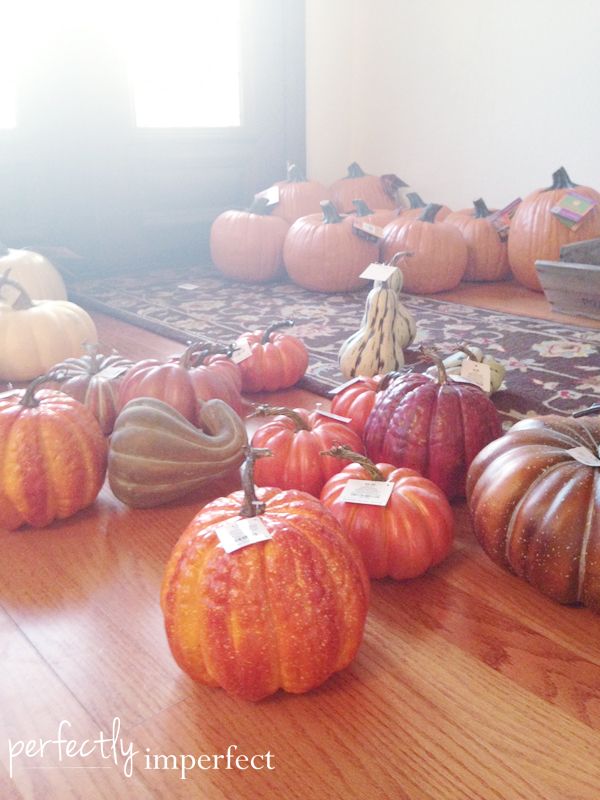 We painted about 30 pumpkins to fill our shop windows, and after showing you some sneak peeks on Instagram & Facebook, you guys asked for a tutorial.
I'm all about the simple, stress-free projects and this is certainly one of them.  You can get completely creative with color and pattern, but I wanted ours to compliment our shop, so we went with classic colors (albeit off the traditional Fall path).
What you'll need:
foam pumpkins ranging in size and shape

small craft brush
2 inch smooth nylon sash brush (I use a Purdy)
paint (we stuck with 3 neutrals + 2 shades of blue/green to pop)
clear wax
dark/antiquing wax
better than cheesecloth or smooth, lint-free cloths
Optional:
1.  Start by painting 2 coats on your foam pumpkin.  I didn't want to bother with the hassle of priming, so I used Chalk Paint in Old White, French Linen, a custom mix of Chateau Grey and Old White (about 3 parts OW to 1 part CG), Duck Egg, and a custom mix of Florence and Old White (5 parts OW to 1 part F).  You could use any paint that will stick without primer for this project…and those without a super glossy finish like acrylics, or milk paint (mixed with bonding agent).
Use a small craft brush to cut around the stem, then finish the coating the pumpkin with your 2 inch angled brush (I use a Purdy 2 1/2 sash).  Be sure to paint into each groove and notch.  Let dry and paint another coat for lighter colors.
2.  After the paint has dried, use a cloth to to apply your wax.  Remember you don't need that much at a time.
3.  Spread the wax on thinly.  You'll be able to tell where you've applied it–the wax will deepen the paint color a little.  Spread it all in each groove and all over the pumpkin, wiping excess off as you go with another cloth.
4.  Begin working your dark wax into the pumpkin now.  Apply it all over, pushing it into the grooves and dips in the pumpkin.
5.  Work in sections, spreading it in, and wiping it off with another cloth.  Be sure to let the dark/antiquing wax collect in the grooves of the pumpkin as dirt normally would.  I usually like to dark wax to create a deeper/warmer tone, but this project is one where you can use dark wax to look "dirty" and it looks completely natural.
Let them dry & you're done!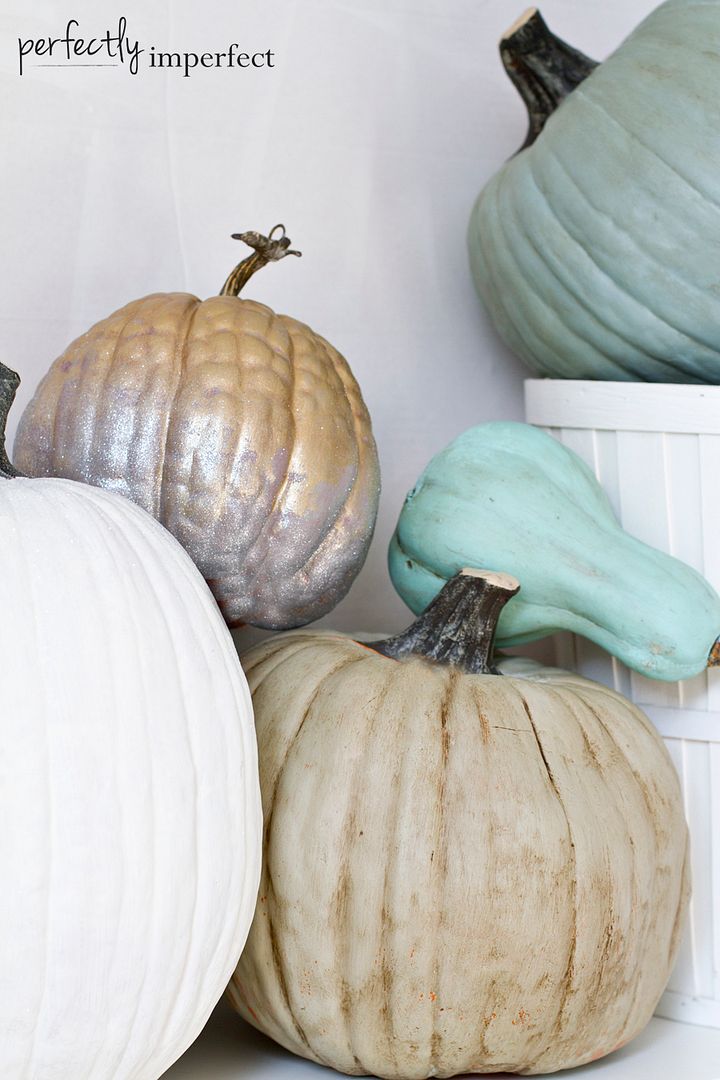 Adding the dark wax or detail painting really creates some dimension on the pumpkins, and makes them look a bit more realistic.
We did a few different treatments on these….This one was painted with French Linen & once it was dry, I simply ran my finger along the raised edges with King Gold Gilding Wax.
The silver & gold pumpkin was painted with Martha Stewart Gold craft paint & then I sprayed the bottom half with Krylon Glitter Blast in Silver Flash, varying the "edges" a little all around.
We labeled this one the "Cinderella Pumpkin."  We painted it in Old White & I sprayed the top 3/4 with Krylon Glitter Blast in Silver Flash.
See?!  So simple and fun!  Let us know if you try it…and I'll show you where our pumpkins wound up late in the week.
Happy simple crafting, friends.