We are knee deep in projects all around the house.
It's funny…remember when I told you about my year of rest from projects?  It felt sooo good, to simply live in our home and not work so much on it.  Everyone is different, but I've recognized that I must create space for us.  We don't enjoy project after project after project…I start to feel frazzled and undone and, for the love of everything holy, I'll feel that way plenty without doing it to myself.
Ya know what I mean?
So we work on big projects for a month or so, and then we rest and play and cook more dinner and rent more movies.  Matt and I see every movie that's released, and the kids get me up in the playroom to paint, glue, and color on all the white surfaces up there.
I'm also getting better at stopping amidst the project–to prolong it for a day or so, so that I may keep my sanity while sipping more coffee and actually putting the laundry away.  Sometimes, I tend to try to knock out several small projects while the large one is in progress.  While the guest bathroom tile is done, and walls are planked (can't wait to show you!), there is still lots of caulking and painting and installing trim to do.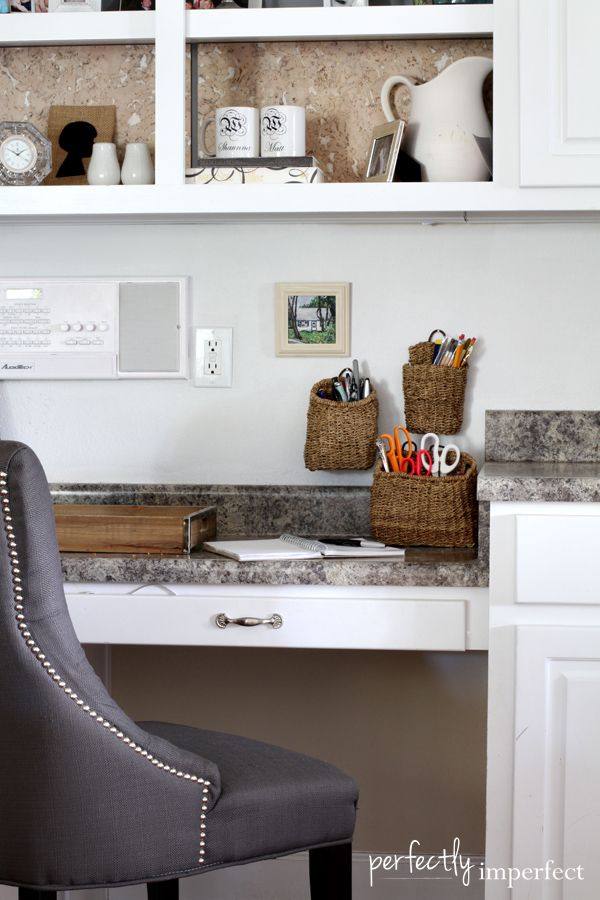 Which means there's a giant mess in the bathroom and the hallway and the guest room.  To keep from feeling swallowed alive by it, I worked on straightening and reorganizing our kitchen desk area the other day.  That's our drop zone, and man, it's the bane of my existence.  It STAYS messy, despite whatever system I implement and no matter how many talks we all have about keeping the paper to a minimum.  So I found a solution that worked for our paper-piling family.
I cleaned out the bottom drawer and dumped the paper there.  Yep.
Organizers everywhere be dismayed.
But really, that's a simple solution for us–in go the papers to be filed for the year.  Those papers get transferred to a small file box at year's end.  Done.  No hole punching, or separating them, or anything else I'm not going to do.
Hi.  My name is Shaunna and I enable paper-piling.
I did also bring home these seagrass baskets from our shop, because our small desk felt so cluttered with several containers sitting on it.  This way, it's just the one basket sitting, and the rest hanging out of the way.  And that beautiful painting was done by the lovely Karen from Classic Wall Finishes…I'm so in love with her and sister, Patty, so I love hanging something so special in the center of our home.  P.S.  Karen painted the painting with Chalk Paint®!  Isn't it so dreamy?!
I'm off to totally reorgaznie the playroom and art/school supplies.
Because that totally makes sense.  I definitely shouldn't go on and paint the bathroom and get it done already.
Nah, it can wait till tomorrow.

P.S.  Those baskets are not listed online, but if you'd like to grab some for your messy areas, email us at orders@perfectlyimperfectblog.com or call 334-482-0215.