Happy Monday to you guys!
We had a busy weekend at the shop with Troy Fest and I can't wait to share some pictures for you to see our fun displays and moments from around the festival.
Until then, we wanted to share a little project that we've been working on for about a year now.  I'd start, then take a break.
1.  Because it was HUGE  2. Because other things were more pressing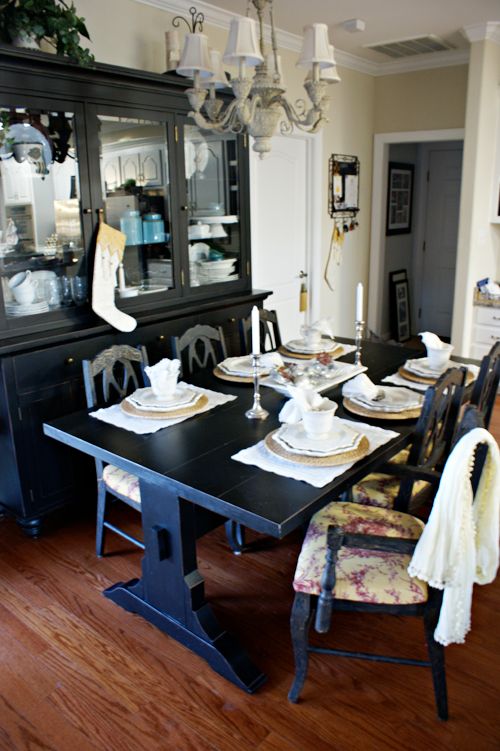 This is the only before pic of our hutch and table together I can find a picture of…Christmas a few years ago.  This was also before we painted our walls white.
After some paint, a new light fixture, and on our way to recovering the seats, the breakfast nook has a whole new look.
Major difference, right?
Did I mention this hutch & table were coated in laminate??  It's one of the reasons I'm a fan of the "stickability" of Chalk Paint®!  No priming, sanding, anything…just 2 coats with a brush and we were done!
If you follow us on Instagram, then you knew what we were up to.  I painted the outside of the hutch in French Linen Chalk Paint® sometime last year, and it sat that way for a while…I just had to sit with it a while.  I knew I'd eventually get inspired and decide what it needed to look like.  The obvious choices of white, gray, etc. just weren't cutting it for me.
As I was making our family Blurb book for last year, I came across some images I snapped on our Mediterranean cruise.  One of my favorite spots was Santorini, Greece.  All the stark white rising out of the cliffs with pops of vibrant blue…it was magical.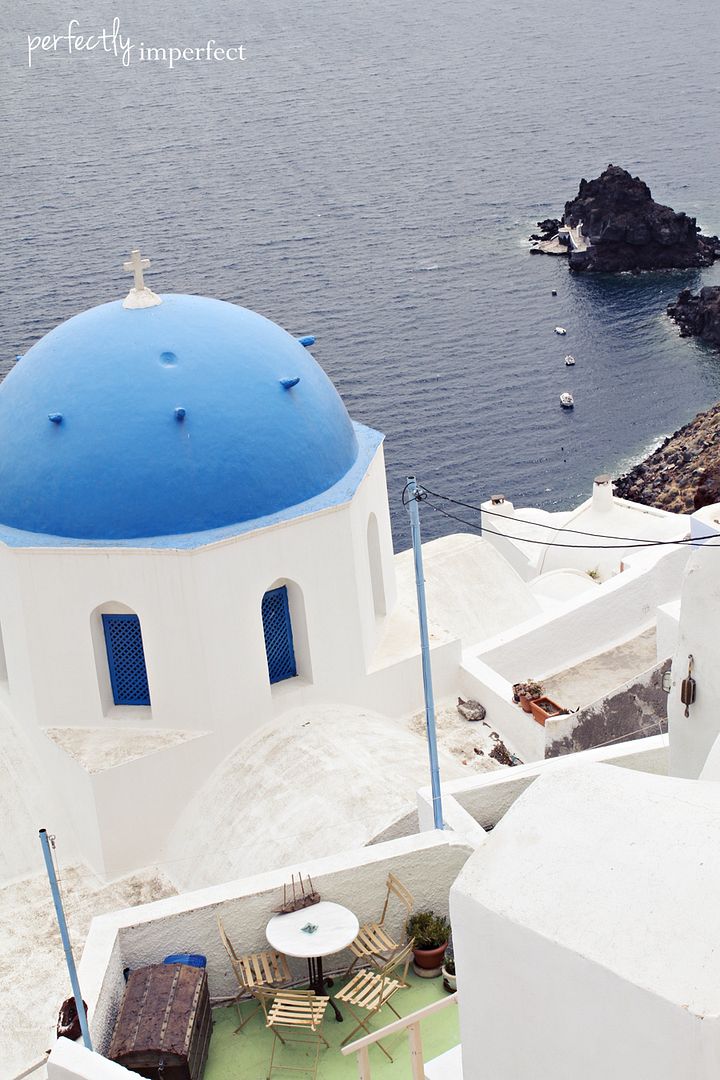 It's funny…sometimes my family pokes fun at me for wanting an all white look.  I do LOVE a lot of white, and lot of neutrals, but I love texture and the perfectly placed pop of color.
So Greek Blue the inside went.  And we LOVE it.  It's the perfect pop of color inside and because it's such a clean color, it works beautifully with light and shadow.
I'm sure I might eventually crave a more neutral look, but you know how I feel about that.
I'll just paint it again.

After painting the hutch, I started to shoot the pictures and just couldn't do it.
The black table & chairs (plus yellow & red toile) had to go.
I had to clear off the table and give it a study for a day or two.  I knew I wanted to include the Greek Blue again, but I wanted some contrast, too.  I wanted softer saturation since the hutch is two saturated colors…so, after a little thinking I mixed 3 parts Pure White with 1 part Provence.
I painted the whole table in Greek Blue first, then painted the top in the muted Provence & distressed it to reveal the blue underneath.  (More on the finish soon!)
Of course, then I had to semi-set the table.  For the everyday, I don't put out a lot for a table setting because it's not very practical for the average 3 year old.  The placemats are French Laundry Home, napkins are from World Market, and the French kitchen towels are from our shop (to be listed online soon!).
The simplest arrangements are sometimes the BEST…I filled one of our crates from the shop with lemons and daisies.  So simple and spring-y!
Because this was SUCH a labor of inspiration & love, we'd love to know what you think!
Stay tuned this week for some follow up posts this week for tips on using soft wax, creating smooth finishes using a brush, & mixing your own colors!
Go paint the town lovely today!