Sometimes the simplest projects are the best.
I have truly done a 180 with our Christmas decorating…I used to have little figurines, and stuff in every room.  And while I still love to add that special touch to most of our home, it's much simpler.
It's amazing what a sprig of evergreen clippings and some sparkly ornaments can do.
This year, I did want to focus on spending time with my family rather than buying new decor, or photographing consuming decorating projects.  I used not even half of our ornaments on our Fir tree this year, and I decided it needed a special touch.
A tree full of your family's smiling faces does something for a mama's heart.  I toyed back and forth on how to make them….using shape cutters or my cricut or attaching metal tabs & grommets.
And then I just sat down and plopped something together and moved on with my day.
BEST kind of project.
I'm a full-color photo kind of gal, but printing in black and white keeps all the photos uniform and they pop beautifully off the card stock, no matter the color.  (P.S.  I love Florabella's actions, and I used Luxe II's Black and White with Blush.)
I could have used glue dots, or raised tape dots, or a myriad of other products.  But you can never go wrong with Scotch Tape (especially the matte gift wrap tape).  And no, I'm not paid to say that…just the truth.
Cheap take won't work, y'all.
I used the old rolled-tape trick on all four corners.
When it was time to attach it to the card stock, I simply did not press it all the way down…this is where good tape comes in.  Just a slight press so there's still some dimension between the paper and the photo.
I then trimmed around the photo…easy peasy.
After punching a hole in the center of the top of each card, I used the red/jute ribbon from our shop to make little ties for hanging the ornaments.
I was SMITTEN after the first one…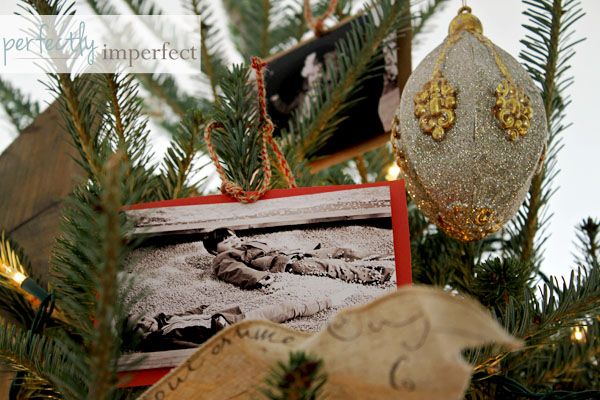 And seeing little moments of our year on our Christmas tree was pretty magical…kind of like celebrating our own finale to our year together.
Every project doesn't have to be complicated or require 7 steps or even be pin-worthy.
Sometimes the simplest projects are the best kind.