We have thoroughly enjoyed decorating for Christmas this year.  I am actually hosting my whole family on the big day, and I'm honored and thrilled.
We love to entertain, but needless to say, we don't always get to do so much of that anymore with little ones.
I've found I'm putting touches of Christmas in every room, and I probably will keep doing so until Christmas Eve.
This year, we're sticking to our simple and natural decorations, using lots of metallics and white with bright pops of red.
Yes, we have snow on our floor.  Yes, it's messy.  Yes, my kids have rearranged it all many times.
Yes, I'm crazy.
But it's fun.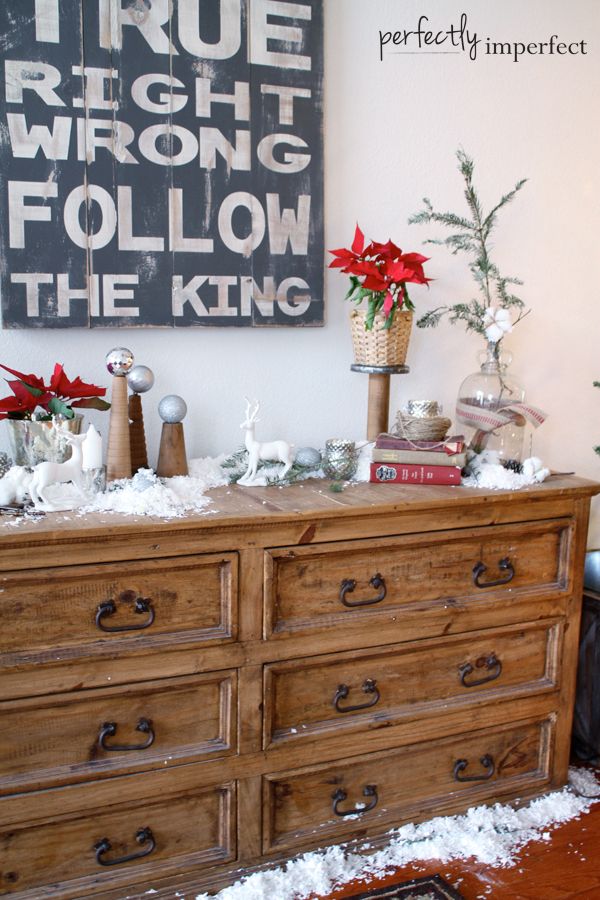 I wanted our entry to feel really casual and collected, and I'm really happy with how it turned out.
The fake snow makes it, I think.
P.S.  I'm not sure you guys have even seen this piece of furniture in my house, have you?  We got it at a yard sale last year for $100…it sold originally from a very fancy shop in Birmingham…one of my favorites.
I learned this trick from my friend Evan G. Cooper….only use the matte snow.  No shiny flakes, please.
Everything else we had on hand already.  I used a glass cloche over a pedestal (Pottery Barn) to hold sheet-music wrapped candles and a sprig or two of rosemary.
I love the whimsy the vintage spindle "trees" bring to the vignette.  The large mercury glass planter was a Pottery Barn gift from last year, and the smaller votives came from my cousin's shop, La Bella Vita, last year, too.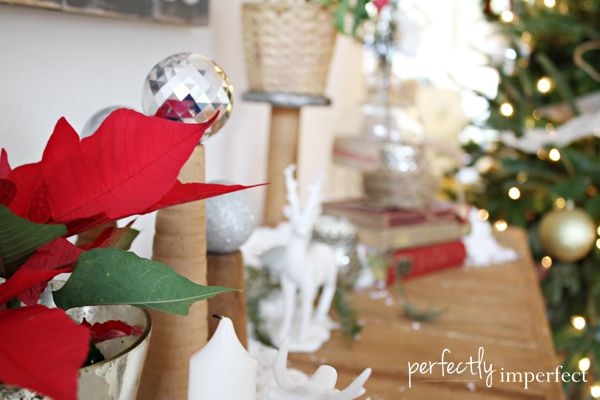 I couldn't resist a little bokeh shot.
On the other side of the chest, I piled vintage books, twine, and another mercury glass votive together to complete the collected look.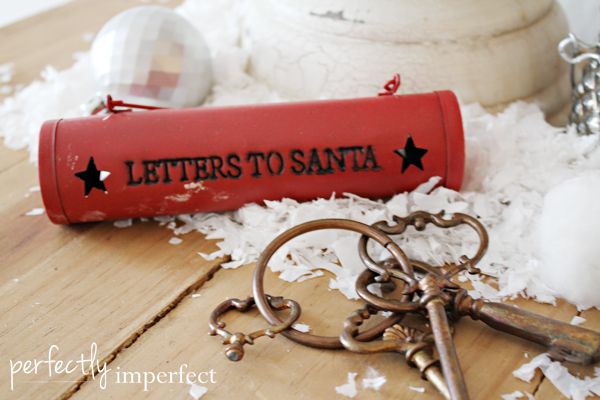 Our "letters to santa" ornament made the table this year.  It's normally on the tree, and we fill it every year with wishes.  It's been said that Christmas elves sneak in to take the mail to Santa, and every morning the kids rush to see if the letters have been whisked magically away.
I love Christmas.
I am dying to get out in the blogosphere to check out Christmas posts everywhere…if you have posted about your decor, would you pretty please leave me a link??  I cannot wait to check them out and post some of my favorites!!