Happy Thursday!
I'm so thrilled to introduce one of our perfectly imperfect contributors to you!
Meet Sarah from dodeline + design:
"Hello Perfectly Imperfect readers!  My name is Sarah Reed and I am so lucky to be one of the new contributors on this amazing blog.  I am the designer / entrepreneur behind dodeline design a graphic design studio & stationery company in my hometown of Charleston, SC, so Shaunna and I are partnering to offer you fun, free printables every month.  Hope you enjoy them and can't wait to meet you all!"
Isn't she adorable?!?

Sarah is one cool, talented chick.
I could not wait to get started & the month of love totally inspired me.
You see, somewhere in the cotton fields of Arkansas some 40 or 50 years ago, my granddad began teaching my father a lot of lessons.
One, though, stuck with him & he passed that legacy on to my brother and I.  It remains a personal motto of mine–and now of our family.
I asked Sarah if she would design a printable to help me remember & one we could share with you guys.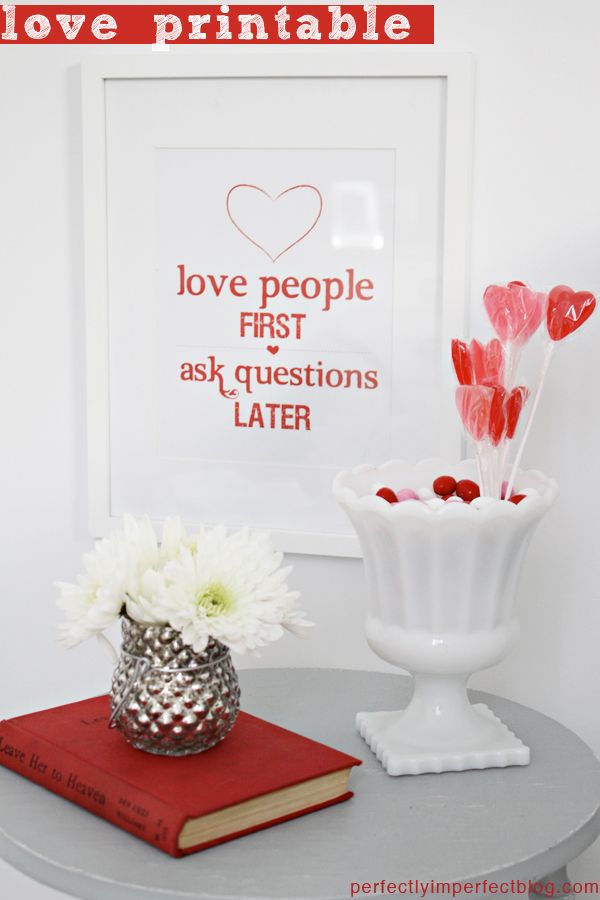 Isn't that brilliant?!?  "Love people first…ask questions later."
Bill Wheeler was one smart man.  My dad was for listening.
That one little phrase would solve most of the world's problems.  It solves quite a bit of mine.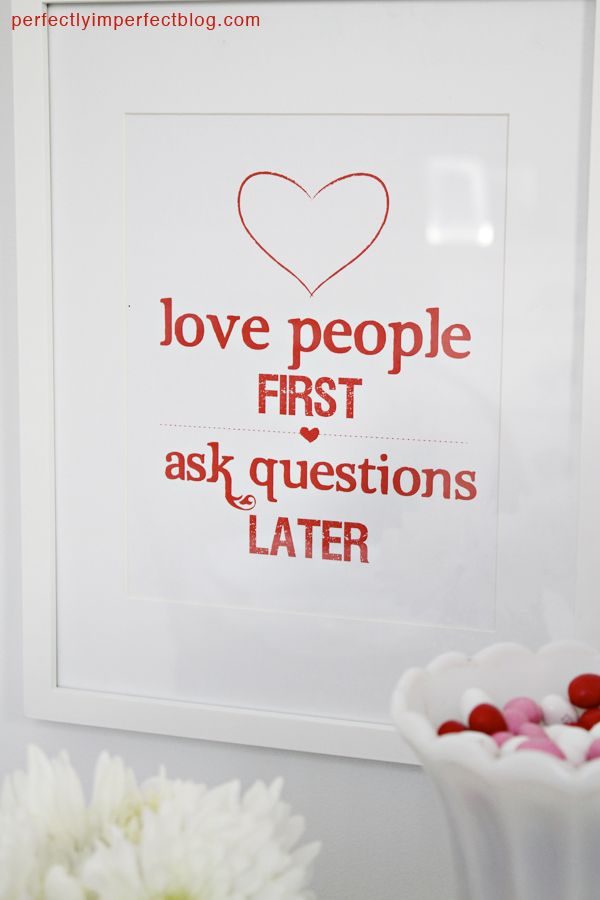 I honestly can't thank Sarah enough for designing something so simple & striking…and now I'm able to look at it everyday and think about the men who came before me.
Men who want to make the world a better place.
And because it's Valentine's Day & you guys help me love like this…you can download it for free!  If you'd like something a little more year round, Sarah's got that covered too…
Head to our new downloads page to save your printable PDFs.  -Love Printable Pink –Love Printable Green
Feel free to Pin our printable to help spread the word & join me in welcoming Sarah to perfectly imperfect.  You'll be meeting more contributors soon!