Well, I'm still alive.
I was just taking a little mini-vacay.
The kind where I come home from Thanksgiving and dive straight into major project mode.  Some kind folks asked me to work on a little something, and well, I just couldn't say no.
I'll, of course, share everything as soon as I can!
So, back when I revealed our dining room, I told you I'd share more about the table.
You know, the one we built?
It's been proven to be quite difficult to get Matt to sit down to help me write a very detailed tutorial, so here's the next best thing.
Plans + tips on how we made it our own.
We love PB's Benchwright Table, so that's exactly what we wanted to build.
Now, for the we-don't-have-exact-plans-for-ya (cause we don't roll that way) filler–If you want to build the table minus extensions, our friend, Ana White, has the step-by-step plan on her site.  Why rewrite brilliance, right??
Nevertheless, here's some insight into our process. (Italics are Matt's very own words)
So there is a first for everything… This is my first ever post on my unbelievably talented wife's blog! I'm Matt a.k.a "the hands" or the guy wearing the dirty work t-shirt you see from time to time in some of Shaunna's pictures. She has been wanting to post the table we built for a while, and has been asking me to help remind her of all the steps we took to finish it, but we haven't had the time to sit down and go over it all.  She finaly just asked if I wanted to write part of the post, and I tentatively agreed. So, I'll apologize upfront for my writing skills and lack of writing flare that you are accustommed to from my creative writer of a wife!  Already the Spell checker has flagged about 10 words that are mis-spelled, so just bear with me…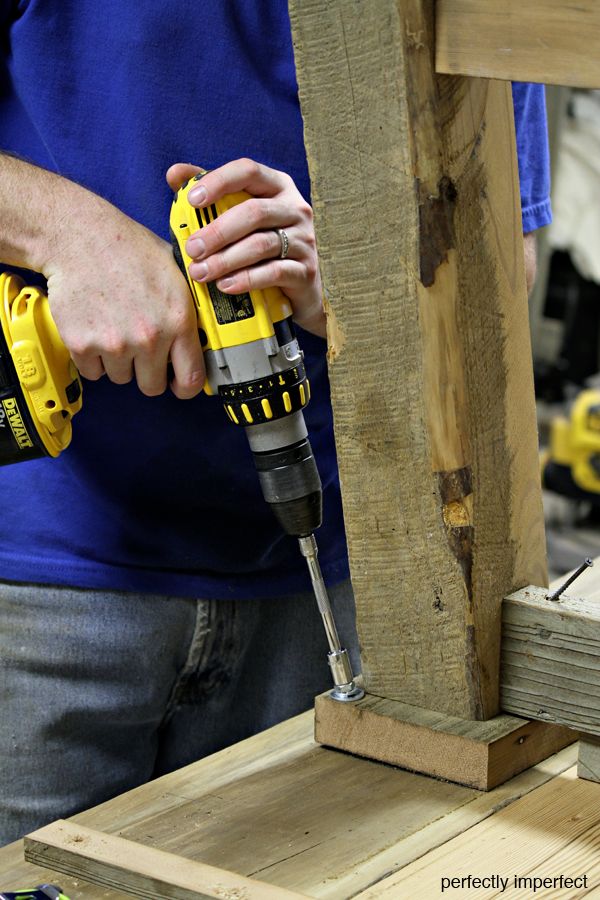 I stared at the pictures for days, and came up with my own rough ideas on how to build it, then, just kinda winged it.
First, we really loved the rustic look of the reclaimed wood that they used, so we went to Southern Accents in Cullman, Alabama, and found a plethora of old reclaimed wood to choose from.  We finally settled on some floor joists.  We would have loved to have found 4 matching beams, but we had a particular thickness, length and weathered look in mind. So we finally decided on 4- 3 x (roughly) 12 boards that were made from 3 different types of wood. Two of which were made of pine, one birch, and another one of which the species is still unknown to us. We also picked up 2 4×4 rough cut posts made of cedar.
Me again: I love that Matt just said "species." 🙂
After getting them home, we decided we needed to plane them some to get them to down to the same thickness.  We planed them all down to about 2 3/8″ each.  How did we decide that ridiculous number?  There was no special reason other than the thinest board was about 2 1/2″ to begin with, and to get it looking the way we wanted, we were at the magical number… wait for it… 2 3/8″.  So, we planed the rest of the boards to match.
At this point, it's simply about attaching your boards.  We used some old deck redwood 2×4's and 2×8's.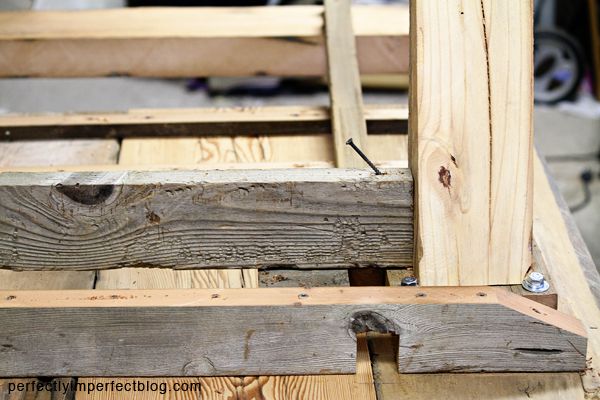 Here you can see the underneath of the table.  That small notch?  That's where our leaf slides into place.  When I think about it, it's a very simple design…but totally sturdy.
(end board with slats that slide into place)
(underneath leaf)
To make the end board run in smoothly, we ran soap all along the edges of the wood.  Got drawers that stick?  Give it a try!
*One tip:  We wanted our leaves to appear seamless rather than run perpendicularly to the table.  Matt decided it would be way easier to build the table the full 12 ft, and then cut off the leaves.  It worked perfectly…the leaves fit in seamlessly.
That Matt, he's a smart one.
😉
We added a crossbeam to the bottom–and the pieces you see on the outside are just faux…they don't go all the way through the legs.
We found all the hardware at Farm & Ranch Hardware and the turnbuckles from Fastenal.  It's all just for looks-no fuction whatsoever.
🙂
To finish the table, we totally embraced the rustic look and sealed with Varathane.  I actually used one coat of wipe-on poly, but it yellowed the wood just a bit too much for my taste, so I went to Varathane, a water-based floor sealant (other than furniture wax, it's my go-to choice for sealing painted whites).
And there you have it, a somewhat wordy tale of how our knock-off Benchwright Table came to be.
Speaking of that table…
Here's a little peek of what's on it right now.
🙂
*P.S. If you have a specific question about the table, leave it in the comments & Matt or I will answer you!