Thanks so much for your support so far for Home Depot's Give the Gift of Good.  If you missed it, be SURE to check it out! We're talking a possible $20,000 home improvement! We need your help to find a local deserving military family…thanks in advance for your submissions and ideas!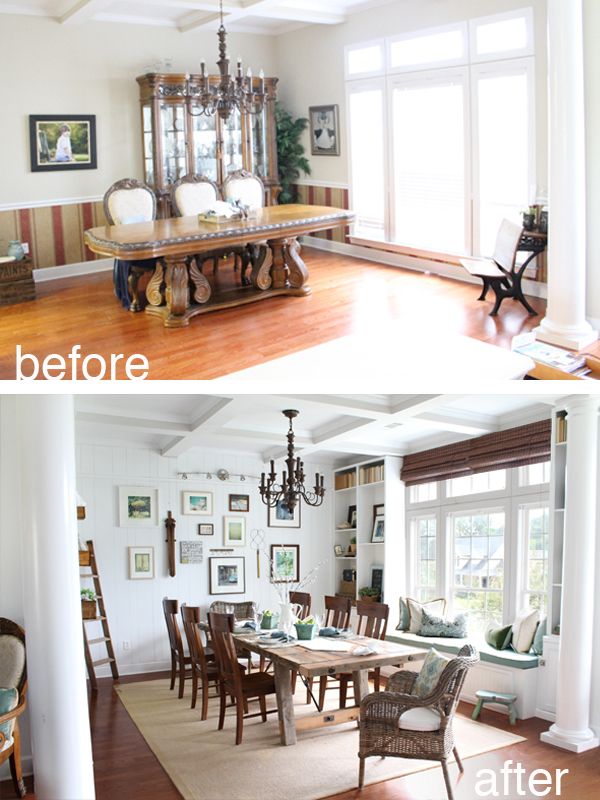 Since we revealed the dining room, we have loved our space and had a ball looking at it.  I'll be honest, we haven't officially eaten at the table yet.  I'm too nervous.  I know it's fine…I sealed it FOUR times, but you know, it's going to be this heirloom in our family.  I do know that I have to get over it.  We sure didn't build it to stare at it…although, I could do so for quite a long time.
Last week, after picking up an inspiration piece, I decided it was time to add a little fall decorating to the dining room.  Here's what it looks like today…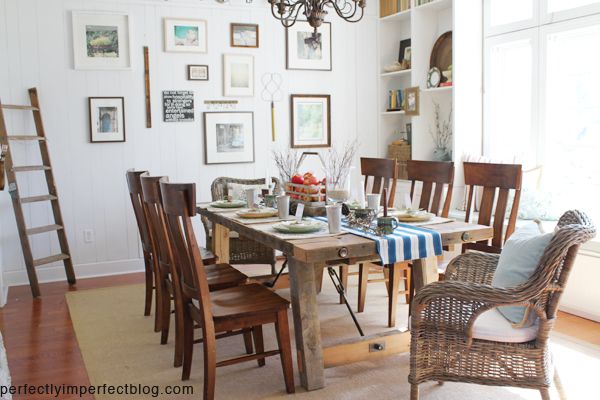 It was begging for a little color, and a fun piece of peacock striped fabric (as a table runner) does the trick for me.  Love it!  At $2.47 a yard, it only set me back $6 plus tax.  I left it unhemmed and simply folded it to create a new runner.  If you follow me on Facebook, though, you know my mom is teaching me to sew, so striped peacock fabric of the world, beware.
I'm comin' for ya.
After I laid our "runner" on the table, I knew I wanted to incorporate some gala or pink lady apples into the mix.  Not only are they our favorite (especially if they're organic), it's time to make some fall homemade applesauce…and that color contrast is fab.  I found the pewter tumblers at Troy Antiques for $1 each.
I got the hand painted Gail Pittman dishes back when I was a Willow House consultant several years ago, and it made me happy to pull them out again.  The place mats are from French Laundry Home via One Kings Lane, the same ones you saw in the dining room reveal.
The leaf-shaped salad plates are Better Homes & Garden via Walmart…yep, that's right.  I LOVED them, so I snagged six when they ran a sale.
We won't actually be hosting any fall parties, so I left off the flatware and chargers.  Plus, I really wanted those hand painted babies to pop off of the oatmeal colored place mat.  Check, check.
The feathers, sticks, and seed pods are all from a faux arrangement I previously had in our home.  That's a tip for you….find a big, gaudy faux floral arrangement at the thrift store, and deconstruct it to use the bits you love.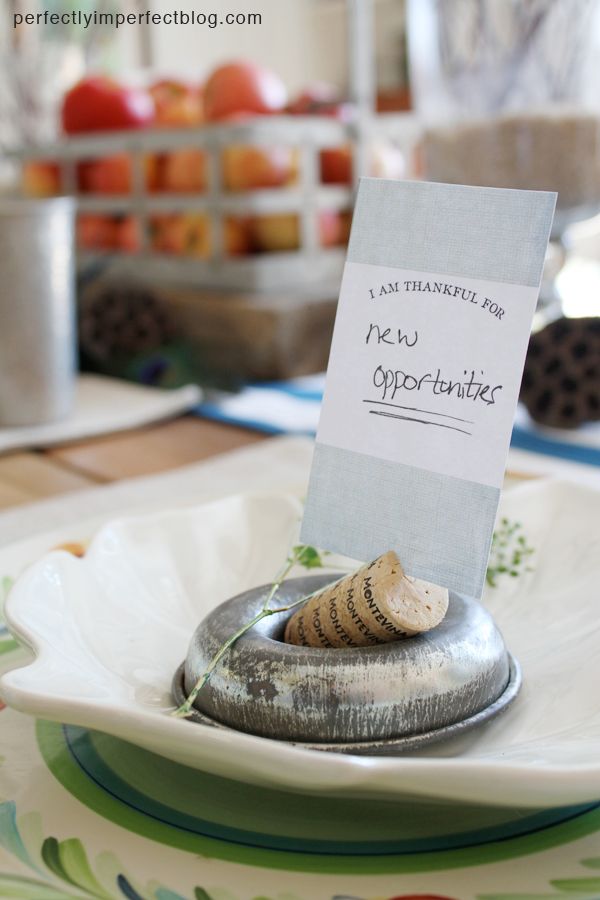 Those adorable (free!) Thankful Cards are by the fabulous Jones Design Company.  The kids and I are really enjoying recording what we're thankful for this year.   Love that girl…love her work!  Go check out her printables and her home…beautiful!!
I used old jelly molds to hold corks fashioned to hold my place cards.  A little sprig of greenery finishes off each place setting.
Let's get to the rest of the table decor, shall we?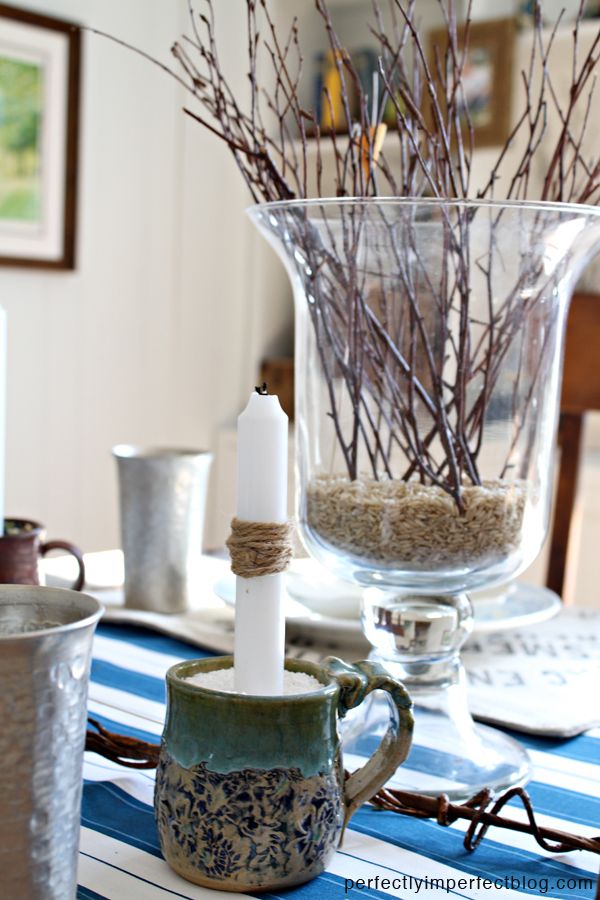 I filled two footed hurricanes with a little brown rice and sticks.  I originally sketched some dried split peas (because I've been loving split peas for years!), but I had brown rice on hand, and loved the way it looked next to the gorgeous handmade pottery mugs I found at a flea market.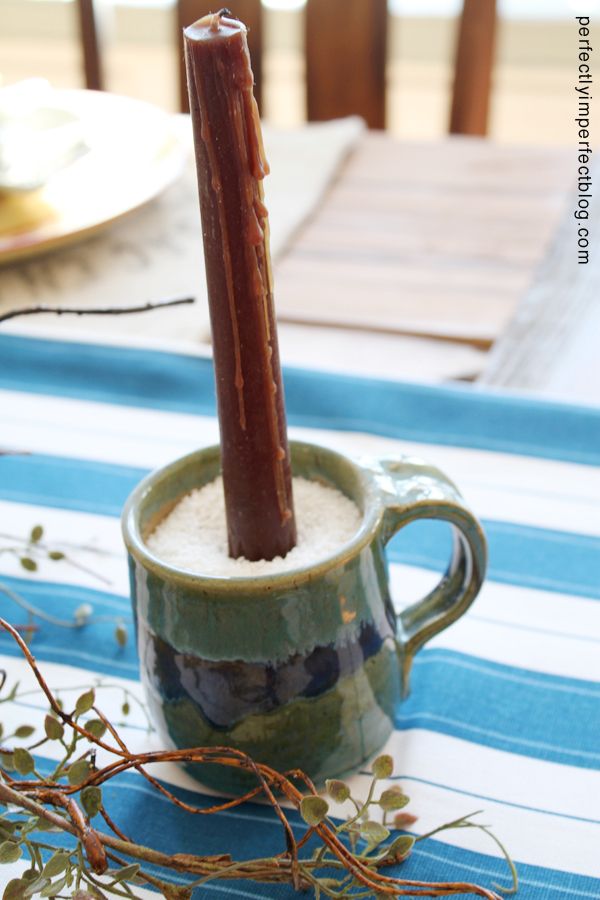 They're definitely handmade, and the signature on the bottom appears written in…and I'm having quite a hard time reading it.  I hope to find out more about them soon.  If you have any info, don't hesitate to pass it along.
I sat a vintage caddy on top of a scrap piece of the reclaimed wood we used to build the table from.  Holiday time is a time to sit down and stay…so keep your centerpieces low enough to encourage lots of conversation.
This beautiful caddy came from–you guessed it–Troy Antiques. I think it was $12…that place is truly a treasure trove!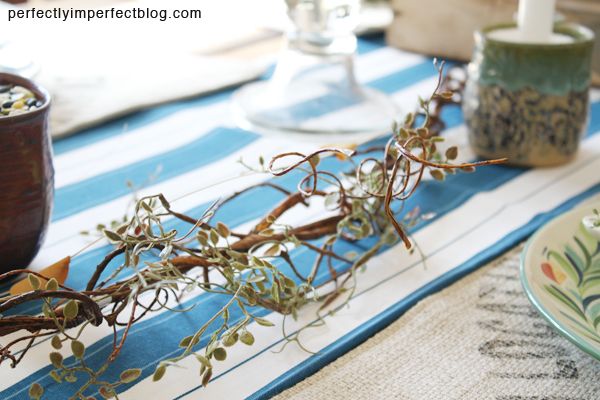 The two vines came from Hobby Lobby, and I was able to grab those at 50% off.
I couldn't totally stop with the table.  The bookcases got a little updating and shifting around.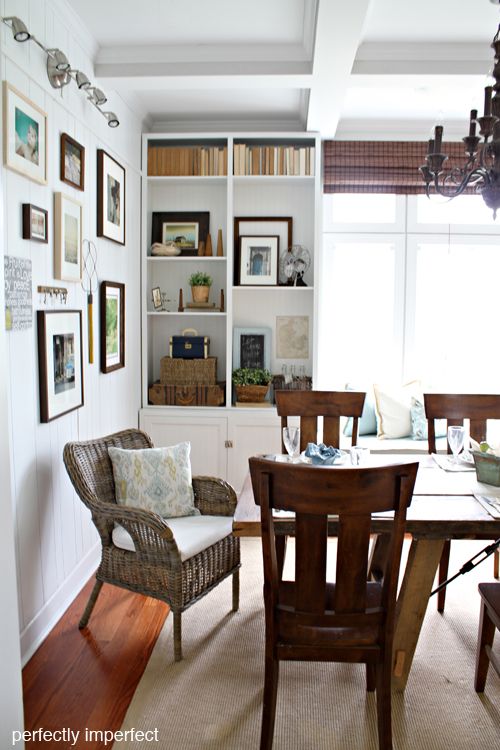 Here's what they looked like when we finished the dining room.
Here they are now…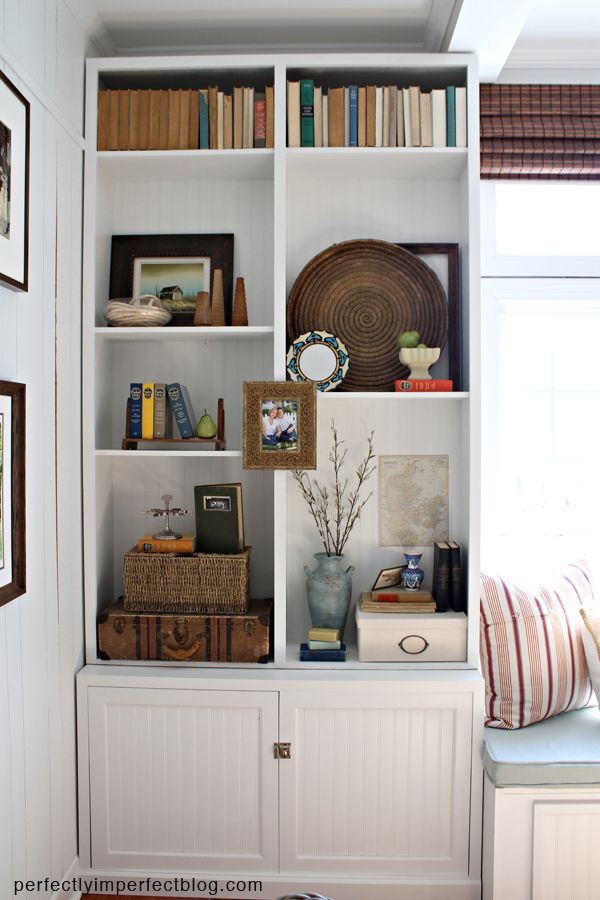 They're not that different, but I just get the urge to move things around and highlight certain "sit-abouts."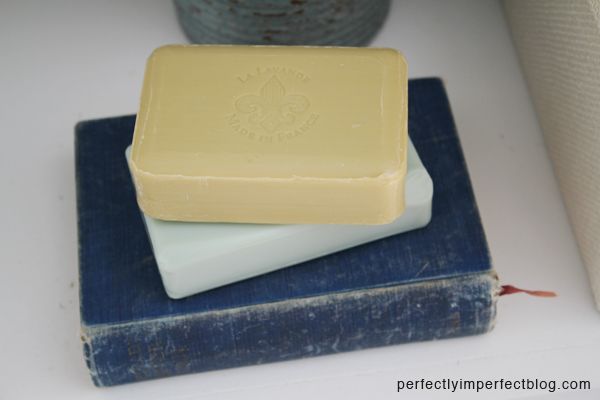 Yes, that's soap.  Soap in my bookcases.
Hand milled soap is beautiful, fragrant, and really graphic.  I love how they form little structural moments in a bathroom, so why not?
🙂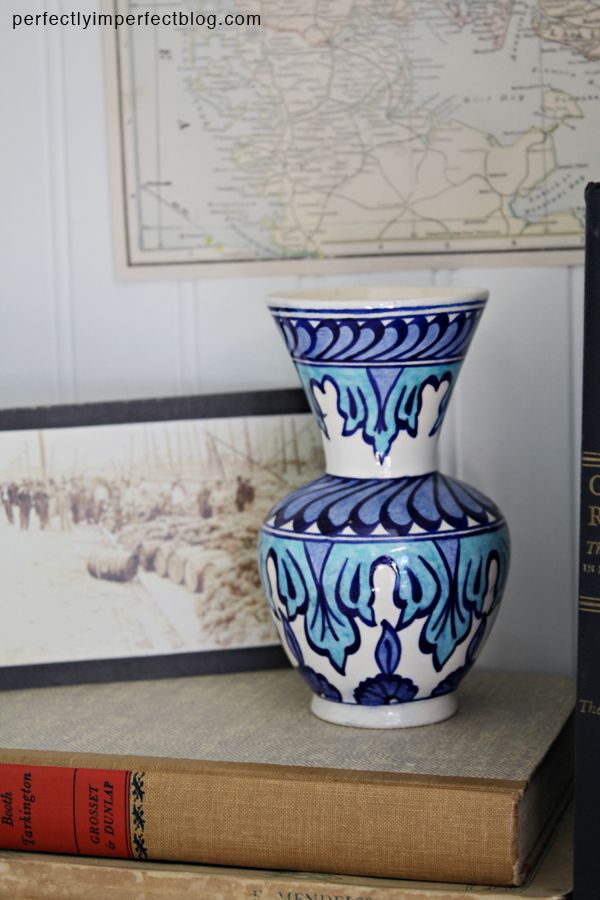 Oh, the plate that started it all.  I found it, again, here in town.  It's Vintage D & C France China….I'm quite the lucky gal.  I scored it for $3, and they appraised around $50 per plate most of the time.
I LOVE colors and graphic nature of the pattern…it's sooo eye catching!
I kept my wooden book holder in place, and simply added in some of the books I found a couple of weeks ago.  The gold frame is a little small for our built ins, but I don't mind.  I just wanted that pattern/color right there next to those two shelves, and didn't mind that it did not cover up too much shelf space.
Plus, I love my honey.
I added this Ikea pillow cover into the mix of linens to tie a little red in.  I love it…and have been going back and forth on buying one for at least a year.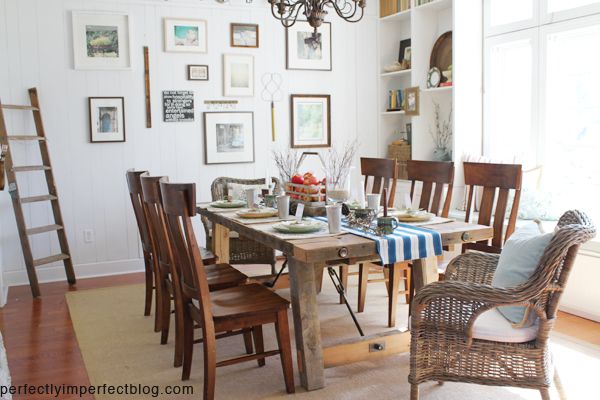 What do ya think?  Fresh enough fall decorating for you?
It's got me quite happy and dreaming of homemade applesauce.
I think that's a pretty good place to be in.
😉
*linking this to Tips & Tutes from HomeStoriesA2Z, TipJunkie, & Wow Us Wednesday's at Savvy Southern Style