First things first, I'm excited to announce our Simple Starfish Giveaway winners: Jessica from Nuchey's Mommy & Shandra from the Family That Plays Together!  Congrats, ladies!!!  Christine will be in touch with you soon to deliver your gift certificates!  And for you guys, Christine is offering FREE SHIPPING today and tomorrow!  Just use code perfectlyimperfect at checkout.  Hello, Christmas shopping!
****
Remember way back when when I decided to start a new series to help you with your furniture painting…and I asked you to help me with the name?
I toyed around a lot with the Furniture Whisperer (great suggestion btw), but in the end decided I might not be able to take myself seriously since every time I said it I had visions of Robert Redford and wild horses running around the ranch hills of Montana.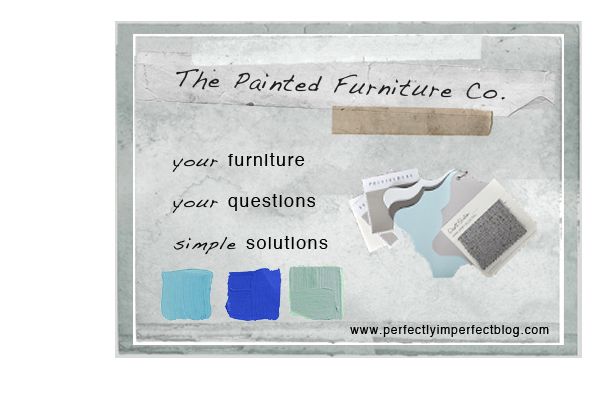 Enter The Painted Furniture Co.  
I don't know, I just like it.  It fits, and there's some things in the works for TPFC that go way beyond our little series here…and I can't wait to see how it all unfolds.
I know, more teasing.
🙂
I'm taking on Kara's question today…here's what she said in her email to me:
"I have been wanting to paint a dresser in my son's room with the Annie Sloan Chalk Paint, but I am so hesitant to actually do it.  I have attached a picture of how it looks currently and a copy of the bedding I am going to use (am moving him from his crib).  I was wanting to paint it red, but I don't want it to be too red.  I was thinking about using "Emperor's Silk", but I wanted to tone it a down a little.  Would using a dark wax on top make it not so bright?  If so, is there one that you would recommend?  Also, I am going to repaint the walls to a grayish blue."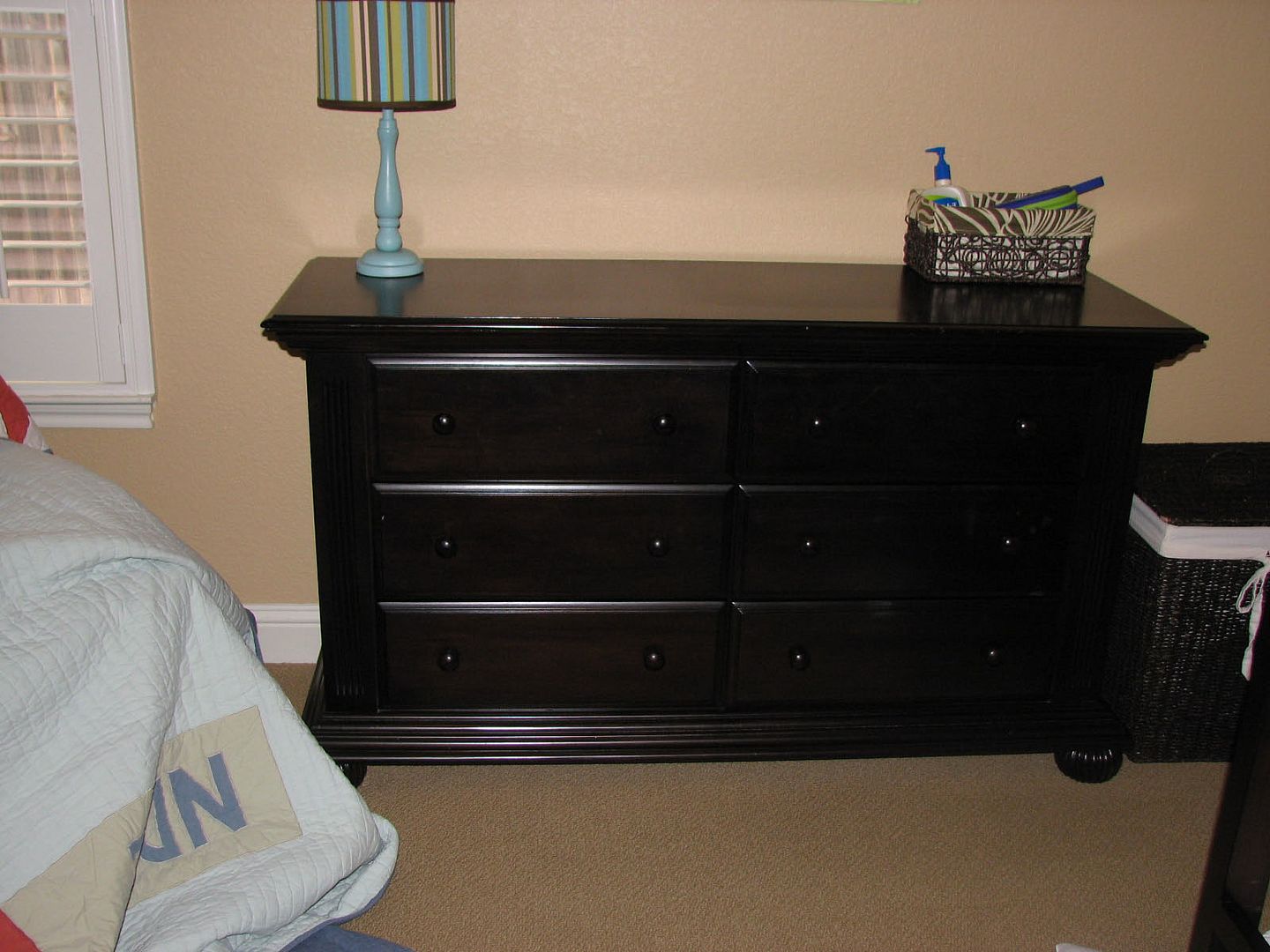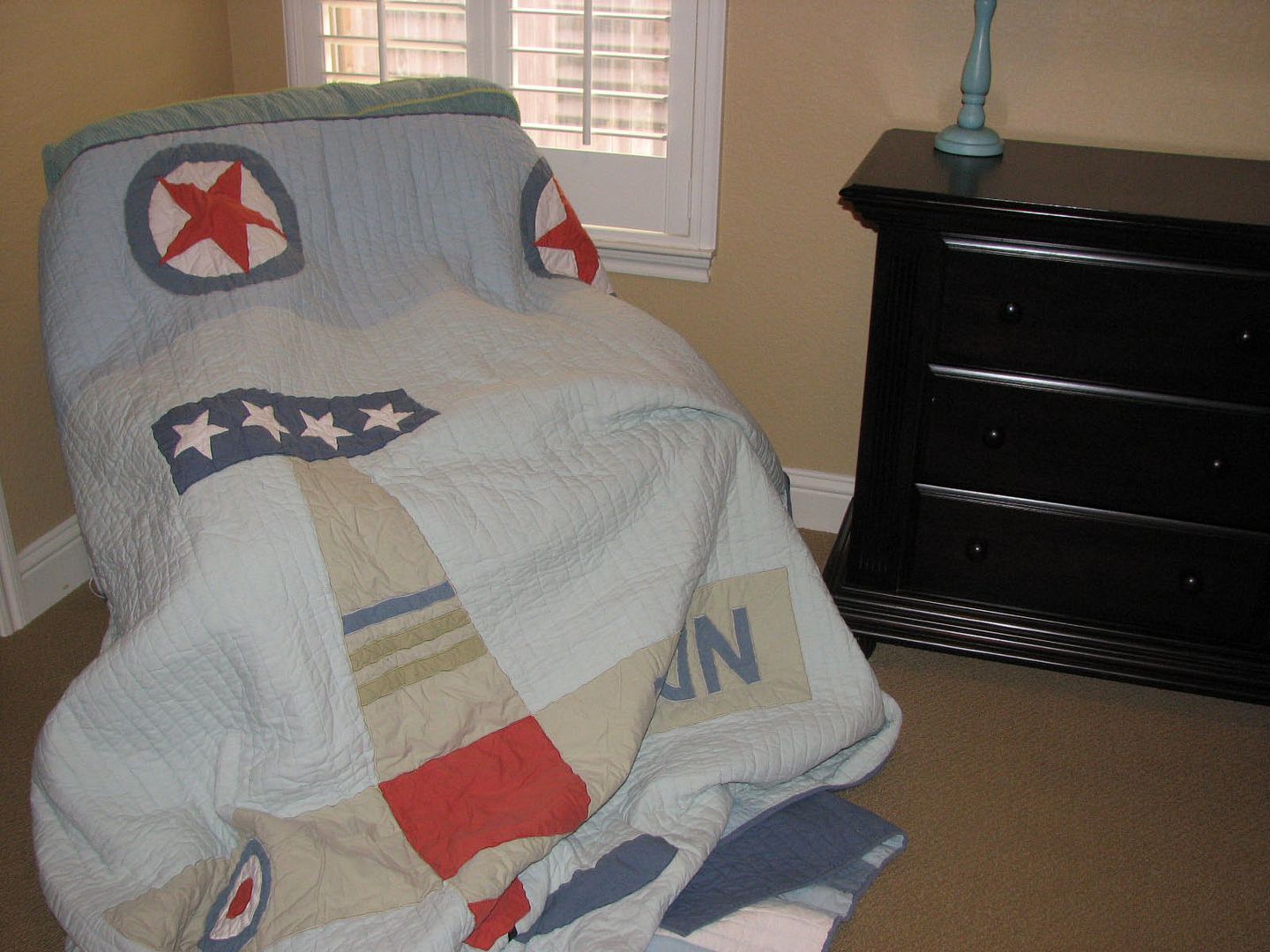 Kara also snapped some pics of her dresser and of the quilt that will go in the room…it's great, isn't it??
I'm pumped Kara is about to paint her first piece of furniture–let's give her some inspiration and encouragement!!
The first thing I notice are the clean lines on the piece.  I tend to love bold color on a simple piece, as the color becomes focal in the room.  Sometimes, for me (because this is strictly subjective), painting a really ornate piece a bright color is distracting.  My eye doesn't know where to land.
Again, just me.  The idea of red on this piece delights me, especially since it will be in a child's room.
As far as toning down a red, it's something that's been done many times before and I happen to love the look.
Here are a few examples: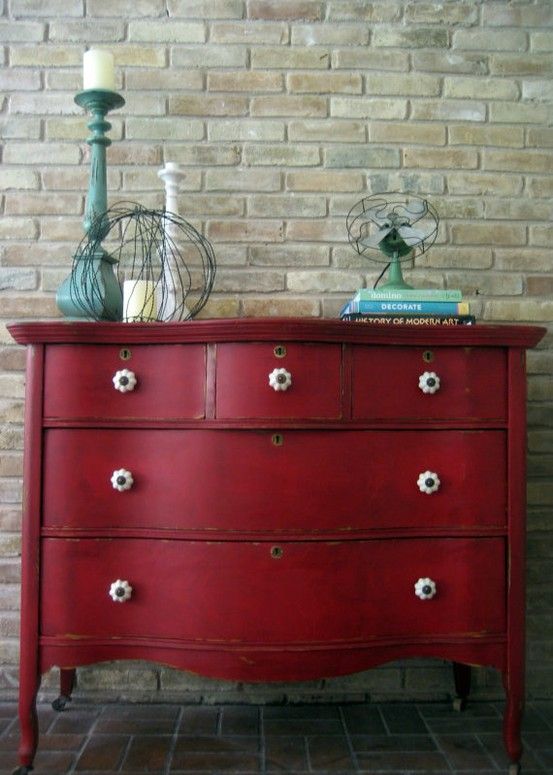 P.S. I LOVE the pop of the white knobs against the red!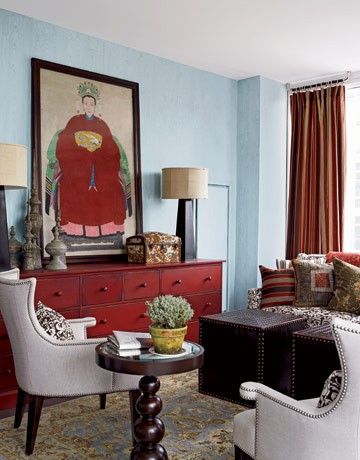 Even my furniture painting friend, the Miss Mustard Seed herself has tackled using ASCP in Emperor's Silk, and toning it down with dark wax.
On waxing, I say definitely apply some dark wax on top of your clear to tone the brightness down a little.  Emperor's Silk is a true red, and beautiful, but definitely very vibrant.  Applying dark wax will help you achieve the exact hue you're going for.
I personally have a can of Fiddes & Son's Dark Wax in Jacobean, but I love Annie's clear wax SO much that I'll probably try this dark wax when it's time to order again.
Check out my video on using furniture wax…it'll cover how to apply and some q & a from you guys!
Be sure to also check out these posts for covering all your chalk paint/waxing bases:
Waxing Q & A with Patty–an Annie Sloan Stockist (and Annie answers a question herself!)
Miss Mustard Seed's Waxing 101
By the way, simple knobs on a boy's dresser are my favs, so I would stick with the wooden ones or maybe try these from my favorite clay knob creator, Vintage Skye.
I absolutely love the color combo of red and blue…especially when there's a little lighter blue thrown in there freshen up the old classic.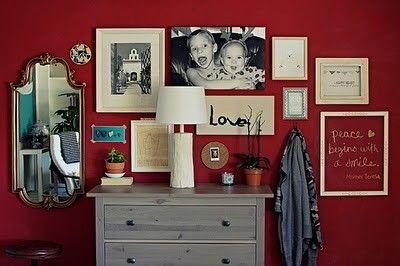 And I ADORE throwing some gray in there as well…as a matter of fact, I think Kara and I have some of the same taste.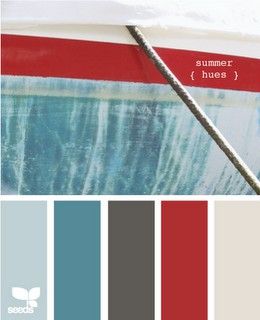 Here's Gray's room's palette…I'm working on it all right now, and this palette makes me sooo happy.  Fresh take on the classic red & navy.
Speaking of Gray's room, here's a little sneak peek of a little somethin', somethin' I've put together. And, Kara, you can see emperor's silk in action there…with clear and dark wax…and it looks great next to the colors we're  you're using in your son's room!!
Great minds do think alike, right?
🙂
*I'm hoping Kara will email some pics when she's through working her magic and we can celebrate with her!!
If you'd like to submit your furniture q's, send me an email at shaunna@perfectlyimperfectblog.com, subject PAINTED FURNITURE CO.  If at all possible, take pictures of your piece in the room it will reside in, and don't forget to include any room details you'd like (wall color, bedding, upholstery, pillows, etc.).  The more specific the questions, the better!
**Oh, and if you love a good "hey, whatcha think about my…" series, then definitely check out my good buddy Layla's Pick My Presto.  AMAZING STUFF that woman can do in Photoshop, I tell ya!
Happy Furniture Painting, Friends!
🙂
linking to SNS at Funky Junk Interiors, Miss Mustard Seed's FFF, & Sunday Showcase at Under the Table & Dreaming