Happy Saturday, friends!
I know we had a giveaway scheduled yesterday, but there's some last minute things to work out…so you'll be the first to know when it's time!
We have big plans to work on (and I hope–mostly finish) the farmhouse table for the dining room today, touch up paint on the paneling & built ins, which would mean we are getting very close to the reveal!  I cannot wait to show you just how different it looks!
So, you know me, as one project closes…
Another begins.  This one will hopefully be a little less work, and I'm looking forward to some fluff makeovers…you know, ones that don't involve us ripping moulding down, and building (and painting) 10 foot tall bookcases.
It's time for Ava's and Gray's rooms to have minor makeovers.
For Gray, it's a matter of better organization that will grow with him.  You know what I mean…I hate to get rid of the train table, but if he hasn't used it in a year, well, it's time to go.  He'll need a desk one day or another table that he can actually get his legs under.  His room will be spruced up with a new (less space-hogging headboard), fabrics, and space planning.  More on that later…
For Ava, I've been pulling together some inspiration for her big-girl room.  I'll be honest. I've loved every second of the pink coma we've been in.  She was my first girl, and it was painstakingly sweet to see her surrounded by all that soft pink.
It's been fun, but it's time for a little change.
You can see in the picture above the drapes my mom made for her room…they are lovely, and they are staying.  So is the rug you see.
But again, it's time to space plan…to rethink storage to accommodate more of her toys, dress up stuff, etc.
I can't wait.
🙂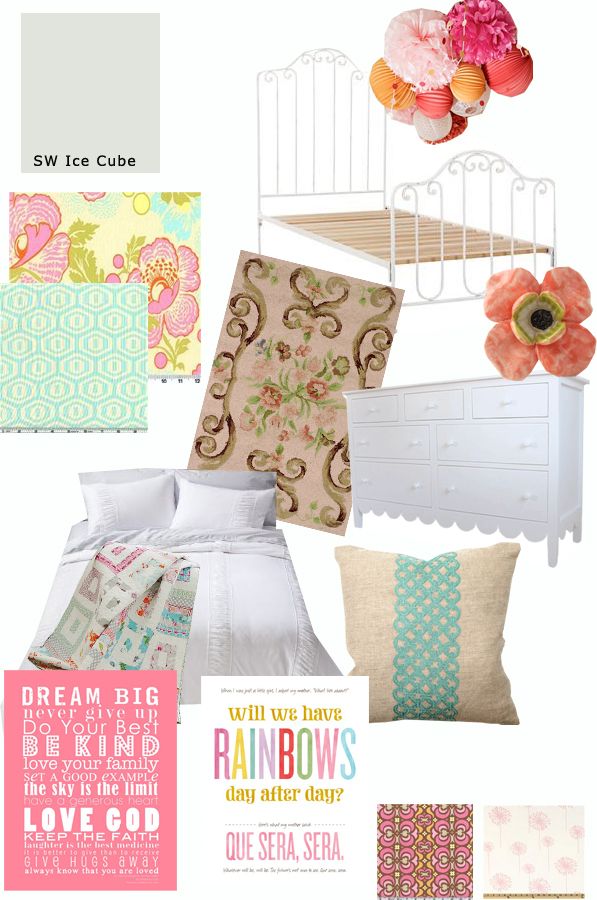 Here's a very rough mood board I threw together last night…and this is no handmade home mood board.  If you want real inspiration, head over to my bud's place!  But this one will do for now, as I add more or take away, and the board itself isn't the project, so I'm okay with it being imperfect, right?
Want to hear some of my random design thoughts on this one?  I think this post is as much for me as it is for you.
I chose this room as my major inspiration for a few reasons:
I love the overall feel–it's elegant, but not stuffy, and not overdone.  Comfy elegance.
The drapes remind me so very much of Ava's, and I love the play of color between the pink and gray (ish) walls.
The bedding looks so luxurious and ridiculously female.  I love it all piled high, pillows overflowing.
I love the paint treatment on the bed.
I like the idea of bringing in some architectural element–wood on the walls, trim like shown above, etc.
I'm thinking I'll paint the walls a pale, barely-there gray, kind of like this Sherwin Williams color–Ice Cube.  I love the idea of a pale gray wall playing the backdrop to Ava's full pink drapes.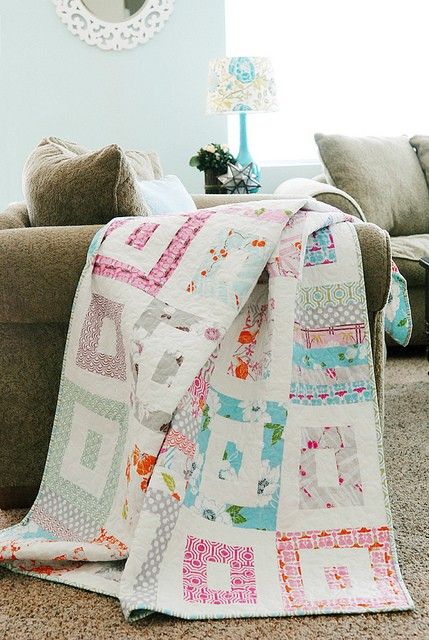 The whole room's design came about with a quilt.  Matt's grandmother sewed us a beautiful quilt when we were married, and I know it will be perfect at the foot of her bed.
Speaking of her bed…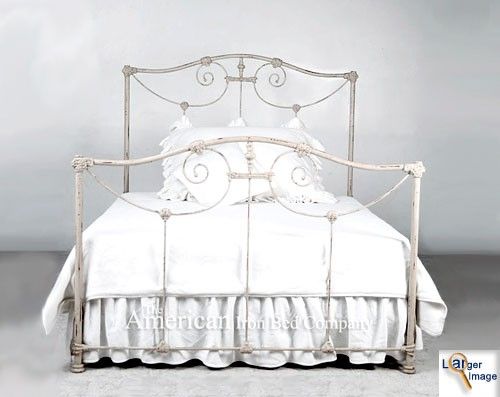 I still have my queen-size wrought iron bed I grew up in, and I think we'll bring that in…I just need to touch up some of the shiny brass and it'll be as good as new.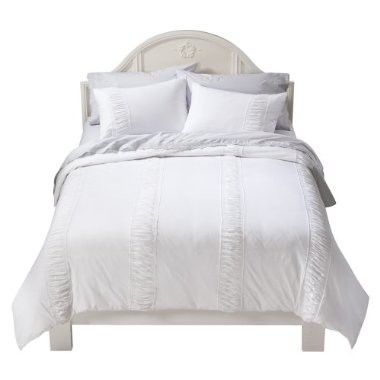 I think we'll have a blank canvas of white bedding to build upon.  I'm dying for small explosions of color, pattern, and texture and we will need to balance some of that with white and simplicity.
amy butler floral, aqua, dandelion, layla grace burlap/crochet pillow, yellow, graphic
Here are some of my favorites…and I mean, I love them.  I just can see a pile of throw pillows on the bed atop the white spread and vintage-inspired quilt.  I can envision a couple of floor pillows to serve as a play area…point being I'm thrilled about bringing in lots of pattern to give A a small ray of sunshine.
Speaking of fabric, isn't this wall of hoops incredibly cool???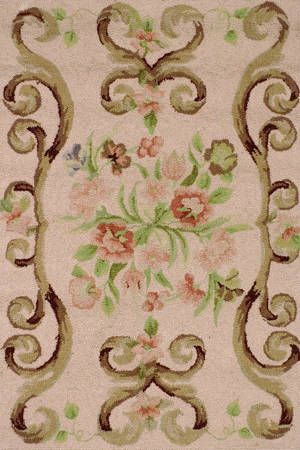 We'll keep her Dash & Albert Sienna Rose rug…man that thing has held up to a toddler well!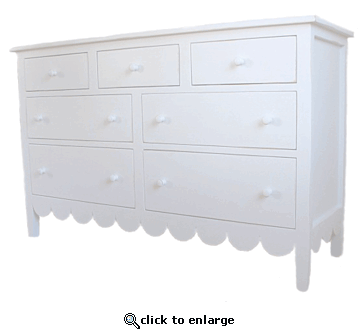 The rest of her furnishings are white, and quite simple in lines.  Some will stay, but her changing table/dresser will probably go to give us a little more room for storage.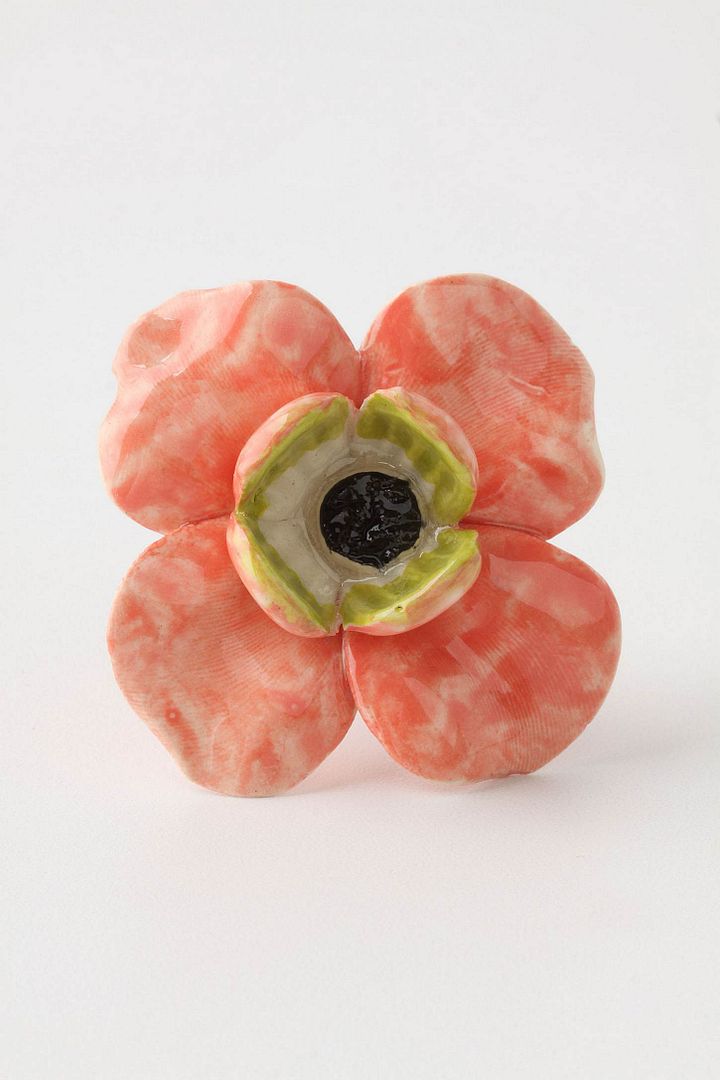 And her vanity is getting a makeover soon.
I love the idea of word art in her room.  I want my kiddos to be inspired to live, to dream, to do hard things, and I want to surround them with words that encourage them.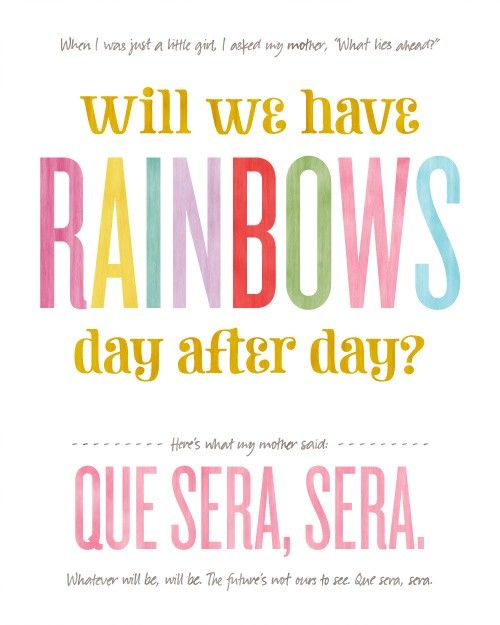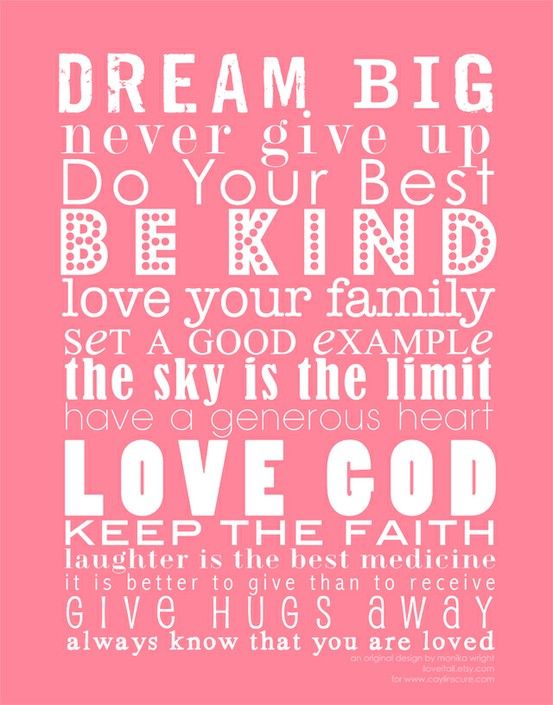 One final touch will be the poms I had hanging at her birthday party.  I love the coral pink and orange…just like the awesome collection you see above from under the sycamore.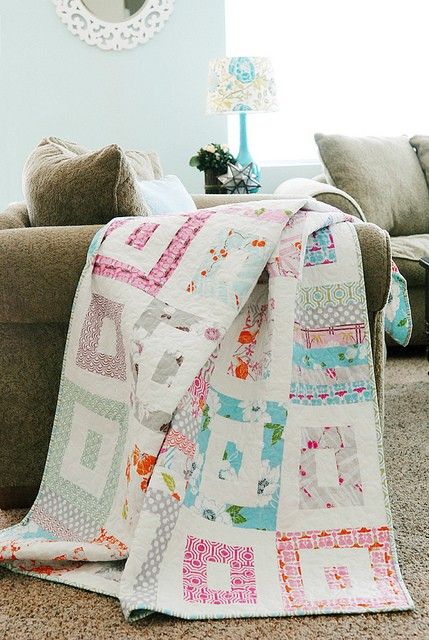 And just think, this all started with a quilt.