Thank you so very much for your sweet comments on Ava's Vintage Makeup Party!  It was so much fun to pull together and now that I think about it, relatively simple.
Because the wonderfully talented Lindi at Love the Day designed all the printables (which is something I normally do myself), it took a huge load off of me.  *Some of you asked what all Lindi designed:  cupcake toppers, banner, drink wraps, food labels, a few large labels, i.e. treat bar, etc., cupcake wrappers, and invitations.  All I had to do was print it and cut it…wonderfully simple!
That left the baking and pulling the dessert table together to me.  The appeal of a dessert table is making less of each item (easier for you), and giving your guests lots of variety.
Now, let me say it might be easier on you if you don't wait the day before the party to bake everything.  Ahem.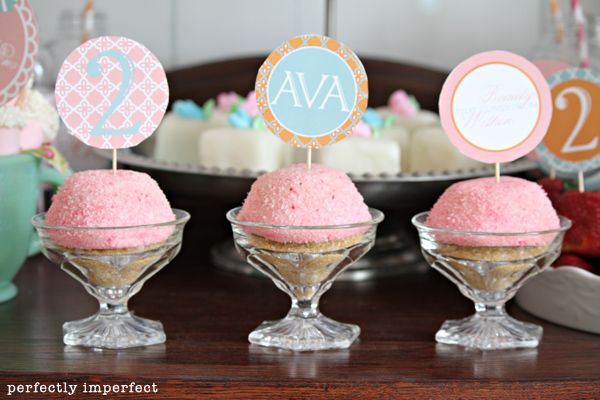 As I first planned the menu, I was thinking along the lines of food that represented makeup…I quickly ditched that idea as it was too complicated to come up with edible lipstick.  I did, however, include the sno balls (as a powder puff) nestled in some raw sugar (powder)….super cute.  Those little sherbet dishes I found last year at Troy Antiques.  They were $10 for 20, a steal and a perfect party-friendly serving size.
I knew I wanted mason jars to hold the adult's lemonade, but I knew that probably wouldn't fly for a 3 year old.  And definitely not for a 2 year old.
I found an adorable set of 20 quilting squares at Walmart for $4, and they went perfectly with our colors and vintage flair.  I found the vintage-inspired plastic (yes!) bottles at the Party Fairy on Etsy.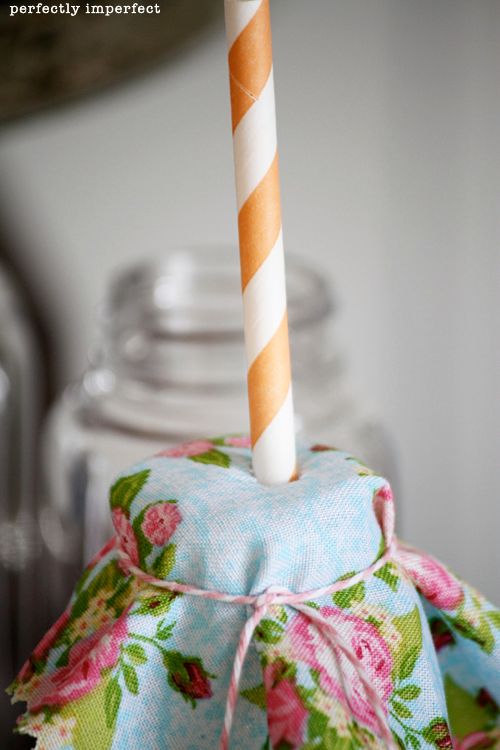 I simply punched a hole in the center of the square and tied it (tightly) on as a fabric lid with Twisted Sugar Baker's Twine.  So simple and cute!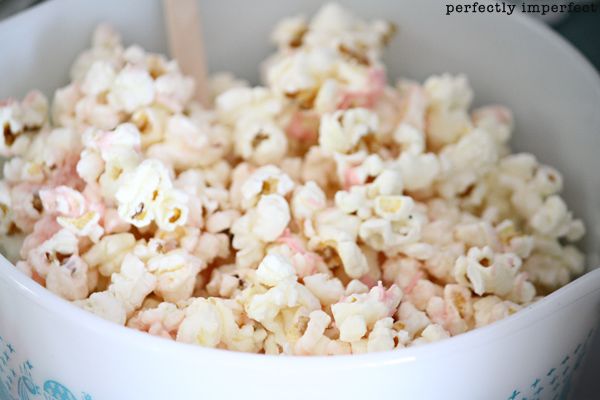 We served White Chocolate Popcorn…this was yummy!  I popped some Kettle Corn, stirred in melted white chocolate, and drizzled it with pink candy melts for a girly flair.  (This was also what was inside the favor bags.)
I decided I wouldn't make everything this year, and ordered petit fours from my favorite bakery, Liger's.  They are de-lish.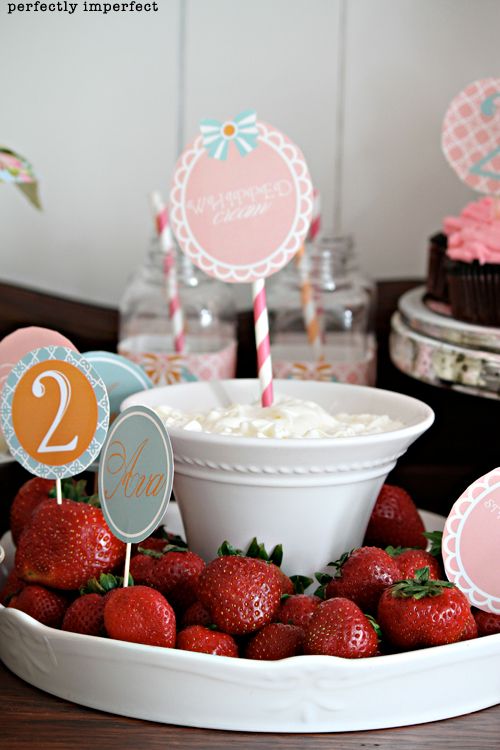 There was so many sweet treats that I decided I better serve a little fruit.  With whipped cream.
I picked up some flowers at Walmart…and they happened to fit in perfectly with the pink and orange.  I like to serve in all kinds of interesting dishes, like this vintage Amish Butterprint Pyrex and this silver-plated goblet.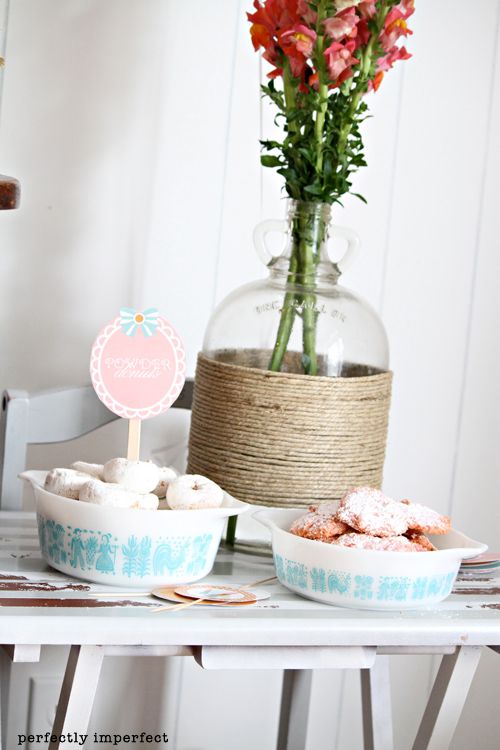 I couldn't help but serve a few powdered donuts and those cookies on the right?  Well, those are the chewiest, yummiest, simplest strawberry cookie you've ever seen.
Recipe coming soon.  🙂
I dipped strawberry marshmallows in white chocolate and rolled them in pearled white sprinkles…these are sooo pretty and so easy.  And color combos are endless.
I served them in my new jadeite juicer/measuring cup.  It's creamy finish played beautifully off the wood and white.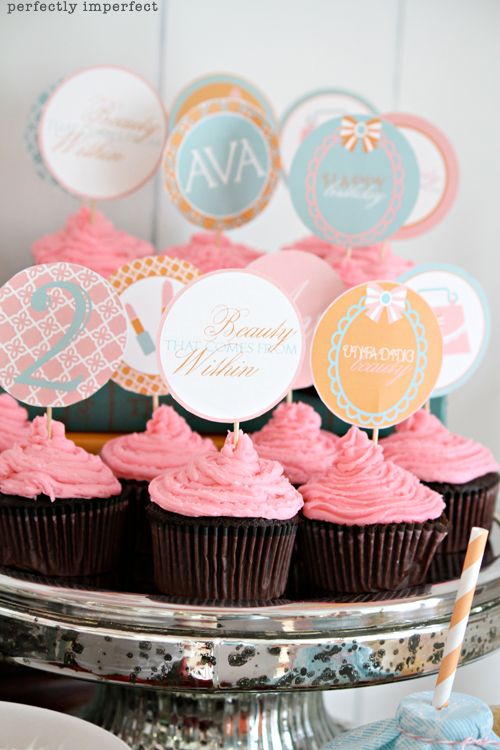 I made cupcakes, too.  Yep, I did.  This was a super-moist chocolate cake mix and I made homemade buttercream and tinted it pink.  I loved being able to serve them on my mercury glass cake stand and Ree's book was the perfect touch to elevate some of the cupcakes.  (see that orange peeking out in the back??)
Grown-up's drank pink and regular lemonade, decorated with a lemon slice and stripe-y straw,  from small ball jars.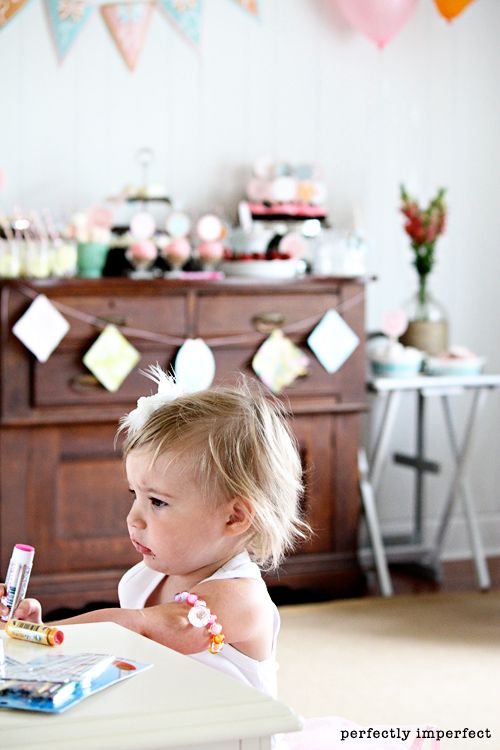 All in all, I thought it was a beautiful, fun day and I'm pretty sure (despite her face in this one), Ava loved it too.
She's just contemplative.
Or at least that's what I tell myself.