for our children.
Wow.  Don't get me wrong, I wouldn't change a second.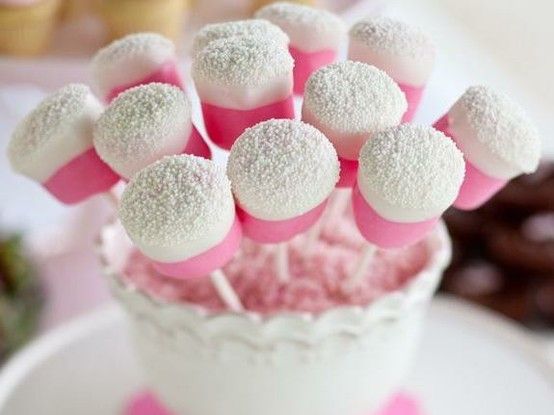 via Pinterest
Yesterday, I was busy making my version of these dipped marshmallows, strawberry whip cookies, cupcakes, chicken salad bites, white chocolate popcorn, and treat bags.  (and I even got to hang with my pals, Kevin and Layla)
Today it's mopping the floors, making tea sandwiches, finishing the favor bags, balloon time, making PB & J sushi (SO cute), and photographing it all!
It's been a bit of a busy week, so if you've not heard back from me via email/comments, give me a little time and I'll get back to you, promise!
It's funny…I always check my motives in the midst of planning parties for the kids…is it for me or for them?  Let me not lie…I love a party.  Matt and I love entertaining, and this is one of two times a year we actually put effort into a party theme and menu.
So do I go all out sometimes?  Um, yes.
BUT…the party itself is my gift to my children.  I love to see their faces light up at all the balloons, for them to help with last minute decorations…for them to be celebrated.
I'm re-reading a book called Captivating (if you're a woman or you're raising a daughter–get it now.), and part of it talks about the effect parents have on their little girls.
Every girl desires to be beautiful, cherished, captivating.
And our early messages to them are their first affirmation or disappointment…my little ones need to know that I love them, but almost just as importantly, they need to know I enjoy them.
So, for me, fun parties and a special day are one way I take time to enjoy them.  While I wanted to have my ENTIRE house spotless for this party, it's not.  I had to take time to play with the birthday girl this week.
Less time for scrubbing, you see.
It's a funny thing, parenting.  I find the longer I'm a parent, the easier and (much) harder it becomes.
And this is only the beginning.
I hope today we can all take time to rest in our little ones, that we enjoy them…while we work on projects, paint a wall, go to visit family, dip marshmallows.
The fun plus on the party?  I'll take a whole buncha pictures and give you a peek on Monday.
🙂
*quick note…I was having some upload issues yesterday, so sorry about the missed guest post…that will be coming Tuesday instead!
**Second note: Word has it my buddy, Layla, is posting quite a sneak peek of our dining room today…so keep an eye out for me while I party and let me know if you see it.