You know how a lot of my pieces are white or very muted?  And a lot are layered and dry-brushed?  All I mean is, as a painter, I get into a look and I settle comfortably under the covers.  Hug a pillow and snuggle in for a while.
But every now and then, it's nice to surprise yourself.
Let's take a look at the before…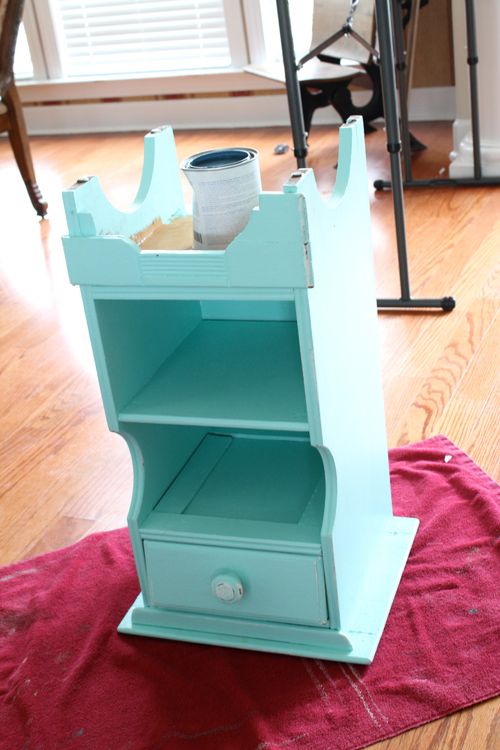 As I mentioned in the preview post, this tiffany blue was more florescent than fresh in person.  It also had an almost crackly texture to the paint, which I thought even chalk paint couldn't conquer (with no priming and sanding).
I gave it a try anyway…I used Aubusson Blue.  It's a new color, and I've had my eye on it since it was released on the site.  Patty was kind enough to send me some along with my order before our giveaway.
It is SUCH a beautiful blue…kind of a smoky peacock…the kind of color that could be completely glamorous or rustic depending on hardware, etc. that you chose.
After two coats of Aubusson Blue, I waxed it with Hannant's Clear Wax and one coat of dark.  I'm thinking of fixing the bottom trim piece, but honestly, it doesn't bother me one bit.  I think it would sit happily in my little guy's room as is.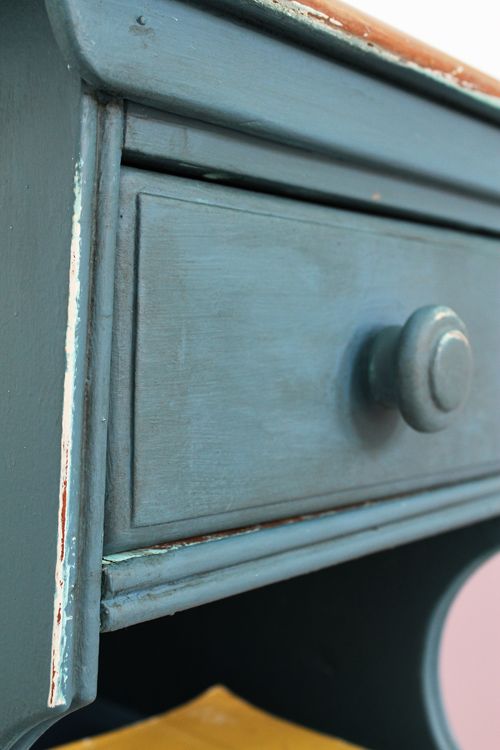 Since I wanted the color and the top to be the standout features, I kept distressing very subtle…only slightly hitting a few edges.
I loved that original color peeking out under the deep blue…it felt very authentic and worn to me.   And do you see the finish?  Totally smooth over the crackly texture.  Have I mentioned this yet?
I heart chalk paint.
While I was painting, I decided to strip the top to see what was under all that paint.  As I began removing it after painting, there were some parts that stuck on a little more than others….but mostly?  I was struck with the beautiful honey tones in the wood.  I removed the paint that removed easily with the putty knife, and scrubbed the rest with medium-grade steel wool.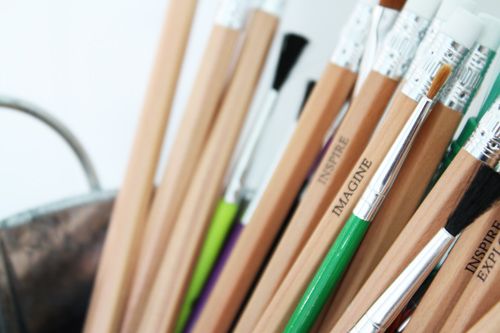 After I had removed all but flecks of paint, it hit me what the top reminded me of:  old school desks.  You know what I mean….the wood was a little dingy, a little honey, a little water damaged, flecking paint.  And I'll be really sad when I have to return these pencils to my friend, Layla.  They're sort of my favorite.
And once I had the look I wanted,  my nostalgic walk down middle-school lane convinced me there had to be something on top.  Numbers, type, something.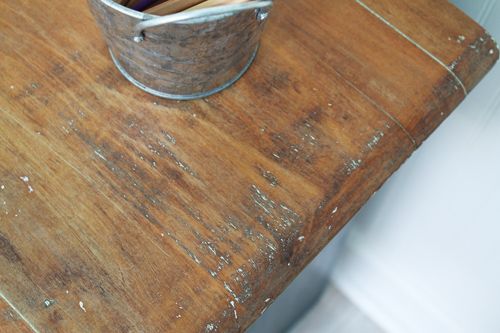 I would have stenciled it on.  I really would have.
But I had the vinyl already…from the fabulous Shelley.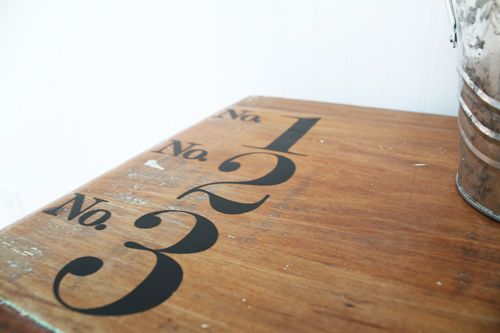 And it was already perfect.  And easy to apply.  Yep, I went with the vinyl.  And LOVE it. After I applied it, I sealed the top with a coat of the Hannant's clear wax to create a hand rubbed finish.
Dying to know what you think of this darker side of moi.  This little guy will head to my vault at Troy Antiques.
I'm hoping to officially open this week…along with a million other things.
And for those of you asking, one of those things is to post Chapter 3.
🙂
*linking to Under the Table and Dreaming, Centsational Girl, Tip Junkie, Primitive and Proper, Miss Mustard Seed