My sweet mom has been waiting on me for a while to get started on her breakfast room table, and it finally came time to start working on it.  Her kitchen was remodeled a couple of years ago, and she was ready for the breakfast room to tie in a little more.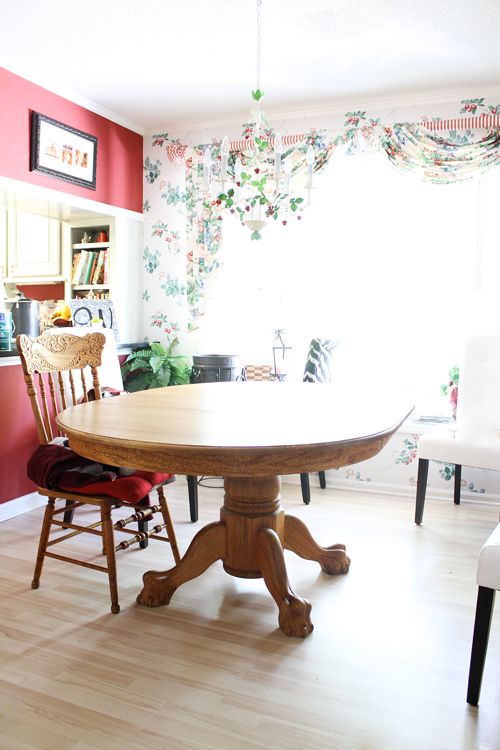 She loves red, loves her wallpaper, and loves, well, everything but the table and chairs.  She set to work and found some super streamlined Parsons chairs from Overstock.com to replace the original oak chairs.  The table is staying, but it needs some updating.
She wanted the top whitewashed, and finished similar to my guest bedroom end table.  We planned to do the bottom to match her kitchen cabinetry…painted white with an ebony stain, so it will end up a light gray with dark ebony in the grooves.
Here's where we're at so far…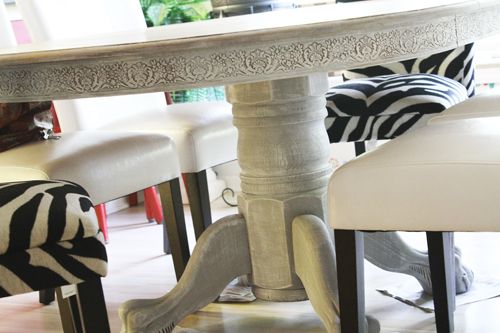 I worked on it for a few hours last week, and hopefully I'll get to finish it this week or next.  The bottom was painted with gray (more details to come), and dry brushed with white.  I'm LOVING it, but she's still feeling that she wants more contrast between the top and bottom.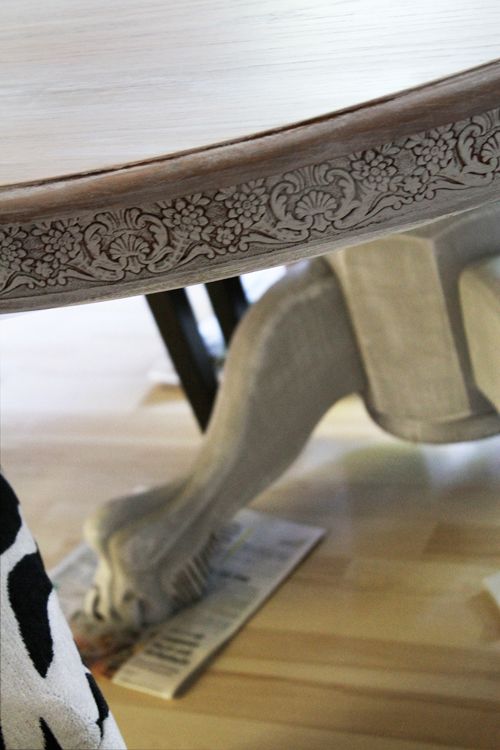 The top is whitewashed and sealed with Minwax Paste Finishing Wax…it's looking so fresh and crisp.  I'll be headed down soon to finish up.
Here's where we want your vote…
Put the ebony stain (wiped off of course) on top of this grey/brushed finish–which is my vote 🙂
or…paint the base white and add the ebony stain then.
Let me know what you think…and hope you have a great day!