It's very rare that I show a room I'm not quite happy with.  As a matter of fact, with the exception of an occasional household-mess-post, I don't think I have.
Over a year ago, when I decided to forgo the urge to decorate "just like so and so, etc.," I really couldn't wait to get my hands on my whole house.
And, here we are a year + later, and the master bedroom is still not finished…or even close.  But, it's time for you to see the changes we've made.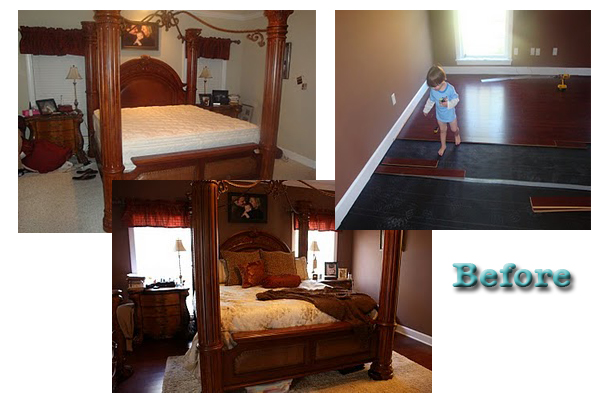 I mean, check out this before.  That's the before 8 years ago when we moved into our home.  Then my boys laid some pretty bamboo flooring, and we painted.  Now, before I ruffle the feathers of America…there's nothing wrong with red and brown, absolutely nothing wrong at all.  But between the very heavy furniture, the brown walls, the dark flooring…I felt like the great cloud of darkness had descended on me.
And, as you know, I really have discovered my tastes are much lighter, much more eclectic, much more airy.  The damask bedding and curtains just didn't fit into my new embraced casualness.
We're nowhere near done, but check out some of the updates I've been working on…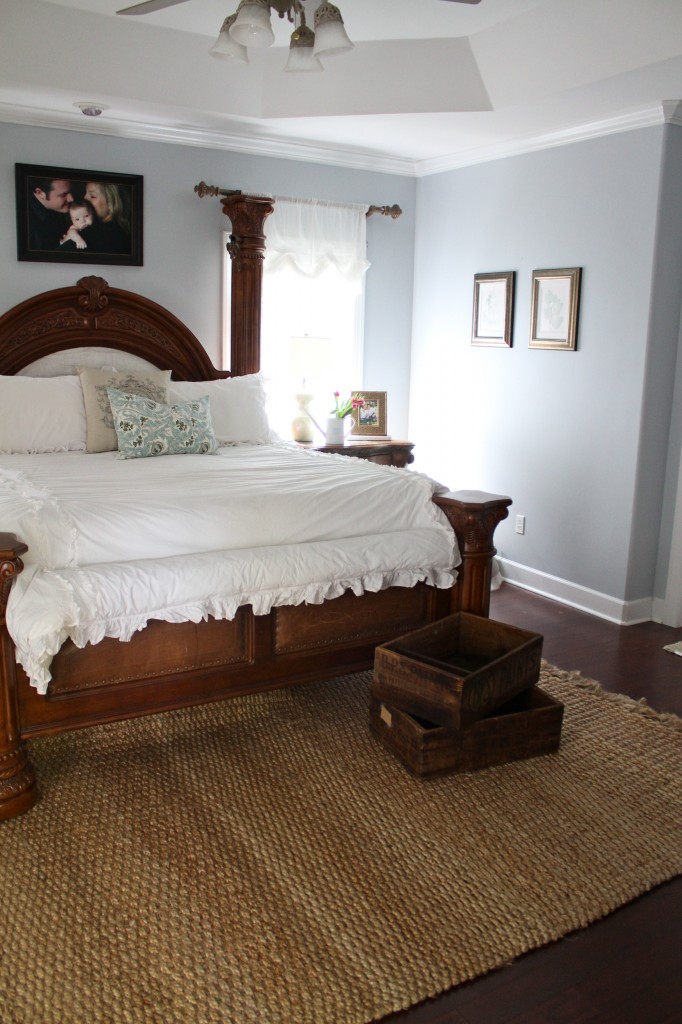 Lighter, huh??
The two major changes are obviously paint and the bed.  Notice anything?  If I had my way, I'd put in for less heavy furnishings, but there's no way my husband is going for that.  And rightly so; we saved a lot of money when we were newly married to buy a bedroom suite and dining room furniture.  Because we are keeping it, I still wanted to find small ways to lighten the load…of the great cloud of darkness, that is.  So, we removed the canopy and dropped down the front columns on Caesar's, I mean, er, our bed.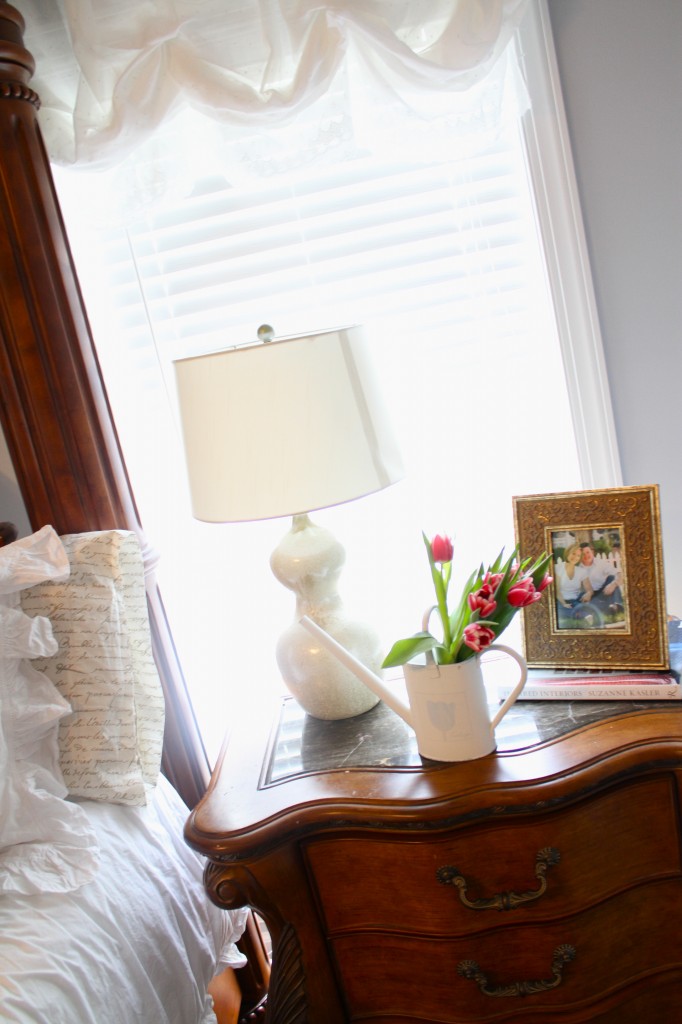 We also painted it Benjamin Moore's Feather Gray.  At first, I hated it.  It had way more blue in it than I was expecting, but I was so tired from all of our projects that I decided to live with it a while.  I'm not sold 100%, but I'm getting there.
Back on our trip to Nashville, Layla and Smashley (that was for you, Ashley 🙂 told me that I was taking those lamps home, or else.
And I L.O.V.E them.  Their cool shape and shell-like finish just make me soooo happy.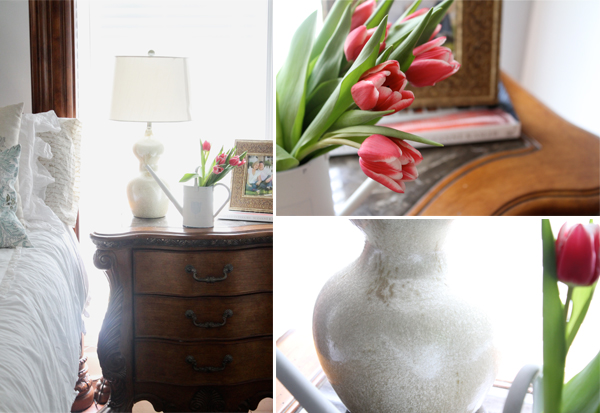 And so do tulips, by the way.  And watering cans.  You can see that we've taken down the red valances, and added some pretty white sheers from the Shabby Chic collection at Target.  You can really see the finish of the lamp now…aren't they beautiful?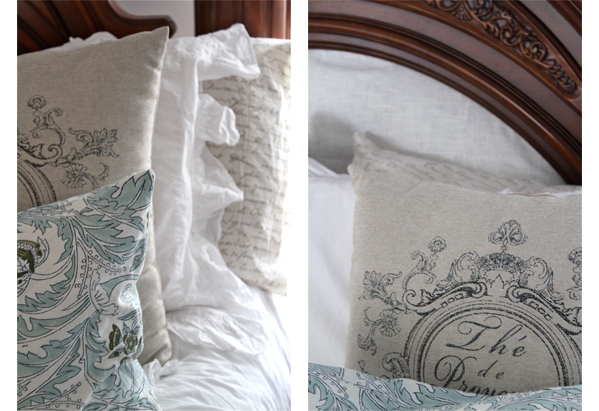 The linens were the first thing that changed.  The bedspread and shams are, again, from Target.  The PB Calligraphy sheets were a Christmas gift from my mom and dad.  She also picked up the pretty french pillow for me at Steinmart…do you guys have a steinmart?  Anyway, I love the texture and the color.
My favorite thing?  The new block-print throw pillow from Pottery Barn.  I wish SO badly there was a quilt that matched…it's just my style.  I'm still waiting to buy 3 Euro pillows and shams and a quilt to lay at the foot of the bed.  Little steps.
You can also see that we covered the leather headboard insert with linen.  That….was Matt's idea.  Power tools and and the idea for linen?  Too much for me.  Love him!
We'll also cover the two footboard inserts with linen, too.  It really breaks up all the brown, for lack of a better word.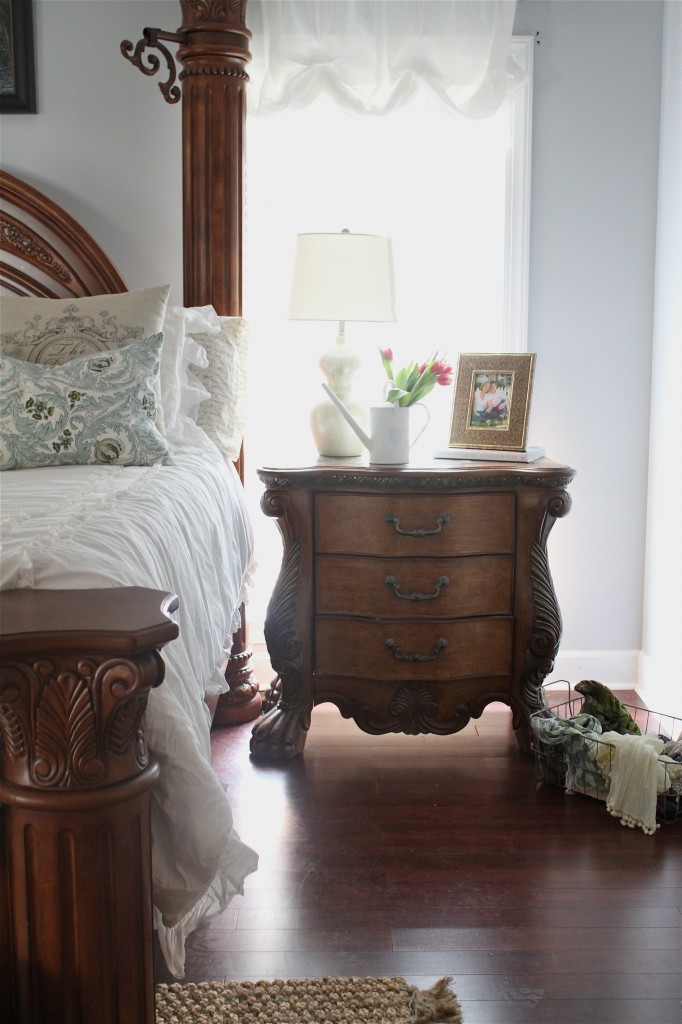 We also added a Ballard's Braided Jute rug…given to me by, yet again, my mom and dad for my birthday a couple of weeks ago.
I love it so much that I want one in every room of my house.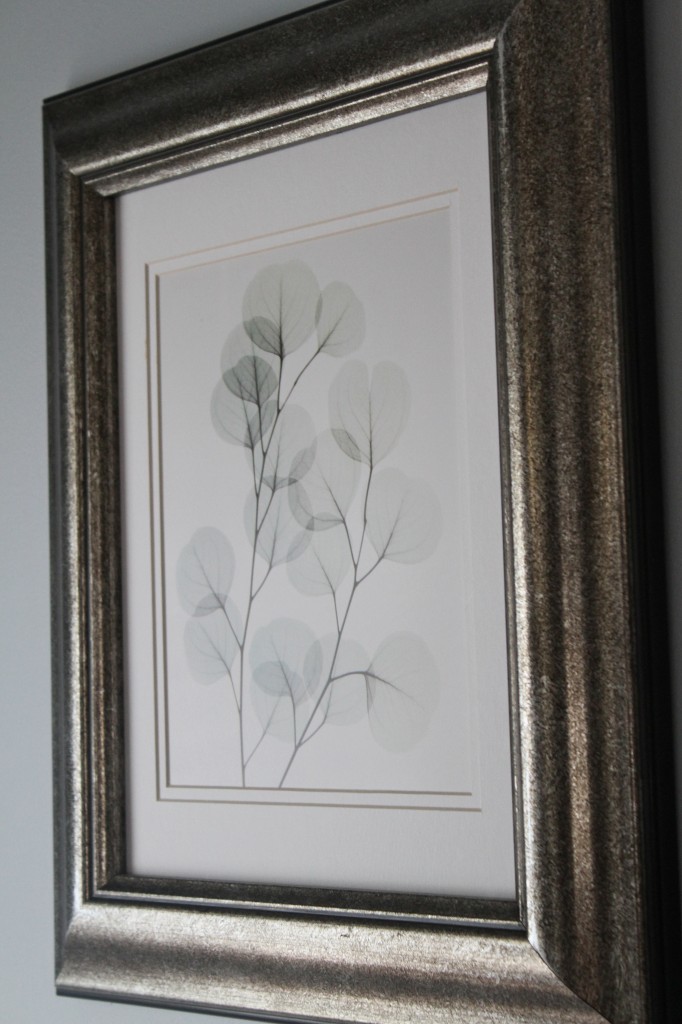 It's so funny, when I began this (slow) transformation, I imagined a lot of silver metals in here.  (These pressed sheer botanical prints were bought at Hobby Lobby and the frames at 50% off…the prints are stuck in the back with office tacks.  We're classy like that.
I had the antique gold frame, and I found when I put it in the room, I loved the contrast of the cool gray against the warm metal.  Also LOVE Inspired Interiors  by Suzanne Kasler.
There's a lot left to do, and I'm still debating adding some bead board or board and batten in here.  We found some beautiful bamboo blinds on clearance, so those need to be hung. I'm dreaming about adding the quilt and new euro shams….it will really unify the space and bring much more interest to our bedroom.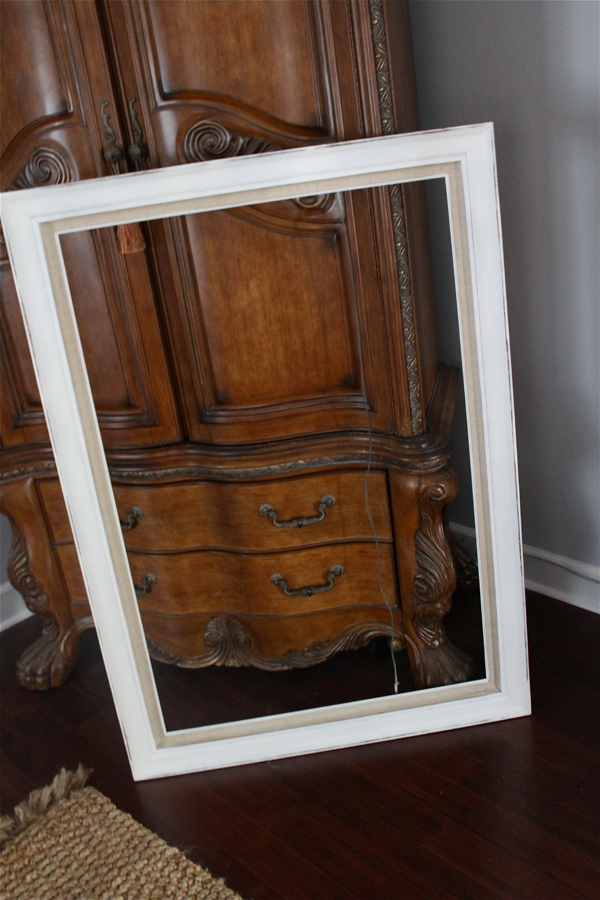 I'm also staring at this giant frame I painted, debating what to do with it.  I'm thinking it may head to the living room, though.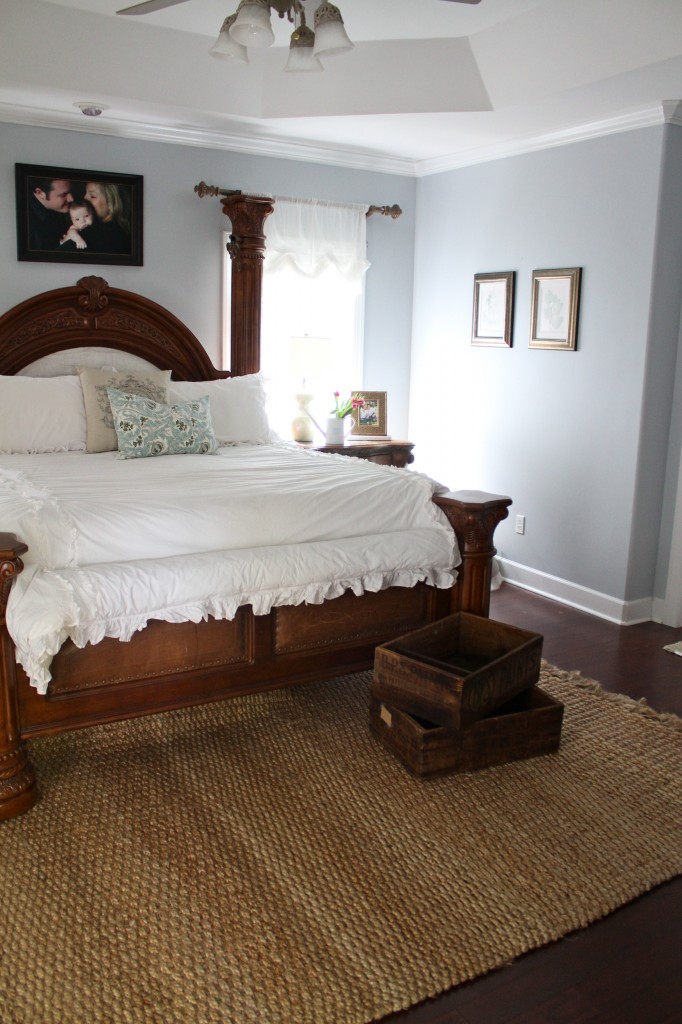 While there's plenty to finish, the bones are there now.  Probably by the time I find all the bedding and accessories, I'll decide it's time to re-paint.
🙂