She is uber-talented, super crafty, incredibly genuine and the best part?
She shares all those talents on
her blog
with all of us.
Gotta love a crafty, kind, generous blogger/businesswoman.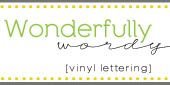 There are lots of options when shopping for vinyls, but what I love about Shelley is her creativity and originality.
Aren't these blocks GREAT??
And who doesn't love a lettered decal?
She has outdone herself lately, and my recent favs are a string of Christmas vinyls she's created.
To. Die. For.
And guess what?
We've got a giveaway over here tonight!!
Shelley's giving you guys a surprise Christmas bundle!!!
And I know it'll be awesome! I merely mentioned how much I loved her Christmas subway art and she is SO adorable she sent me a whole buncha stuff to try out. (eek…i'm squealing with excitement!)
Stay tuned….some of it will definitely be going up this week before the
Cottages and Bungalow's shoot
next week. Speaking of that, bear with me as I run around like a busy little bee, crafting and painting lots, but posting little.
All in good time, my dearies.
🙂
To win the awesome Wonderfully Wordy giveaway….you know the drill.
1. leave me a comment telling me you follow or become a follower if you like
2. head over to Shelley's and come back to tell me your fav vinyl from WW.
3. post this giveaway to facebook, twitter, or your blog…give yourself separate entries for each.
**giveaway ends Saturday at midnight–winner announced next Monday**
And be sure to visit Shelley over at
House of Smith's
, where you're sure to fall in love with her home, her style, and her!
Thanks so much, Shelley!!
I gotta go fill the 40 frames I just hung in the stairway.
Peace out, friends.
🙂