Being at the beach last week was wonderful, and on top of all the beauty, we got work done, too.
I showed you the in-between bathroom the other day, and it had come a long way from this fluorescent peach wonder.  After tackling a few more budget-friendly projects last week, here we are today…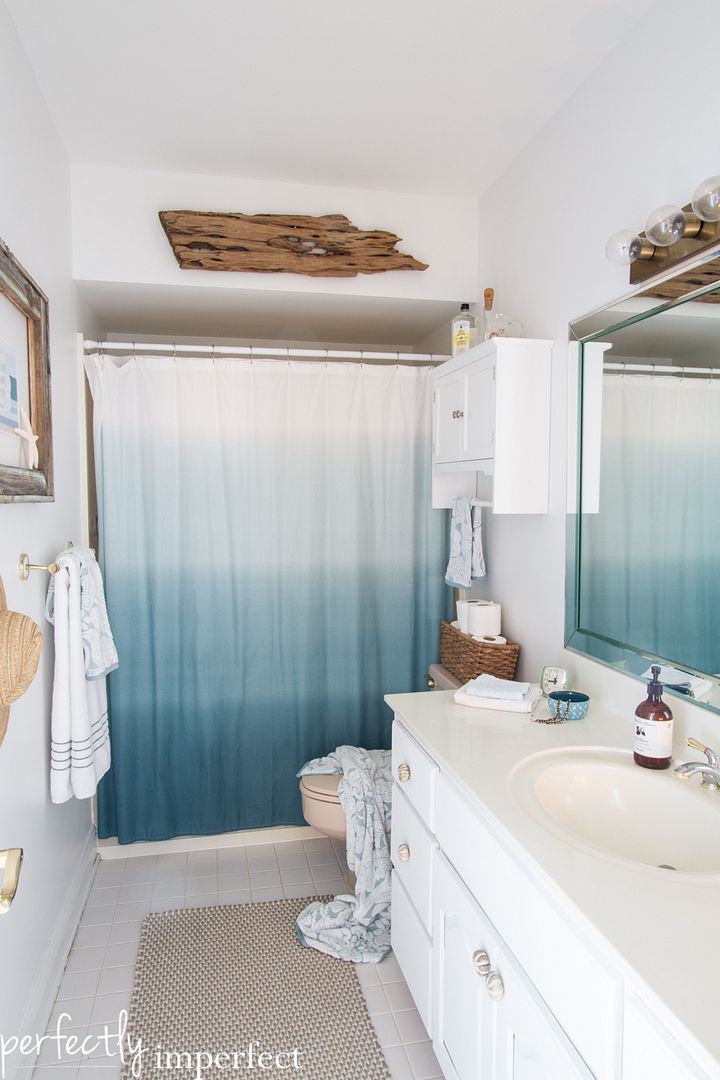 Ahhhh.  Now we're getting somewhere.  It's amazing what white paint can do.  Really.  There are still some projects to finish and I'd like to add a bit more color, but that's another project for another weekend.
First things first, we coated the walls in leftover paint from the bedroom makeover, Snowbound by Sherwin Williams, a cool barely off-white.  I used my favorite Emerald formula in Satin.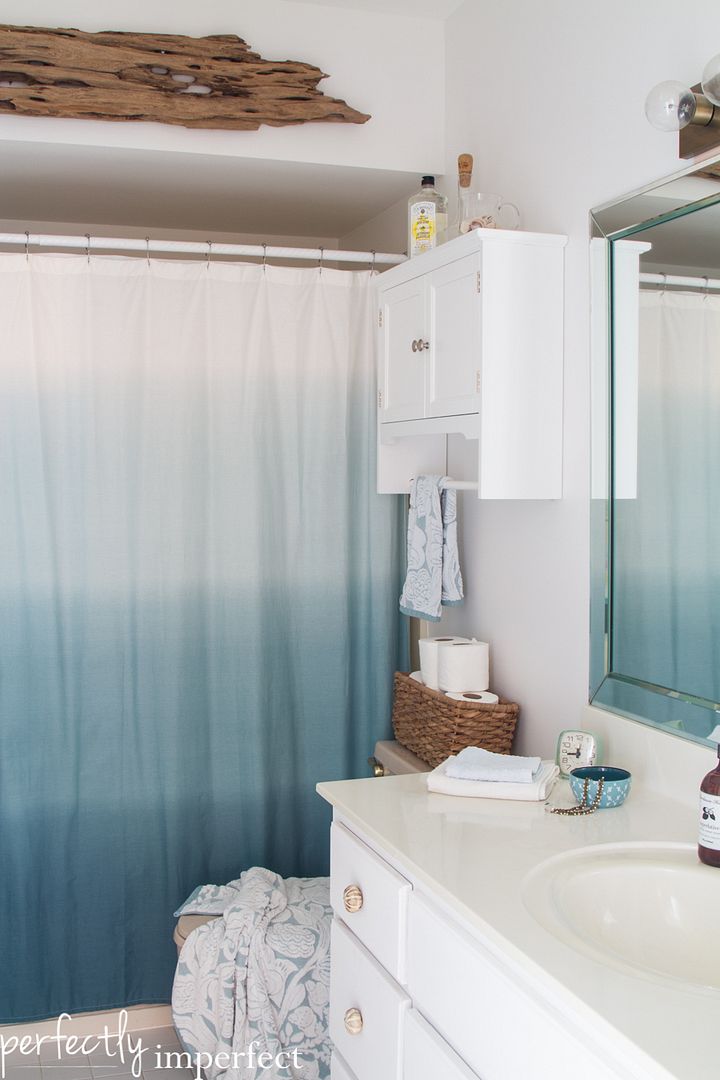 As I said in the previous post, I didn't have the option of redoing floors, lighting, faucets, or the tan toilet.  Sometimes it just is what it is and you have to work with what you've got.
That being said, after giving the walls a coat of white, painting the cabinets (in Pure White), and switching up the accessories a bit…it's a completely different space.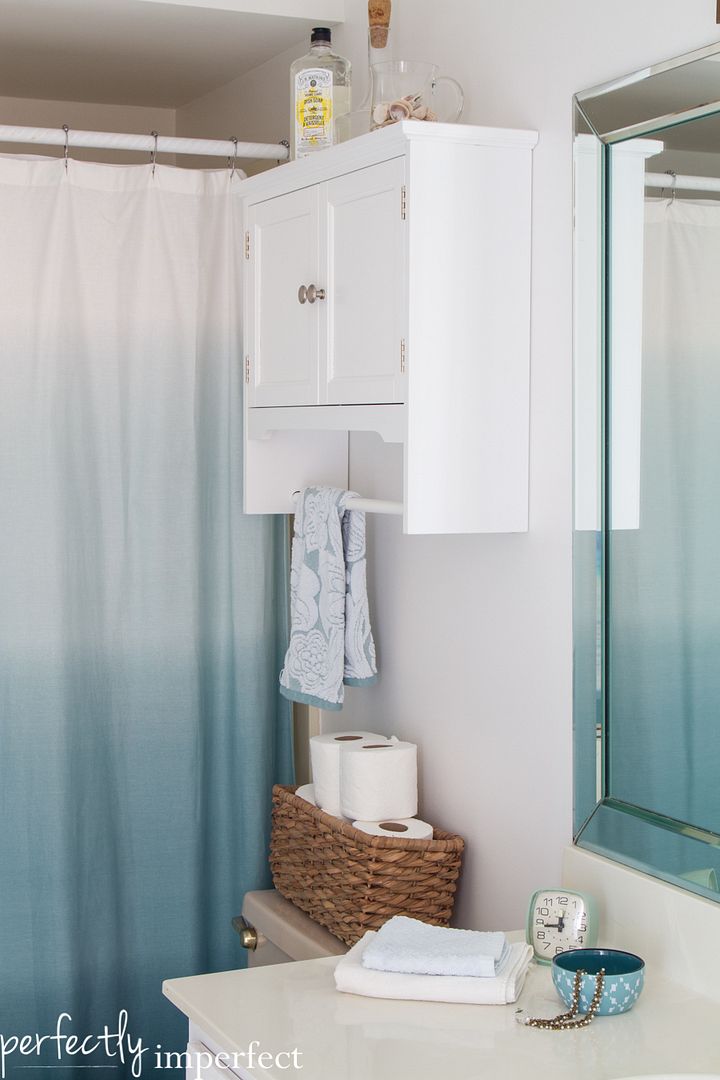 The shower curtain reminded me of the water, and truth be told, I could have gone with solid white or a ticking…but this is a share bath with my brother, and I just didn't think he'd like it if I countried it up even more. 😉
With little storage in the bath, I wanted to add some kind of wall cabinet to the space.  Adding the cabinet also infused some architectural interest, which was seriously lacking.  The cabinet came from Target, and was just what we were looking for. I'm obsessed with that Threshold line.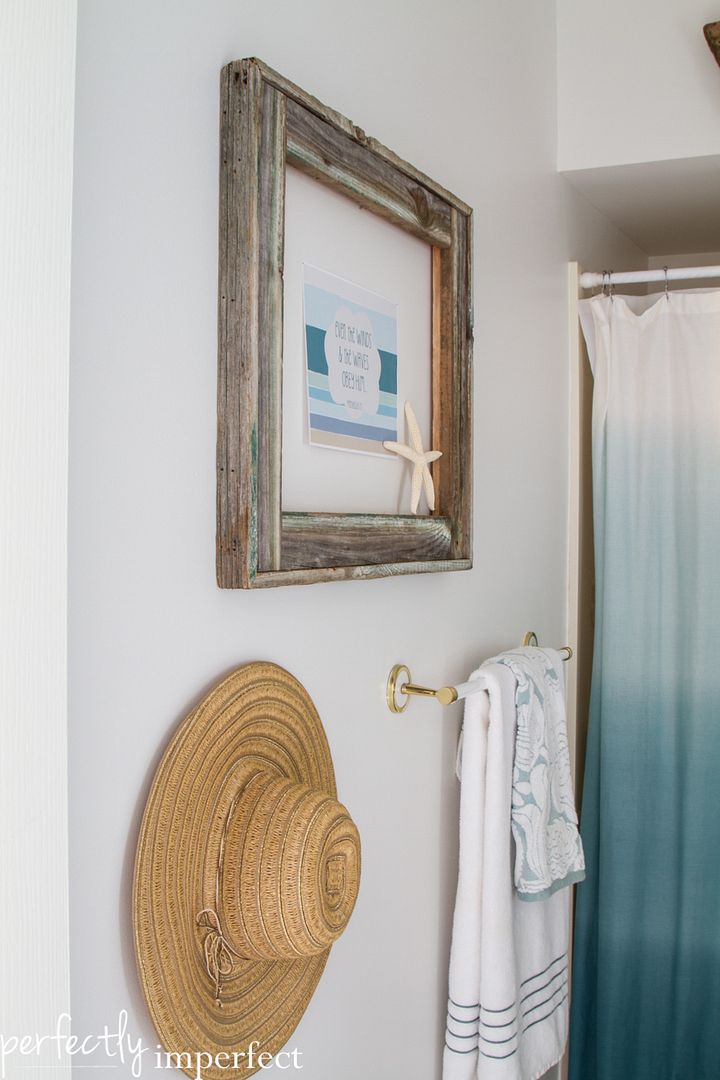 I haven't gotten around to painting or replacing the towel bar, but I'll tackle that soon.  The towels came from Target also, and I hung an extra hook in the bath for hats and towels.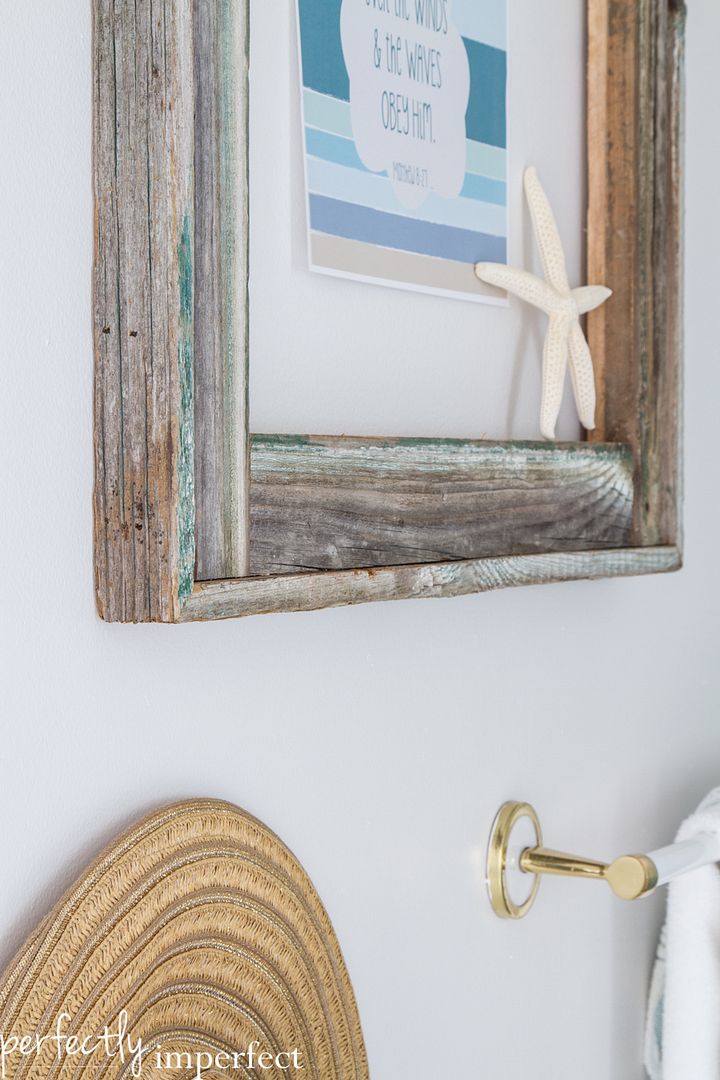 I brought the barn wood frame from our shop, and I love the couple of rustic textures we added.  They play nicely with all the white and slick surfaces.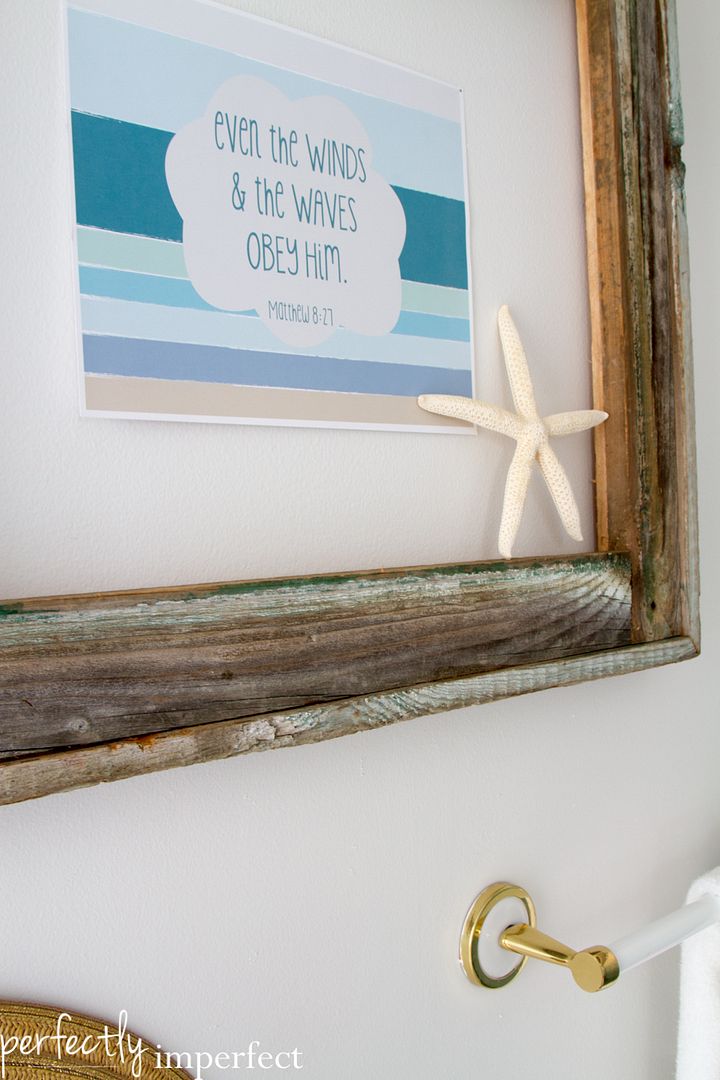 Instead of buying glass to fill the frame, I plopped a pretty print (Print and Paper) designed by my sweet cousin and a starfish inside.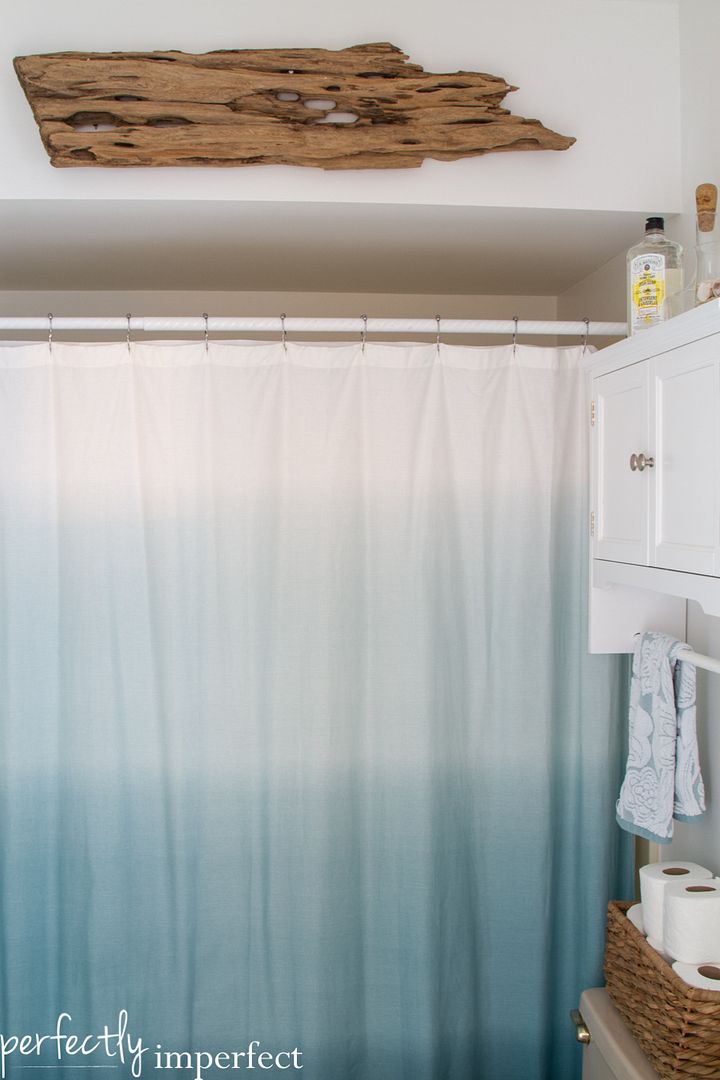 There was an awkward, blank space above the shower.  We hung a piece of driftwood and I love. it.
Nothing says coastal decor like driftwood.
I love the mint green clock of my grandmother's so it found its way back on the countertop.  The happy little blue bowl came from (surprise) Target.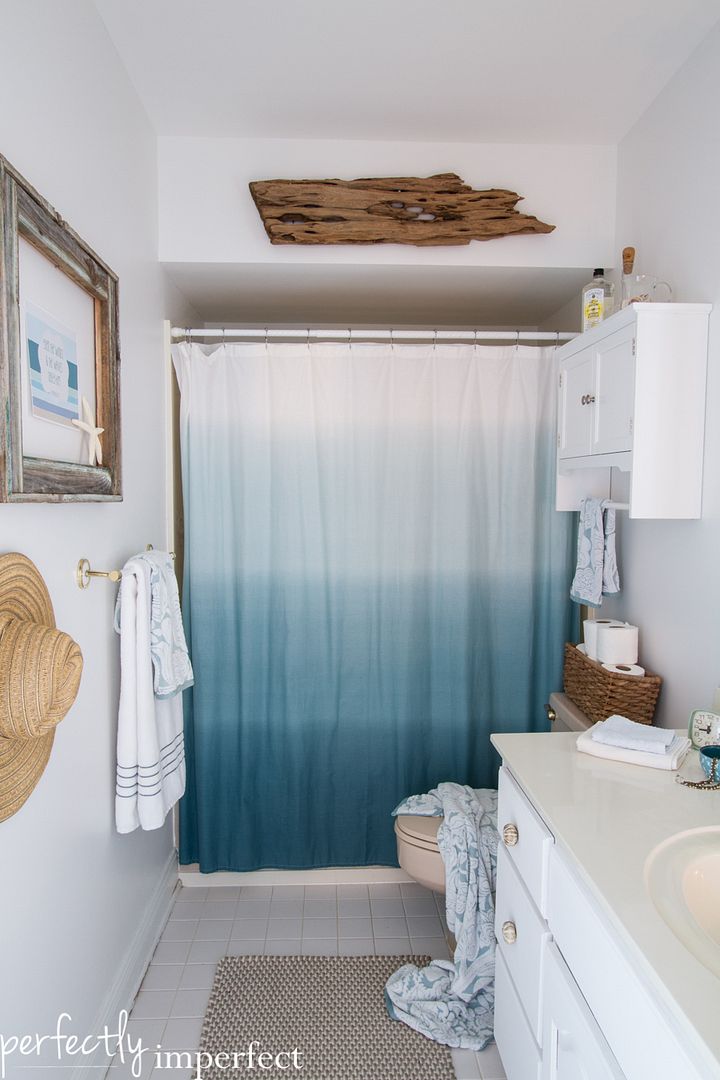 I'd like a little more art in the space to infuse a little color and personality, but I can be patient to find the right piece.
Sources:
Roped Rug- Perfectly Imperfect
Seagrass Basket- Target
Hand Soap- Perfectly Imperfect