Good Lord.
Last July, I wrote the post announcing I'd gotten a book deal.
It was a crazy humbling time, and I couldn't believe your outpouring and responses…it was only fitting that I teared up you came up in the Thanks section of the book.  The book wouldn't have ever happened, and very much in my business would have never happened, for that matter, without you.
So what's in the book?
painted bed, layered finish from The $50 Home Makeover
When Adams media asked me to write up proposals to author this book, they had a vision in mind.  They wanted a book filled with simple, quick projects that could transform spaces…for $50 or less.  75 projects, to be exact.
This concept excited me–I hadn't planned on writing a project book, but that's how I transformed our entire house…one affordable project at a time.
vintage book lamp & french layered finish, from the $50 Home Makeover
After writing some samples and showing them my photography, we got the official offer and the deal was done.  This book is like another child for me…I know that sounds ridiculous, but really.  In four months I had to create about 50 new projects, reshoot another ten, and coordinate with a few blogger friends to highlight their work, plus actually write the book–all the while blogging, and running the other parts of our business and doing our normal homeschooling/family thing.
It was a strange time, to say the least.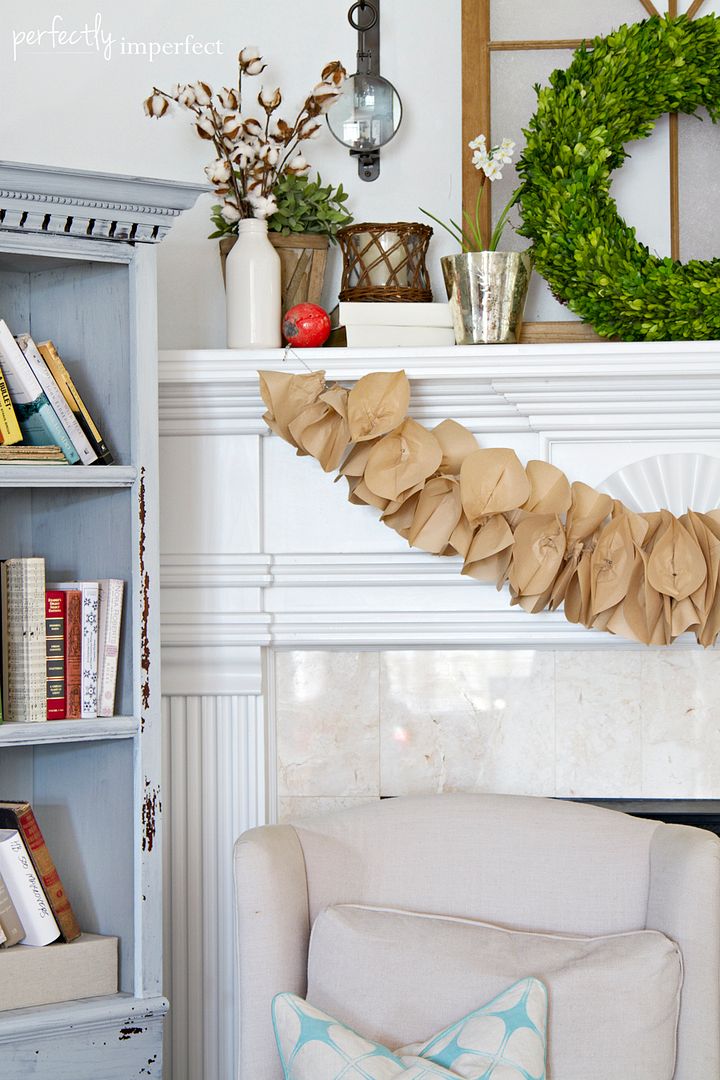 coffee filter garland, from The $50 Home Makeover
Now that it's here, it feels surreal.  I'm so proud of this work, of this time stamp I'll have on record.  The projects were so much fun, and I drove myself crazy analyzing why I wanted to create a project.  Would you love it?  Was it beautiful?  Was it functional?  And, most importantly, was it worth the time in creating??  I think a lot of times bloggers create projects just for their blogs and just for beauty, and that's wonderful…that's the fun inspiration part of our jobs.
BUT…I didn't want this book to be filled with those projects.  I wanted these projects to be ones you could make the time for.  I wanted them to be practical & lovely. I wanted them to be simple enough so they didn't seem fussy or overdone, but still beautiful and worthy of your homes.
washi & duct tape steps, from The $50 Home Makeover
Honestly, writing the book was much harder than I thought it would be.  It was wonderful, and completely worth it, but I only had so much time in a day.  This blog, for instance, suffered a little for that.  I poured more projects into that four month period for the book than I did all year for the blog–it was hard to watch traffic dip, but I know that'll all work itself out.
This book was worth it, and I'm so happy to be able to share a piece of myself and our brand with you in this tangible way.  Sooo, what now?
Well, The $50 Home Makeover is available for pre-order on Amazon as we speak and it's only $14.54 when you pre-order!  It's 256 pages and a hardback–the kind with the paper over hardback cover…so exciting!
You can read the full description from Amazon here, and you can get a preview of the book before you buy it.
Oh, and one other thing.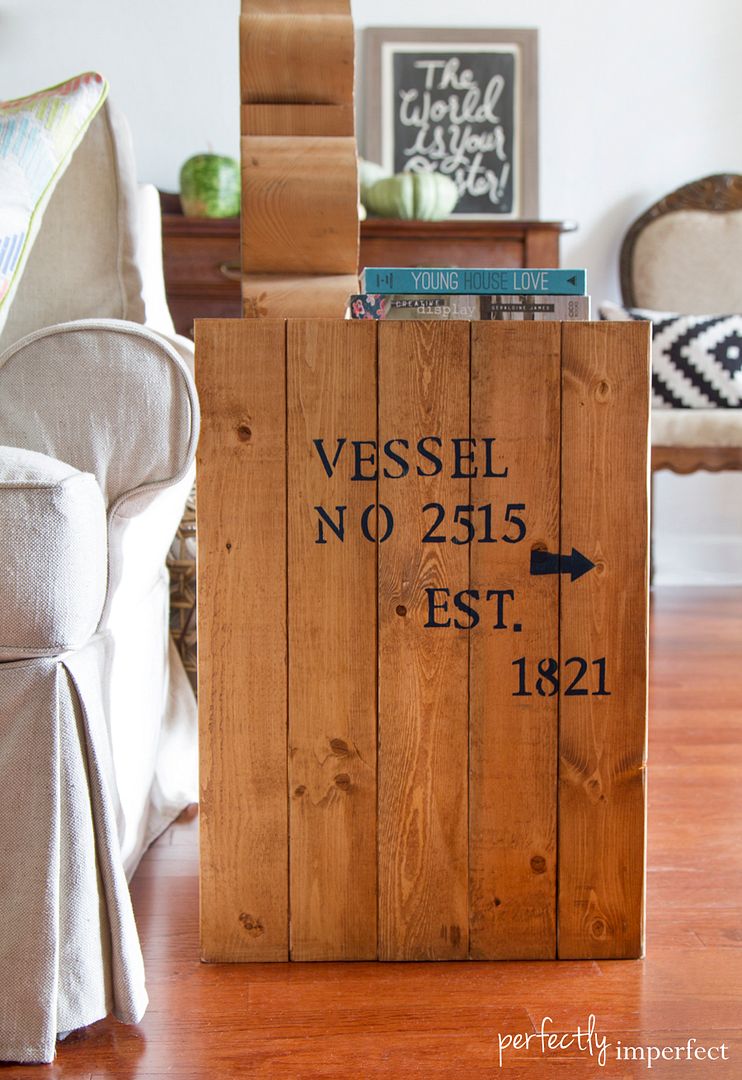 wood slat end table, The $50 Home Makeover
We're throwing a Book Launch Party!  It's going to be amazing and fun and special and magical and I so wish every single reader could be there.  There's going to be  live music, project stations, good southern food, book signings, shop specials and discounts and giveaways (there's talk of giving away a COUCH!), and psst….the first 50 guests to arrive will score an AMAZING swag bag filled with all kinds of goodies…I'm jealous of these!!
I've enlisted the talented Evan G. Cooper of Evan & Co. for his help planning the event.  I love throwing a party, but I can just see me running around on the night of, directing all the girls while signing books in one hand and trying to visit with family (and YOU!), and filling up lemonade in mason jars with another hand.  Not pretty.  We're bringing in the professionals, people.  I'll share some inspiration for the party soon–it's going to be sooo festive and pretty!
Since we are inviting friends and family plus all of you sweet people, I created a Facebook Event page for the Book Launch party so we can keep track of who's coming to the festivities.  So I don't kill Evan or the caterer or anyone else with a mad dash to the grocery store…will you hop over and RSVP so we know you're coming?!  I can't wait–also, pretty sure that couch giveaway will involve the folks who travel the farthest.  Just saying.
I'll be back with more book project photos and party inspiration, and in the mean time, I look forward to seeing who's coming!!