Okay, listen.
There are trips, and there are vacations, and there are experiences that change the way you see the world.
I remember feeling that way the first time I traveled to Honduras–my view of God grew just a bit bigger & His canvas stretched further.  I understood the world better, and I left a part of myself there–a younger, more ignorant and selfish part.  I have been back many times, and each time it becomes harder and harder to leave.
I experience there–I connect there.  I am a less self-involved version of me when I'm there.  I am slower, more purposeful, more resolute.  I love that place, I love the people, and I love What we are there to do.
I have to tell you I wasn't all that excited about going to South Africa.  I know–holy ingrate, batman.
But it's been an insane time with our business/shop/blog lately, and I knew it was going to be a hard time to be away.  Plus, I had spent the last month not feeling well, and I was a little worried I would arrive in the bush only to be on the first med-jet back to Johannesburg.  BUT…(and I'm not sure how much I've mentioned this before) Matt works in the wholesale tire industry, and when we got the chance to travel to South Africa with Goodyear Tire, he promptly told me to get over my work, my attitude, and my life and pack a bag already.
Well done, honey, well done.
I am not sure words will quite do justice to the experience that was South Africa, but I have to leave this time stamp here–this record of that life-changing week.  We'll get back to the room makeovers & furniture painting soon, but I hope I can convince you of this by the end of the week: you must, must go there.  Get it on that bucket list, girl.
Or big, strapping man.
Do it.
*********************************
We were groggy and unkempt when we hit the ground in Johannesburg, South Africa, at 6:30 p.m. local time (a mere 7 hours ahead of Alabama).  Our flight time hit around 15 hours, plus our connection, and while the service was amazing, we were beat nonetheless.
We arrived at the gorgeous hotel, and walked down to dinner within the hour.  It was delicious, and my body was very confused already–I was stuffed, but wound up starving and craving everything at 3 a.m.  So, of course, like any jet-lagged southerner, I woke up to start the day.  We had a quick breakfast and safari orientation.
Here's where I'll digress.  I don't think I understood the scope & purpose of our trip.  I understood we were going on "safari" and I understood that we were going to stay in the bush, but imagine my surprise to find out that we were actually going to go on multiple drives a day, walk even, among the animals and in the bush.
Imagine my surprise to find out we needed a ranger escort to and from our huts every night–we weren't supposed to walk alone in the dark lest we run from a hyena and beg them to chase and eat us.
We were going on a safari.
More digression: it was my fault, really.  Matt read all of the info, and he was excited enough for the both of us, so I packed my best tan & denim and called it a day for the safari prep.  #suchamoron
Plus, I think because we were going on a group trip I just assumed it would be a little slow–like us riding around for a while and then heading to the rooms to lounge for six hours before dinner.
But this?  This was our kind of trip.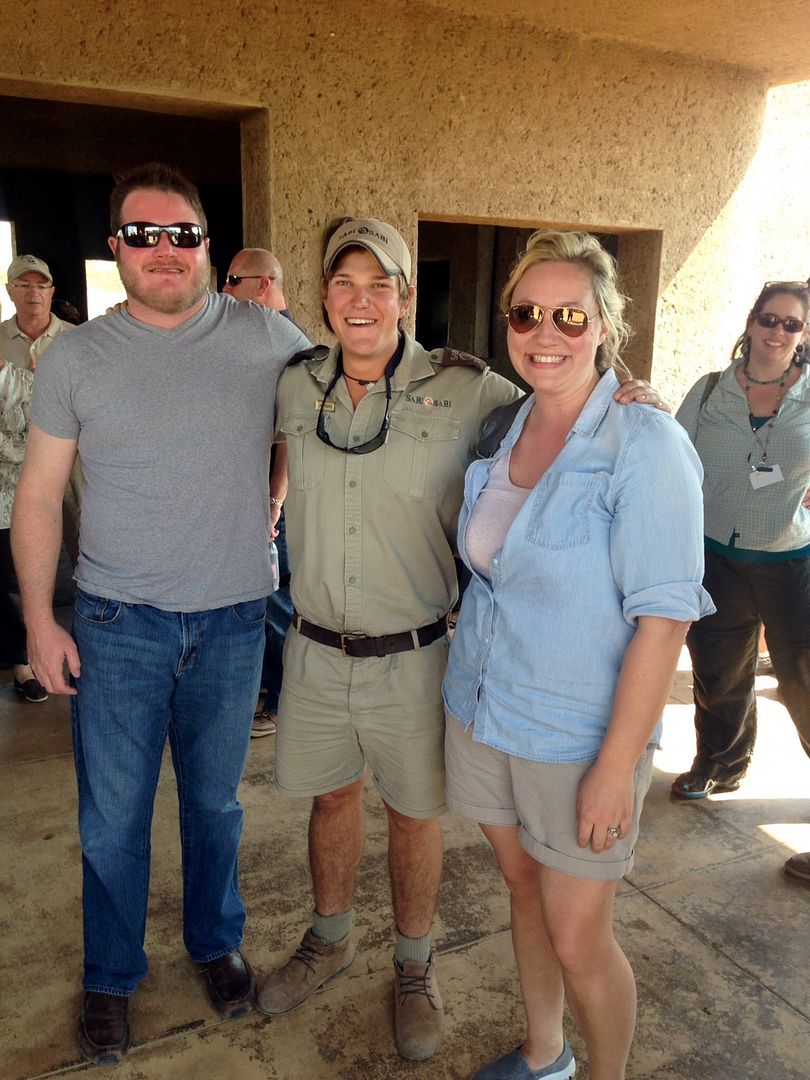 Meet Joffers (pic above).  This was the ranger we were paired with all week.  It was just our group at the camp, Sabi Sabi (which was amazing in every way possible), and four of us were put in one jeep for the 4 days–and the Goodyear folks rotated in and out.  We had so much fun I honestly can't pick and choose any favorite moments.
Matt was his normal, goofy self asking Joffers (whom he called multiple names i.e. Joffer, Joffers, Joff, Joffrey) a million questions a minute or halting the entire vehicle or walking safari to stop and look at a colony of exciting caterpillars.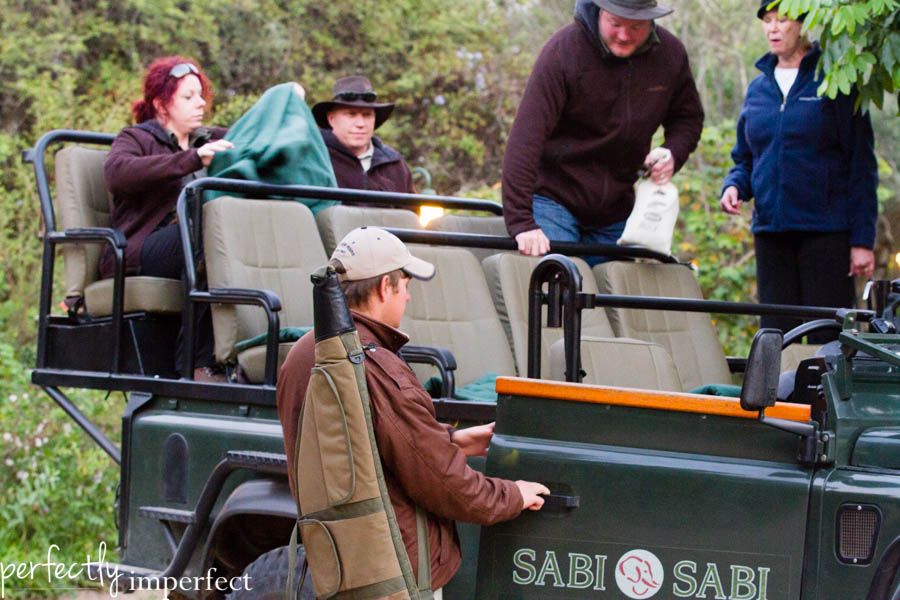 We also met Ellen and Tim, and fell in love with their cute selves–and happily, our jeep was dubbed the party bus.  Joffers was an amazing ranger, full of energy and passion for his work, for South Africa, for the animals and the entire ecosystem.
We kind of wanted to bring him home.  And we definitely want him to Skype with the kids for school next year.  I think he thought I was joking when I asked if he would teach them a lesson for school–poor thing, I wasn't.
After about an hour upon arriving at camp and meeting Joffers and Ellen and Tim, we loaded up for our first drive.  I told you we were on safari!  And the animals themselves weren't just walking around in the open most of the time.  The rangers and trackers tracked them–we'd be driving along these winding dirt roads, and bam!  We'd slam on the breaks, Joffers would hop out and look at some lines in the sand (apparently they were tracks), and he would spin the jeep around and we'd be off on a trail.
We'd drive and drive and when we were lucky, magic…
Don't worry, I'll show you more pictures of this beautiful leopard, but we have to break this thing up in parts.  You guys might not want to read through a post with a couple hundred photos in one sitting, no?
Matt and I mostly sat in the trampoline seat (or economy class as Joffers liked to call it), but it was fun (hello South African roller coaster!), and I had a great vantage point for photos.  We drove around a while that first drive and I remember breathing deeply and taking it all in.  I was in Africa.
How could I not have been excited about this before?  I could hardly wait to fall asleep so we could get up and do it all over again.  And that was before we even saw the lions.  After driving a bit and checking out some of the more common animals like impala, we stopped for the sunset.  Joff parked the jeep, and they pulled out a full service bar right there in the African savannah.  We had a glass of wine while we watched the sun go down, and I knew it right then.
I was hooked.
This was an entirely different world, and an entirely different way of life…and you know how much I love to slow down.  And while I was heartbroken to learn I had spotty wifi and therefore wouldn't be blogging to update you, it was the best of presents to be completely offline in my time there.
After driving and spotting some smaller birds and tracks, a voice came over the radio and we were off.  Joffers was saying something about a lion, but my arm got caught in a thorn bush and well, I ripped it out while we kept moving, so I kinda missed that part.
Soon, though, we found ourselves in the middle of three lionesses and their kill…
(p.s. if you have a weak stomach for the circle of life, you might not want to continue)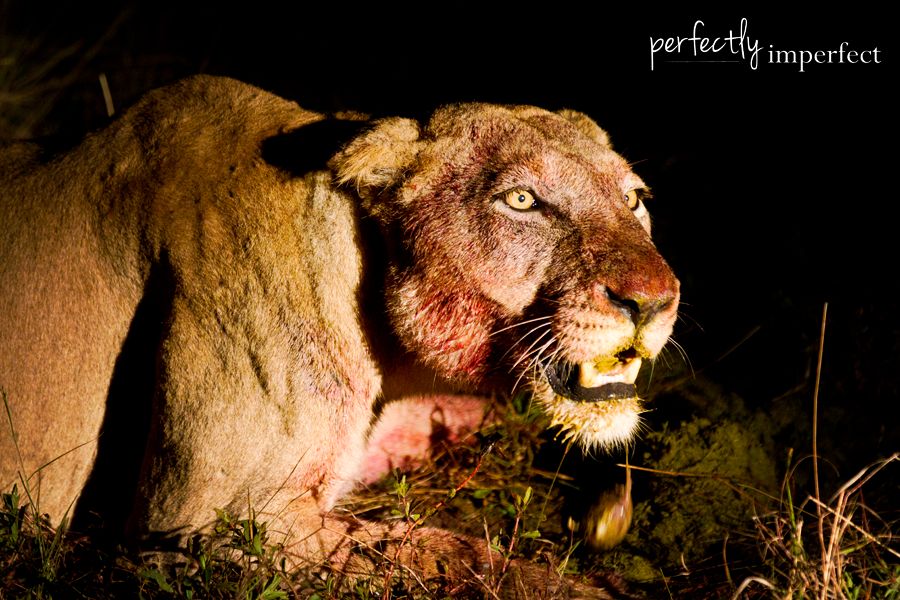 And listen, it felt CRAZY to be so close (as close as a few feet) to the lionesses while they were eating, but Joff assured us it was completely safe, and he wouldn't put us in any danger…it was exhilarating and amazing to see such a sight.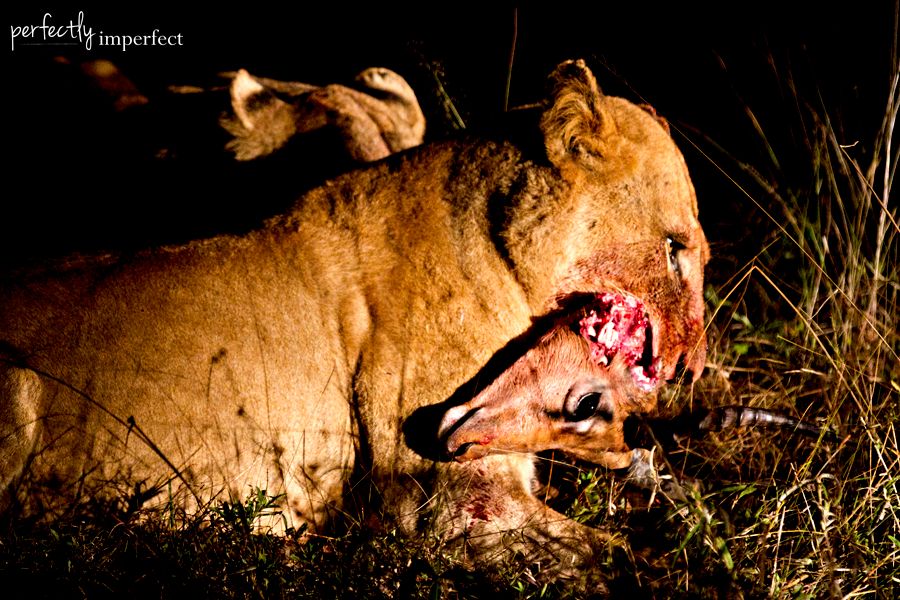 I told you…visceral.
It was an amazing site to witness, and the coolest part was this:  we weren't there to snap a picture or two of animals and move on, but to observe them, one at a time.  We sat with these lionesses for about an hour while they fed and rested.  We spent time with them, and observed their behaviors, and this is going to sound weird…but I felt like we got to know them somehow, saw part of their story.
On a less serious note, funny story:  Here we are, 2 hours into our first bush drive, and Joffers is up front asking who needs a comfort break.  Well, it only took one glass of wine for me to recognize that it was not possible to hold it in the trampoline seat for very long.  So in the pitch black African bush, there I was peeing beside a bush and next to a jeep full of men and a Goodyear exec.
Well, I'm not too good for peeing on the ground, for goodness sakes.
Except I lost my brand new sunglasses.  Brand. Spanking. New.
This was before we watched the lionesses rip apart an impala, of course.  I may have been less inclined to get out of the jeep if we had witnessed that before the "comfort break."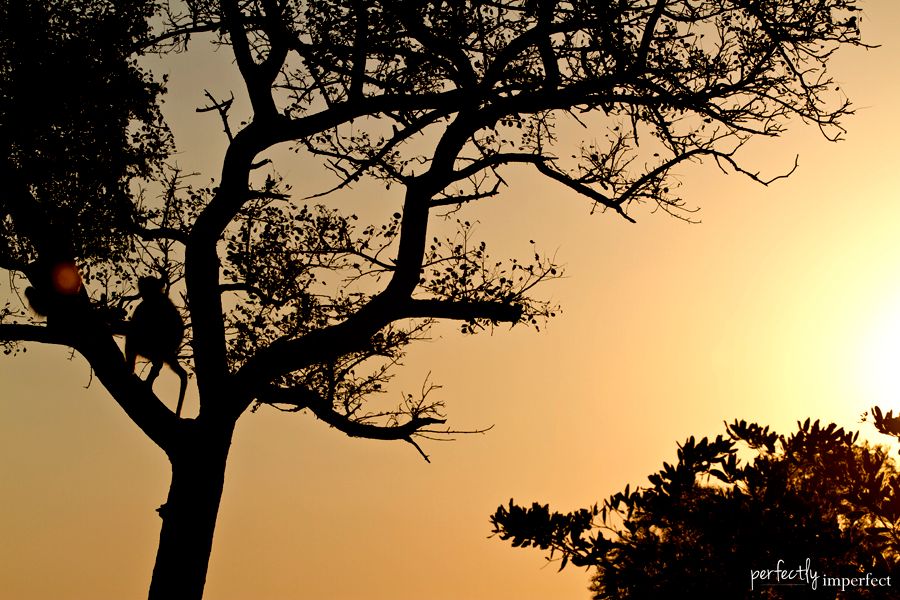 And when the sun came up, we went tracking something different.  Less exciting than a lioness kill, but pretty thrilling for yours truly…
That man found my sunglasses, y'all.  In the middle of nowhere bush, he found my sunglasses, unscratched and in tact.
Whew.  Matt said he would have felt intimidated, but, well, wait a minute, he said he felt intimidated period.
See what I mean?
Amazing, once in a lifetime experience.  I'll share more photos all week, but I want to leave you with this in the meantime:  If you want to go on safari, I cannot recommend Sabi Sabi enough…you can follow along the daily journeys of the animals and rangers on their Facebook page and here on their blog.
I'll be going back, and taking my kiddos with me as soon as I can.
Group trip, anyone?!