If you follow us on Instagram, then you know Matt and I boarded a 15 hour flight to South Africa on Wednesday afternoon–after much travel, we made it here and are thrilled to soak it all in.  Matt had a work trip (yay, Matt!), so I turned it into a vacation/work trip for me.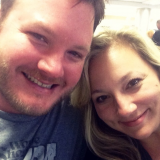 I've rented a telephoto lens for the safari camps, and I'm hoping to blog some.  I hear, though, that internet will get sketchy from here forward (see small thumbnail pic of us?!), so the girls back home have something planned for you while I'm away.
Oh, and be sure to follow us on Instagram for pics along the way.
See you on the flip side…