The original title of this post was something ridiculous like, "Focusing on the Details of Design: our home goals for 2014."  Lord, have mercy.  I sound like I just lost my job working at the Daily Planet and I can't find my brain or an ounce of creativity to save my life.
Step away from the computer, Shaunna.
It occurred to me, though, that the title wasn't the problem.  The problem is I was writing from a dissatisfied place.  You see, last week I started evaluating parts of my house from afar.  I was flipping through my blog's "our spaces" page and realized how many of the photos were dated.  For instance, I hadn't taken a new photo of the living room in a couple of years.  As I was making notes of what photos to update, I started thinking about our spaces vs. my favorite decorated rooms across the web/design world.
Ours just weren't stacking up.
I began dissecting each space, looking for the parts that were "off" or didn't fully suit me.  I want more original art.  I want less clutter.  I want to fully decorate the living room and leave it that way for a good 3 months.  There's plenty I want to change, and that's fine.  Changing for passion's sake is fine.  Changing for preference's sake is fine.
Changing because it doesn't feel good enough?  That isn't fine at all.
You don't have to have a blog to feel that way.  I think it's pretty simple for all of us to look around in magazines or on Pinterest or even our friends' homes, and see the good stuff.  We see that their floors are clean, or that they have original art hanging all over the place, or that the space just looks perfect, for lack of a better/less intimidating word.
We want to create spaces that scream "us," and even while we're working on that, we'll surely compare our home to someone else's and identify how it doesn't stack up.  We'll note their vignettes and beautifully styled coffee table, and we'll note the pop tarts crumbled on ours.  Forget about the fact that we just took the coffee table from basic brown to our favorite new color with a little time and paint.
We forget that we are creating our home when we see the snapshot of theirs.
The truth is it's hard to live with what you've got now.  Not all the time, but sometimes, it's hard.  Looking at the world of beautifully layered color and pattern is intimidating, both financially and practically.  Even when you have the knack for decorating, finishing a space completely isn't always an option.
I began to feel like I had let our home down, and I needed. to. finish. these. rooms.  Holy neurotic idiot, batman.
But then I came home.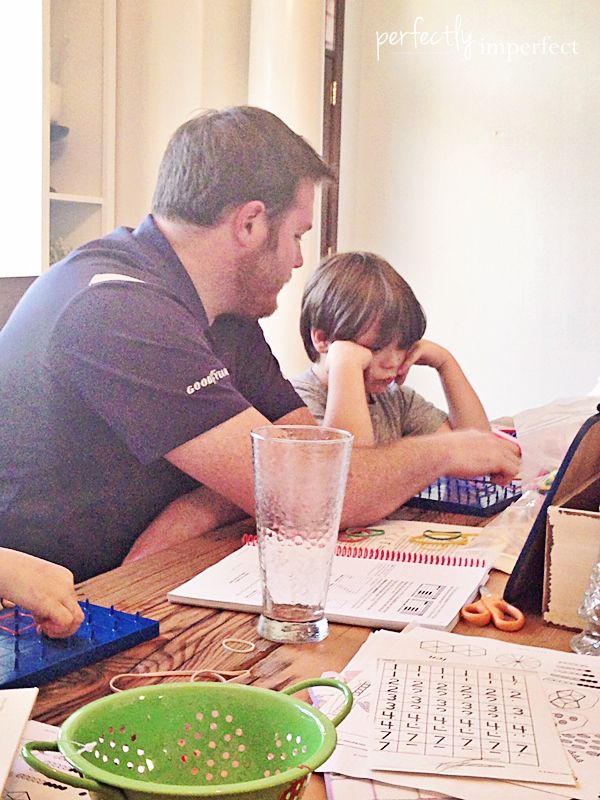 And I sat on our couch and remembered that I don't have ridiculous objects on our coffee table because Matt likes to prop his feet up and I like having a million design books at my fingertips.  I've kept the art rotating on the wall because I change my mind, and spending hundreds of dollars on one piece of art just isn't my style.  Our entertainment center, that I sometimes loathe for its gargantuan size, has stayed because my husband built it for me the first year we were married.
My dining room table stays empty most days because by the week's end, it's covered in homeschooling books, crayons, and construction paper confetti.
Our home is ours.  And I love to decorate.  To inspire, to encourage you to go for it in your homes.  But just like for me, that is going to take time.  I'm giving us permission to take it slowly.  Take your time.  When I look back on the timeline of my home revamping journey, it began with more creativity than money, and honestly, it all began with paint.
Now, a few years later, I'm excited about putting the finishing touches on certain spaces, and having that goal is perfectly normal.  But I'm doing it for me, for our home, and in a way that works for our life and budget.  So should you.
Don't look at other homes and feel intimidated or lost.  Paint a wall, a chair, a piano.  Hang some DIY art, and prop your feet up on your perfectly cleared coffee table.  Don't apologize or feel guilty for the time it takes to create a home.
Start somewhere.  And enjoy it.