Another beauty of simplifying your home (in addition to having a little less to deal with), is the eye you develop when shopping, Pinterest-grazing, and magazine flipping.  While you crave certain looks in your home, you become much more selective in what you actually bring into your home.
Now that I really understand my style and what I truly love, it was easy to select what to get rid of, what to sell, and what to keep.  And now it's easier to carefully choose what new pieces we bring into our home.
See that basket filled with bottles in the bookcases above in the dining room?  For a year at least, it's held my collection of blue and green vintage bottles.  They are some of my favorite vintage pieces, and them piled happily together has just made me, well, happy.
When we cleared all the Christmas, the foyer was pretty empty.  And sometimes all you need, really, is a remix of what you already have.
It felt good to shift them around and put them front and center in our entryway, and bonus, I got a whole new look without buying anything.  The shiny glass plays beautifully with the rustic texture of the dresser, and I love a good collection displayed together…lots of impact with little effort.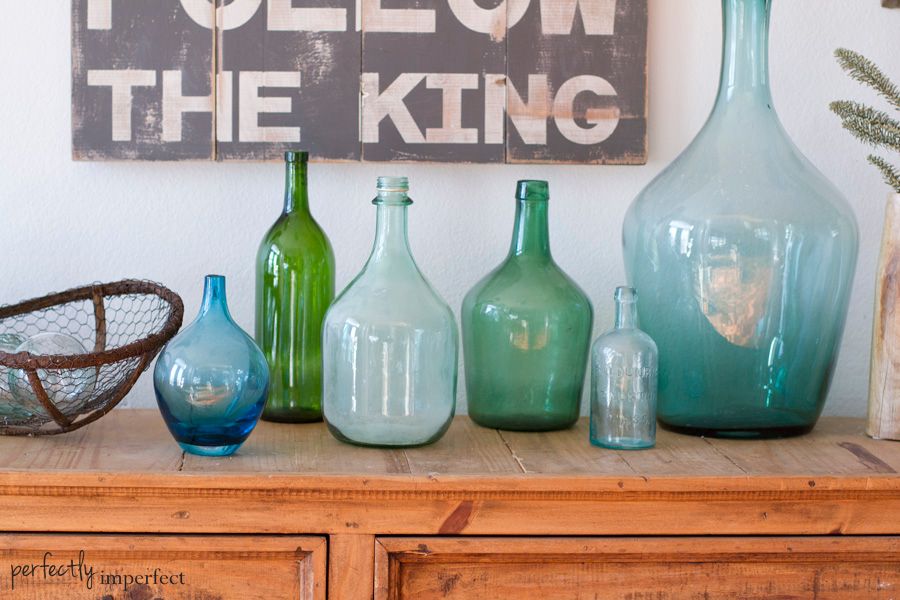 Look around and see what you can shift in your home.
It may surprise you, and bonus, you won't have to buy anything.