Good Monday morning to y'all!
I'm anxiously/excitedly preparing for a 21 day nutritional challenge (which I'll share more about later this week), so I'm cooking chicken ground turkey by the pound ahead of time and packing 90 florets of broccoli into individual containers today.
I really am excited.  Promise.
I'm also hoping to check a few big projects off my list this week, like Grayson's room…
We talked about staying flexible with your plan at home, and that's what we've been doing in here.  We have all the big projects done (flooring, bed built, storage unit in place, etc.), and now comes the fun part of decorating.  I really, really want to get most of it done this week before I leave for Market in Atlanta, and that way I can work on the photo shoot when I get home this weekend.  Fun stuff!
In the meantime, I wanted to share my design plan with you. It's still a little hint of nautical, and a little camp-y, but neither one is over the top and in your face.
My goal with his design plan was to create a stylish room that packed lots of personality with little clutter, celebrated an open floor for lots of play, and yet, still pack in as much storage as we could.
Because our main budget was taken up by laying down new flooring, we stuck to simple transformations everywhere else.  We haven't even repainted, although I'd like to soon.
On to the plan…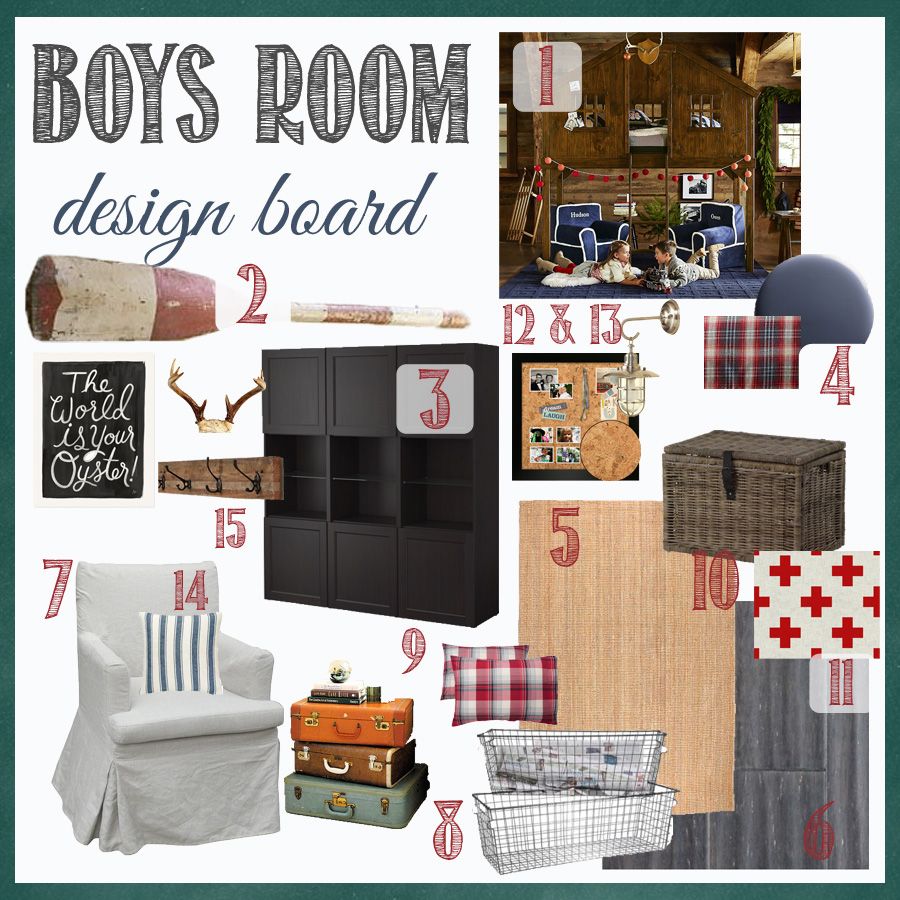 See?  Camp-ish, still a bit nautical….but really, we're just going for classic boy all the way.  The room will keep the white paint, sailboat wallpaper, and navy paint under the chair rail for now…I'd love to plank it, but we are saving moolah for that little endeavor.
1.  The bed.  We built him a "fort bed" (as Gray likes to call it) to create more floor space and use the vertical space in the room…plus, it's a house and so much fun!  We always wanted to build one, and kept putting it off for various reasons, but he's grown like a mammoth this year, so we decided our timeline better scoot forward for him to get to enjoy it for several years.  Building it cost us about $250, so it's not this huge investment that we can't part with when he outgrows it in a few years.
2.  I love for the wall art in a child's space (and any space for that matter) to be personal and inspire thought.  We've made him some DIY reclaimed wood wall art that's staying, and we'll tack up an oar or two for interest.  I'm also not one to copy a magazine or image exactly, but I adored the antlers pictured on Pottery Barn's bed…so I asked my hunting-loving brother if he had any, and sure enough, he has a 8 point rack he's loaning us.  We'll create some way to hang it, with either a plaque or hook or something…
3.  We bought a Besta storage unit from Ikea for Gray's room a few years ago, and it's been great.  It is really big, but that's also handy for storing all toys and now books in one place.  Plus, we'll place it opposite the big bed, and it will visually balance out well.  We also just bought these paneled doors for it, so the storage is all enclosed now, and really dresses up the simple frame.
4, 12, & 15. I'm obsessed with this slate-blue chalkboard paint from Restoration Hardware.  It is the perfect shade of gray-blue, and I love the idea of giving him a quick spot to jot down notes, ideas, and art.  I'm also considering adding a "creativity nook" in his closet because I'm bent on keeping the closet floor free of junk…so we could add a quick chalkboard, wall hooks, and cork board on the wall in there.
5 & 6.  Gray's carpet was gross, and had to be replaced.  Plus, he has terrible allergies so it really was past due to rip up the carpet.  We went with a bamboo hardwood from Lumber Liquidators, called Silver Strands.  It's this lovely cool brown with white hand scrapings.  Which is perfect for the million times I'm sure it'll be scraped in the coming years.
As much as I'd love to cover the entire floor with a rug, that would be pricey, and is not totally practical with the allergy issue.  We went with a 6×9 natural jute from Ikea.  This will anchor the play space and add some texture, too.  Plus, keeping all the major players neutral in the room ensures that we can easily transform the space in several years if Gray wants more input.
7.  To give him a place to sit while he's "downstairs," we went with a small-scale upholstered chair from our shop.  It was an odd size, and we've had it for quite some time and it continues to sit, so we thought we might as well bring it home with us since we were in the market for such a chair.  I love it in the space…it's the right size and anchors all the now-empty floor.
8 & 10.  I want plenty of storage in his room.  The key to kid room neatness is having the right solutions in place…without them, I'm hopeless.  We will add some stacked suitcases for storage and some vintage flair, an oversized wire basket from our shop, and the Byholma chest (which I pledge my official allegiance to as I now have 4 in our home).
9, 11, & 14.  The fabrics are pretty simple.  Gray gets hot at night so easily, so we are going with a simple Dash & Albert Denim Stripe Throw (which fits perfectly on a queen size bed) and plus: it's cotton, so it's easy to throw in the wash.  We going with some new plaid sheets & I might throw in a pillow or for color.
13.  Lastly, we are looking for some sconces like these from Pottery Barn Kids to add into the space…he needs major light in there at night, and these nautical inspired sconces would do the trick.
There you have it…there's the plan.  I hope to finish it all up soon, and share it all with you along the way!  Feel free to ask any questions about the design plan in the comments below, and I'll be sure to answer.
Have an amazing day, friends!