We all know how it goes.
You take out the mounds of Christmas decorations because you want to, and by the time your little ones are done coming behind you and pulling things off the tree or knocking a Santa off the dresser, you're wondering why you pulled it all out in the first place.
Once this mama encountered such a life, I drastically changed the way I decorate for Christmas.  Don't get me wrong: I love to decorate at Christmas-time.  It truly is one of my favorite times of the year, and I wanted to find a way to enjoy the Season while embracing the fact that I have small kids.
Hence, my ten tips (there are many more!) for creating a semi-fuss-free (is there such a thing as fuss-free??) holiday decorating experience…
1.  Less is More
Really.  One simple touch in a room like fresh greenery, a pile of ornaments, or fresh flowers goes a long way.  Plus, that helps you sprinkle a little decor throughout your home.  Yes, our rug is dreadfully wrinkled.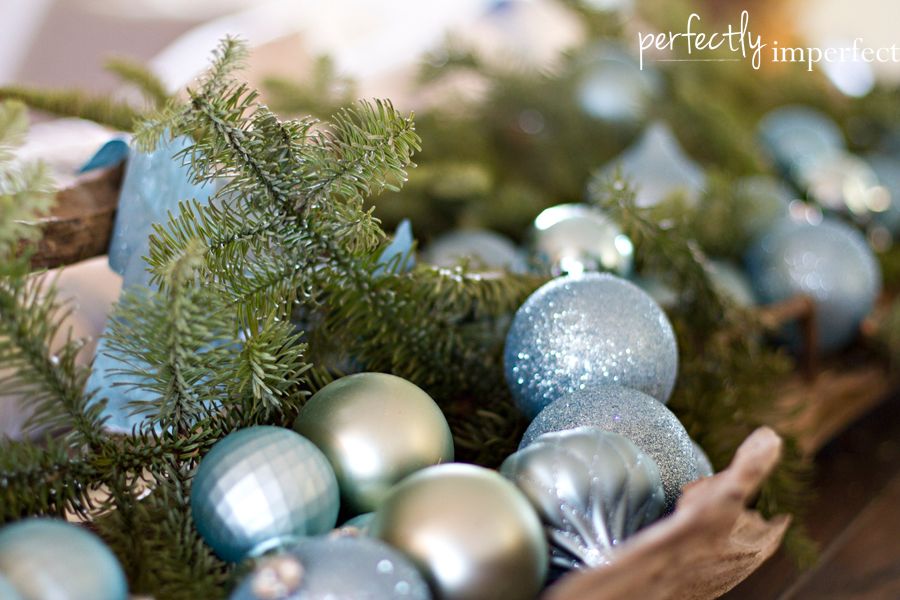 2.  Use shatter proof ornaments, for the love.
There are so many different varieties, colors, shapes, and sizes…and they've come a long way.  So many of ours look sooo real.  Fill your typical containers and decor with a pile for instant holiday sparkle…think lanterns, bowls, and sculptures.  Even let a few roll loosely on shelving.  Plus, you'll be able to fill your tree with them (and they won't come crashing down to their untimely death when your toddler zooms by whilst saving the world).
Along that note…
3.  Leave the priceless figurines and houses away for a few years.
This is where it's tricky for your mothers and mothers-in-law and friends and anyone else who has bestowed beautiful Christmasy gifts to you.  But I have one simple rule…I don't bring it out if I can't live without it.  I have a beautiful set of Department 52 Christmas village houses.  I'd love to sit them out again someday, but right now is just not the time.  One day they can come out again, and they won't be threatened within an inch of their lives anymore.
4.  Fresh greenery saves you time–and can be dirt cheap if you know where to get it.  And it's pretty.
I used to have tubs and tubs of faux greenery.  There is really nothing wrong with it, but it also is bulky to store and, for me, pulling it out and fluffing it (in addition to the tree) became too much trouble.  I had always wanted to use real greenery, but had convinced myself it was way too expensive.  Enter a couple of years ago, when I walked by the garden center of The Home Depot in November, and saw 20 foot cedar and pine garland…for 5 bucks.  Um, I'm sorry, what?!  I'll take three please.
We don't have a lot of fir or spruce or cedar nearby, so I'll splurge on a little garland.  But then, just like last night, the kids and I will head out with clippers in hand and bring back basketfuls of pine, juniper, holly, and rosemary clippings to spread throughout the house.  It smells divine, and immediately infuses classic Holiday style.  Um, and it's free.
5.  Designate some kid zones.
Just embrace it already.  Let them decorate their trees (we don't touch our kids–it's all up to them), string some colored lights, have some fun with kid-friendly decor, and leave them a messy table for fun Christmas crafts.  If there is a Santa or nutcracker pulled out, it goes in their rooms or the playroom.  We leave their mess out upstairs so they can pick right back up where they left off (plus, homeschooling family, so there's always crafty mess).
Hey, blow up a snowman if you've got it in you.  This Season is about more than santa and festivity, but having fun with that magic is part of what makes this time of year so special.  I know at the end of the day I'll never look back and say, "I sure wish I'd stuck to more classy decorations," but I might wish I'd allowed their desires to shape mine.  I'm a big believer in balance…you can have your Christmas and theirs, too.
6.  And, bust out the fun, colorful wrapping paper for them sometimes.  Kraft paper and washi tape are pretty boring to a kid.  A little Santa face popping off the paper can be kinda fun.
7.  Stick with simple centerpieces.
I love a decorated, set tablescape.  But if I bedazzled every table during the holidays we'd have nowhere to actually eat, so there's that problem.  I've come to love switching up runners (this year I'm using antique grain sacks), and halfway unfolding 20 yards of fresh garland.  Plop a few ornaments throughout for some sparkle.  It's immediately beautiful, easy, and inexpensive.  And again, it won't be too tempting during dinner time.
8.  Make at least one decoration with them.
We've always done a lot of baking during the Holidays, but last year we made our first peppermint wreath.  It will stick with us, I think.  There's something pretty special about spreading out an activity on the dining room table and your finished product hanging in the kitchen.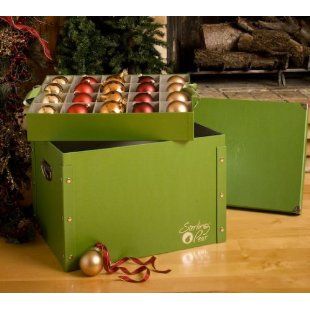 9.  Purge, purge, purge and get it all organized.
If ever I believed in organization, it's for the the extras.  Decorating for Christmas is most definitely an extra.  For me, the thought of digging through bin after bin is terrifying.  I moved to smaller clear plastic containers a few years ago and organized my ornaments by color with little to no tissue wrapping them.  (This is where a lot of those shatterproof ornaments come in handy).
Our little Christmas decor area in the attic is beginning to stress me a bit because it's been years since we've gone through it all and even thrown away empty boxes.  When January comes around, you better believe you'll find me in a pile of ornaments and mounds of crumpled tissue paper…it's getting gone if we don't love it.
So get it all organized; keep only what you love and are willing to haul down out of the attic every single year.
10.  If you're getting stressed, you're doing too much.
You know, if every other point didn't exist, this should be the golden rule of Christmas decorating for mamas with young kids.  If you're getting overworked, worn out, or feel too much pressure…just stop.  Sit down, drink some hot chocolate with them.  Go sledding (does snow exist in some parts?!), read a book, watch a movie. They are what all that decorating is about.  And really, the One who gave them to us.
When your blood pressure starts rising to "get it all done," it's time to close up the attic until January.  Or February.  Or whenever you get to packing it all back up.
Life's too short for decor stress-induced comas.
(P.S.  I'm one of those weirdos that doesn't mind putting finishing touches on Christmas decor on Christmas eve, but what stresses me is the amount of "haul down."  I like less stuff, but for every room to have a little happy in it.  Small steps are what keep me from stressing too much.  Just take the time to figure out what does it for you.)
Happy decorating, mamas.
And papas, of course.
*****************************
Speaking of decorating, come back tomorrow for our full Christmas Tour this year!