I have a new love.
It's not chocolate, and it's not shoes, and it's not even throw pillows.
It's Milk Paint.  Marian's Milk Paint, to be exact.
I always liked milk paint, but I had not used it enough to really love it.  I wanted to carry her paint, because a. she's my friend & I wanted to support her business and b. i knew if she loved it, I would love it.
Fast forward several months…I have just begun playing with paint again as the first year of our shop really revolved around the business side of things.  But lately with the hiring of more sweet folks, I've had more time to get creative again.
I started playing with MMS milk paint in May when we were getting ready for teaching our class at Haven.  I got really excited when I created a very beautiful driftwood finish (that we later taught at Haven), and even more so when we played with resist techniques during.
This pine dresser came into my life about a year ago and while I was able to start it, I could just never finish it the way I wanted.
After I began playing with milk paint, I knew the lines were perfect for some chipping.
You can see the yellow-pine before in the pic above, and now the after…
The piece was unfinished and ready to work with…a blank slate.
So even though I don't have the how-to pics, I've got a list for you.
What you'll need:
dresser

steel wool (probably 3 pads)
vinegar
plastic bowl
gloves (optional)
angled nylon sash brush
vaseline
fine sanding block
1.  Start by making your steel wool/vinegar mixture.  I've seen all sorts of tutorials for this online, but it seems the easiest and simplest way is to place steel wool in vinegar and let it soak for about a week.  It needs to be getting rusty before you use the vinegar-soaked pad.  I noticed it didn't turn the wood after a day or two.  It needed the full week to rust and create depth to the wood.  The drawers are the straight steel wool/vinegar mixture.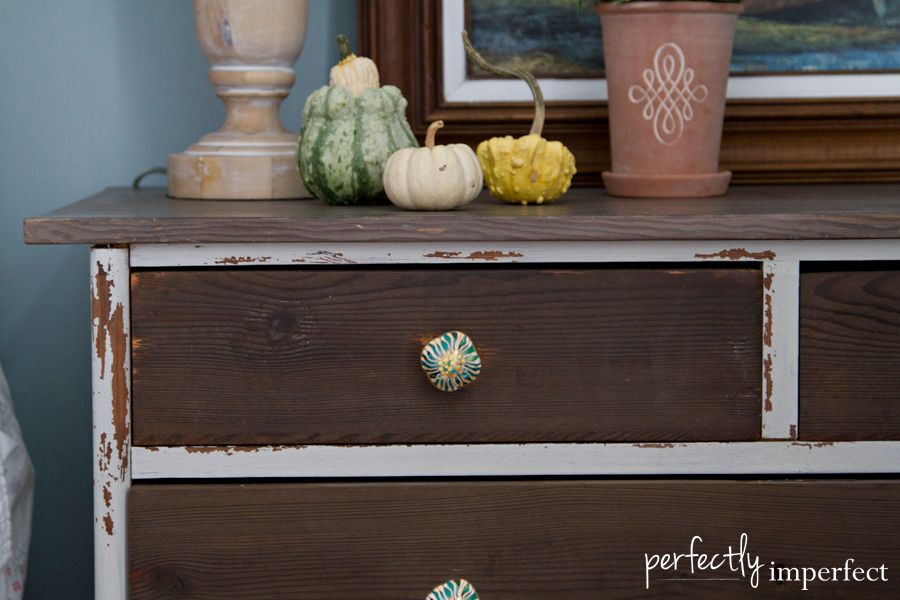 3.  When you notice some rust in the bowl (see pic above), then you're good to go.  You don't have to use gloves for this step, but it makes life a bit messy.  And, it's going to take a couple of days for that rusted vinegar to come off your hands if not.  #trustme
Rub the soaked steel wool pads all over the dresser drawers, just like you were using a stain.
4.  While that's drying, paint the body of your dresser with milk paint. (I'm going to write a separate post on tips for using milk paint, but until then, you can read a ton of posts and watch videos at the Miss Mustard Seed Milk Paint website.)
I wanted to be sure that I got some chipping on this piece so I applied a dab of vaseline here and there.  This acts as a resist, causing the paint to chip and avoid adhering.  As I was painting my second coat, it began resisting away, and easily chipped off.  Then, it did its own thing and chipped in other places, too.
Ahhh, milk paint.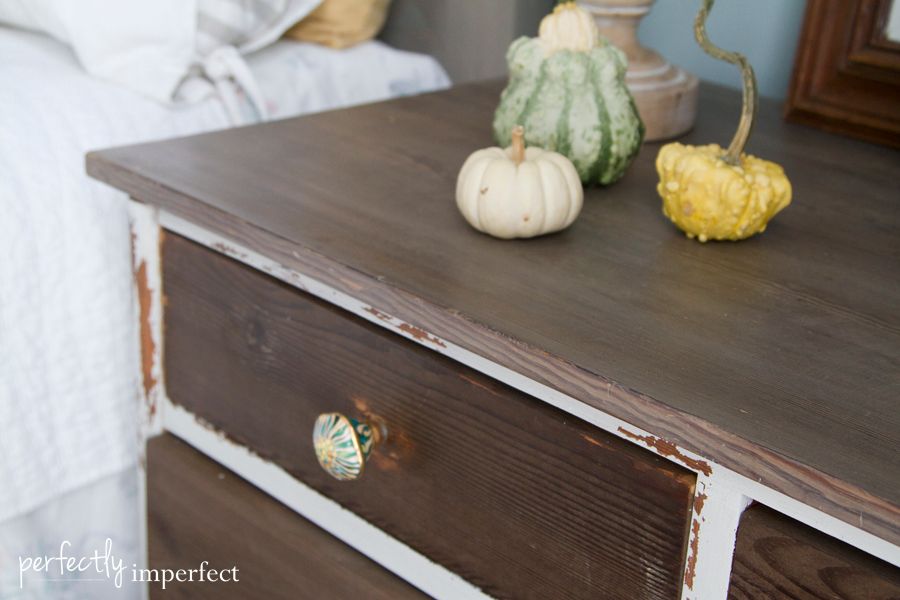 You'll notice the top is a little more gray and a little lighter.  I washed the top with some grey paint/water before applying the steel wool/vinegar.  It is the loveliest shade of smoky grey.
5.  Once everything is dry, smooth out with a fine sanding block.  This helps you pull of the chipping parts of the milk paint.
6.  Wax your piece with Furniture Wax.  Again, I'll include some tips on using the wax in another post, but this is a GREAT topcoat choice.
And because I couldn't help it, here's some more pictures of tiny pumpkins….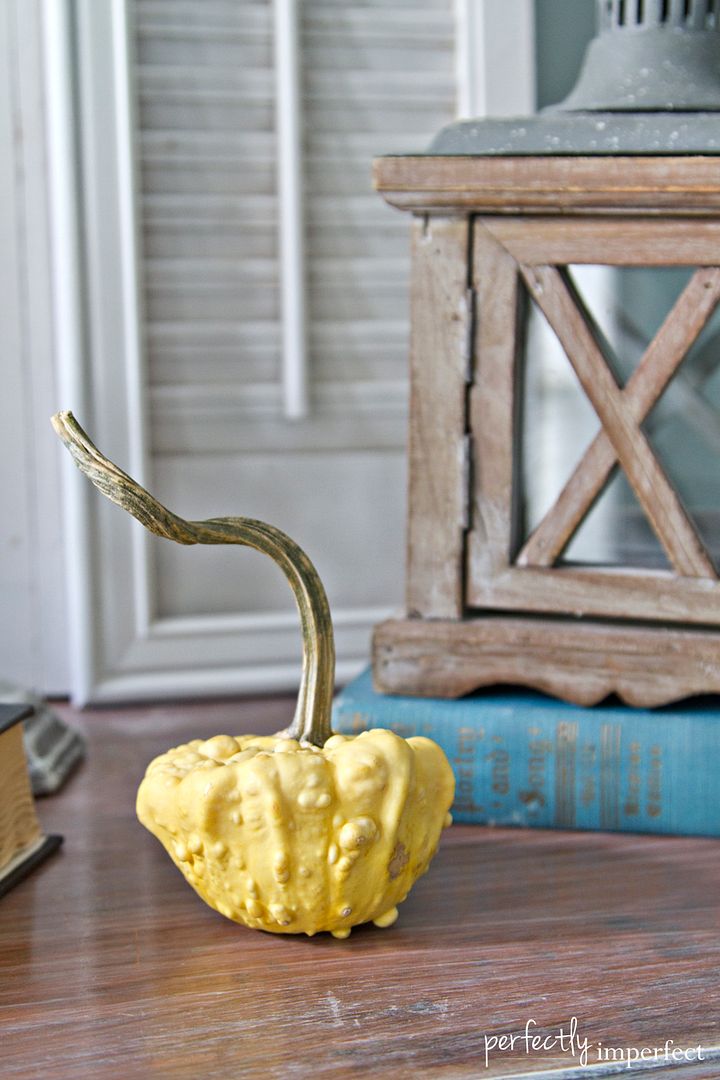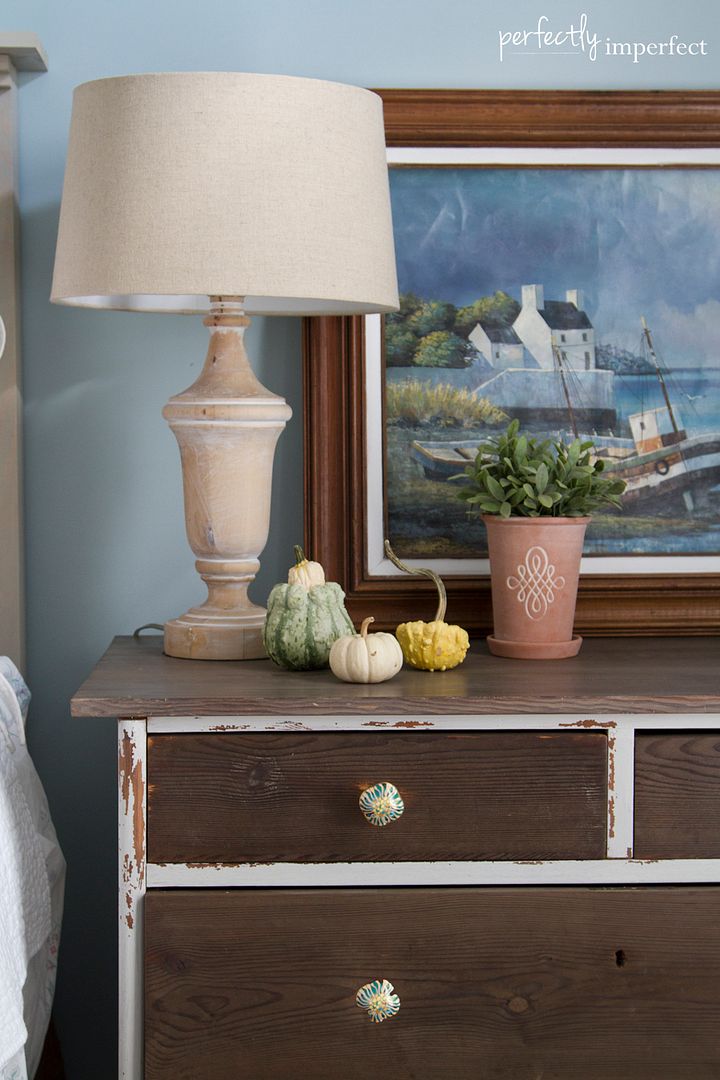 I can't wait to hear what you guys think of it…I'm a fan.  And if you have any questions, be sure to leave a comment and I'll answer them in my FAQ's post.
Have a great one!