Y'all.
I just used to think I was busy.
While we are bringing on more people as our little business grows and they are invaluable, we're not quite to the point where I just wash my hands of all things shop or blog or book…and I don't know that I'd want to even if I could!
Needless to say, I'm a nut-bag.  (nut-bag just seemed a little more emphasized that nutcase)
We're finally starting to receive the items we ordered from market in July, and it really is like Christmas opening up all the packages.  Natalie and I may or may not fight over the box cutter.
That cabinet up top will be heading to The Chapel Market with us, but until then, it's housing our new vintage-inspired tableware line, Fishs Eddy.  I'm pretty obsessed, and have been for years since I visited their flagship store in NYC.  When we found out we could carry their designs in our store, I was all pushing people to get to a rep to place my order.  I just love the tea glasses and the baby blue mason jars.  We didn't get everything in yet, and it's not listed in our online shop, so if you see something you just can't live without, call us at 334-482-0215 and we'll get it right out to you.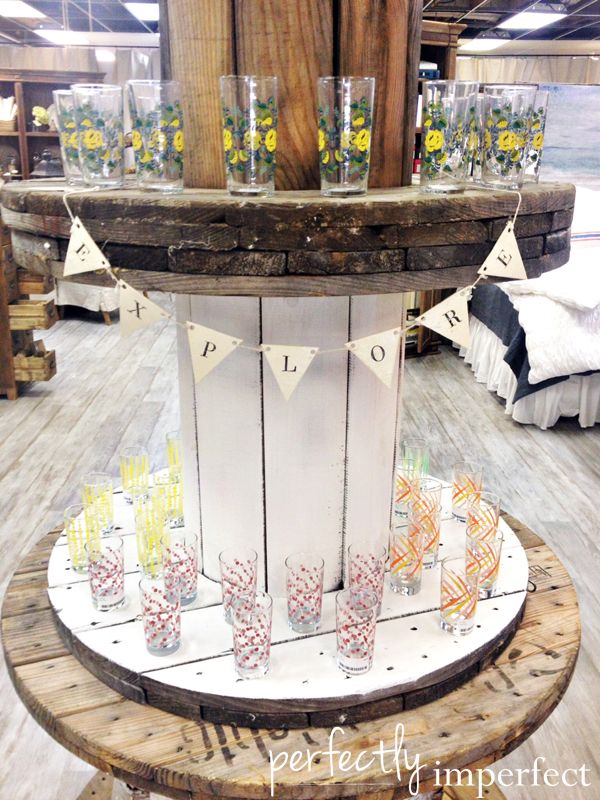 See what I mean?!?  Fun, happy vintage inspired glasses here, there, and everywhere make for a happy designer/shop owner.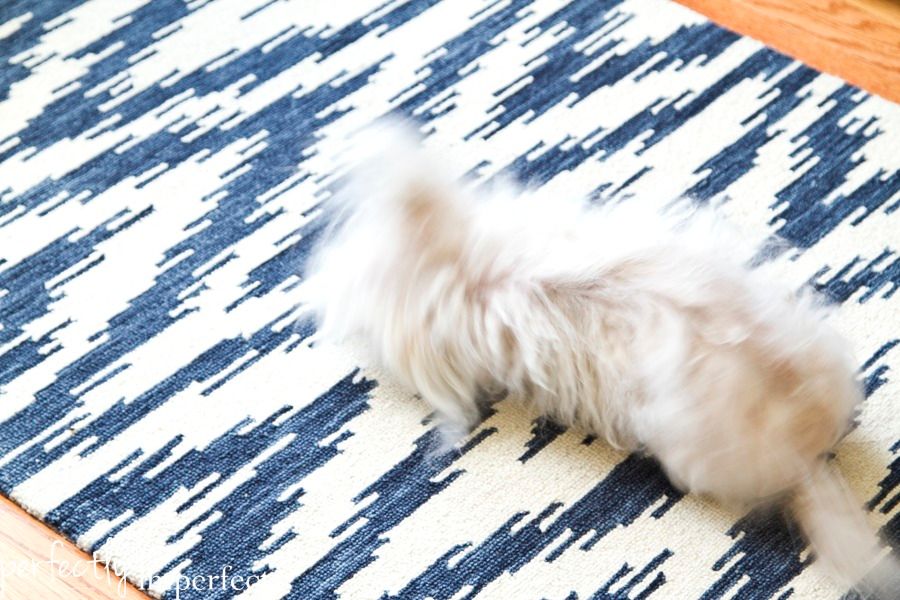 We've gotten in a bunch of new Dash & Albert rugs in, and let me just say, that hasn't hurt the book-shooting process.
My white fluffy dogs like to photobomb in a blaze of glory, by the way.
Little bits and pieces are making their way into the shop, and seeing all the new products we chose and styling it all is so inspiring for me.  In between school in the morning and bits of book writing and photography the rest of the day, I'm jotting down a million ideas on holiday display (just. get. ready.) and gift guides.
It's been such an amazing 9 months, and already, we've been blown away by your support and the support of our local customers, too.
You guys are supporting us in amazing ways in our online shop, and this last week, we were knocked off our feet.  So, as inadequate as it is, thank you a million.
I'm trying to stay focused mainly on book projects and writing during the day time, but we've been meeting a ton at night after the kids go to bed with our amazing creative team (Nat, Lori, Julie, Kaitlyn–you girls rock my socks off).  I did come out of the bat book cave this week to meet with a rep to check out a line I've been eyeing for a while.
The jury is out for several folks on whether or not the Rifle Paper line will go over well, but at the end of the day, I've gotta go with my gut and stick to the things I'm really passionate about…and as weird as it may be, amazing and artful paper products are one of those things. #chronicsufferinglistmaker #justcallmeListyMcListerson
We have so many more fun things coming in as we near the holidays, and I can't wait to show you.  Plus, when it rains it pours on things coming in…oh, because P.S. something no one ever tells you when you become a shop owner: many of the major home decor lines take forever to come in, so to be really successful at inventory management, you really need to do most of your shopping twice a year, in January and July.  Talk about scary…but once you get the hang of it, it isn't so bad.
If that's something y'all want more detail on, you'll have to let me know.  I'm not so inclined to write a post about inventory management unless prompted.
Speaking of scary/thrilling inventory…
Two of these jokers came in on Thursday this week.
#boxswimmingpoolintimeforLaborDay