I actually got to go antiquing this weekend.
To a real live store, and not just hopping on Etsy.
We are gearing up for The Chapel Market around here, and while I'm spending most of my days at the computer or doing a new project for the book, it was time to get ahead of the game and finish our shopping.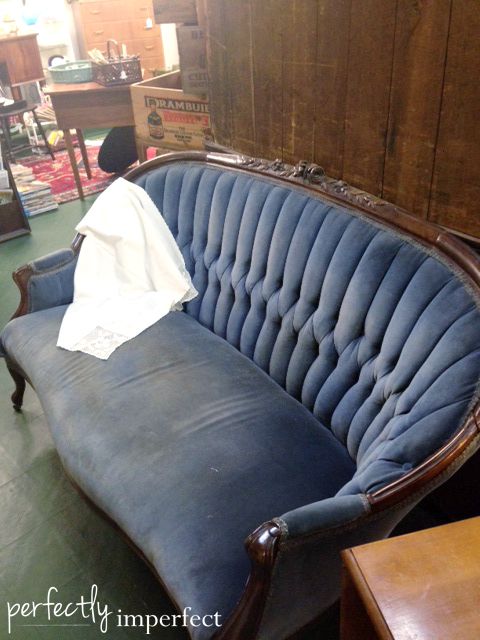 Natalie met me over at Troy Antiques (right across the square from us and I still haven't been in 6 months!) for a little scouring.  I love this little gem of a place, and it was just soothing to be diving for treasures again.
I'm probably most excited about the antique blue velvet settee.  I almost never find upholstered pieces un-chewed by mice or some critter or that I'd even be willing to pay the price tag for, much less re-sell.
So when I found her, I was sold.  The frame is beautiful, but pretty scratched up, so I'll do something with it.  I'm considering dip-stripping it or simply painting over the frame.  And I might reupholster it, but I think with a good cleaning the soft blue velvet could be really beautiful and charming.
Plus, let's face it: at some point I have to be able to resell it.
We'll see…I'd love to hear your votes: paint it or strip it to the natural wood?? Upholstery?
Hope you guys find treasures of your own this week!