Good Monday to y'all!  I'm thrilled to start the week, as I've dubbed this one my "slow week for the summer."  Ha!
We'll see what I can do to change that, as I know I probably will.  On to business today…
If there's one room in our house, that I would possibly gut and start completely over (if time & budget allowed), it would be our kitchen.  I'm big on living in the now, though, so I don't really think about it that often, as the time may be right one day to do just that.  But when the folks at Wilsonart asked if I would pull together some inspiration and design ideas, I decided dreaming up a few favorites couldn't hurt!
I feel like kitchen design can be daunting when starting from scratch, forgetting all the space planning that has to take place to create a truly efficient space.  Honestly, if we ever did a full kitchen remodel, I might have to call on outside help just to get all the nooks and cubbies to fit (that I would want to fill it with)!
And if I'm really honest, my ideas aren't brand new–but these images and inspiration are what make me tick.  You know when you're on Pinterest and you see an image and your fingers move independently from your hands and you almost break nails to pin them quickly enough?  That's me and these spaces…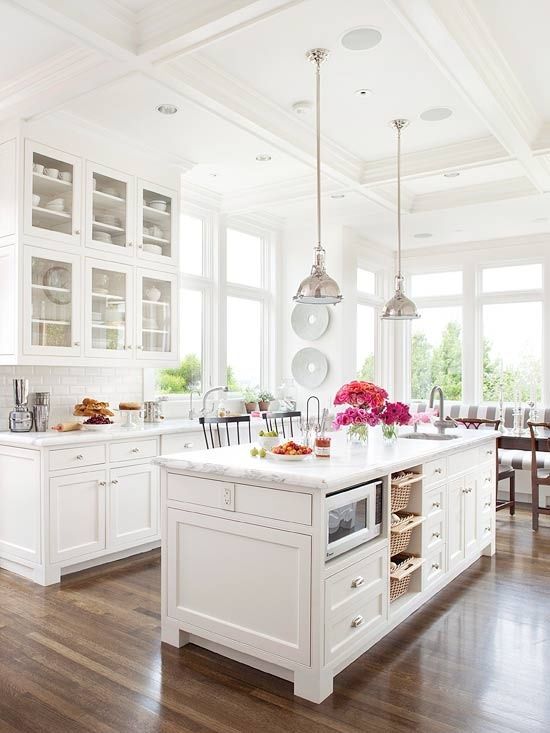 As far as the design, the first things I know I'd plan the kitchen around: white furniture style cabinetry that reaches ceiling height, white counters, white backsplash, white walls…yep.  It's funny, I'll probably never do white again on my slipcovers (at least for a while), but in the kitchen…oh yeah.  We built with white cabinets & while they're looking a little dingy now, that was 11 years ago!  I don't know any painted finish that won't need some sprucing after that time frame, so I'd go with white again.
There's something about it–clean, fresh, minimal.  The food and family take all the glory in a white kitchen.
This is another favorite…I love the warmth of the wood topped island & tongue and groove ceiling–I'm all about adding planked surfaces everywhere, you know!  As far as my personal style, I'm mostly a traditional gal with hints of cottage & farmhouse elements.  Here's some inspiration I came up with dreaming of white kitchens…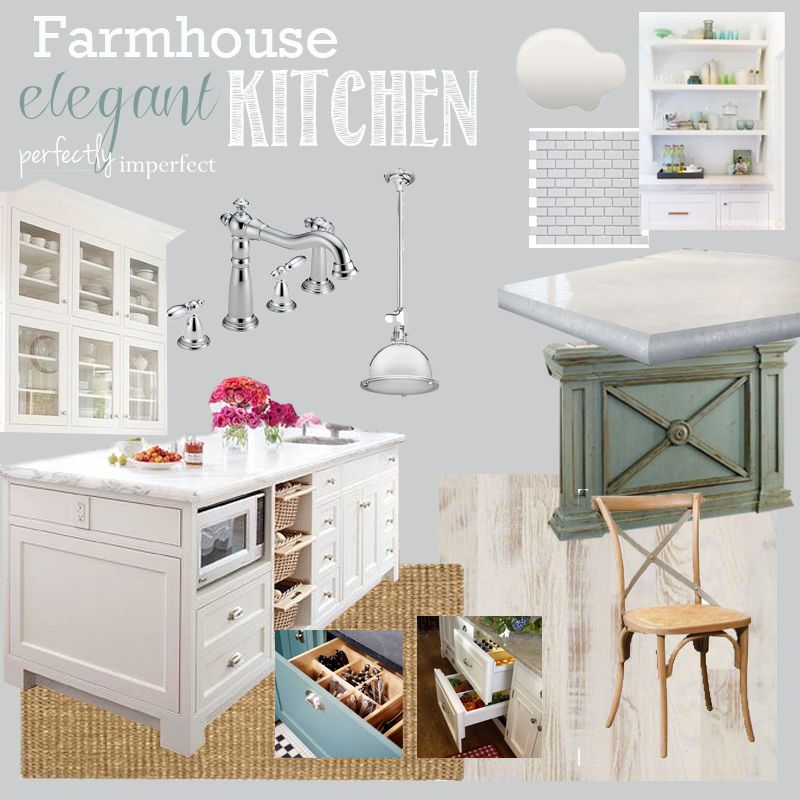 Starting with the cabinets, I went from there.  I know we'd lean towards light to medium tone floors, and I do love this washed and warm wood flooring by Shaw Floors.  I'd bring in a little texture with a simple seagrass rug, durable enough for any location in my kid-friendly house.  Glass front cabinets on top are a must for me, helping break apart the white and giving me a chance to show a little personality and style.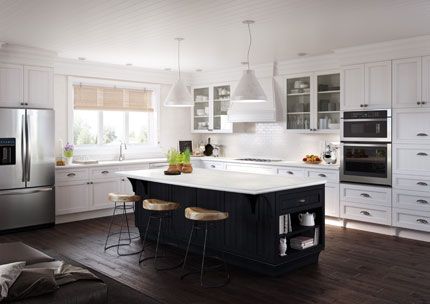 I selected the countertops from the new Wilsonart HD line in Carrara Santorini.
I was a little skeptical of laminate countertops, as I'm not a total fan of ours currently, but you know what?  I've seen these in person, and they are fantastic!  I'm pretty blown away with the sheen, and how much they look like granite and marble, for a fraction of the cost.
I loved this one, too…Perla Piazza.  Sooo pretty!  We've been saving for some kitchen updates, and these countertops would certainly help cut some costs for us & look beautiful, too.  Pretty amazing if you ask me.
As much as I love all white kitchens, I can see pulling in a bit of color either on an island, or another part of cabinetry.  I'd go for a muted duck egg/gray/green/blue.  I'm nothing if not specific.
source–can't find the original, so let me know if you run across it!
Some form of eat-in dining is a must for us.  Whether it's a bar, or at the island, or a full dining table, I love a place for the kids to spread out and work on school projects or have snacks right there in the kitchen.  I'd bring in some texture with a reclaimed or natural washed table and dining chairs.
A farmhouse sink is a must for me, too,  as I'm a dish piler.  And nothing drives me crazier than trying to wash a huge stock pot in a tiny sink side.  I'd probably save some bucks here and go with the farmhouse sink from Ikea.  It's beautiful!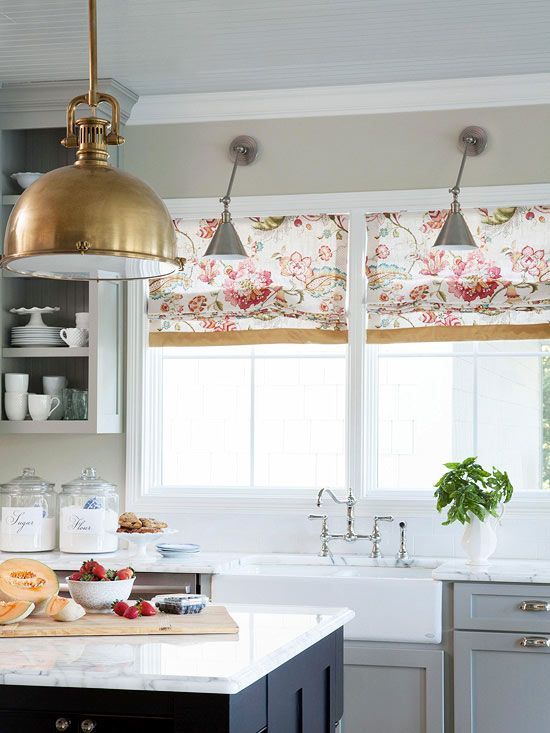 Back to mixing…I adore how Edie's kitchen mixes different color cabinetry and metallic finishes.  Gorgeous!  If you haven't toured her highness, get over there and check it out now!
Now that I've lived with open shelving, I'd at least want a nook of open space…it keeps dishes handy and has kept my cabinets more organized and tidy.
In addition to the major design choices, I'd totally go for some fun and efficient amenities….I'd love a small butler's pantry (a.k.a. place i could leave a mess), a range hood with a pour spout sink nearby, spice drawers, and radiant heat cooktops.
We're still dreaming, right?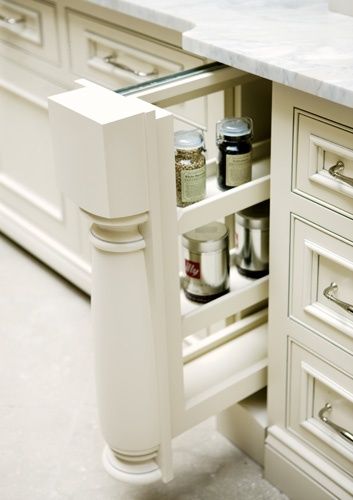 In all seriousness, I hope this post has given you some fun kitchen inspiration…who knows?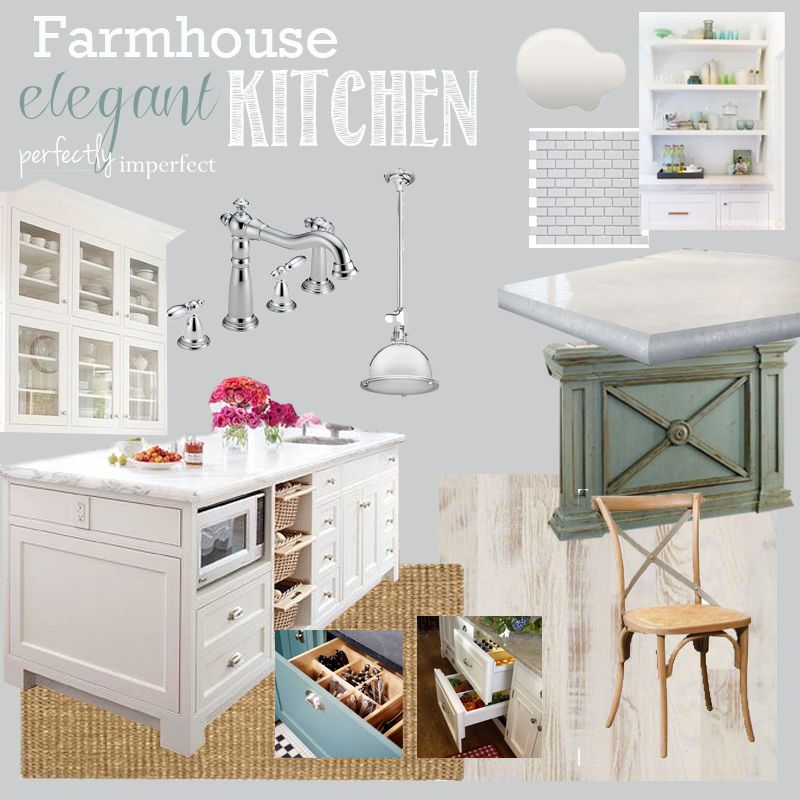 Maybe we'll work on the kitchen someday soon!

P.S.  Come back tomorrow for a fun giveaway brought to you by our friends at Wilsonart!!
P.S.S.  You can follow our Kitchen Board on Pinterest, too!
Other resources:
Chrome Pendant: Bellacor
Brentwood Dining Chair: Perfectly Imperfect
Classic Victorian Faucet: Delta Faucets at lows
Subway Tile Backsplash: Overstock.Com
Paint: Snowbound by Sherwin Williams
Refrigerator Drawers: Houzz