If you follow us on Facebook & Instagram, you know we've been working on little projects for our guest bathroom redo.
I posted an inspiration board forever ago, and we're just now getting to working on that space.  While some of the original inspiration stuck, some just didn't fit or work with my personal style, so I switched things around in my mind…which is what I love about design!
It started with painting the cabinets…and they are beautiful!  After that, I painted the walls white and let it sit for a while.  After white walls & washed gray cabinets, the beige ceramic tile was just screaming at me in a not so good way.
And one day, well, I just started painting them…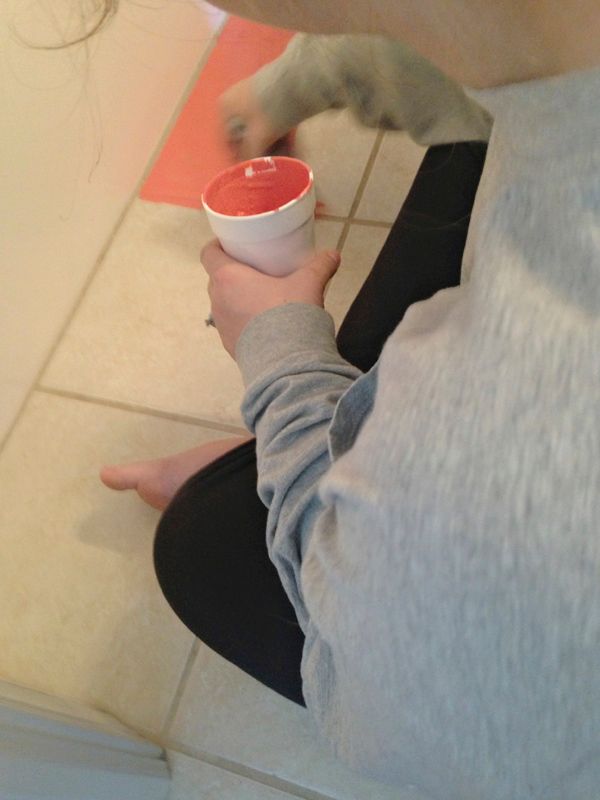 Okay, okay.
Probably not my best DIY idea.  But I just didn't want to replace the tile.  I loved the pretty coral-pink (mixed with Chalk Paint), and I love the way it paired with the gray cabinets.
But…I let it sit a while to see how I felt about it.
I didn't like it with the grout showing.  I didn't love it painted solid.
I didn't love solid shower curtains…
I didn't love patterned ones.
It was just not working for me in. any. way.
I had thoughts of painting a stencil on the floor, and I think that would have helped, but we decided since it was a tiny bathroom, there was a much better option.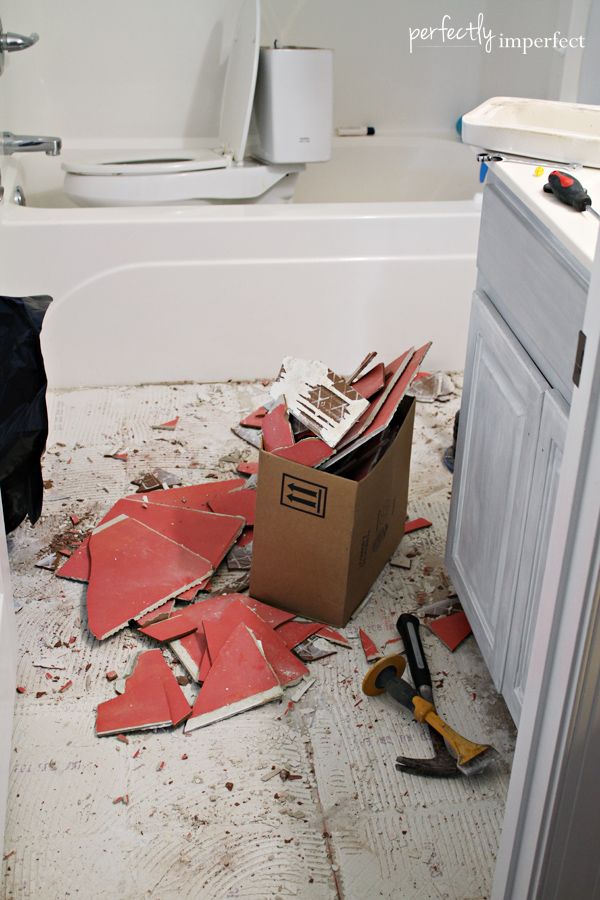 So (Matt) pulled his demo goggles (or sunglasses) out, and began busting up said tile.
He also got the hankering to film a quick how-to video for those of you thinking about removing tile (this was a first for us!).  This is not a fluffy, music-y video, by the way.  This is a hardcore, sometimes blurry, kid chattering, how-to.
You have been warned.
You're welcome for the kiddie chatter.
It really wasn't so bad.
For me, that is.
Matt has a few thoughts on this:
Start with the right tools

He LOVES the chipping attachment on his reciprocating saw & said it was definitely the way to go to remove the thin-set.
Buy some knee pads.
Buy extra chipping blades.
Wear a mask (he did not do this & is still hearing about it)
Book a massage when finished.
We also put out a call for help on Facebook on which tile to put down, as we loved both so much!
Stay tuned to see which one we chose & let us know if you try busting up your tile…may the patella gods be with you.