We're the SUV sort.
Matt has a Tundra, I like my Sequoia.
We both had trucks/suvs in college. P.S. We actually totaled my car (due to my looked-off-the-road-and-we-almost-died-maneuver), and are convinced we were spared between God's hand and the 4Runner.
So when the folks at Southeastern Toyota asked if we wanted to test drive a new 2013 Rav4 and blog about the experience, we were all, "Um, yes. We've pledged to drive Toyotas forever. Amen."
But really, I'm not sure I would have taken someone else up on it. I like sharing with y'all companies/products/stories that I'm passionate about, and this is certainly one of those companies. I know we all have our vehicle love saga, but we do love our Toyotas around here.
We made our way to Bondy's Toyota in Enterprise, Alabama, (cue that's where my ex is from and Matt broke out in hives when we crossed the county line) to pick up the Rav4. Bill helped us (hey, Bill!!), and honestly, I was pretty impressed. He got us all set & showed us some of the cool fancy features of the new design–but he had me at Bluetooth Pandora radio. He and Matt chatted back and forth for a good hour about the seats, the alarm that sounds when a car approaches while you are in reverse, and the blind-spot beacon light…and I'm all googling in the back seat at how much room there was for a smaller SUV, and imagining the kids & I scaling down so I can have the Bluetooth Pandora the back-up camera.
It was really impressive, okay?
The Bondy's folks were so helpful, and we made our way back home–and started the pic taking immediately. Here's where I interject: I was just a shade nervous driving that cute little ride, but it all turned out in the end.
Because we were excited to try the car out in a meaningful, relevant way, we decided we'd take it on our grown-up cousins' trip to the beach in Watercolor, Florida.
And we had a BLAST….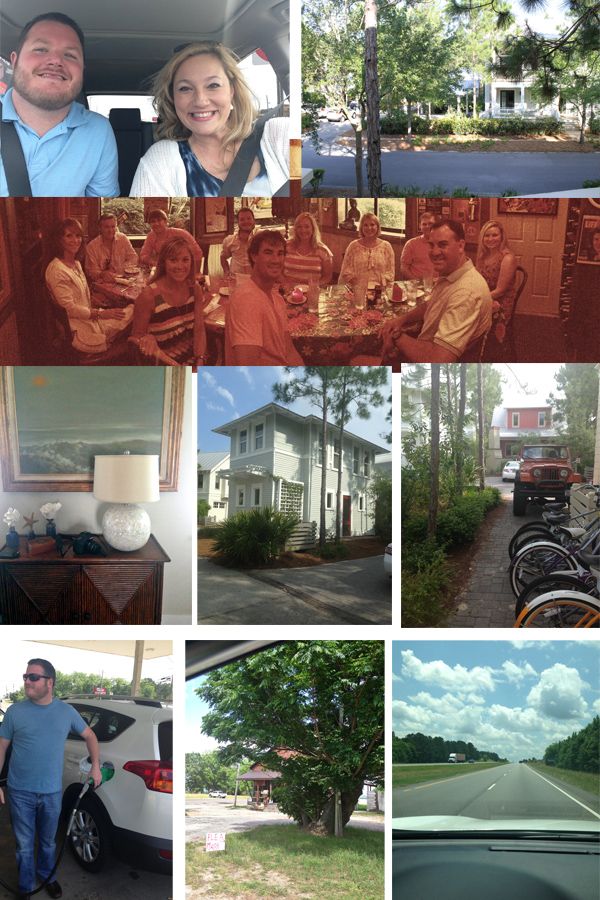 Everyone laughed that I kept tweeting and posting to Instagram the entire trip, but really, the Rav4 was amazing. I am a big-SUV girl, and I still loved it. It drove quietly, made me feel sportier, and had any amenity I could have ever wanted (see: Bluetooth streaming Pandora radio & back-up camera). Plus, I like it when the GPS boldly tells me where to turn.
Sometimes I can be an unreliable navigator.
Funny jokes and car advertisements aside, we really just wanted to escape for a couple of days. To sip fruity drinks & read on the beach until we were crispy & laugh with family we wanted to enjoy.
We wanted to giggle, choke on that spray sunscreen, stay up too late…
and some of us wanted to goof off…
We wanted to vacation–in the literal sense. To hop in a car, feel the wind in our hair, and soak up moments in the sun.
The trip was inspiring, as most everyday moments are when we take the time to notice. Sometimes all you need is a little push…or maybe a new ride.
I think we may have started a yearly tradition.
Aren't they a handsome group??
P.S. I loved driving the Rav4 because it was a well made, safe car and it easily facilitated life & fun with my family–which is what I want any product to do. If you want to read more about the amazing new features of the 2013 Rav4, click here to find out more. This post was sponsored by Southeastern Toyota, but opinions are always 100% my own.